Belaseshe, a 2015 film about an elderly couple on the verge of silver separation, which brought together Soumitra Chatterjee and Swatilekha Sengupta 31 years after Satyajit Ray's Ghare Baire (1984), is not only remembered for its likeable and strong content, but also the waves it created in Bengal's trade circles.
According to trade insider Pankaj Ladia, "It is the highest running film till date in any multiplex in Bengal (irrespective of any language). Not even any other regional film could make such business or had such success in Bengal in the recent times."
Belaseshe ran for 217 days at INOX Quest and was lapped up not just by Bengalis but also a huge section of non-Bengalis living in Kolkata. Explaining the situation, Pankaj said, "Belaseshe had the longest run at INOX, Quest, which has a predominant non-Bengali audience base. Even after weeks of the release, it was always 90 per cent non-Bengali crowd at Quest, who admired the film. The cinema could even run longer potentially, but due to some technical reasons (for the film was being released on satellite) we could not continue the screening any further. I know there are even many non-Bengali people who have not watched any other Bengali film other than Belaseshe. It is one of the biggest blockbusters of the industry. Belaseshe became very relatable to the masses and especially connected with the Gujarati and Marwari people, as Belaseshe was essentially about family bonding. And the people who had watched Belaseshe are eager to watch Belashuru as well."
Needless to say, there's a lot of excitement surrounding Belashuru, which comes seven years after Belaseshe. "We have huge expectation; now let's wait and watch whether it can cross the records of Belaseshe or not. There is a huge buzz around the movie and we are getting calls from hall owners of Dhanbad and other places outside Bengal for the tickets of Belashuru," added Pankaj.
Amidst the long wait that there has been, the Belashuru family lost both its father and mother — Soumitra Chatterjee and Swatilekha Sengupta. While the film team is going all out to take their story to the audiences, exhibitors are hopeful that the theatre crowd would turn up in hordes to see them together, one last time. "Their loss is felt by all. The audience will visit the theatres to witness the duo perform for the last time," reasoned Pankaj, adding that the songs of the film are already big hits! "I think Belashuru will touch another milestone and would definitely be a huge success," he added.
Distributor Rajkumar Damani is looking forward to the film's release and said the euphoria surrounding the film is already visible. "Belashuru has generated madness amongst the public. It is releasing after a long time, so naturally has a good amount of excitement in all. After a long time Bengali cinema is likely to have a huge opening."
The positive aspect of Belashuru is that the non-Bengali crowd is already in the know. "During Belaseshe we could mostly see the non-Bengali audience in the theatres during the last four weeks. But this time, I think the non-Bengali audience will visit the theatres from the first week of release only. Belaseshe has enormous popularity amongst them and Belashuru has already caused a stir," he said.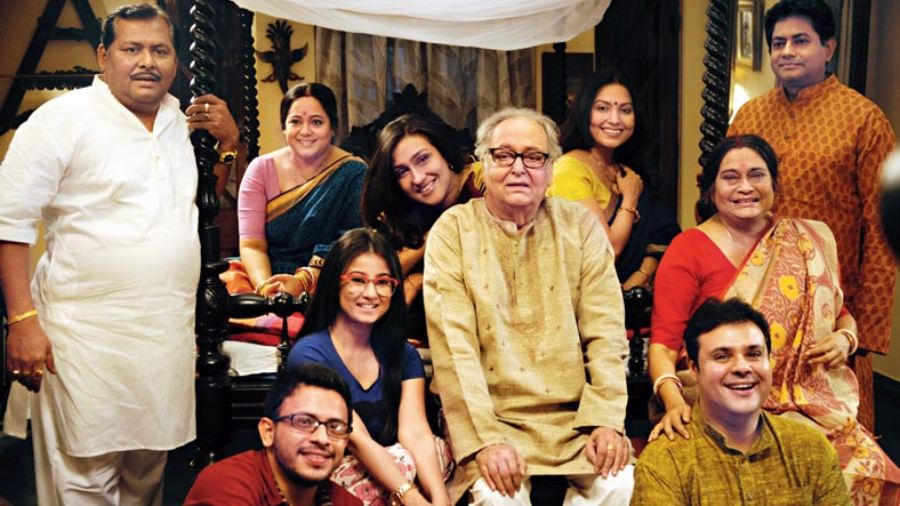 Belaseshe
Rajkumar is overwhelmed by the positive responses from Bengal's exhibitors. "They are eager to book in advance and constantly asking about Belashuru. You see, the Tapa Tini song has got so popular that it is now played on every occasion in Bengali households. We are hopeful that Belashuru will not just be a wonderful film but also will make good business." Rajkumar is even hopeful that Belashuru will cross Belaseshe's record at the box office. "Of course, it will even cross Belaseshe's record, at least we are expecting so. But I cannot tell for how long it will run as nowadays everything is so fast-paced that even a good movie cannot stay there for a long time. But at least we can hope for the best."
"Belaseshe was a massive success and there's a huge buzz around Belashuru. We expect a really strong opening and  then a long run for Belashuru. People are really excited about the film," said Ujjal Biswas, PVR Cinemas.