Hard-hitting, raw, action-packed and relevant sum up the trailer of the Ayushmann Khurrana-starrer Anek, directed by Anubhav Sinha. Set in the backdrop of North-east India, the movie deals with an undercover officer, played by Ayushmann, on a mission to restore peace. Ahead of its release on May 27, Ayushmann breezed through the city for a special action promo launch at Miraj Cinemas. From his character in Anek to completing a decade in the industry, The Telegraph chatted with him extensively...
The promos of Anek look very intense. Tell us about your character Joshua.
The movie is very special to me, it is a very important film dealing with a vital and relevant  subject. I play this character of Joshua, whose real name is Aman. This character is very different from the other characters that I have played. This is the first time I am playing such a calm and composed character… an alpha guy… well it was in Chandigarh Kare Aashiqui but he was all over the place! (Laughs)
In this film he is calm, composed and smart. At the same time, he has a good heart. He is working for the armed forces, for the police and he has got this dichotomy in his head if he should listen to his seniors or not. This is also a character which is extremely unlike me.
How did you prepare yourself for the character?
I took inspiration from this childhood friend who is in the armed forces. The character is just like him, composed but also has a goofy side, which only I know. Apart from that, empathy is very important.
To be an undercover officer one has to be mentally adept and also physically strong. Your character in Chandigarh Kare Aashiqui was bulked up, but here again you are a lot leaner compared to that.. how do you flip in and out of your body type?
Lockdown helped as per the physicality was concerned. It was easy to focus and work out for my character in Chandigarh Kare Aashiqui. I have never been 75kg in my life (laughs), and now I am back to
68-69kg. During lockdown I had nothing to do... work out, sleep for eight hours. But then again, when you are doing three films a year, you have to maintain the body that's needed for the character.
Did you take any inspiration from any movie for the role?
Mare of Easttown (starring Kate Winslet). The reference for me in my head was this because a lot is going on in his head, there are areas of conflict, insurgency… it was hard for him to be happy.
There has been a lot of buzz ever since your look was disclosed, Especially the eyebrows! You looked hot...
(Blushes) That was the kind of feedback I got! In my previous films I have had neat hair but this time it was the most rugged hair. I was supposed to have long hair but then in my last film I had long hair so Anubhav sir said to just chop it off. I have never looked like an alpha rough-and-tough guy before.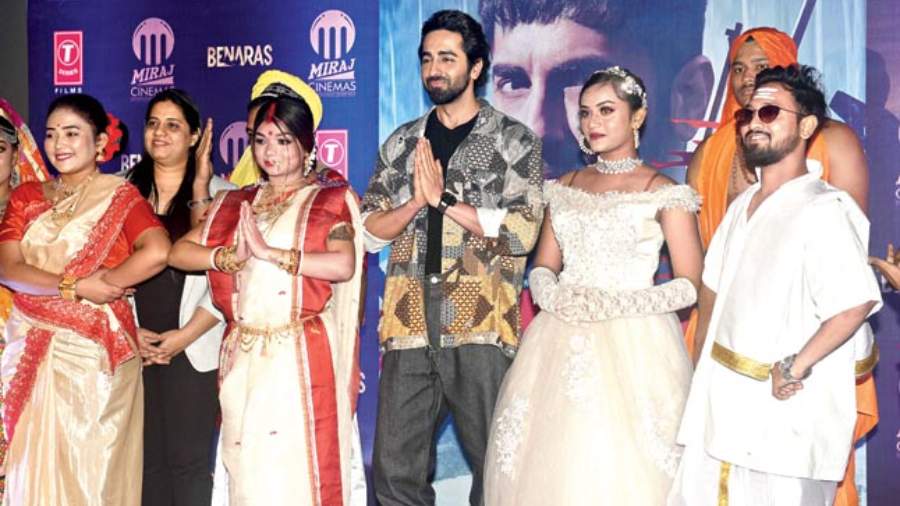 Miraj Cinemas in New Town hosted the launch of the new action promo of Anek. Celebrating the spirit of diverse India, there was a special act that saw representation of different Indian states.
You have always dedicated yourself to the role in terms of building your body, wearing a sari… is there something that you would never do on screen?
It's nothing to do with the character but the messaging of the film. I would love to play a negative guy but I don't want that he should be portrayed as a hero or eulogised. If you are negative you are negative, it can't be that you are justifying that you are killing people or the likes.
This is the first time you are doing an action movie dealing with a very sensitive social message...
For me it's a political thriller. Action is there but it doesn't overpower the narrative of the film. It comes in parts, whatever you see in the trailer or promos, it gives a dynamic to them but it's only in parts.
Was it challenging to do the action sequences?
No, not really! It was fine, safety is always there. There's action but then I won't call it an action movie.
After Article 15, Anek is your second movie with Anubhav Sinha. What thrills you about working with him?
He is a very exciting and maverick film-maker who is versatile. He is a veteran film-maker but still his outlook is very contemporary. He is new-age for me because he approaches a subject with a lot of authenticity and research. Someone who has made commercial potboilers and then he does something like this... it's unbelievable. I would love to collaborate with him every year. And whatever films I do with Anubhav Sinha, be it Article 15 or this, it rises from empathy towards fellow Indians, community or people in general.
There are so many pressing social issues in the country. Which ones do you think should be immediately addressed?
There are a lot of issues but I don't want to address them because if I have them in my head I don't want to give that idea to another person to make a film on that! It's little selfish of me (laughs).
You shot extensively in North-east, especially in Assam and Meghalaya… how was the experience ?
In Assam we shot majorly in Kaziranga. In Meghalaya we shot in and around Shillong. For me, North-east is the most beautiful part of the country. Shillong is called the Scotland of The East and Rock Capital of the country. They are wonderful people. Another thing I loved about North-east is it is matriarchal, they work a lot and most of the bread-and-butter-earning people are women. That was such a refreshing change. In a state like Nagaland they carry their mother's name forward, unlike the other states so it's more progressive. I like to do progressive cinema so getting to shoot there has been an honour.
You are a foodie we know, did you get to try the local food?
I had Khasi food, (co-star) Andrea (Kevichusa) introduced me to it. I tried the Jadoh and loved it. In Assam, I had Assamese thali.
How was your experience working with Andrea? Do you think having her on board will make a bigger impact because she is from the North-east region?
This film ticks all the right boxes for me. We have come a long way. This is the time when we would confidently say we have apt representation of the North-east. She is young just 21, a very bright girl, and composed, unlike most people of her age. She has a great presence. She is 5'10".
Most of your movies have had great music. This one is sans a track. Do you think that affects viewership now?
It does in a typical commercial way but then you cannot gauge this film as commercial. It's relatable, it's topical. This movie is beyond commercial. Every year you should have movies like Article 15, movies that don't need a song. This movie does have an anthem, Voice of Anek but it's more rap, folk songs in the dialect of the North-east.
What is the story behind the name Anek?
Anek is diversity in Hindi. In the film there is a South Indian character, I am from the heartland, there are characters from Bihar, UP, Delhi… then 80 per cent actors from the North-east, so that's why Anek. And then we have 'NE' mentioned in the name Anek! That's Anubhav Sir's idea!
It's been 10 years in the industry for you. How do you look back at the past decade?
It feels seriously like yesterday! I think maybe in the beginning I might have had some hiccups but overall it's been a smooth journey. God and the universe have been kind to me (smiles) and I have been fortunate to have worked with some really great brains in the industry.
If you have to give an advice to your young self of 10 years ago what would you say?
Believe in magic (smiles) because I always thought of doing this... well people think of a lot of things but I am living my dream, seriously! I love my present, it's beautiful.
After completing a decade, is there any target that you have set for yourself or a zone you want to explore?
I would love to be a film producer and director but right now, my hands are full with three films a year, so I would like to concentrate on that.
Talking about directing a movie, who would you say is your fave director? And your fave movies…
Zoya Akhtar, Sriram Raghavan, Rohit Shetty , Raju Hirani, Anubhav Sinha and Shoojit Sircar, of course,in contemporary directors. In movies, Gully Boy. Oh wait, I also love Neeraj Ghaywan. Masaan was great, Andhadhun (laughs) am I allowed to take my movie name? (Laughs) Piku! What a simple film, made with pure heart and did crazy business!
Are you open to exploring work on OTT?
I would love to do something which is different, big and never-seen-before stuff. It could be any genre… action, may be or a mix of action, comedy, thriller… like a potboiler. I would love to do something non-fiction also.
Pictures: Pabitra Das