Avijatrik has been travelling all over the world and now it is all set to have its exclusive UK theatrical premiere in London, Birmingham, and Manchester in September 2021 and in Berlin too. The film directed by Subhrajit Mitra is part of London Indian Film Festival (LIFF), Birmingham Indian Film Festival (BIFF) and Manchester Indian Film Festival (MIFF) September edition of 2021, where the film will have exclusive UK premieres in three cities in a span of two consecutive weekends. A t2 chat with Team Avijatrik.... producers Madhur Bhandarkar and Gaurang Jalan
What are your thoughts on this festival run?
Madhur Bhandarkar: We have worked hard to make Avijatrik. My other films have also gone to various festivals and I hope this joint venture with Gaurang Jalan also receives the same love and affection.
Gaurang Jalan: Indeed, we are glad that Avijatrik is travelling far and wide. UK has a very large diaspora of movie-loving Bengali community, both from India and Bangladesh, and we hope that this film will be watched by them. Berlin will also give us an opportunity to reach out to its mature audiences, who have appreciated Indian cinema over decades.
What are your expectations from the screenings?
Madhur Bhandarkar: We hope that the film-loving audiences of UK and Germany will relish this film and support it by attending it in large numbers. It is also a good opportunity to return to theatres and enjoy cinema and entertainment on the large screen.
Gaurang Jalan: Since we only have one theatrical show in each city, we would like audiences there to flock in large numbers, as the film festival organisers are making humungous and untiring efforts to bring back good cinema to theatres.We have also sought horizontal support from Nehru Centre (Cultural arm of the Indian High Commission), Bengal Heritage Foundation (BHF) etc, besides the film- and art-loving audiences of the South Asian diaspora.
Since it has travelled across the world, how different has the response been?
Madhur Bhandarkar: The response to Avijatrik has been fantastic as it has connected emotionally. Starting from KIFF to LIFF it has been appreciated across the world as there is a huge fan base for the Ray genre of films all over the world.
Gaurang Jalan: I agree with Madhur. There is a captive audience for such cinema and response has been most encouraging.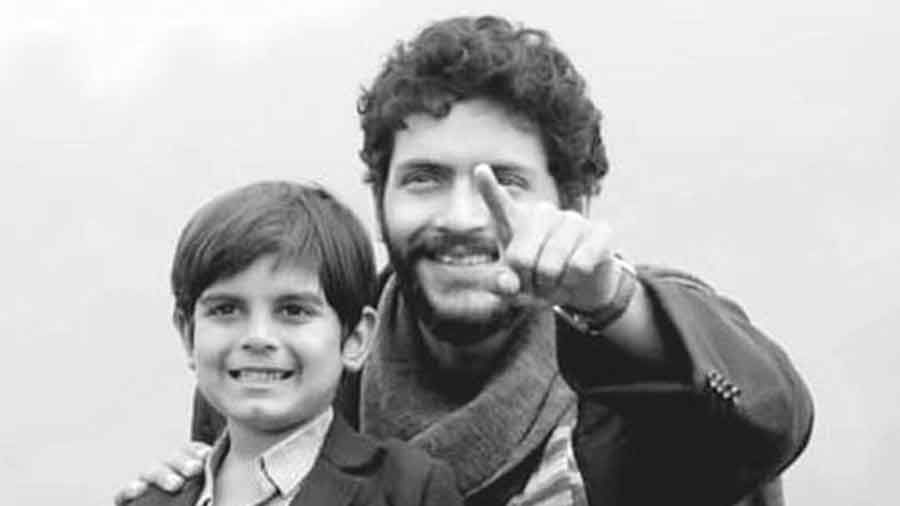 Avijatrik
SUBHRAJIT MITRA, DIRECTOR
What are your thoughts on the festival run?
These are prestigious film festivals primarily aimed at the enormous Indian diaspora in England. In Berlin the film is part of the International competition section of Indo-German film week, and hence it's a German premiere. I am really happy and sharing my joy with the entire team of Avijatrik for these exclusive selections. Premiering a Bengali film in four cities in Europe in a span of two consecutive weeks is perhaps unprecedented and I am really grateful to the almighty for all the blessings.
What are your expectations from the screenings?
I do hope the viewers will enjoy the complete audio-visual experience in a huge movie theatre, the best possible way one can enjoy a movie. I hope they love my creation.
The theatres in UK and Berlin are steeped in history. They look amazing. Have you heard stories about these theatres?
The London premiere will be held at the prestigious Cine Lumiere theatre. The theatre mostly showcases new wave and classic French cinemas. The Berlin premiere will be held at the Babylon Cinemas. The Kino Babylon is a part of a listed building complex in Berlin. Since 2001, the Babylon has been used primarily as an arthouse cinema. The Birmingham premiere will be held at the theatre of Midlands Arts Centre, which is a large cultural complex built in early 1960s. The place for Manchester premiere is Home, which is a relatively modern cultural complex.
Avijatrik has travelled to almost 25 film fests. What makes it such a festival favourite?
Avijatrik has garnered 21 laurels of Official Selections in International Competition, winning and nomination laurels combined from 18 festivals. We have also participated in Marche Du Films, Cannes. The film has travelled to many countries of North America, Europe and Asia. This is where we stand as of September 2021. We're hoping to add many more in the near future. I guess the honesty that went into the making of the film reflects on the screen and the international audience is loving the exotic Indian audio-visual experience through a heart-melting story of a father and a son. It is technically at par with the international standards, executed to perfection by the best of the senior technical and creative team that our industry has to offer, and I guess aesthetically it is touching all the right chords, in every aspect of film-making. Avijatrik is almost a near flawless film, in our collective opinion. As we put it, it is an international film which happens to be in Bengali.
What do the festival laurels and awards mean for you?
It means recognition, it means love, it means I have to work double hard to maintain and excel the standard or the benchmark I am creating for myself. Not only festival laurels, I was awarded with the Iconic Achievers Award 2021 by Rotary Benevolence Club and also awarded with an Honorary Doctorate of Literature [D.Litt.] degree for my contribution to Bengali/Indian cinema, on my understanding and expertise in writing screenplay and directing literature-based classics, by Saint Mother Teresa Open University, Bangalore, which will be presented to me at the convocation ceremony, later this month.
Do you remember the crowd response when Avijatrik was screened for the first time at a fest?
Avijatrik was first screened at Kolkata International Film Festival, 2021 in January. It was a spontaneous standing ovation by the full-house audience at Nandan at the end of the show. I was overwhelmed.
Were you nervous initially?
I was. Couldn't sleep at all the previous night before the first show in KIFF. Was talking or chatting well past midnight to some of my close friends and colleagues who are part of the senior crew and cast of Avijatrik. We were all trying to calm our nerves down .
What has been your favourite compliment so far?
There are many from India and abroad. In fact, each compliment means a lot to me. Bumbada (Prosenjit), Rituparna (Sengupta) personally congratulated me for Avijatrik.
Do you get anxious even now when the film travels to a fest?
Now I am far more relaxed for Avijatrik in terms of festivals. But anxiousness is bound to return during the time of theatrical release, which is expected soon enough, depending on the Covid situation.
Since it has travelled across the world, how different has the response been?
It is mostly positive so far barring very few negative criticism. But I welcome all responses. It is humanly not possible to satisfy or cater to everyone's tastes or likings. As long as I am true and honest to my own craft and art, rest will fall into place by divine intervention.
Are there commonalties too in the response?
Yes, there are. Everybody (critics and audience) is appreciating the screenplay and dialogues, Arjun's portrayal of Apu, the actors' performances overall, music direction, cinematography, production design and direction. The majority is of opinion that Avijatrik is a worthy sequel to the Apu trilogy.