Asus and gaming go hand in hand. We have the new Asus ROG Zephyrus G16 (2023) for review, which is an impressive gaming machine that continues to highlight the strength of Intel's Raptor Lake processor and Nvidia's GeForce RTX 40 Series GPUs. It has a solid build, excellent RGB lighting and a keyboard that's comfortable to work with. But what more does it offer over the last generation? Let's find out.
Time-tested design
This is a laptop that is known to offer great battery life and also great performance for gaming. Instead of giving it a new design, there is the chassis of the previous generation. From a design standpoint you've seen this before. The only difference is that the 16:10 aspect ratio makes the body appear deeper.
What could have been better is the placement of the ports. On the left side, the ports are to the front of the laptop, so if you have all your cables plugged in, it will look a little weird. At the same time, Asus had no choice for this because if the ports were moved up, the air vents would have been near one's hand while at the back there are a number of vents, which this powerful laptop requires.
When it comes to ports, everything is in order — you get HDMI port 2.1 instead of 2.0 from the previous year, you have an Ethernet port, USB-A, two Type-C ports (one Thunderbolt 4 port and the other one is a regular Type-C port) and a combo audio jack. On the other side, you have a micro SD card and a USB-A port.
The hinge on the laptop is just perfect. It's on the lines of a MacBook Pro and stiff enough to stop all screen wobbling. You can lay the display flat and that helps when a group of people gathers around the laptop screen to see a project. Don't sweat over the hot air from the fans hitting against the screen and damaging it; the design has been around for some time and there haven't been complaints.
Display and keyboard are on point
Coming to the keyboard, it's very comfortable to type on. This is the same keyboard you'd get on the G15 from last year. The keys are well spaced out and there is enough key travel. You once again get RGB lighting, which you can change. The biggish trackpad is bang in the centre and there is no flex to it. What doesn't look good are the many stickers pasted on the keyboard, two of which belong to Nvidia. More about the sticker business at a later date.
The display is brighter than before while the colours sparkle. In fact, it's so bright that you can easily work under full sunshine. The display by default is at 2,560x1,600 at 60Hz refresh rate but you can go up to 240Hz refresh rate, which is perfect for gaming. The colours are so accurate that one can easily do photo editing. The ample space on the sides has been used by plenty of speakers and the sound is brilliant.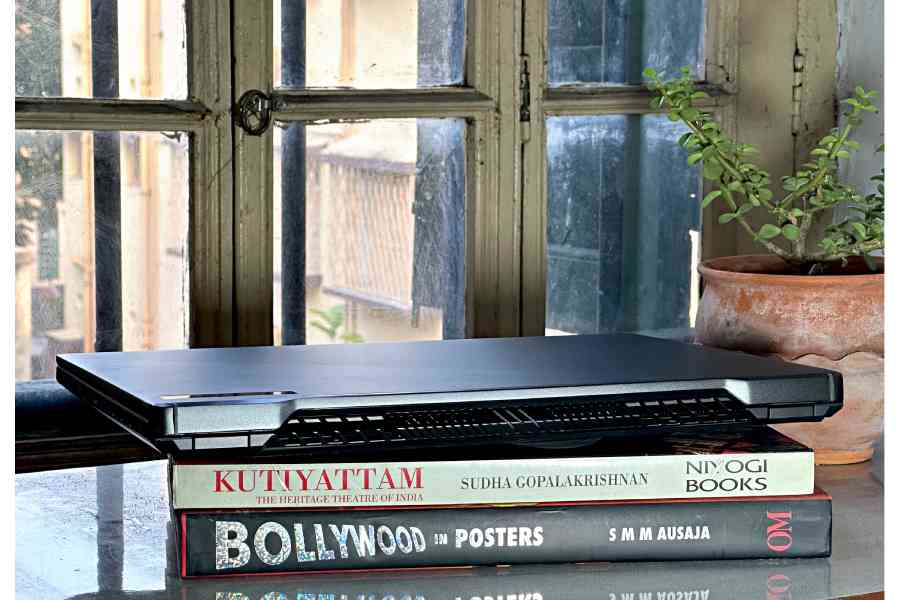 There are enough vents on the back to keep the machine cool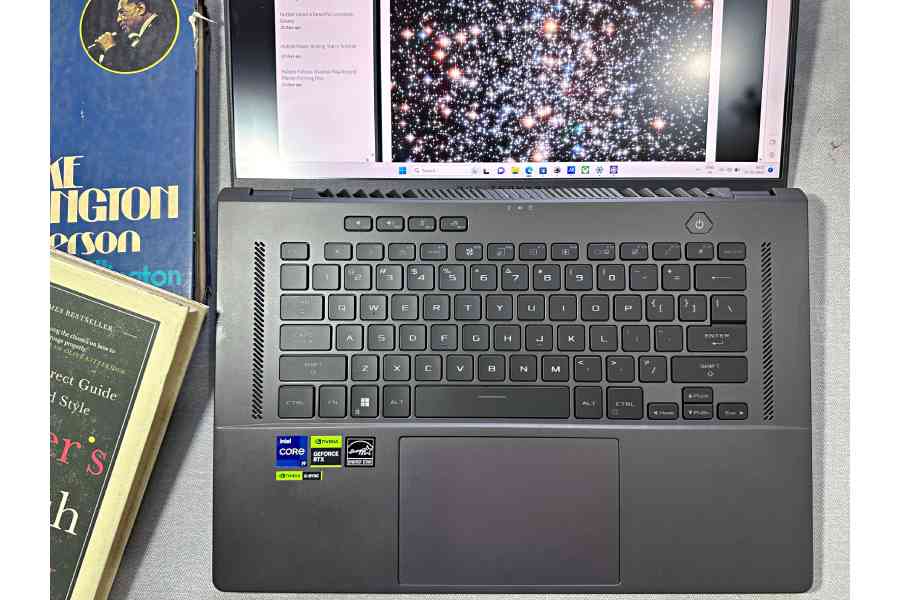 The keyboard is well-designed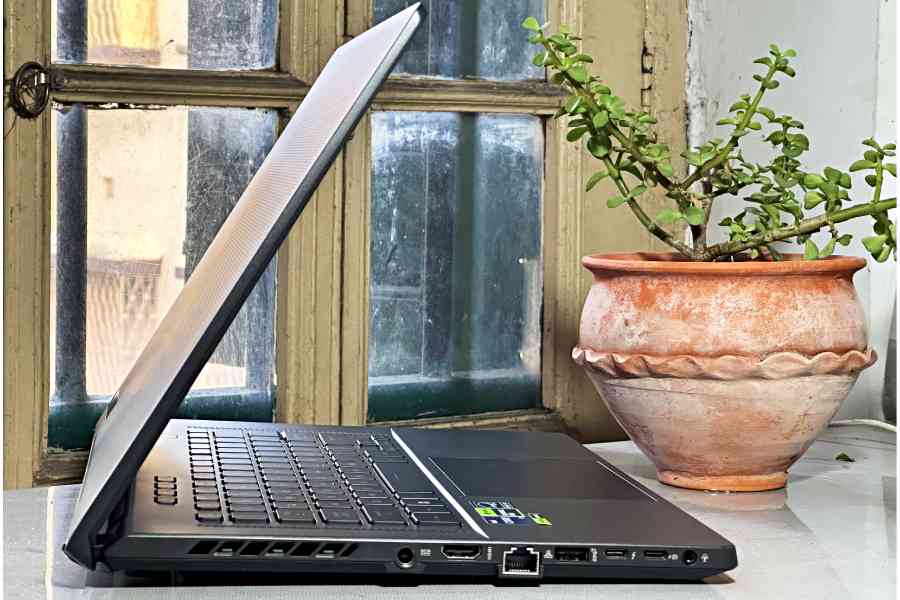 Most of the ports are on the left
Performance rocks
Where the laptop wins is with performance. You get 13th Gen Intel Core i9-13900H processor. There are 14 cores — six performance and eight efficiency threads. So you will get excellent performance. For graphics there is Nvidia GeForce RTX 4060 and also Intel UHD Graphics. There is definitely a performance uplift and you can easily play Cyberpunk 2077, Dirt 5 and Red Dead Redemption 2 at high graphics settings and you will easily enjoy a performance boost of 15-20fps over last year depending on the game. The fan noise is very low. Only if you move to Turbo mode will you be able to hear the fan at work but it's not irritating. On Performance or Silent mode, it's just a gentle hum.
There is also a perceptible difference when it comes to temperature control. The laptop stays cool most of the time and under full load, there will be no issues. Being more power efficient, the laptop is able to manage higher clock speeds for much longer.
Should you buy it?
If you are not gaming but still using a bit of Photoshop, browsing, streaming and all that jazz, you will easily get 10 hours. Of course, when the games come on that figure drops drastically, like on any gaming laptop. It's perfect for gamers who don't want to spend more and go for a more powerful Asus laptop. And it's a laptop that's not just for gamers, even content creators will be happy with this. The performance is amazing. If you are looking to replace your Windows laptop, Asus ROG Zephyrus G16 is a very good option.