Once you have spent a week on the Asus ROG Flow X16, chances are you will not be able to go back to your old laptop. I am using the word 'laptop' a little too freely here because this is so much more than anything on the market. The X16 is as much a creator's machine as it is a dream purchase for any gamer. Further, considering its use case, lightness is the word that hit me first on holding the device with one hand. Let's look at what this machine has to offer that others don't.
Uncompromising display
I am going to start with the display because it is one of the finest I have seen on a laptop, comparable to the one on the MacBook Pro 16. There are small differences but this 16-inch Mini LED, Nebula HDR display is among the best, be it in terms of colour reproduction, contrast, deep blacks as well as refresh rate.
Mini-LED is a very interesting technology. Consider a TV with an LCD panel with LEDs for backlighting; here the panel controls where light is displayed on the screen. Based on what's on the display, LEDs are lit up fully or turned down for dark scenes. A traditional LCD uses multiple LEDs while a panel light with Mini LEDs use more LEDs or there are more total dimming zones to offer. So there can be far more LEDs offering better blacks, more brightness and richer colours. All this takes, say, gaming experience to a new level — from having instant coffee to espresso from a Bialetti moka pot.
The Nebula HDR display is powered by AmLED technology from AUO and ROG's own in-house backlight algorithm. There is hyper-accurate local dimming with 512 local dimming zones. This helps reduce the blooming effect that's observed on some HDR panels. With the increased density of mini-LED, your content will look more vibrant than ever. In case you are wondering, there is Dolby Vision technology.
Having said this, one must also remember that Mini LED can add to the weight of the display and what you have here is a screen that can be used in tablet, tent or stand mode. During the review the hinges held up very well but only time can tell how it fares against the MacBook Pro.
Add to this a high refresh rate of 165Hz, making gaming that much smoother. The Adaptive Sync technology that has been deployed helps the refresh rate of the display synchronise with the GPU's frame rate to tackle visual tearing while keeping stuttering to the minimum.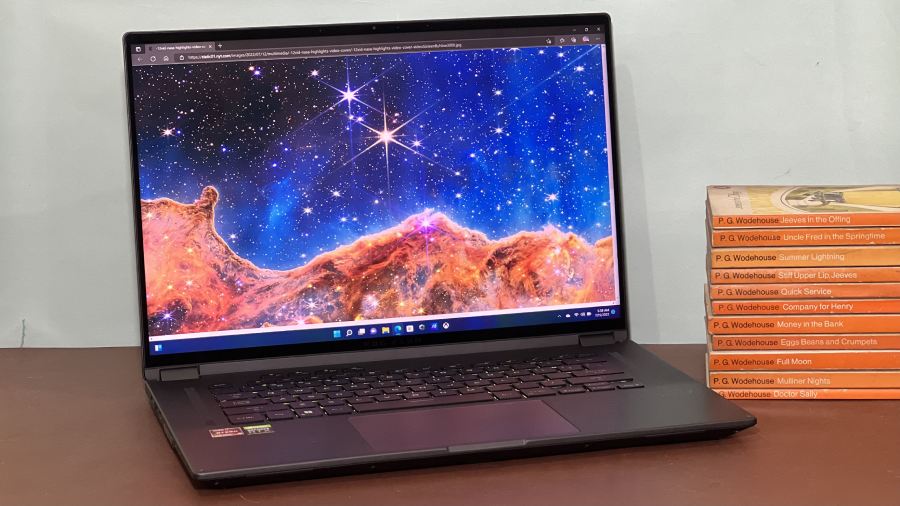 You can use the laptop for video editing as well as gaming
Fully functional keyboard
Be it gaming or content creation, you would like the best keyboard on this expensive machine. Happy to say that it's kind of the same keyboard as on the G15. There is support for RGB lighting, which you can customise and the results are stunning. But what I like more is the typing experience, thanks to 1.7mm of travel distance. I am also a fan of the sizeable palm rest as well as the biggish trackpad with zero flex. Sticker placement? Yes, that matters on an expensive machine. It's spot on and perfectly lined up. But what I don't like is when using the machine in tablet mode. Basically, you fold the laptop and automatically the keyboard gets switched off while you can do all your work on the touchscreen. I have no issues with the display. But in this mode the keyboard is at the back and it feels weird to hold the machine… it's just unnatural and I am not sure what good could this mode be to anyone.
A let down — the web camera. Having a 720p HD IR webcam on such an expensive machine is kind of weird. On the MacBook Pro 16 you get 1080p and that makes a massive difference during video calls.
Processor power
The laptop that is in for review comes with AMD Ryzen 9 6900HS with Radeon Graphics and 32GB RAM. It's the department where a lead gets taken over rivals. Performance is really good and you can push the CPU and GPU a great deal. The review unit had an NVIDIA GeForce RTXTM 3070Ti Laptop GPU to let you game with complete confidence. It is built on NVIDIA's Ampere architecture, the latest GPU options combine new streaming multiprocessors with enhanced RT and Tensor cores to provide unparalleled realism with Ray-Traced graphics.
On the one hand, I tried a bit of complicated editing on Photoshop and then 4K videos on Premiere Pro, both of which gave excellent results. Next came gaming and all kinds of titles over 10 days. Sustained performance, excellent frame rates, brilliant graphics and thermals remained under check… what more can you ask for?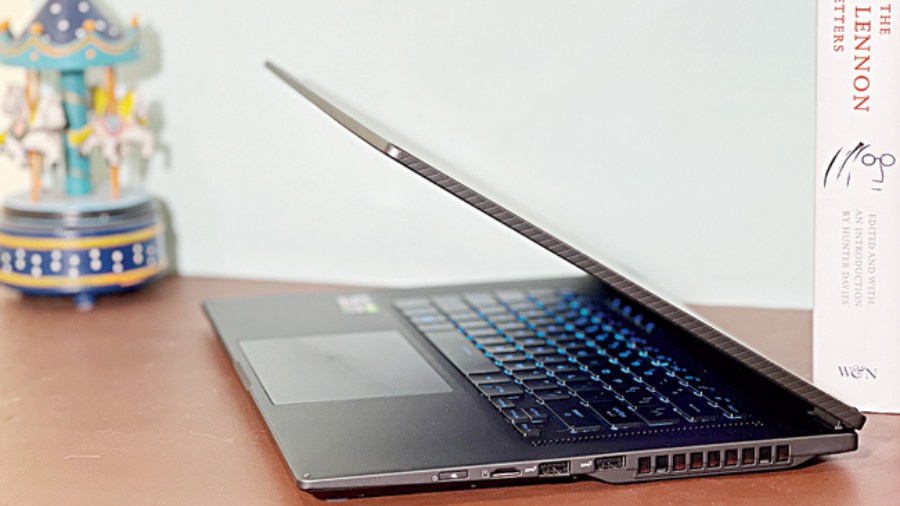 For a gaming laptop, it's quite sleek
Helping the experience is something MUX Switch or Multiplexer Switch, which allows users to manually engage or disengage integrated graphics. Gaming laptops route frames from the GPU through the CPU's integrated graphics before reaching the display to prioritise battery life. MUX Switch can physically alter this connection to route frames directly from the discrete GPU to the display. This translates in increased performance, reduced latency and an overall better gaming experience.
In some cases the laptop did heat up a bit in turbo mode but nothing that the cooling system couldn't take care of. But most of the time, it was enough to go with performance mode. When conducting stress tests one has to remember the degree to which the GPU and CPU are pushed don't match real-world tests because we rarely take it to the edge. As for fan noise, it is quite manageable
Should you buy it?
There are a few things to remember here, especially if you are also considering the MacBook Pro 16. If gaming, and gaming alone, is your use case, then Asus is the perfect choice. In most situations the machine goes head to head with the MacBook Pro. If Asus gets the upper hand with ports, MacBook Pro offsets it with battery life, web cam and charging options.
For a gaming laptop, you will end up getting around five-six hours (depending on the mode), which is substantial. Also, if you are in the market for a powerful replacement for your desktop, Asus ROG Flow X16 is a heavyweight contender. This is among the most powerful, crazy fast, and brilliantly designed laptops from Asus. You won't be disappointed.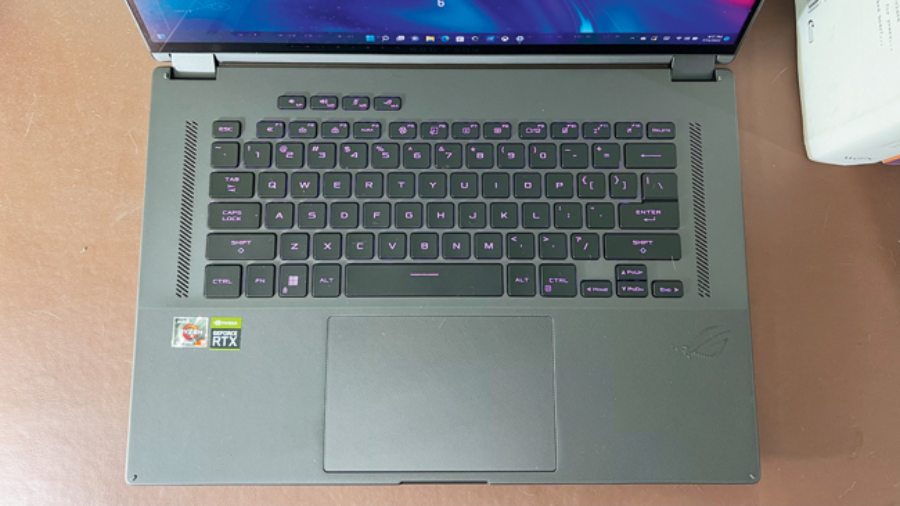 The full-size keyboard has zero flex
At a glance
Device: Asus ROG Flow X16
Price: Upwards of Rs 171,990
I/O options: ROG XG mobile interface, USB 3.2 Gen 2 Type-C (supports DisplayPort and power delivery), USB 3.2 Gen 2 Type-C (supports DisplayPort/ power delivery/ G-Sync), 2 USB 3.2 Gen 2 Type-A, HDMI 2.1, card reader (microSD), 3.5mm combo audio jack
High notes
Among the best displays on a laptop
Excellent CPU and GPU performance
Good cooling
Typing comfort
Light for a gaming laptop
Muffled notes