Dulal Mukherjee hardly needs any introduction. He is known for building many landmark buildings in the city and all over the country and is probably the only architect who still uses the traditional method of drawing the outline of his project on paper. We spoke to the master craftsman who is all set to launch his book Dulal Mukherjee: Bridging Lines and Roots, which is a voluminous copy full of original sketches and notes by the author. Excerpts:
For how long have you been planning the book?
I never really thought about the book. My juniors and other associates, especially Samiran Banik, floated the idea and they insisted that I do it because the concept of drawing the plan of a building on paper manually with the conventional technique is no longer practised as everything is digital today. So after working on it for more than a year, the book finally came out.
What were the challenges?
Documentation was not a strong point for me so that was a major task.
What's the aim of the book?
The main aim is to show the younger generation the original process of making and planning buildings and other architecture. Computers can definitely bring out the desired output but doing it manually has a different feel to it. Detailing has been my forte.
Which one was your favourite project?
There were a lot of favourites which did not materialise, like a mandir in Tripura that didn't happen. Again, a church in Darjeeling that I had designed didn't happen but they were my favourites. If I could have made them then they would have been marvellous. For me, projects are driven by emotions and not money. It's not about building a big mansion or a small house. For instance, the Minerva theatre. It was a passion project for me.
Nature is an intrinsic part of whatever you do. Tell us about that.
I have always been very close to nature and I guess that is why it is a dominant part of my projects. I have a few principles when it comes to my work ethic. One would be detailing is God, which I totally believe in. And second, natural things. Nature is much more powerful. Nature is simple and beautiful.
Your projects have been varied — from religious institutes to government projects and private mansions. Did you always try to reinvent?
Korte hobe… we have to do it, move with time. I cannot be making just one type of building.
What do you enjoy designing the most?
The subject is not important to me. I enjoy all kinds of projects, whether a resort in a rural area or a modern mansion in an urban setting. My projects are anchored in passion and emotion.
Which was the most challenging project?
I would say Minerva theatre. It was challenging in many aspects. Also the Convention Centre. But it was tremendous teamwork. The interference was zero and the contractor was big. It was like a big picnic.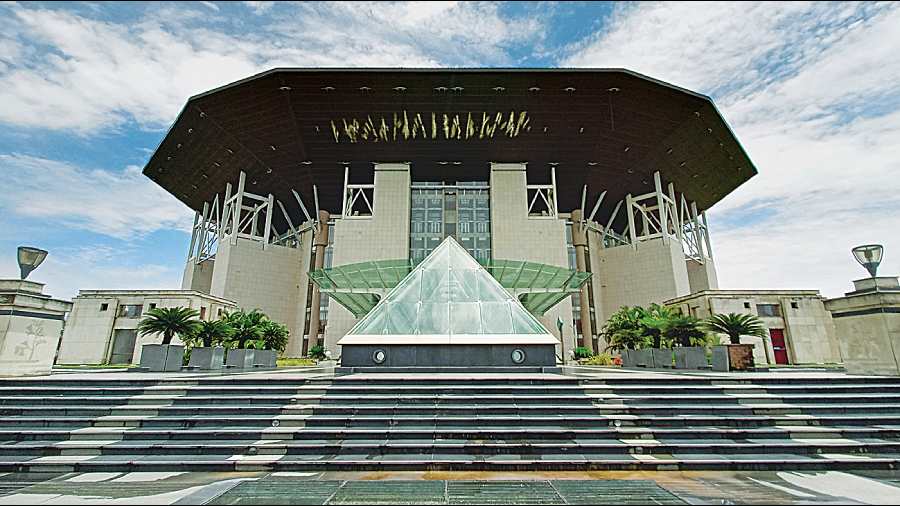 Picture of the Biswa Bangla Convention Centre designed by Mukherjee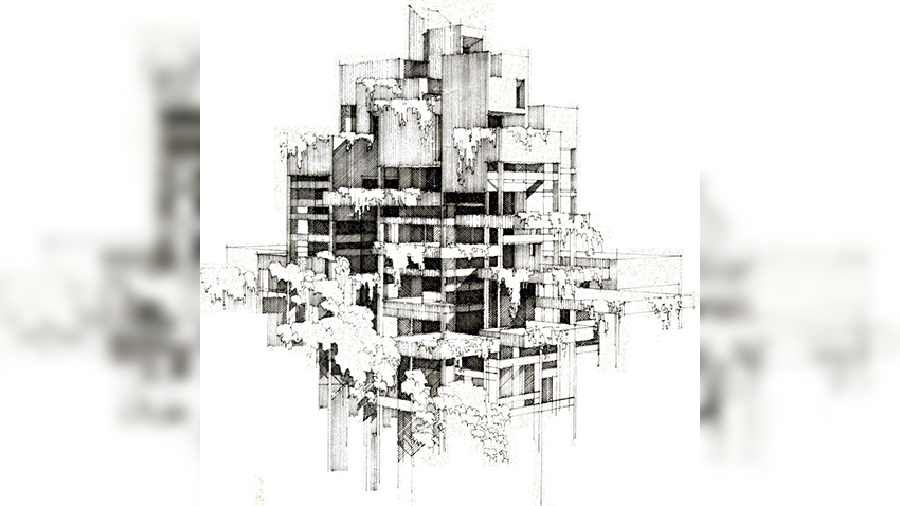 Sketch of a building by Dulal Mukherjee