When Karan Johar turned 50 last year, Manish Malhotra put out a video on Instagram, wishing his multi-hyphenate friend. 'Happy birthday, Karan, you are 50 years of age!' smiled Manish. What Karan replied could well be a metaphor of Manish's fountain of creativity too. 'Thank you, Manish, and you are 55. You don't look 55...,' was Karan's compliment.
Much like his youthful good looks, Manish's creative core too hasn't become rusty, one that bears deep roots in his dynamism and passion. That urges him to "redefine" every single time. This after over 32 years at the movies and 16 years of his label. With zero ennui and only a deep-seated urge to tell the story of our times, the MM way.
Post his Grand Finale showcase at the gigantic Pavilion 2 of Jio World Convention Centre in Mumbai on Sunday night, that saw the second drop of Diffuse, the "young and unique" line Manish launched last year at LFW, which brought the curtains down on Lakme Fashion Week partnered by FDCI, Manish spoke of this same desire to "redefine". "It's an alter-ego to the brand, an alter-ego to the way I think and I think redefined is the word we all live by," he said, looking suave in black.
The idea was to "do something which was fun, spirited and out there". "We actually had a lot of fun. Broke all the norms tonight...," smiled Manish with one of his showstoppers for the night, Ananya Panday, by his side, who, he said, had practised diligently to ace the walk. Diligence is a part of his dictionary too, the diligent belief in the philosophy of 'keep going'. The mantra he wore on his jacket too for the night.
For us, Lakshmi Rana in that neon piece set the mood of the show. Manish showcased a myriad emotions, all looking to break free from perceptions, especially the ones that are dumped on most women. With #UnapologeticallyMÉ as the statement, Manish mixed and matched to send out a mixed bag of moods — from bold to subtle — all heaped with personality of owning one's space, no matter what.
Fun prints, especially splashes of 'XO', were eye-catching. As were moments of athleisure, street-style, hip-hop and party staples. We loved the sari-drape reinvented and styled with boots and trailing jackets. So much power and aura. The chunky 'MM' accessories on the hands merited their own fan page.
A shower of confetti descended upon us after 102 models had walked and as Manish took a bow with Ananya and his other showstopper, Aditya Roy Kapur. The man in all his glamness. #WhatFun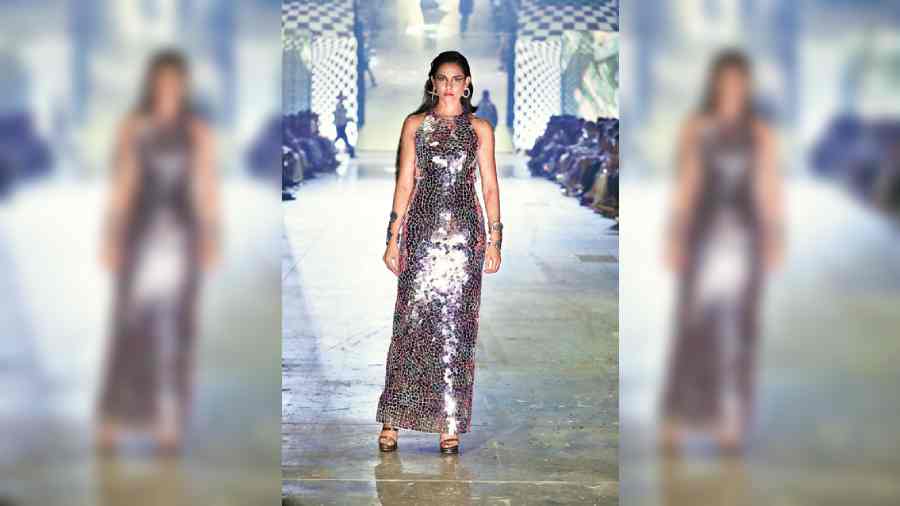 Manish chatted with The Telegraph on the collection and what he is learning from youngsters
You launched Diffuse last year. How has the brand grown on you?
Over the past year, I drew my creativity on vibrant, colour-blocking abstract prints. The feedback I received from my Gen Z customers just inspired me to do more. Diffuse has been designed to be gender-fluid, androgynous, and edgy. The overall development of Diffuse, leading up to the latest season, has had a significant impact on me and my career, fulfilling my wish of diversifying my audience to a larger age group.
Diffuse honours classic iconic games, vibrant colour palettes, and our opulent signature shine retagging gratuitous labels. Monochromes, sharp striking blacks in statement fabrics like latex, dramatic neons, and alluring metallics define the collection, with our exuberant accessories elevating the looks.
What are your conversations with this new baby of yours like?
The new collection embraces young, trendy, Gen Z fashion by showcasing ever-changing styles. Diffuse varies from subtle to spark-tempering with an edgy witty message.
A Lakme Grand Finale always promises glamour at its best. What do the words 'grand' and 'finale' have come to mean to you over the years?
Being a part of Lakme Fashion Week for several years, it's the rhythm of that specific day and my garments being beautifully narrated by models and celebrities, makes the whole experience memorable.
The theme this year is #UnapologeticallyMÉ. How have you interpreted it?
To me, the theme #UnapologeticallyMÉ revolves around defining and being yourself the way you want regardless of opinions.
What have you learned from the youngsters in the team?
The youngsters today are so dedicated and passionate about their work with fresh perspectives and a different way of thinking. Always eager to learn, their enthusiasm is great for team building, productivity, and workplace morale. The one thing I resonate with them is how they are fearlessly themselves and comfortable in their skin.
In this rapidly changing world with so much distraction, what is the key to 'find your core'?
The key to 'find your core' lies in being dedicated and proactive with work. Just having strong ethics and values would help you do that.
What is the mantra you have invested in this year?
My mantra for the year would be to always pay heed to no one, you do you.
Rapid three with Ananya Panday...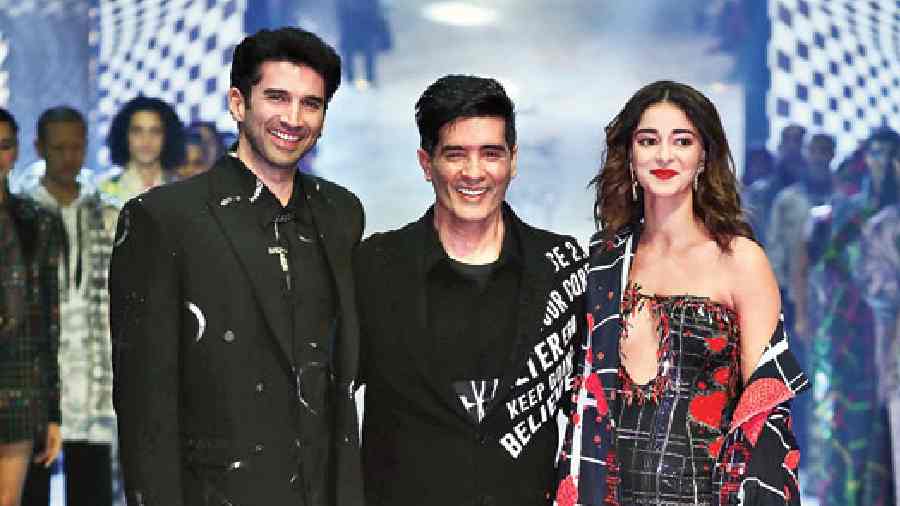 (L-R) Aditya Roy Kapur, Manish Maholtra and Ananya Panday take a bow at the Lakme Grand Finale in Mumbai on Sunday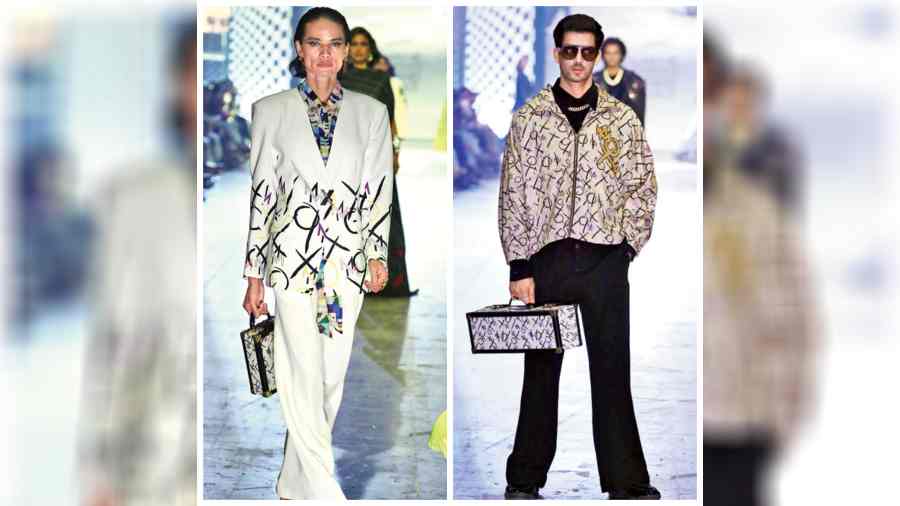 What is the best part about working with Manish Malhotra?
The best part is how beautiful he makes everyone feel and how loved he makes everyone feel and just the confidence he fills you up with.
What were your first words when you saw yourself in this outfit?
'Oh my god, do you really want me to wear this?' I was really nervous and didn't think I could pull it off. There is so much drama, there was a trench (coat) and this whole silhouette. As I said, Manish really filled me up with a lot of confidence and I really practised a lot.
What does the word 'diffuse' mean to you?
I am thinking of chemistry in school, I don't know why!
Pictures: Sandip Das