For Abdulla Ajmal, "fragrance is an opportunity to celebrate every day". He calls it "invisible jewellery" and though he has worked in every department at Ajmal Perfumes, which has a legacy of 70 years, perfumery and product development remain his favourites. The beauty, cosmetic and personal care brand has launched limited edition summer fragrances — OATH Him & Her. The genial Abdulla, business mentor and perfumist, Ajmal & Sons — India, chatted with The Telegraph on the range and why his "fragrance selection is affected by the time of day and... mood".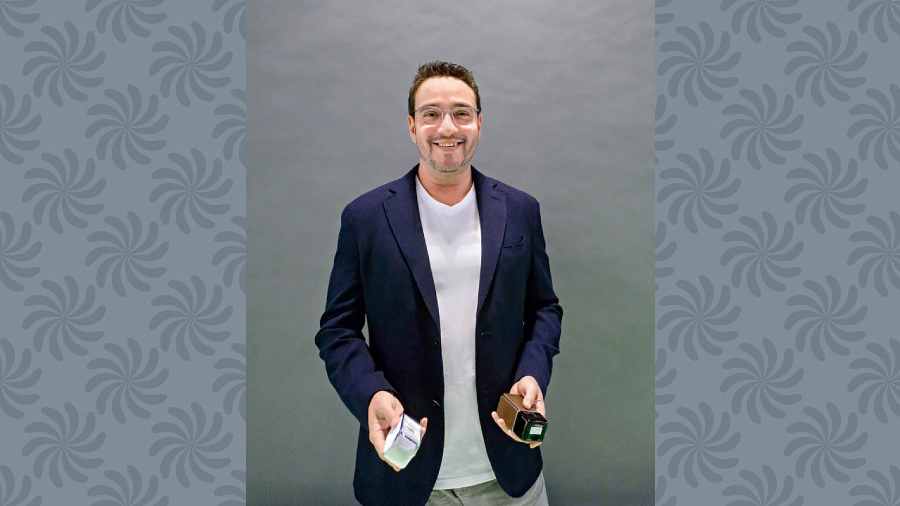 Abdulla Ajmal
Sourced by the correspondent
Congratulations on the new launches! What makes these Oaths special?
Oath Him & Her is a special scented offering from the House of Ajmal for the summer season. Oath her is a floral fresh accord that radiates with a chypre woody ambery base. Oath Him is a fresh woody fragrance that envelopes the wearer in the warmth of amber and woody notes. Oath Him & Her is not just a distinct fragrance but also a design innovation inspired by the strength of promises set in stone. The product range is a collector's item as you feel that the glass bottle is resting on a solid stone slab, but it's glass. I would define Oath Her & Him as a gesture of commitment, promise, and stability.
What are classic summer scents for you?
In summer, most people wear lighter and fresher fragrances, which is also mostly true for me. It's hot and humid, and we crave something that is refreshing and cooling, and that applies to fragrances as well. When I say light, I am referring to refreshing citrus notes, tropical fruity notes, marine notes, and dewy floral notes. Think jasmine, strawberries, lychees, lavender, mint, bergamot, rose, and even lotus as I would say.
But having said that, I don't follow that principle. For me, more than seasons, my fragrance selection is affected by the time of day and my mood. For daytime, I gravitate towards more aquatic fresher fragrances as that's the time I am at work. But if I'm going out for dinner somewhere or an intimate gathering with friends, I will wear something heavier and darker. Oud is one of my favourite notes, and I don't restrict it to seasons. To me, oud is a mood. I avoid strong fragrances during the daytime but it's more to do with consideration for other people.
Otherwise, for summer, I am good with aquatic or fresh fragrances and even perhaps heavier ones like leather and oud, so it all depends on my mood and the occasion.
Can you look back at your childhood and recall any distinctive scent that you would associate with this season?
I have spent a considerable amount of time in Assam. All my holidays were in Assam. Something that I associate with summer is the Assam tea note in particular. And another scent that's embedded in my mind with summer is that of saffron. We used to keep more saffron in the fridge than water because you have to store saffron in a cool place. So, jo paani rakhha jata tha, usmein bhi saffron ka infusion aa hi jata tha.
What is your signature scent this season?
Though my favourite note is oud, there is no signature scent I have in particular. I can't have favourites. As a perfumist, I am always trying new fragrances as part of a day's work. There are a lot of formulations in the pipeline always, and I am one of the first in the company to wear them in the testing phase. It's my job to evaluate it. I want to gauge reactions — is it getting me compliments or not. How do people around me perceive the scent? In fact, all those in my inner circle are aware that sometimes I'll spray a new fragrance on my hand to make sure my friends and people around smell it. Once they do, I get feedback, so I don't necessarily have a signature scent anyway, let alone this season.
What are you working on next?
So the next perfume we are working on is something for 2023, and it's going to be an ambery fragrance. It's pretty unique and has a sort of signature characteristic. What I mean by that is that there are two types of fragrances broadly. One that is quite generic, so you don't necessarily pick up on a signature note, and then there is the other which has a distinctive note or signature that becomes the main characteristic of the fragrance. What's important is that it's distinct from everything in the market. Expect a beautiful ambery fragrant rendition from the House of Ajmal soon.