There are times when one wants to throw a smart home gadget out the window for not being "compatible" with modern tech standards. Amazon has its way of working. Apple has its flow. And Google follows its path. Making things complicated is that we buy gadgets from all these companies and then expect them to work together.
Things are changing and fast, thanks to a unifying standard called Matter, which is just taking off but by the end of 2023, it is expected to be fairly popular, making our lives (slightly) easier. Not that big tech companies will stop adding "special" features that only work within an ecosystem but most connected home gadgets will at least be able to get along. Why are we suddenly talking about Matter? Because it was spoken about at CES? Nope. Matter is real. The Apple HomePod that was unveiled last week (will be available February 3 onwards) supports Matter. And other brands too are beginning to deliver the same.
LET DEVICES TALK TO EACH OTHER
Launched only in fall last year, Matter enables smart home products to work across ecosystems while maintaining the highest levels of security. Take the example of Apple. It's a member of the Connectivity Standards Alliance, which maintains the Matter standard, along with other industry leaders. So its new HomePod connects to and controls Matterenabled accessories, and serves as an essential home hub, giving users access when away from home.
A few reams of paper have been dedicated to Matter in 2022 but it's now there to experience. The new standard enables smart home devices to talk to one another regardless of the virtual assistant or phone brand. Several home products are expected to adhere to the standard. This means when you buy an automated door lock, see if it has a label indicating that the device is compatible with Matter. The same goes for smart lights. The smart alarm clock from Brand A can ask smart lights from Brand B to wake up.
When Connectivity Standards Alliance released the final Matter 1.0 standard and announced that the certification programme was open, there were skeptics — basically almost all of us. We couldn't see a day when, say, Apple and Samsung products sit on the same table communicating. Think of it, many of us have spent a lot of money buying products from a brand, so things work well. There were delays but thankfully, most doubts are being laid to rest.
Matter devices are able to communicate over Bluetooth, WiFi, or Thread (an IP- and meshbased protocol). For anybody building a smart home, Matter will allow you to buy any device and let you use the voice assistant of your choice. Theoretically, it's about using different voice assistants to talk to the same product. For example, you go shopping for a smart bulb and then set it up for Google Assistant. You won't need to worry about compatibility with Apple Homekit or Amazon Alexa.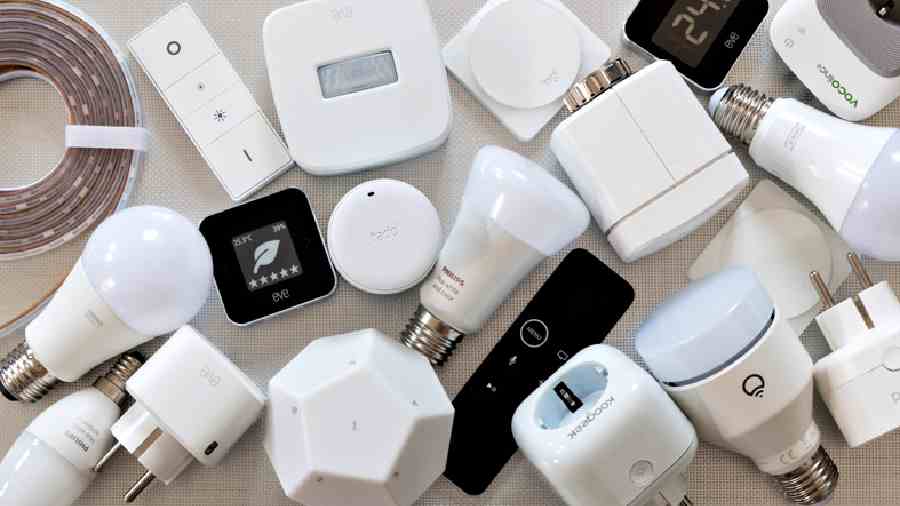 Matter is expected to bring the smart-home dream come true
AREN'T THERE OTHER SMART-HOME STANDARDS?
There are options like Zigbee, Samsung SmartThings and Z-Wave (and a lot more). These protocols are not going away; instead they will co-exist and operate. At the same time it's important to temper expectations because Matter won't cover every possible use case for every device, so other standards will continue to develop. The more platforms merge with Matter, the easier our lives and buying choices will become.
Many older devices won't get left behind. With a firmware update, some of the devices will become compatible while others will become obsolete, at least to our roving imagination that would eventually land on all things Matter. There are devices that now work with Thread, Z-Wave, or Zigbee. These should be able to work with Matter but there's no simple answer here. Big brands like Philips Hue are updating their hubs to become compatible with Matter. Updating hubs to work with the new standard enables you to connect to older systems.
If you are wondering what type of devices are being covered at the moment, the list includes light bulbs and switches, smart plugs, smart locks, media devices including TVs, and thermostats.
troduced a new Home app on Android and iOS with Fast Pair for Matter. "Setting up a smart light bulb can feel like it requires an engineering degree. With Fast Pair for Matter, this will literally become plug and play. Your Android phone will automatically detect a Matter device and help you securely set it up quickly," Google Home & Nest product management director Anish Kattukaran wrote in a blog post. Apple included support for Matter through iOS 16.1.
GEEZ, DO WE NEED TO BUY MORE GADGETS?
All of this may sound too good to be true because all big tech companies are bringing the standard. The truth is smart homes didn't develop at the pace that was promised. The bump had to be flattened, so a call for unity.
Before Matter we were forced to choose a protocol and then create a list of devices. It was expensive and confusing. Matter promises to create one module. Theoretically, we should have fewer devices from a single brand or at least more choices on the smart-home plate.
Further, Matter uses local networks in your home — Ethernet,Wi-Fi, and Thread — and works entirely locally. This is not about shooting things to the Cloud (thus making you worry less about privacy) unless you have a Matter Controller or device app that talks to the Cloud. By getting away from the Cloud you enjoy more security.
You can pick a platform to run your Matter home on, which could be Apple Home, Google Home, Amazon Alexa, Samsung SmartThings, or another ecosystemannounced as a Matter Controller. What the companies will do is compete to make you use their apps by offering different experiences. Having said all this, it's best to keep an open mind while not throwing skepticism out of the window. Ultimately, all companies want to sell products because your wallet matters. It's best to be street smart about smart homes.