It is 1984 and arch rivals East Bengal and Mohun Bagan are once again locking horns in the IFA Shield final, this time at the Yuba Bharati Krirangan in Salt Lake. East Bengal show menace down the left flank and manage to swing a cross into the penalty box where it is met by a bullet header from Kartik Seth…. Utter pandemonium! The solitary goal is enough to see off Mohun Bagan as East Bengal are crowned champions. An eight-year-old me watching my first "Boro Match" with my father falls in love with football and falls in love with East Bengal.
Kartik Seth's iconic header still flashes before my eyes
I'm 46 now and based in London with my family. I head down to Kolkata about two or three times a year. When in the UK, I direct theatrical productions in my leisure time and spend my Saturdays playing domestic cricket, often in tandem with my 16-year-old son. I take a keen interest in Manchester United and generally keep up with their topsy-turvy seasons. But even to this day, I bleed red and yellow, for being an East Bengal fan once means being an East Bengal fan for life. 
No matter wherever I may be in the world, in whichever time zone, I do my level best to keep track of my beloved club. Seth's iconic header still flashes before my eyes. Every time I'm in Kolkata, I try to make it to an East Bengal game. Before the pandemic hit, I attended my last match in person at the Salt Lake stadium in September 2019, which also happened to be my last match with my dad (he passed away the following year). East Bengal narrowly lost to Gokulam Kerala.
From Krishanu to Bhaichung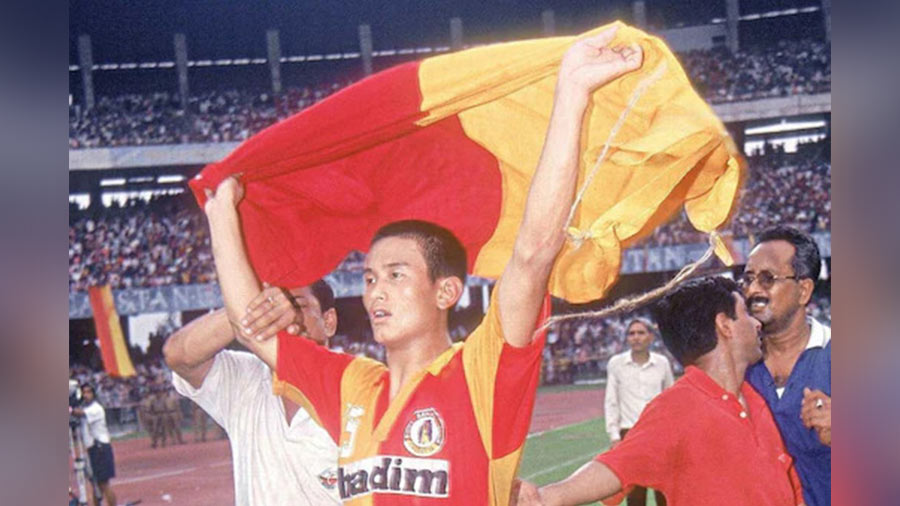 Bhaichung Bhutia's most iconic East Bengal performance came against Mohun Bagan in the 1997 Federation Cup semi-final
TT archives
Every loss stings, but along the way, defeats also make victories more memorable and more meaningful. My favourite East Bengal memory comes from the 1997 Federation Cup semi-final, when East Bengal ran riot, crushing Mohun Bagan 4-1, with Bhaichung Bhutia netting an exhilarating hat-trick. Prior to the game, Bagan coach Amal Dutta and the local media had cast aspersions on Bhutia, but East Bengal coach P.K. Banerjee used that to motivate his young striker. What followed was a clinical dismantling of Mohun Bagan, with 'PK' finding a way to counteract 'Amal-da's' pathbreaking diamond system in midfield. 
After the semi-final win, I had to find a way to make it to the final, too. But with my exams coming up, my mother wasn't supposed to know. So between my dad and me, we hatched a plan. My mother would know that I'd be attending tuition classes, while in reality I'd sneak into the stadium and cheer on another East Bengal triumph. As it turned out, East Bengal lost 2-1 to Salgaocar, but at least my mother didn't find out what I was up to. Although she may have had an inkling.
Over the years, I've been lucky to witness many East Bengal greats in action, from Sule Musa to Mike Okoro to Alvito D'Cunha. But nobody compares to Krishanu Dey, "the Indian Maradona", and his exquisite left foot. Krishanu's ability to dictate games from midfield was unparalleled, as was the sense of palpable excitement every time he touched the ball.
'Apun ka number phir se aayega'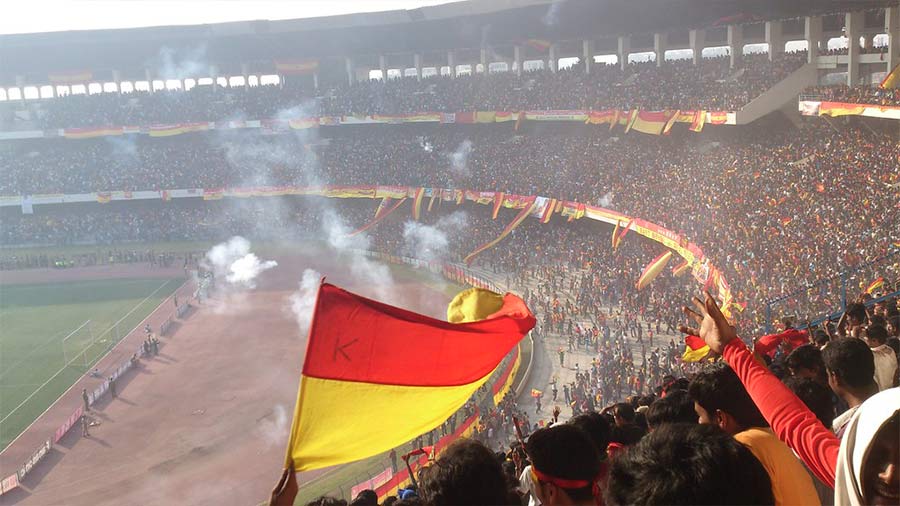 Koushik is confident that East Bengal will once again regain the glory days
TT archives
Even though East Bengal aren't enjoying a glorious period right now, I can never imagine not rooting for them. My friends often ask me who I'd support if East Bengal ever played against Manchester United. My answer, in a heartbeat, is always: "East Bengal". After close to four decades of fandom, there can never be any other answer. 
As fans of East Bengal, we may be going through a rough patch right now, but we've weathered many storms before. We'll weather many more again. Deep down, I have no doubt that apun ka number phir se aayega, bahut jaldi aayega!
(As told to Priyam Marik)