By the time Parambrata Chattopadhyay was nine or 10, Soumitra Chatterjee was part of his life. "Because I was either watching Sonar Kella or watching Joy Baba Felunath, Hirak Rajar Deshe, Charulata, Jhinder Bandi, so, for me, this was the guy, this was the man! Then when I started working as an actor, the first day that I met him, many years ago, about 15-16 years ago, I still found it difficult to believe that I was actually sharing the screen with this gentleman," Parambrata had told The Telegraph earlier. Fittingly, the actor-film-maker went on to direct Abhijaan (produced by Ratan Shree Nirman in association with Roadshow Films), a biopic on Soumitra, in 2020 and now the film is running in theatres. The Telegraph chats with Parambrata...
Making Abhijaan has been a journey in itself. You had started shooting before the pandemic in 2020. You resumed the shoot post-lockdown. Later Soumitra Chatterjee passed away. How do you look back on the journey of two years?
It has been quite crazy in so many ways. We shot the film in three phases. Later I left for Himachal for a shoot, and came back to a city without him. It felt strange. I knew I would not be able to call him up or get together for an adda. It was very weird in a certain way. After that I got busy with a lot of other work and then we started preparing the film for the screening at the London Indian Film Festival. Then we faced the biggest challenge... the audio. All we had of Soumitra Chatterjee was the location sound. Since we dub our films, we usually don't record the location sound with a lot of care. It's recorded like a rough guide track. Same happened with Abhijaan. Later everyone else dubbed for the film. And I was thinking how do we salvage this? My sound designer asked for one-and-a-half months. 'Let me see what I can do,' he said. In the meantime we had tried dubbing with very eminent names. But it was not working out. Finally our sound designer salvaged it. He had cleaned Soumitra Chatterjee's voice. So his original voice from the shoot is there in the film. It is quite a feat that Shomi (Chatterjee) has achieved.
What was the starting point of the film? Why did you decide to make a biopic on Soumitra Chatterjee?
The offer came from my co-producers in 2018. Then I decided that it has to be a critical take on him... and capture the essence of what he stood for... his worldview. And how his worldview impacts and changes the lives of others around him. There's an exploration of that as well, and we look at certain chapters from his life. I went and explained it to him... and he was very happy and said that he felt relieved that the right person was doing the job. The film tries to look at him from an objective point of view. He was very happy that somebody had finally managed to tap into this.
Were there certain areas where you could not go?
He never said anything like that. I went to his place almost 15 times in three months in 2019. We would talk and I would record the conversations. He never said that don't show this or that. As a mark of respect I have not kept one thing. Whatever we do in our personal lives becomes a topic of discussion for the public. My concern was if I delve too much into the controversies of his personal life, people might talk about it and then I did not want people to be excited about just that. Not with somebody like him. His fallacies and shortcoming are there in the movie. But the focus is his life in art. Not his life in controversies. I tried to keep a distance from that. I needed to have a clear conscience.
What was his take on the cast?
He said that either I should play him or Jisshu (Sengupta). I told him that I could not do it. The scale was much bigger here. We make Bengali films with limited resources and the director has to look after everything. He told me that he felt that I had understood his worldview. And for his obvious handsomeness, he said, it has to be Jisshu. And which is true. Jisshu is the best looking man of our generation. Then I spoke to Jisshu.
For the other actors, I went by purely gut feeling. They have been very courteous.
Raima Sen is there in the film...
I didn't tell her about the film! 'Are you free tomorrow?' I had asked her. 'Can you come over? We'll chat and also shoot a bit!' She came over and I told her what she had to do.
What kind of questions would you ask Soumitra Chatterjee about his life?
I did not follow any linear pattern. I would start with a topical incident. 'Eta shunle, eta porley?' I would ask him. From there I would go on to a phase of his life where a similar incident might have happened. I had specific questions for a few things.
Was he pretty sharp at that point of time?
Yes, yes he was. We have tried to cover the major milestones of his life. After a point he would do everything... he used to do a Goutam Ghose film as well as a regular daily soap. He would do mainstream films made by lesser-known directors and then act in an Aparna Sen film as well. He was very clear that he was working for money.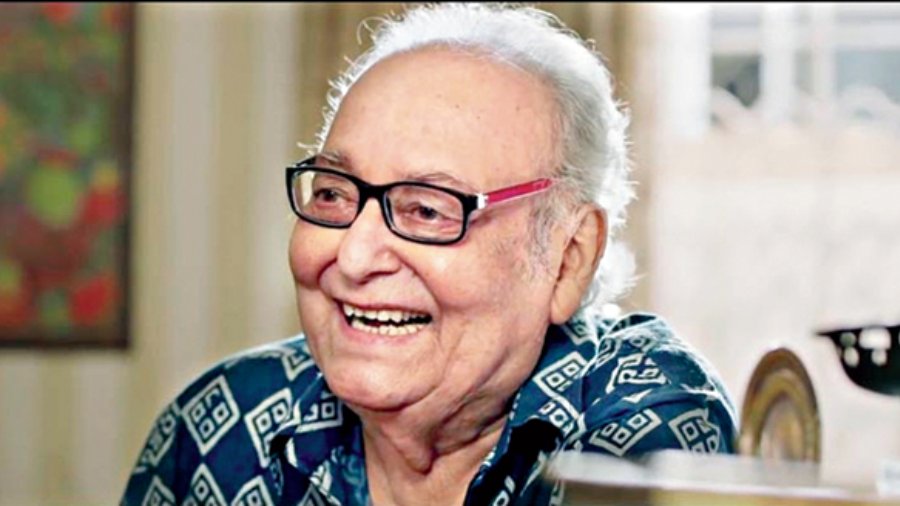 Soumitra in Abhijaan, which is running in theatres now
You also act in the film. Why did you decide to cast yourself then?
I knew all the questions I had to ask. And I had only four-and-a-half hours to shoot with him. He could not shoot beyond that. I knew exactly what to do and I did not want to take any risk. I did not have any time to explain anything to another actor as long as he was on the set.
How challenging was it to shoot with him after the lockdown?
I was very scared. I was shooting with an 85-year-old man with so many health issues. I did not want to shoot with him in the first place at that point of time. But he kept insisting.
How was it like directing Jisshu?
Jisshu and Soumitra Chatterjee are very different people. That is why Jisshu approached the whole film very objectively. Jisshu didn't go deep into his mind and I didn't want him too. Jisshu followed instructions and he has done that to the T. Jisshu is fantastic in the film.
You have cast film-maker Q as Satyajit Ray. Incidentally, Q is critical of Ray's films. So why cast him as Ray?
Q is so similar physically to Ray that you cannot resist the temptation of casting him as Ray. The fact that he is critical of Ray, I find that good. He does not have a soft, emotional, mushy association... when it comes to Ray. He looks at Ray as another film-maker in the history of cinema. I differ with him majorly because I like most of Ray's works. But we also have to go beyond Ray. A lot has happened while he was alive making films. And a lot has happened since he is not there anymore. So in a way, he had an objective take on Ray.
How were your interactions with Soumitra Chatterjee over the years?
We were great together. We would talk about literature, cinema... about an artist or a playwright. Or a certain period in history.
How would you like to remember Soumitra Chatterjee?
As the man with whom I would have a drink in the evening; would chat endlessly for three-four hours about any period in history. I would mention a name and he would present his take on that person. It was fantastic chatting with him. I would engage myself in such lovely conversations.
Abhijaan is a biopic that constantly has a counterpoint. It is the biopic of a man seen through a mirror.
Picture: Rashbehari Das