It's no secret that along with their interesting plotlines, brilliant visuals, mellow soundtracks and jaw-dropping heartthrobs, there's another factor that draws our attention to
K-dramas — the food. The mouthwatering visuals that food brings to a scene, elevates the whole experience of watching these dramas. Be it for celebrating, mourning or just your average gathering, food has come to be a crucial part of the K-drama world.
Apart from the forever-famous ramen (remember the countless scenes with the phrase "ramen meokgo galle?" or "do you want to eat ramen?"),
K-dramas have introduced us to an infinitely large culinary experience, that has garnered a cult following of its own. Be it experimenting in our kitchens or wishing we had that authentic experience, these foods are on our goumet radar now. Here are 10 famous, flavourful and ambrosial
K-dishes spotted in K-dramas that had us wishing we were part of the scene!
Tteokbokki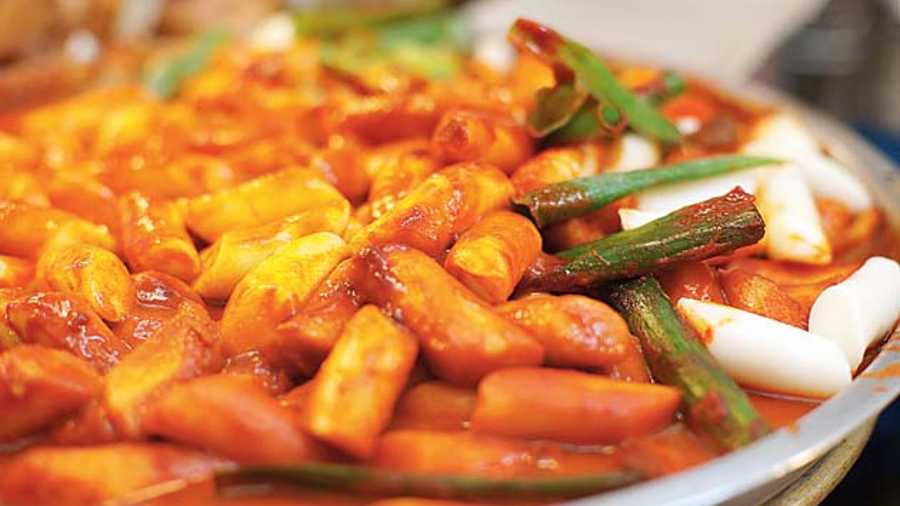 We all loved that intimate scene in Romance is a Bonus Book shared over tteokbokki. Once considered a luxury, tteokbokki or spicy rice cakes have now become one of the most popular street foods in Korea. The current trend of tteokbokki involves fast assembly and food that can be consumed on the go. Popular pairings include ramen, egg, scallions, fish cakes and more. The fun thing about the dish is that it is accessible to both vegetarians and non-vegetarians owing to the customisable pairings. Added bonus? You can make these easily at home and it makes for a perfect late-night hot and spicy snack.
Corndog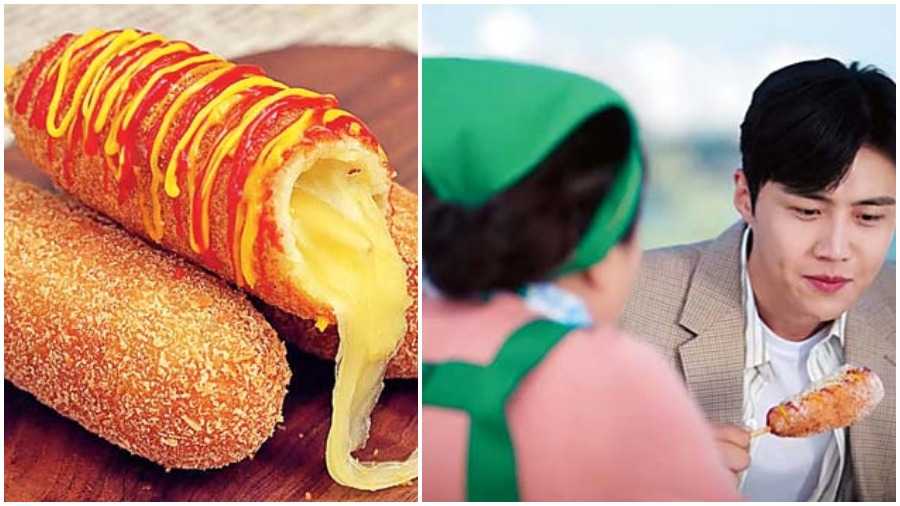 A lot can happen over corndogs is not just a saying. We've seen corndogs, quite literally, shape lives in K-dramas and we can't deny that this crunchy variant has changed ours. Crunchy, chewy and creative, there are endless varieties to this dish. You can go for the 100 per cent mozzarella filling or 100 per cent sausage, tteok or fishcakes. If you're indecisive like us, the 50-50 filling is the best of both worlds!
Standout moment: We lived and melted for the scenes in Start-Up where Han Ji-Pyeong shared corndogs with Ms Choi who sold the dish from her truck for over 15 years, kindling a special bond with the lady that changed his life.
Chimaek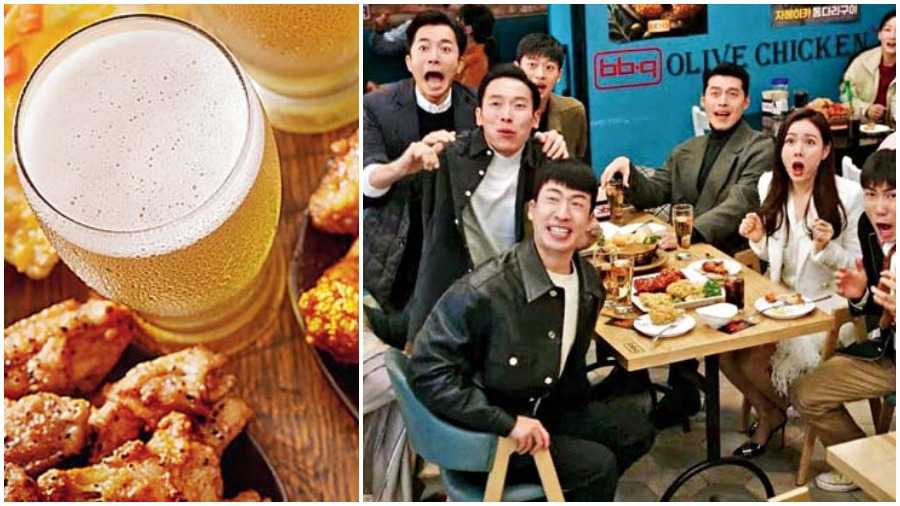 Seoul is known for its lightning-fast delivery, and second to it is its fried chicken-and-beer combo also popularly known as chimaek (compound word for chicken and the Korean word for beer). A dish that revolutionised South Korea's drinking culture, chimaek is perfect for a wintry evening. You can also spot people mass-ordering this dish during football season where it is tradition to enjoy chimaek while watching the games and cheering on. On these days you'll spot chimaek at almost every screening.
Standout moment: When Yoon Seri and her North Korean comrades enjoyed chimaek while watching football in Crash Landing on You. The subsequent win and spontaneous cheering across the restaurant sum up the feelings chimaek brings to a celebration.
Jjajangmyeon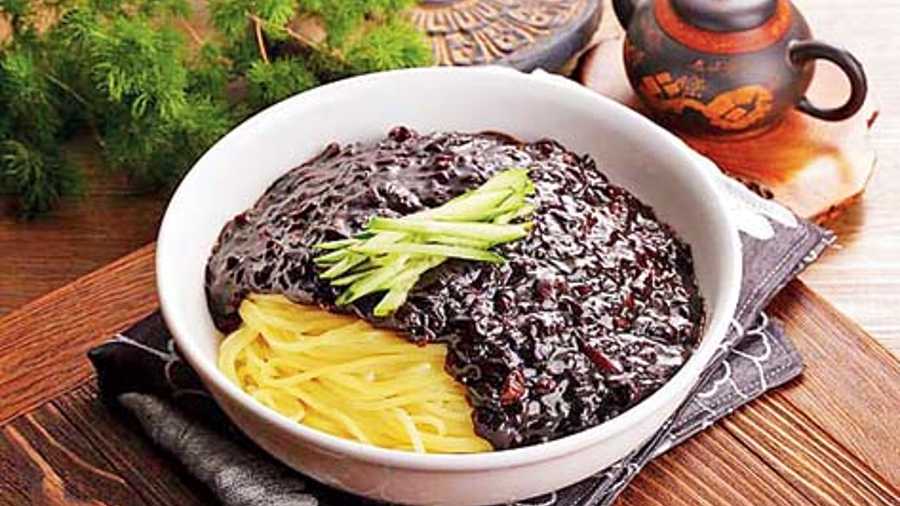 Try spotting a modern K-drama without jjajangmyeon and we'll tell you there's close to none. These thick noodles with black bean paste are popular not just in dramas but in Korean variety shows too. It is ideally served with a side of pickled radish. There's no greater joy than in pulling off that wrapper and mixing the noodles and it's reflected on the faces of our favourite idols. Though not authentically Korean, the Korean-Chinese dish has a fanbase of its own and is often caught up in a war with its competitor jjamppong (Korean spicy seafood noodle broth).
Spotted in: Coffee Prince, Youth of May, Prison Playbook and Hometown Cha Cha Cha.
Kimbap (also: Gimbap)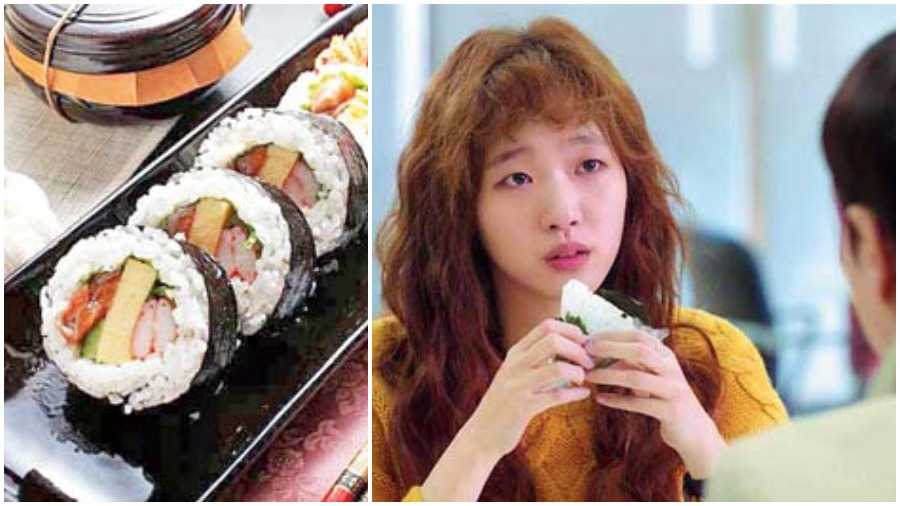 If flexibility had a culinary name it would be kimbap. One of the most popular snacks at Korean convenience stores and bus stops, this dish is a perfect bite-sized meal. Wrapped in gim or dried seaweed sheets, this dish can pack almost anything as a filling. Along with steamed white rice, popular fillings include avocado, fish cakes, crab sticks, tuna, shrimp and even chicken. A popular variant of the kimbap is the triangular kimbap that was popularised for its portability and ability to stay crisp even after hours!
Spotted in: the Kim Go Eun starrer Cheese in the Trap. It had us all wishing we could master the art of skillfully unwrapping the triangle kimbap, unlike Yoo Jung. Owing to its popularity, the Yoo Jung Sunbae edition of the triangle kimbap (kimchi fried rice with cheese flavour) was also released.
Ssamgyeopsal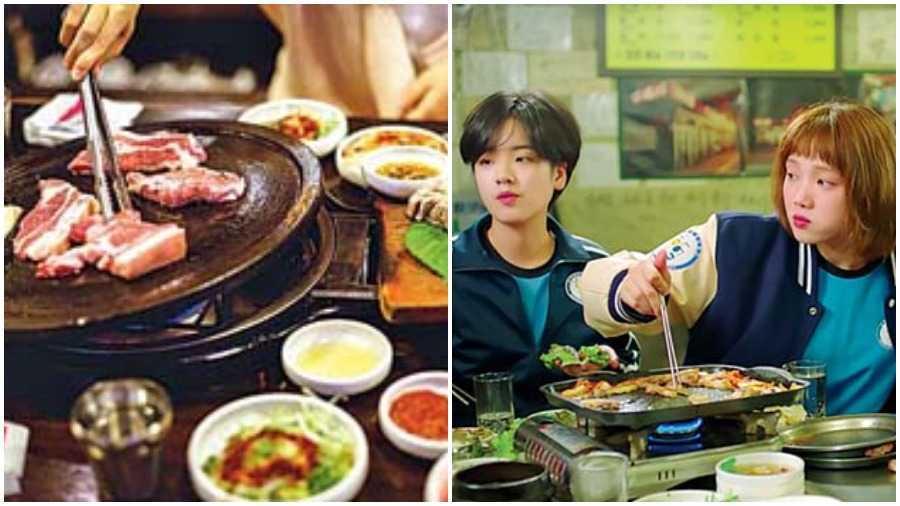 If BTS' Jungkook serenading the world with his ssamgyeopsal song hasn't enticed you to try the dish, then we'll let the crackling visuals do the talking. Essentially standing for grilled pork belly, this dish is the star of all Korean BBQs. Need a guide on where to begin to have the best ssamgyeopsal experience? Weightlifting Fairy Kim Bok-Joo has the answer.
Dish Tip: A mukbang in its own accord, the drama explains perfectly how to effectively maximise your BBQ night out! As told by Bok-Joo herself in Episode 2, the key to enjoying ssamgyeopsal at the BBQ is RMFC (raw meat, marinated meat, fried rice and cold noodles) paired with steady pacing.
Miyeok-guk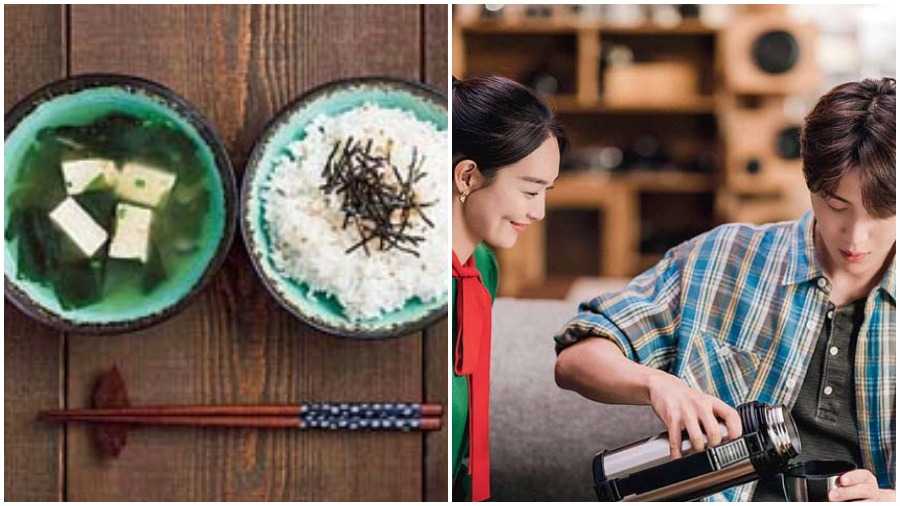 Also known as seaweed soup, this dish is simple but holds tremendous meaning in South Korean culture. Traditionally dedicated to the Samsin Halmoni, the goddesses of childbearing, this dish is fed to mothers after delivery. The dish is usually prepared with dried seaweed, garlic, sesame oil and soya sauce and is considered to be a low-calorie superfood. Keeping up the tradition, South Koreans have this simple dish on birthdays to remember their mother's love and sacrifice. While dominantly associated with prosperity, owing to its slippery nature, it is considered ill omen to have seaweed soup on days of an exam.
Standout moment: In Hometown Cha Cha Cha when Yoon Hye-Jin sweetly prepared a very salty seaweed soup for Du-Shik on his birthday. It had us rooting for them all the more.
Bingsu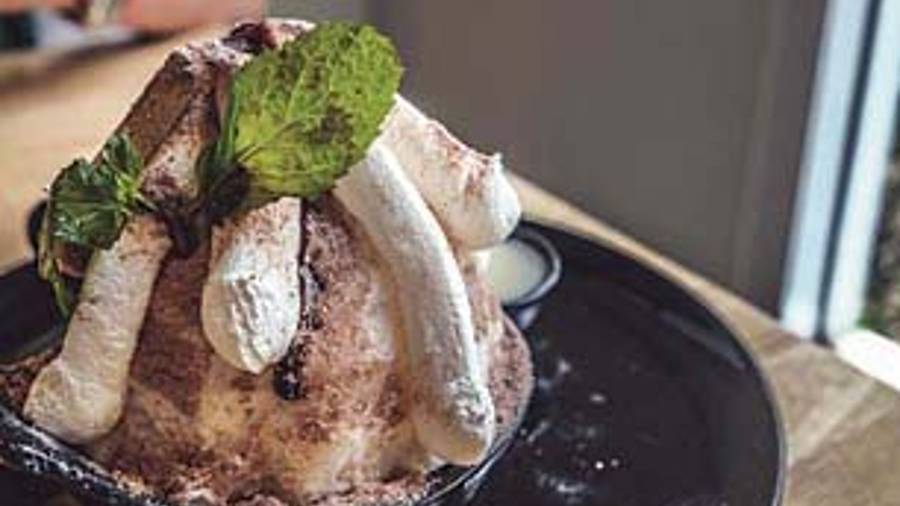 Korean shaved ice or bingsu is a cool dessert and is perfect to beat the hot weather during summers. What makes bingsu stand out is its toppings, which range from red bean paste to fruits to condensed milk and more! Traditional toppings also include tteok and misutgaru. Bingsu is known for its aesthetic creamy white visual that replicates the look of a snow-draped mountain.
Spotted in: Healer where we couldn't help but warm up as Jeong-hu (Ji Chang Wook) and his mother share the traditional pat bingsu (red bean paste bingsu) and bond over it as they discuss bingsu. We melted further when Jeong-hu smiles and sets aside the red beans for his mother to have as she loved it.
Jokbal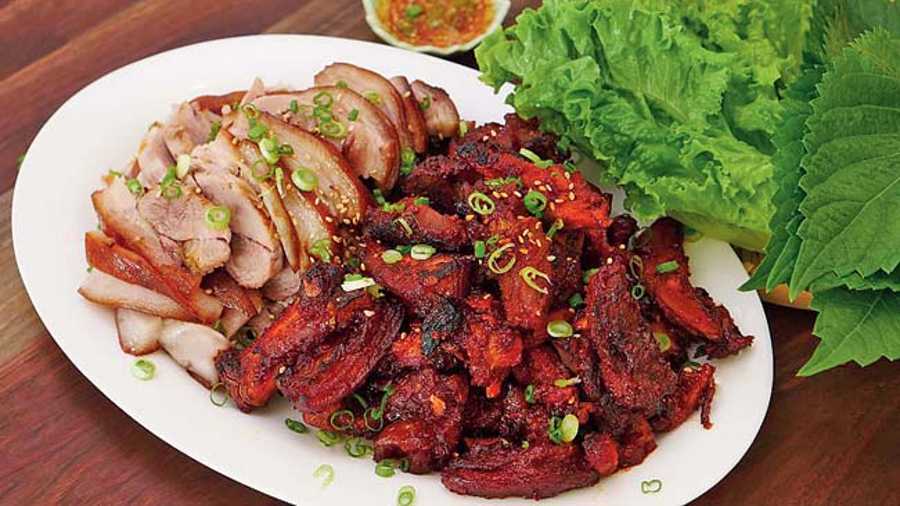 A truly hot and spicy classic, jokbal is an appetising dish containing braised pork trotters. What makes this dish in demand is that the meat is marinated for hours and when cooked practically falls off the bone. The best jokbal is usually soft, flavourful and retains a beautiful glaze that has mouths watering before it even hits the table!
Spotted in: Bad and Crazy. This one is hard to forget as a jokbal delivery literally helps solve a case and save the day. Truly a wonderful way to end the night!
Jjigae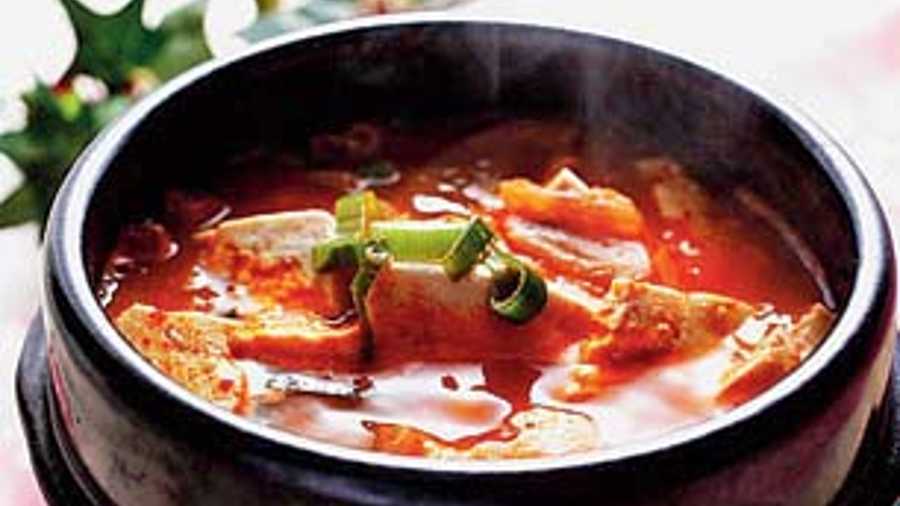 Jjigae or Korean stew is a heartwarming broth that is backed by years of history. Culminating from a time of hardships and food scarcity, budae jjigae started out as a dish to help people sustain themselves by putting together a variety of western meat preparations, noodles and other supplies from the US military base during and post the war. In current times, this tangy dish is much loved and has bifurcated into several varieties such as kimchi jjigae, sundubu jjigae, doenjang jjigae and more!
Spotted in: Itaewon Class. True to its heartwarming nature, we witness sundubu jjigae play a crucial role in Park Sae-ro-yi's success as he replicates his father's jjigae recipe to set up his own restaurant after battling years of hardships. Jjigae also won favour in the eyes of those opposed to him. We love the power of good food!
DRINKS THAT KEEP POURING IN K-DRAMAS