Infusing local and seasonal ingredients such as tender coconut and nolen gur and whipping up never-been-tasted-before flavours in ice creams, Pabrai's Fresh & Naturelle Ice Cream caught the city's fancy and very soon became the go-to ice cream brand for many. Formerly owning the popular hangout Tulika's Ice Cream Parlour on Russell Street famous for its Hot Chocolate Fudge, Anuvrat Pabrai has come a long way since with his home-grown ice cream brand Pabrai's. On World Ice Cream Day yesterday, we caught up with Anuvrat and here's what transpired.
From the Hot Chocolate Fudge times to now ice creams that span across a plethora of flavours, what has the journey been like?
It's been a long eventful journey of 37 years from 1985 to 2022. In 1985, my wife Tulika and I started Tulika's Ice cream Parlour on Russell Street, sourcing ice creams from Kwality's. Very quickly we become popular with Calcuttans (it still wasn't Kolkata then), mainly because we had a very innovative range of sundaes, ice cream sodas, milk shakes and floats. Our Hot Chocolate Fudge was hugely popular and we served a triple scoop HCF in a beer mug.
In 1986 we started manufacturing our own ice creams. By 1990 we started importing Italian machineries and by 1996 were running our plant 24 hours and demand outstripped supplies. In 1998 we set up a state-of-the-art plant capable of manufacturing 3 million litres of ice creams in Bakrahat Road near Joka.
In 1999, labour problems struck us and due to worsening labour relations and influx of other national brands, we had to shut our plant in 2008.
In 2008, luckily, we got a closed ice cream factory on rent just a month after closure of Tulika's and we started Pabrai's Fresh & Naturelle Ice creams from there. From 2008 to 2022, it's been a journey of ups and downs. We learnt about franchising and in 2020, we faced the pandemic which was a big financial hit to us.
In 2022, post the pandemic, we are now looking to expand and grow. Business has been very good and sales have shot through the roof from April onwards.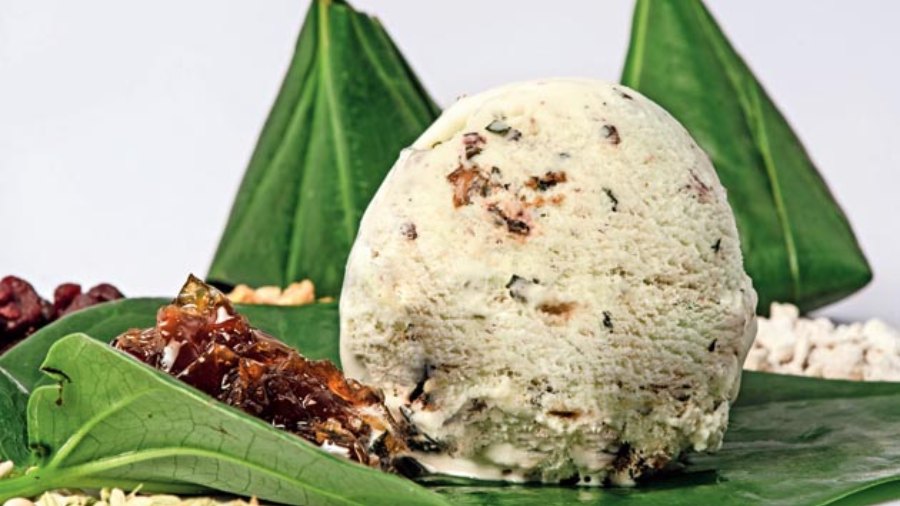 Kolkata Meetha Paan Ice cream
Tell us how you got into ice creams...
In 1985 when we were looking to open a cafe-cum-dining place on Russell Street, which was part of 41 Chowringhee Road and was owned by Tulika's father, we thought to start an ice cream parlour as this had the least gestation period and it was possible to commence operations in short time. Once the parlour opened, it became so successful that all plans to open cafe etc were dropped. One can say that rather than an inspiration, it was just how things unfolded which led us into ice creams.
What are you plans with regards to expansion and upliftment of the brand?
Pabrai's is planning to open a new factory capable of manufacturing 1 million litres of ice cream per year. The work on new factory has started and we hope to commence production by March 23. Unfortunately, during the pandemic 20 stores shut down but we are working aggressively to open new outlets and we hope to get back to 45 outlets which we had before pandemic hit us.
Franchised outlets or company owned, what's your pick?
Pabrai's has always been a franchised brand. In fact, we are now looking to open more company owned and company operated outlets in addition to franchise outlets.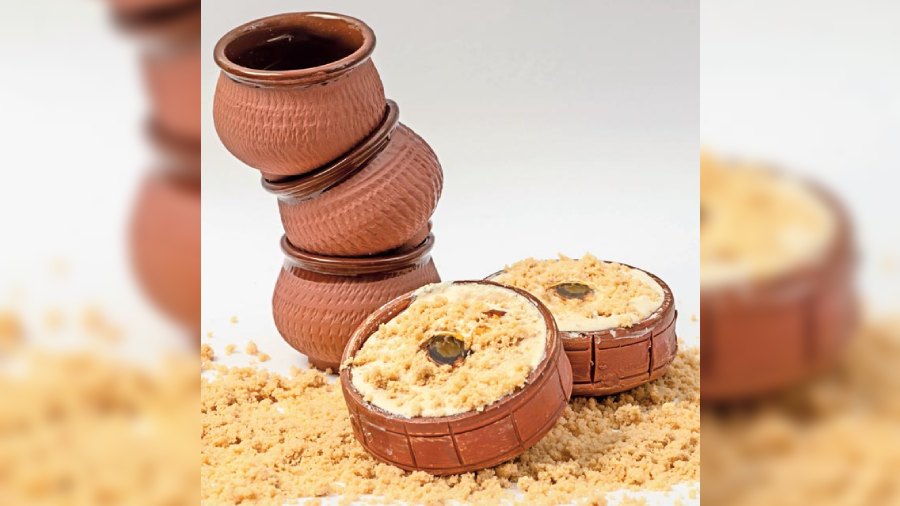 Nolen Gur ice cream
What are some of your bestselling flavours?
Our bestseller undoubtedly is the Nolen Gur ice cream which is our invention and we are really proud of it. The other popular flavours are Kolkata Meetha Paan, South Indian Filter Coffee, Alphonso Mango, Salted Caramel, Tamarind Sorbet, Pink Guava, Ruby Chocolate etc. Our Sugar Free range of ice creams are doing very well and we are looking to expand the range of sugar-free flavours.
Is there any anecdote that you'd like to share with regards to the development of new flavours?
The idea behind the development of Nolen Gur ice cream is very interesting. During Tulika's time, we had started working on developing premium flavours. I visited a caterer and he suggested developing nolen gur ice cream. I confess at that time I did not know what nolen gur was so I asked him what it was and where I could taste it. He referred me to some sweet shops like Nakur Nandy, Chittaranjan, etc and I went and tasted nolen gur sandesh. I loved the taste of nolen gur. I got to know that liquid nolen gur was available in Sovabazar so I went and bought 50kg of it. I experimented with various combinations and formulations and finally got it right. I took a sample to the same caterer and asked him to give me feedback. He was very impressed and started ordering nolen gur from us. I then visited several other top caterers and so the product got exposure and grew rapidly.
In 2015 our Nolen Gur ice cream was nominated and shortlisted as one of seven best sweet dishes in South-East Asia, Japan, China and Australia by Foodie Hub, which was part of Chowzter. We did not win but we were very proud to be shortlisted and selected amongst the Top 7 Best Sweet Dishes. 
As a family-run business, how easy or difficult is it to manage the brand?
Our whole family, which includes my wife, my two sons and daughters-in-law are all working for the company, handling various functions independently. With children being born to both my daughters-in-law's, their roles have indeed become tough, having to manage small children and look into their work load as well.
Sometimes it is a challenge to manage family businesses but if all members cooperate and help each other, it is possible to run a family business with ease.
With multiple ice cream brands popping up, what's your take on competition around you?
Competition is good as it always keeps everyone alert. We welcome competition as it makes us work harder, makes us come up with more flavours, keeps us focussed on quality and doesn't allow us to take things for granted.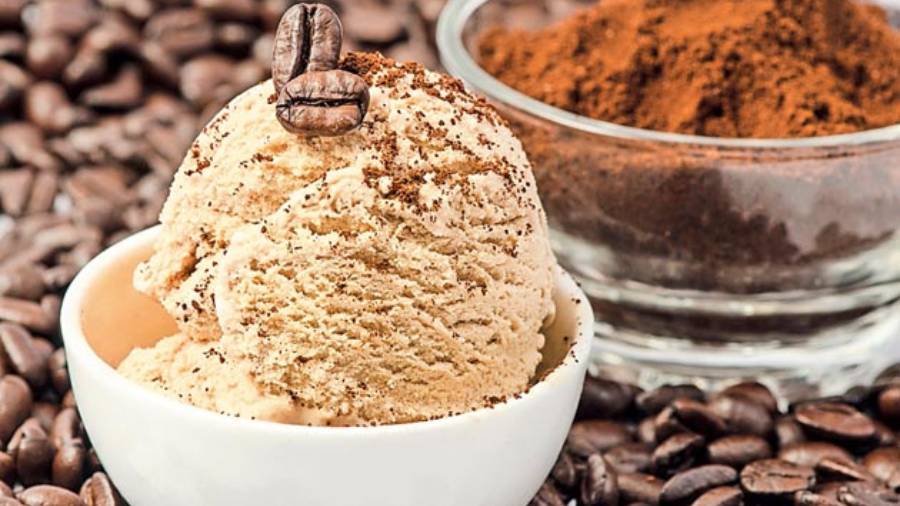 South Indian Filter Coffee Ice cream
What are some of your personal favourite flavours and bestsellers from the brand?
As an ice cream maker who has developed and created all the flavours, they are all like my babies. I love them all. But if I was to choose the best amongst the best, then my personal favourite would of course be the Nolen Gur ice cream followed by Rich Chocolate Brownie, South Indian Coffee, Muskmelon and Kolkata Meetha Paan. 
Where do we see Pabrai's going in the next five years?
In food business it's the quality of product which is paramount and I will be working very hard in coming years to ensure that quality remains the same if not better. As far as numbers go, we see ourselves having at least 200-plus outlets and with at least some out-of-India franchisees.