If gur is the flavour of the winter, then mango is the mantra for summer among mishti-makers in Kolkata. Come the season of mangoes, sweet shops vie with each other to give customers a taste of the king of fruits.
The pulpy, juicy, sweet and luscious fruit with its distinctive aroma lends itself perfectly to sweet-making. Be it adding a touch of mango to enhance the flavour of old favourites like sandesh, doi and rosogolla or using the pulp of the fruit to innovate and come up with new sweets — sweets shops old and new up their mango game every summer.
On the eve of National Mango Day, which is celebrated on July 22, My Kolkata gives you a bite of a variety of mango mishtis on offer at sweet shops in north and south Kolkata.
Balaram Mullick and Radharaman Mullick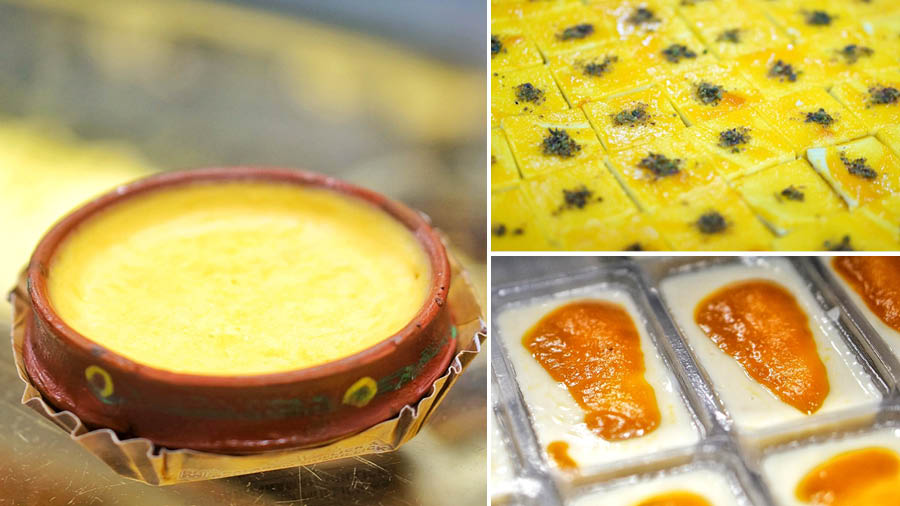 Balaram Mullick and Radharaman Mullick's Mango Doi, Amrapali sandesh and Mango Cham Cham
Soumyajit Dey
This sweet shop, spread across different locations in the city, has quite a few varieties of sweets made with mangoes. Mango Abar Khabo, a sandesh made out of chhena, not only tastes of mango, but lies on a bed of mango pulp. The sweet is priced at Rs 35 per piece. There's another sandesh named Amrapali, which has a layer of mango pulp, or aamshotto, in the middle. This mishti is also priced at Rs 35. Other varieties include Mango Cham Cham (Rs 30), Mango Lava Sandesh (Rs 25), Kora Pak Mango Sandesh (Rs 25), Mango Doi (Rs 30 per cup), Mango Souffle (Rs 45) and Mango Gelato Sandesh (Rs 900 per kg).
Sen Mahasay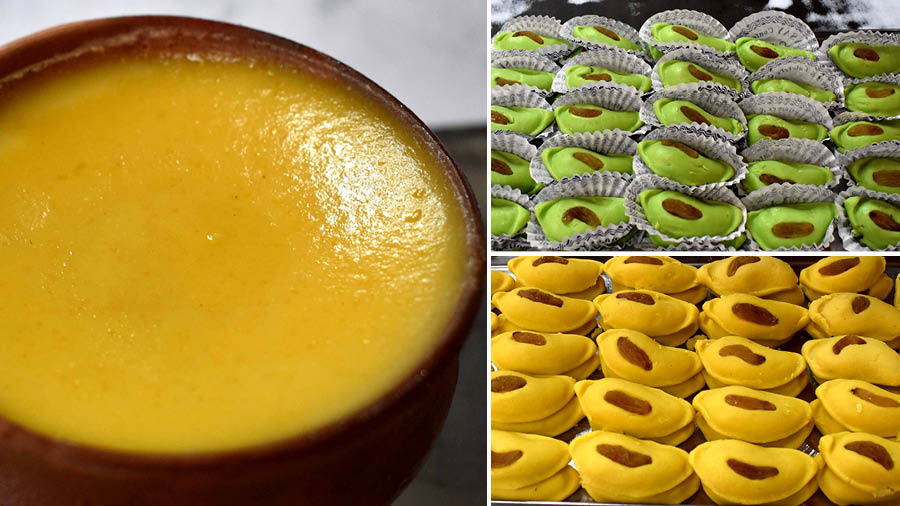 Sen Mahasay's Aam Doi, and sandesh with 'kancha' and 'paka' aam
Ashim Paul
Spread across the city, Sen Mahasay shops also have some mango magic to offer. Not only ripe mangoes, they also have a variety of raw (kancha) mangoes. There are kora paak and norom paak mango sweets available. While the ripe mango sweets made of chhena are yellowish in colour, like that of ripe mangoes, the raw variety is greenish in colour. The norom paak is priced at Rs 20 per piece while the kora paak is Rs 10. Aam Doi is also available, priced at Rs 300 per kg.
Kamdhenu's Sweets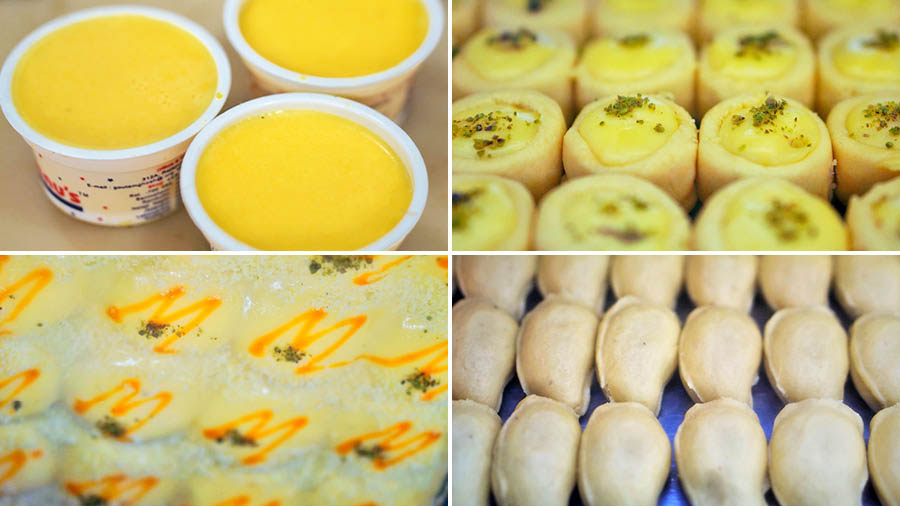 (Clockwise from top left) Mango Doi, Mango Malaibati, Mango Sandesh and Mango Malai Chop
Soumyajit Dey
With outlets located mostly in south Kolkata, this sweet shop is a delight for mango lovers. The Mango Malaibati, priced at Rs 30 per piece, has a mixture of mango malai in the centre of the mango chhena layer, shaped almost like a bati (bowl). The Mango Malai Chop (Rs 20) is a juicy mishti on a bed of creamy malai. Then there's their Mango Sandesh priced at Rs 20 and Mango Doi priced at Rs 40 per cup.
Girish Ch. Dey and Nakur Ch. Nandy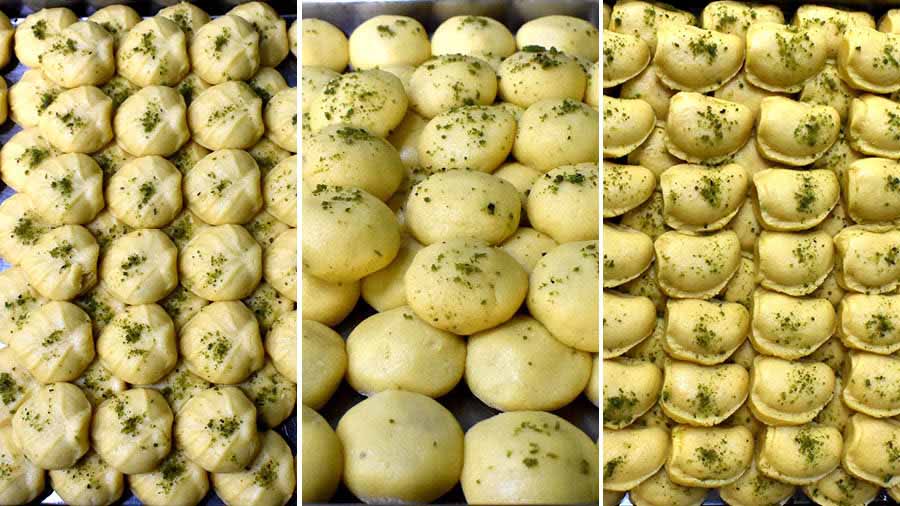 Girish Ch. Dey and Nakur Ch. Nandy's (L-R) Mango Utsab Sandesh, Norom Paak Amrapali and Mango Sandesh
Ashim Paul
Located at 56, Ramdulal Sarkar Street, this shop is one of the most iconic sweet shops of north Kolkata. Famous for their spread of chhena sandesh, their mango sweets are also worth drooling over. The mango sandesh, priced at Rs 30 per piece, has a filling of mango pulp inside the sweet. The Mango Utsab Sandesh (Rs 30) is also made with mango pulp. The Norom Paak Amrapali (Rs 30) just melts in the mouth as you take a bite.
Dwarik's Grandsons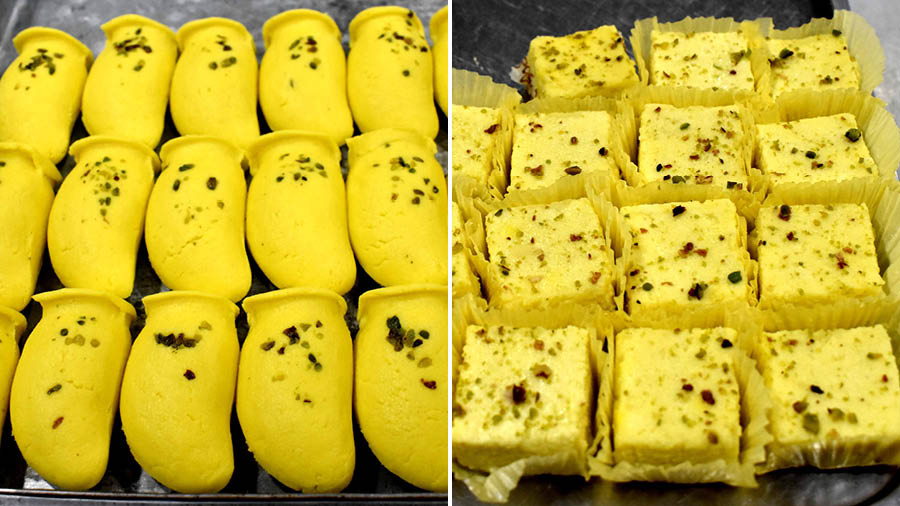 Dwarik's Grandsons' Himsagar and Mango Sandesh
Ashim Paul
Established in 1885, Dwarik's Grandsons not only serves sweets, but carries a heritage tag too. To keep up with modern trends, Dwarik's also has introduced a number of new mishtis, including mango sweets. They have a mango sandesh named Himsagar (Rs 22), which is a mixture of chenna and mango pulp. The Mango Sandesh (Rs 18) is a square sandesh made with mangoes and is quite a treat.