Some like it simple, some like it overloaded, some like a freak shake, some like it chocolatey, while some like it fruity. But there's no denying that we all love a good milkshake, and that's why we went around town looking for some slurpy sips for you before summer sets in!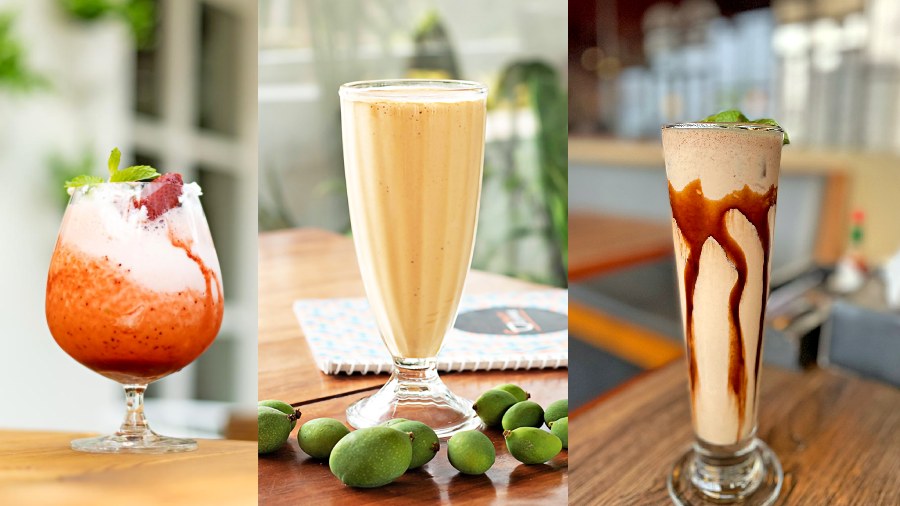 (Left) Strawberry Cheesecake Shake at Milee Droog Cafe and Bistro: The Deshapriya Park colonial bungalow-turned cafe does a sweet and fun shake with the goodness of fresh strawberries and rich cheesecake.
(Centre) Mango Smoothie at Craft Coffee: Your chill spot in Ballygunge is making the most of the mango season with this yummilicious and sweet mango milkshake.
(Right) Banana Nutella Smoothie at Monkey Bar: The Camac Street pub brings in a fresh and filling shake that combines our fave Nutella with the goodness of banana. It's good for any time of the day.
(Left) Lavender Love at Poach: Lavender-infused coconut milk blended with apple and grape juice, is a fun new must-try at the South Calcutta all-day cafe.
(Centre) Classic Milo at Caffeine 'n' Carburetors: The Hungerford Street eatery serves your childhood fave, Milo in a chocolatey and creamy blend.
(Right) Greenapple Milkshake at Grace, Kolkata Centre for Creativity: A fun and fruity sip at the cafe along the EM Bypass, the apples add a tart freshness to the sip.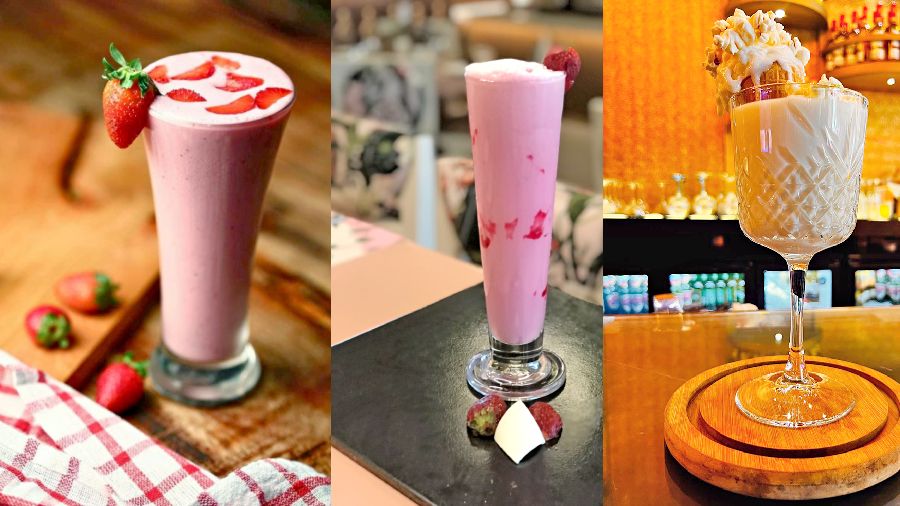 (Left) Strawberry Nutella Milkshake at Veneto: A thick and creamy milkshake made with milk, strawberries, vanilla ice cream, and Nutella. Garnish with whipped cream and sprinkles at the South City Mall Italian dine den.
(Centre) Strawberry Shake at Bakstage Gourmet: Drizzled strawberry blended and topped with vanilla ice cream, this is a comforting berry drink at the Sector V pub.
(Right) My 14th Birthday at Lord of the Drinks: Indulge in a boozy popcorn-infused shake at the South City Mall pub that is topped with a generous scoop of creamy ice cream for the ultimate dessert cocktail.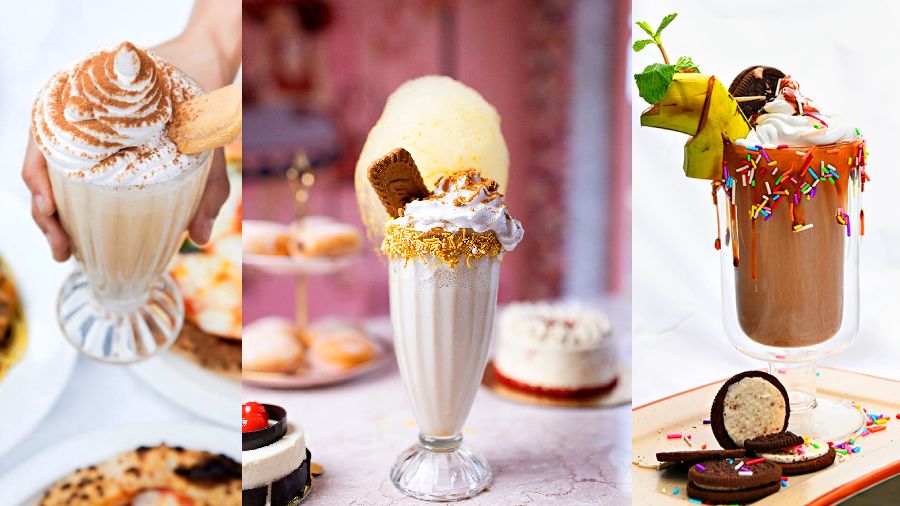 (Left) Classic Tiramisu Milkshake at Fabbrica: Taking us back to Italy is this tiramisu-inspired shake at the Bhowanipore Italian dine den.
(Centre) Pinkk Speculas at Pinkk Sugars: For all the Biscoff lovers out there — how much Biscoff is too much Biscoff? A rich and creamy milkshake with a crunchy texture from the Biscoff. It's a perfect treat for any time of the day, and it's a great way to satisfy your sweet tooth! Beautifully topped with candy floss.
(Right) Oreo Banana Shake at Romaania: A creamy combination of milk, Oreo and banana, twisted with a touch of coffee, makes this loaded shake at the Bhowanipore lounge.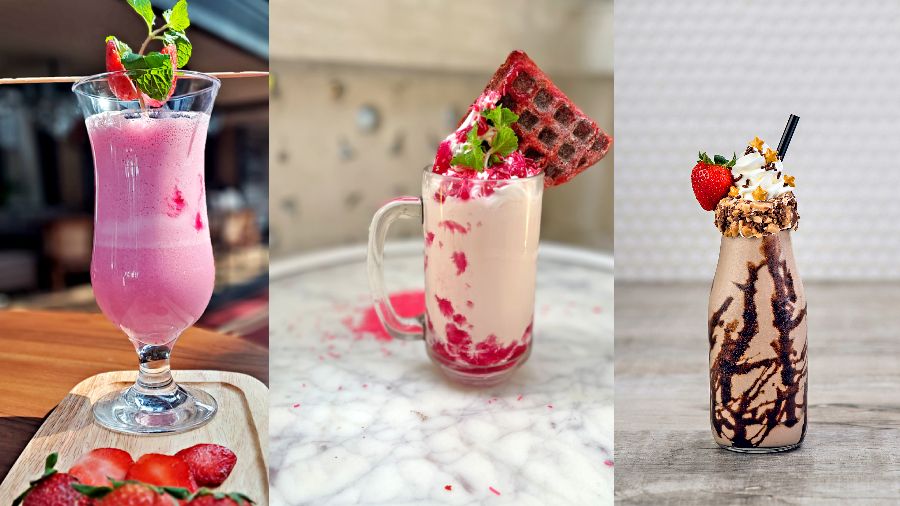 (Left) Peanut Butter Strawberry Shake at Roots: Peanut butter and strawberry when mixed with milk and cream, create this nutty sip at the Chowringee pub.
(Centre) Red Velvet Shake at Bunaphile: Ice cream, red velvet pastry, red velvet flavour, whipped cream and red velvet waffle come together in this loaded shake at the South Calcutta cafe.
(Right) Hot Fudge Milkshake at Hard Rock Cafe: Jim Beam Bourbon, Captain Morgan Dark Rum, vanilla ice cream, dark chocolate sauce, and a hint of coconut, finished with whipped cream, a chocolate butterscotch rim and a fresh strawberry create this boozy shake at the Park Street pub.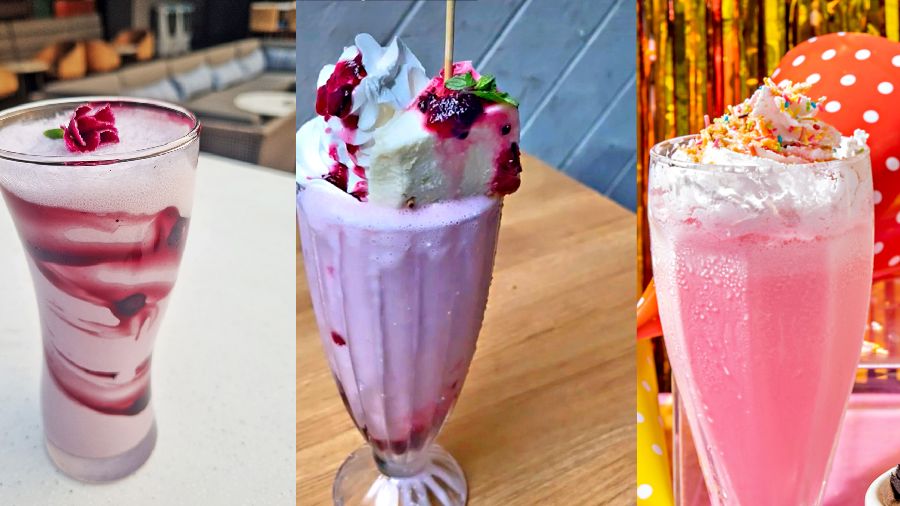 (Left) The Berry Current at Q33: Milk, vanilla ice cream and blueberry compote come together in this tart shake at the Quest mall cafe.
(Centre) Blueberry Cheesecake Shake at The Dayroom Cafe: Cheesecake lovers unite! This loaded shake at the Hindustan Park eatery has tangy blueberries with creamy cheesecake all in one.
(Right) The Birthday Shake at The Daily Cafe: Strawberry ice cream shake with whipped cream, rainbow sprinkle and crumble on top, create this birthday-cake style shake at the Deshapriya Park cafe.