Dehydrate Cracker
by Bimal Das, bartender at Refinery091
Move over 'on the rocks' and check out this tipple that punches the sweet and sour notes of lime and pineapple with whisky and turns it into a sip that will kick-start fresh conversations. An extremely easy to make drink, serve Dehydrate Cracker with torched malta slices or pineapple and enjoy your evening.
Ingredients
 Whisky 60 ml
 Pineapple juice 90ml
 Coconut syrup 10ml
 Lime juice 5ml
 Aromatic bitter: afew drops
 For garnish: pineapple slices
Method
Pour 60 ml whisky in a shaker.
Add coconut syrup, lime juice and pineapple juice and ice.
Shake well till all the ingredients are mixed well.
Serve in an old-fashioned glass and garnish with dehydrate cracker.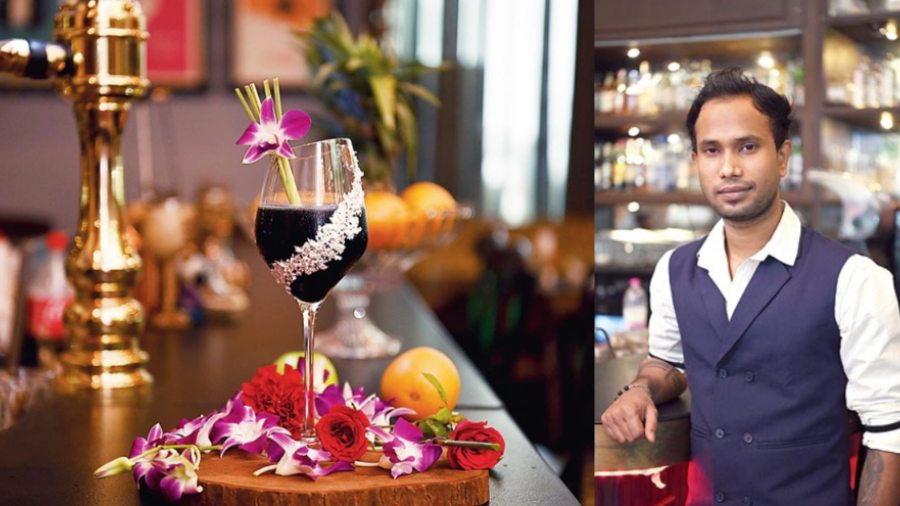 Charcoal Lemongrass
Abhijit Shil, bar supervisor at Sly Fox Gastro Club
If you love the overwhelming aroma of lemongrass, and activated charcoal that's known for its detoxifying properties then assemble the ingredients mentioned below and create Charcoal Lemongrass. Follow mixologist Abhijit's guide and impress your friends with your skills.
Ingredients
Fresh chopped lemongrass 10g
Lemon juice 30ml
Lemongrass syrup 15ml
Charcoal syrup 15ml
Gin 60ml
Top up with a fizzy drink
Garnish: Silver flakes rim, lemongrass and orchid flower
Method:
Assemble all the ingredients in a shaker.
Mix them well with ice until it melts and increases the content.
Pour in a glass.
Add a fizzy drink.
Garnish with edible flower and relish.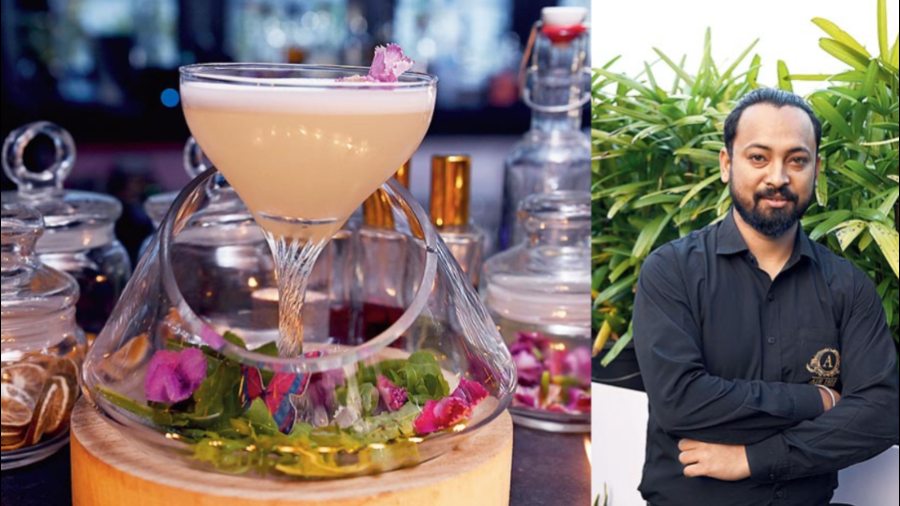 Jasmine Sour
by Shekhar Jana, assistant bar manager, Air 1910
If your go-to poison is vodka and you are looking for something beyond the classics then check out Shekhar Jana's Jasmine Sour. The mixologist who is known for his finesse in creating intoxicants that score high on flavour and presentation, creates this beautiful concoction that's joy in each glass.
Ingredients
Citron vodka 60ml
Homemade Jasmine cordial 15ml
Fresh lime juice 15ml
Egg white 30ml
Castor sugar 1tbsp
Method
Put all the ingredients, including ice, in a shaker and mix well.
Strain and serve in a champagne saucer.
Garnish with edible flower and edible glitter.