It's not the foodpreneur and restaurant mogul of Kolkata that we met on September 15, it's chef Anjan Chatterjee, a passionate foodie, drunk on Kolkata who met us at the sidelines of the announcement of the Puja menu for his Speciality Restaurants. Ditching his regular coat and donning the chef's black jacket with his name imprinted on it, he decided to pick up the wok and treat Kolkata gourmands to some of his favourite dishes that make it to the menu this year. Chatterjee who owns seven diners in the city has made a few delectable additions that promises to make the Durga Puja feast grand. We caught up with him before all the action began at the makeshift kitchen at the Gurusaday outlet of Mainland China. Excerpts: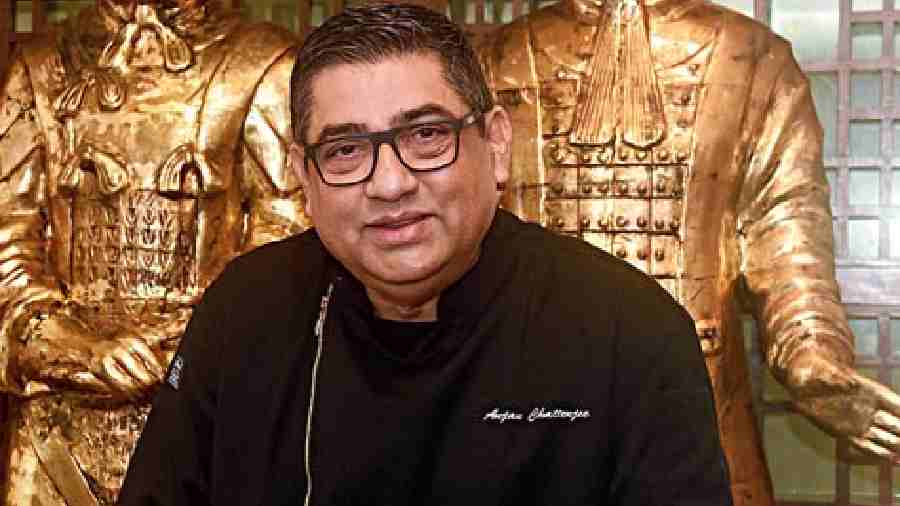 What is it that got you to wear your chef's jacket and try your hands at cooking in public today?
To be honest, it's not the business part that brought me into this food business; money was not the attraction nor was anything else for that matter. I am a foodie and an ardent traveller. It is these two things that rule my heart. So, while I might have been opening restaurants after restaurants across the globe, the chef in me never left me. I always cook something or the other at home and at my experimental space. But today, I really wanted to get into the thick of things. The most gratifying thing in my life would be that I am a chef.
I personally feel that my original passion has come back to me. I have always been a chef, if not sitting down and chopping, in terms of mentoring the food. About 90 per cent of the recipes that come in, whether it's in Oh! Calcutta or Mainland China is seen and ratified by me. Every time I got an idea while travelling, I would adapt and I would cook for them. In fact, very recently I cooked a duck recipe for my chefs at my experimental kitchen in Lonavla. Cooking is the most de-stressing thing in my life.
After how long are you wearing this black chef's jacket?
I think I last wore it in London, after almost 20 years!
What's the Puja menu this time and what was the idea when you were curating it?
I am drunk on Kolkata and the spices that my palate has grown up relishing. So, there's my favourite Aam Ada Grilled Fish, then there's lobster and you must taste our Galawati Kebab, which is a must-have.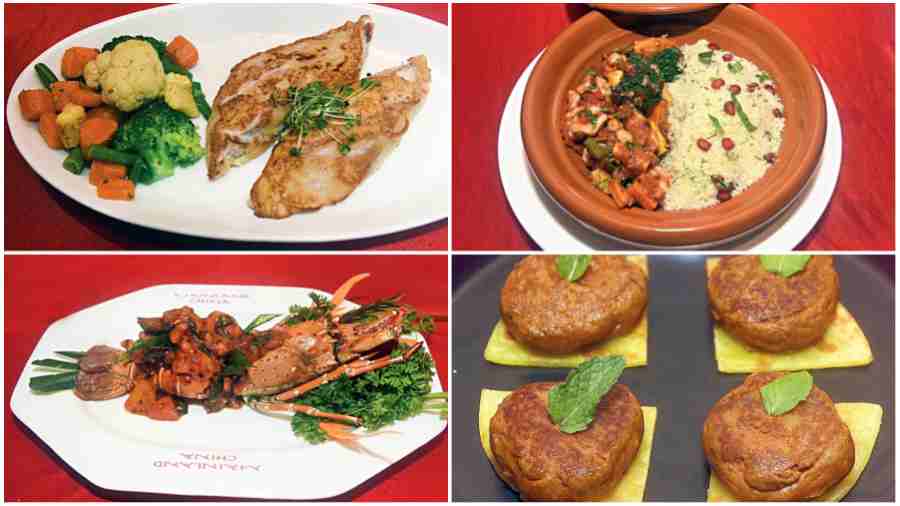 (Clockwise from left top) : One of the chef's favourites, Aam Ada Grilled Bhetki stands out for its subtle hints of mango. Highly recommended, it's available at Oh! Calcutta | Chicken Tagine is a new addition to Cafe Mezunna's menu. The one-pot meal is filling and toothsome. | The famous melt-in-the-mouth Galawati kebab makes an entry in the Puja menu this year. Soft and flavoursome, it can start off many good moments. | Believe in living life king size? Well, here's the perfect recipe of Lobster Hot Basil for you. Dig in and have a feast.
What are your plans ahead for Speciality Restaurants?
We have survived a very bad period and revived as well and now we will be thriving. So, survive, revive and thrive, is my mantra, which I have given to my boys. We are working very hard. There will be one more Chourangi in London soon. There's huge demand for Mainland China in the Middle East so we will have more of our Oriental diner there. We are running a global chain. Also, the biggest news for us this season is that in Parliament Vista Oh! Kolkata will be representing Bengal, vetted by the government.
Pictures: Pabitra Das
Jogesh Gaunjer Golda Bhaja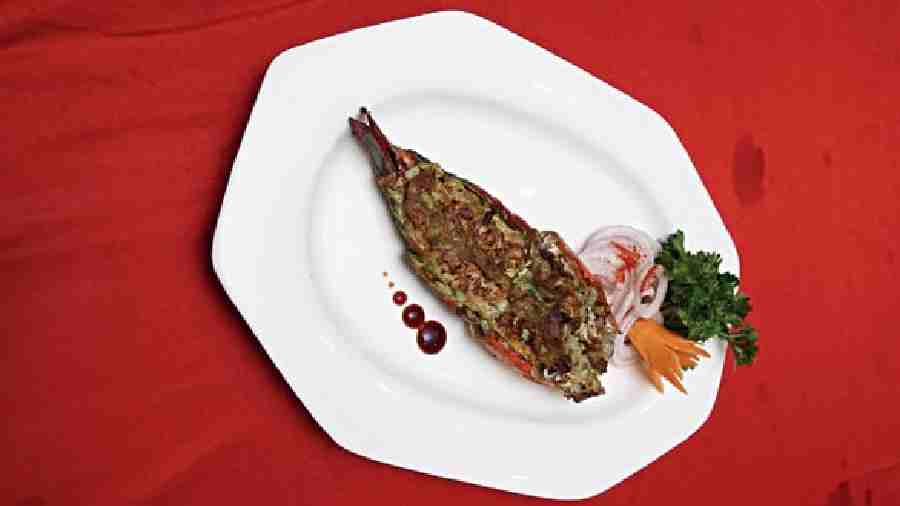 Jogesh Gaunjer Golda Bhaja is inspired by one of Anjan Chatterjee's trip to a place called Jogeshgunj in West Bengal. The restaurateur updated the original recipe of the tawa-fried prawns and the result is a perfectly marinated prawn hitting the right notes
Recipe:
Ingredients
1st marination
Green chillies 10g
Aam Ada 8g
Salt to taste
Lemon 1
Ginger 5g
2nd marination
Refined oil 10ml
Egg 1 pc
Flour 20g
Aam Ada 4g
Green chillies 5g
Salt to taste
Lemon 1
Ginger 2 g
Garlic 3g
Method
Cut Golda Chingri length-wise keeping the shell intact.
Take a bowl, add all the items of 1st marination and mix with prawn and keep aside for 30 mins.
Now take another bowl, mix all the items of 2nd marination and spread it on the marinated prawn.
Take a non-stick pan, pour oil and shallow-fry it.
After prawn gets well cooked, take it out on a serving dish and serve with laccha onion.