One of the most anticipated collaborations in the Kolkata food scene is the one between champion restaurateur Anjan Chatterjee and chef Sabyasachi Gorai. This collaboration is all set to give the people of the city a reason to celebrate and indulge in Mediterranean and European gastronomic gems.
Championing unique local ingredients and farm-to-fork style of cooking, Chef Saby (as Sabyasachi is known) has created an all new menu. "The menu focuses on local, seasonal and regional produce from around the state. We wanted to highlight local produce that is unique to West Bengal with this menu," said chef Saby.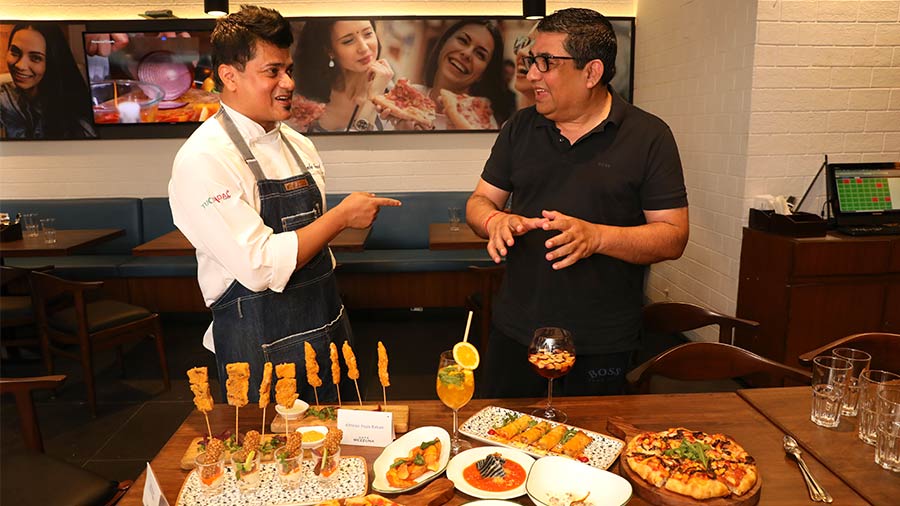 Chef Sabyasachi Gorai and Anjan Chatterjee share a laugh
With Mediterranean flavours and a European-style of cooking, with ingredients like Bandel cheese, pyajkoli (sweet spring onions) and even kolmi shaak (water spinach), the menu is simple, modern and delicious. 
"We've been wanting to redo the menu of Mezzuna and revitalise it — ten years have past and I've been looking at an Italian chef for this. The confidence level I have in Saby is huge and the collaboration was easy. I'm very excited for Calcuttans to try this menu," said Anjan Chatterjee.
The new menu is available for people to sample till February 7. Cafe Mezzuna is also offering a 25 per cent discount on food and beverage at both their outlets (Forum Mall and South City Mall) along with having live band performances every evening.
"It feels really good to have completed 10 years of this brand. People still love us and they keep coming back. We are thinking about opening another outlet in Salt Lake as well. Cafe Mezzuna is going to undergo a complete facelift soon too. We've started by expanding the kitchen, which will now have a wood-fired oven!" said Debashish Ghosh, senior business manager, Speciality Restaurants.
Here are My Kolkata's picks from the new menu…
Spanakopita and Greek Lamb Pie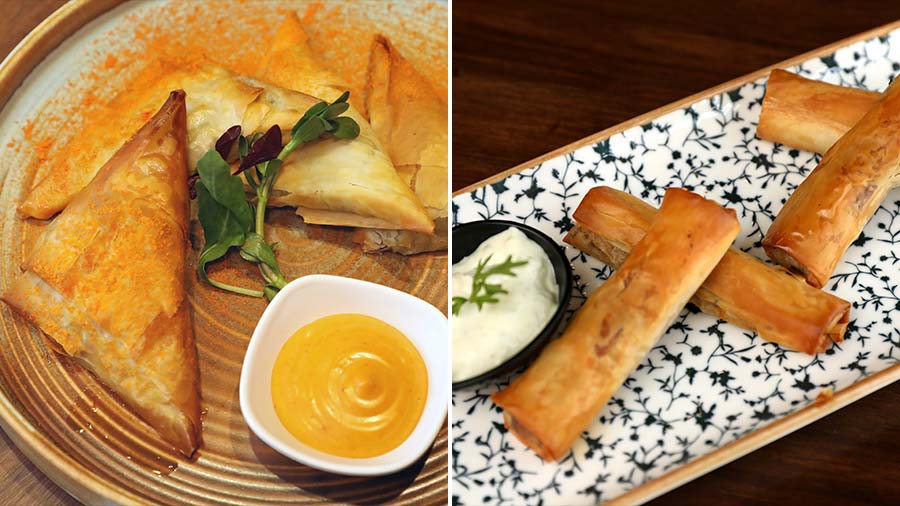 Crunchy, light and flavourful — these two dishes are exactly that. The Spanakopita (left) has a filling comprising seasonal onion flower, locally known as pyajkoli and is tempered with kalo jeere (nigella seeds) cooked down and mixed with Bandel cheese before being wrapped in golden baked phyllo. Dusted with sumac and served with a house dip, these are a must-try. The Greek Lamb Pie (right) is a great pick for non-vegetarians with a juicy lamb filling wrapped in crispy layers of phyllo pastry.
Truffled Ricotta Gnocchi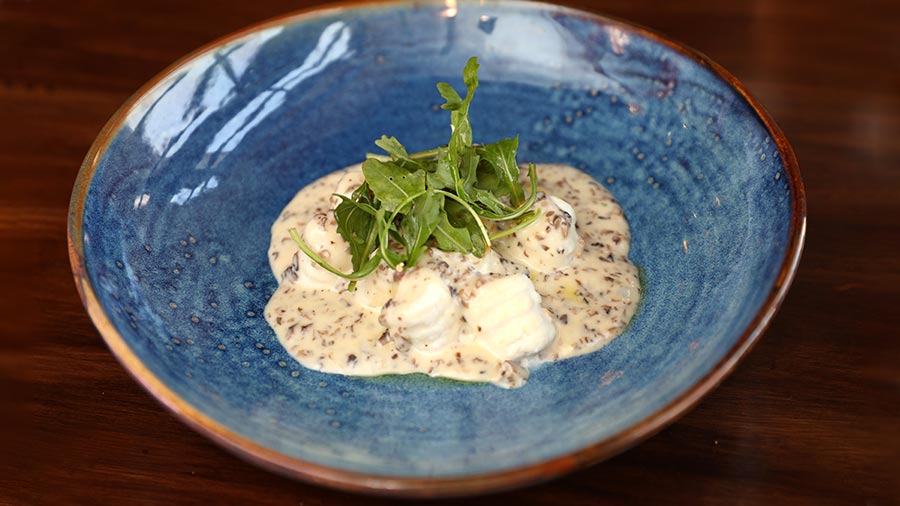 This dish is rich with umami flavours. The airy bites of gnocchi are hand-rolled and completely eggless. The star of the show, however, is the wild mushroom from Shillong and Kalimpong cheese sauce. The crunch from the sweet potato chip adds a needed textural contrast, making it a great dish to dig into.
Pizza a la Romana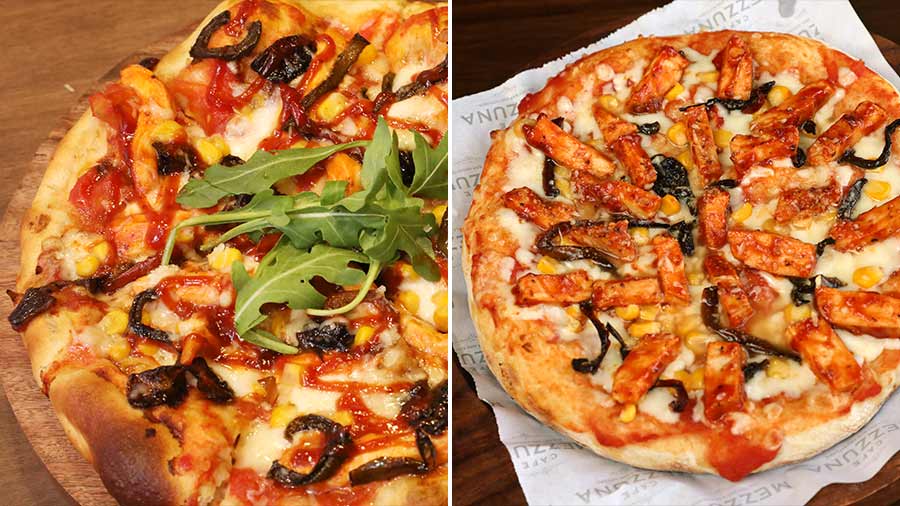 You've had Neapolitan pizza and deep-dish pizza, now, welcome the Pizza a la Romana. Soft, fluffy and chewy, this style of pizza is a refreshing break from all the thin-crust pizzas around. With four pizzas on the Romana menu, you cannot miss out on the one with Truffled Mushrooms, Smoked Bandel Cheese, Braised Onions and Marinated olives (left). The other one is the Barbeque Chicken, Onions, Corn and Chilli Jam Pizza, which brings together sweet and spicy flavours.
"This pizza is unlike anything served in Mezzuna before, it's very different from a thin crust pizza and has a chewier texture," explained chef Saby.
Zebra Ravioli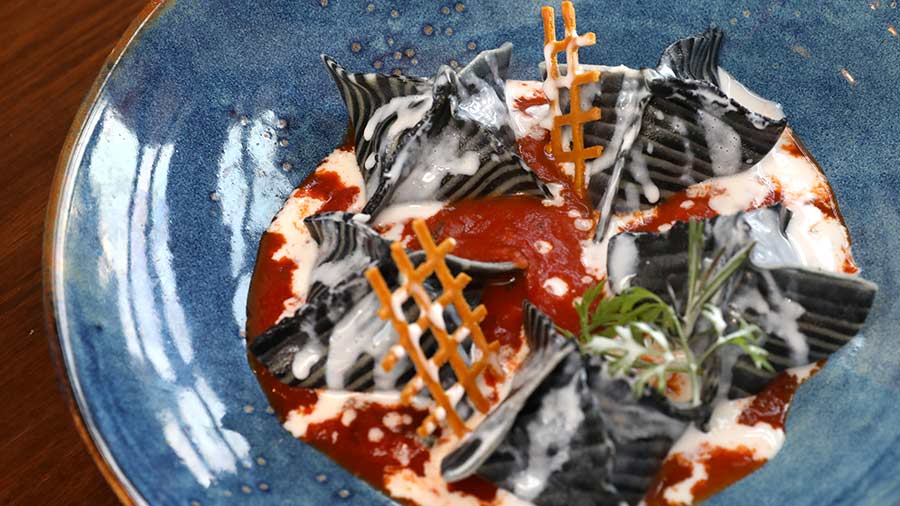 The star of the menu is this unique pasta dish. The Zebra Ravioli is made with charcoal pasta, which gives it the black colour. The ravioli is stuffed with seasonal greens like kolmi shaak (water spinach) and feta cheese. The al dente pasta is served with a fresh and tangy salsa rosa sauce and a dusting of parmesan cheese.
Skillet Mushroom, Quadro Formaggio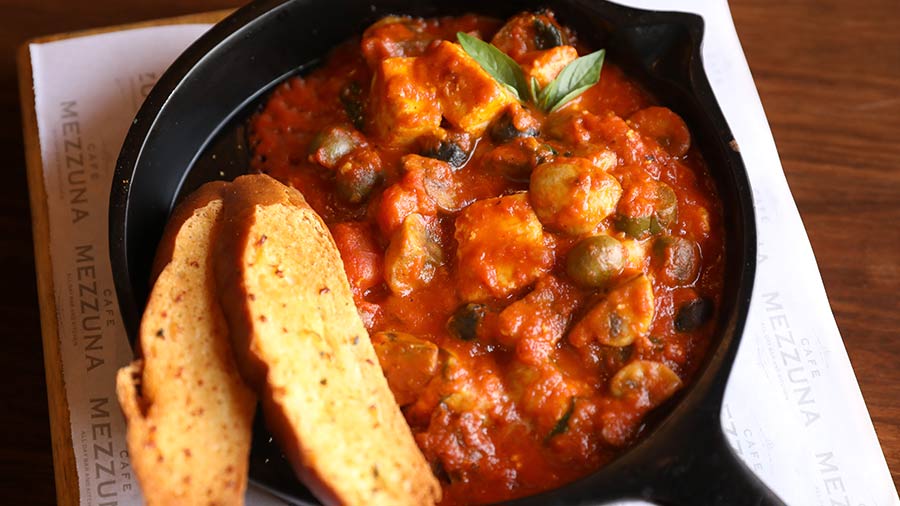 This dish brings together the best of local ingredients. It has the bite of mushroom along with smoked Bandel and Kalimpong cheese, feta, home-cured cottage cheese and olives, which gives it a rich flavour and sweet tartness. The garlic toast is the perfect vessel to carry all these flavours, making it a great dish to share at the table.
Robust Chicken Stew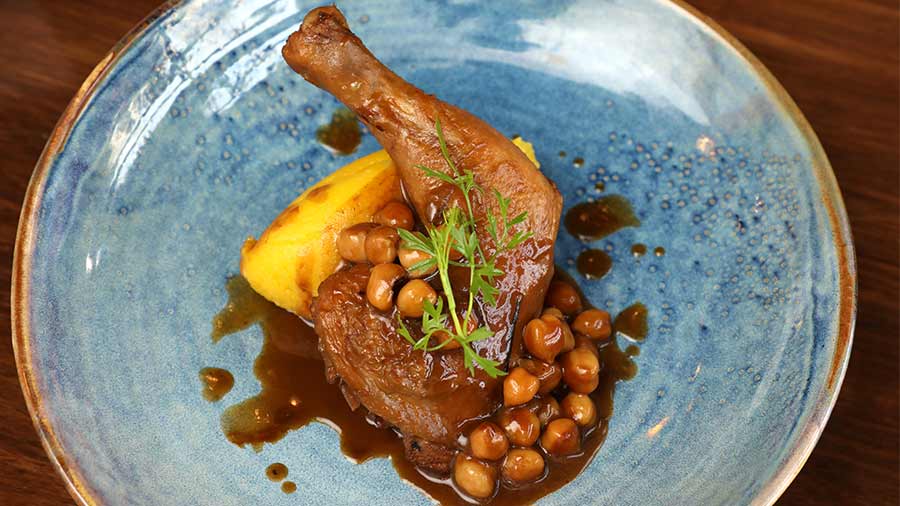 If you're craving a dish to warm your heart, this is the one for you. This beautiful recipe from the Spice Route has a unique yet simple blend of black pepper and chickpeas with a perfectly cooked chicken leg and thigh on the bone, served with a pumpkin and potato mash.
Valencia Days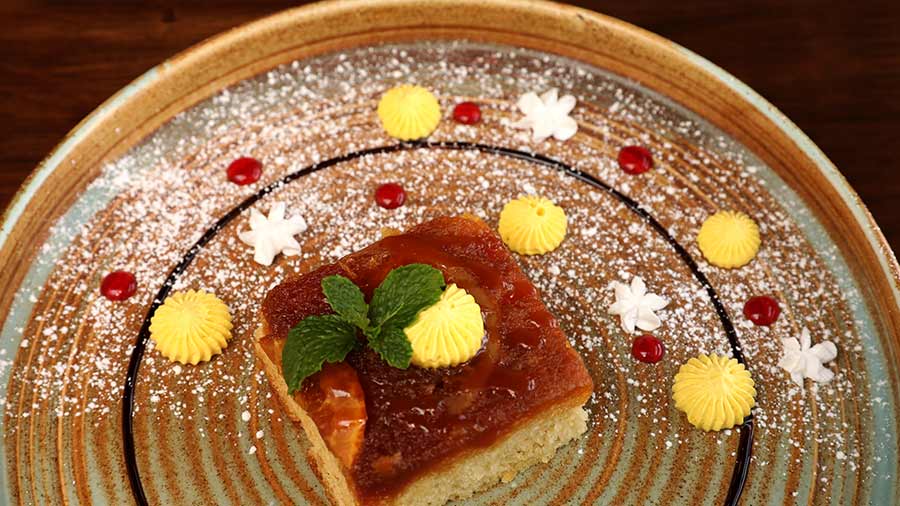 End your meal on a sweet note with this decadent dessert. The soft and spongy upside-down orange cake has a bittersweet taste that has a helping of warm nolen gur poured over it, served with a scoop of ice cream made in-house.