The monsoon has brought a treat for fish lovers — the beloved ilish is making waves in Kolkata's restaurants, and creating a festival of flavours. Following our first article on the ilish festivals at well-known Bengali food stops, we're back with a fresh batch of restaurants offering special Hilsa menus. It's a feast you won't want to miss!
Ilish Truly Bong
When a restaurant has Ilish in its name, expect no less than a feast. Ilish Truly Bong, the only Bengali cuisine restaurant on Park Street, is celebrating the fifth edition of the annual Ilish Utsav. Founded in 2019, the restaurant has a brand-new look as well as a seasonal menu that features a good deal of fish delights from different parts of Bengal as well as a few that are inspired from the streets of Kolkata.
According to the restaurant's founder-director Lopamudra Kamilya, "The Ilish festival is a celebration of our rich history, heritage and culture, and every dish transports you to an era which carries so many untold stories from the kitchens of Bengal."
Available till: August 31
Recommended: Ilisher Lyajaar Tok, Ilish Do-Pyaaza, Ilish Sizzler, Ilisher Bharta
Price range: Rs 999 onwards
Location: 83B Park Street, Mullick Bazar
Khanti Damodaar Seth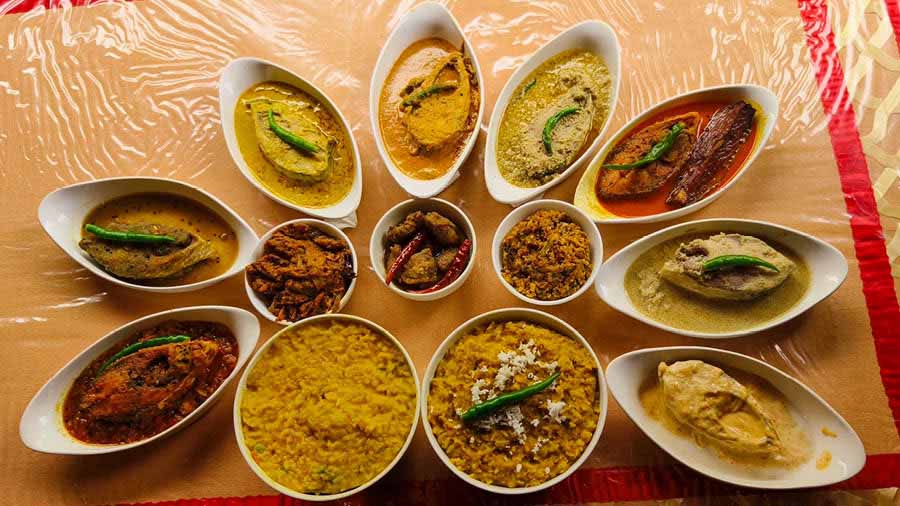 Established in 2017, Khanti Damodaar Seth in Lake Market is celebrating Bengali culinary heritage, with its Ilish festival, 'Mile Mishe Ilishe'. The menu includes the best of both Bengals — Bangladesh and West Bengal. "Damodaar Seth feels Bangaliana is completed when Ghoti and Bangal come under the same roof. Since this is the Ilish season, I wanted to bring in the taste of Ilish of both Bengals (Epaar and Opaar)," said the owner Subhankar Chattopadhyay.
Available: Every weekend till Durga Puja
Recommended: Epaar Bangla Ilisher Khichdi, Opaar Bangla Ilisher Khichdi and thalis
Price range: Rs 400 - 950
Location: 1 Lake Place, first floor
Babu Culture
The Ilish Mahotsav at Babu Culture is making a triumphant return with 14 different Hilsa dishes. From Ilish Cutlet and Ilish Bhorta to Ilish er Tok — you'll be spoilt for choices! Both the Gariahat and Sodepur branches are hosting the festival. For those seeking a lavish spread, the thali option is a must-try, featuring seven Ilish dishes like Ilish Cutlet, Ilish Machher Tel, Ilish Machher Matha Diye Kochu Shak, Ilish Bhorta, Shorshe Ilish, Ilisher Tok Mishti Chutney and Ilish er Patishyapta served with Bhaat, Sona Moong er Dal, Papad, Jhurjhure Alu Bhaja and Salad.
Available till: August 20
Recommended: Aam Tel Boneless Ilish, Bhapa Gondhoraj Ilish, Ilisher Bharta
Price: Rs 150 - 1,000
Location: Dover Lane and Sodepur
Saptapadi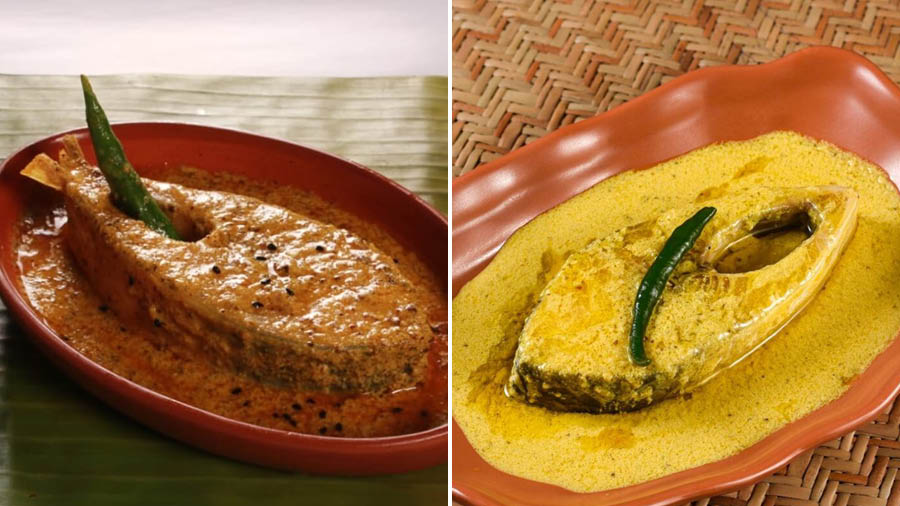 Popular Bengali cuisine restaurant, Saptapadi, is casting a wide net with an entire Fish Festival at all four outlets! The festival menu has three Ilish dishes on offer — the Special Ilish Platter which comes with Bhapa Ilish, Ilish Paturi and Ilish Bhaja served with fluffy steamed rice. We recommend prior booking.
Available till: August 15, tentatively. (Call on +91 9007912433 for more details.)
Recommended: Boneless Shorshe Ilish in Lau Pata, Ilish Chingri Chelo Kebab
Price: Rs 120 to Rs 1,499
Location: Purna Das Road, Ganguly Bagan, Salt Lake Sector 1 and Raja Rammohan Roy Road
Bhooter Raja Dilo Bor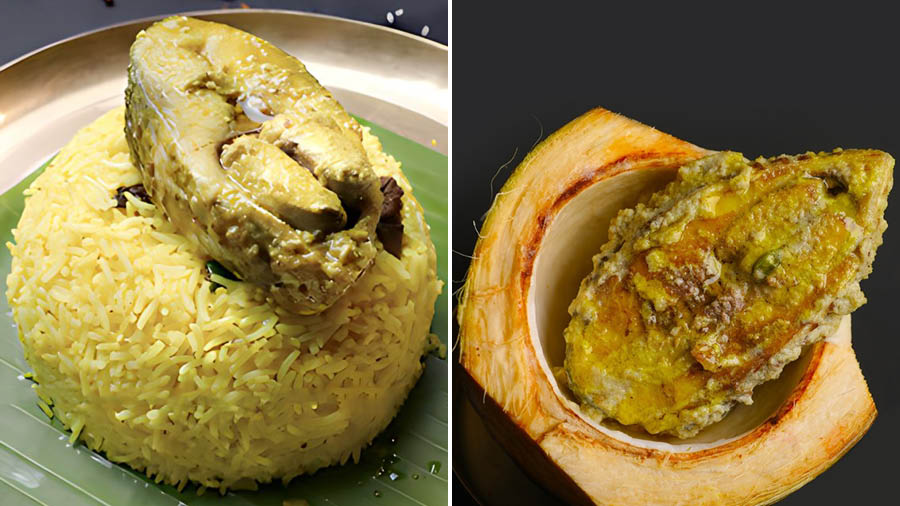 The festival at Bhooter Raja Dilo Bor is offering you two bors (Boons) with its Ilish Chingri Festival at all its 10 outlets in Kolkata. The restaurant is doubling the delight by offering two shareable Hilsa and prawn thalis, alongside their a la carte menu!
Choose between the 'Prothom Pate Ilish, Sesh Pate Chingri' and the 'Prothom Pate Chingri Sesh Pate Ilish' both available for just Rs 1,300. The first thali features Basmati Chaler Bhat, Pui Shak Diye Chingri, Chingri Diye Sona Moong Dal, Ilish Machher Finger, Dhakai Ilish Paturi, Padda Parer Ilish Bhapa, Chatni, Papad, Payesh, and Paan. The second thali offers Basmati Chaler Bhat, Ilisher Bharta, Kachurloti Diye Ilish Machh, Ilish Machher Matha Diye Kachur Shak, Ilish Machher Matha Diye Sona Moong Dal, Badshahi Bhuna Chingri, Chatni, Papad, Payesh, and Paan. So enjoy the best of both worlds with this hook-worthy menu!
Available till: August 31
Recommended: Nona Ilish, Dab Ilish, Padda Parer Ilish Bhapa, Khulnar Ol Kochu Diye Ilish
Price: Rs 140 - 1,300