The ninth edition of the global culinary competition, IIHM presents Young Chef Olympiad 2023, in association with The Telegraph, was a weeklong culinary extravaganza bringing together culinary enthusiasts from various corners of the world to network, learn, share knowledge, make friends and grow in their chosen field. Held across six Indian cities — Delhi, Pune, Bangalore, Hyderabad, Goa and Calcutta, the closing ceremony of the competition was held in Calcutta on February 4 at Wet-O-Wild in Nicco Park. The ornate decor at the venue, dance, music and food set the mood for the evening for the participants, judges and organisers along with special guests of the culinary world who attended the event. Guests and judges of YCO 2023 gave away prizes to the winners. Apart from the most coveted gold, silver and bronze trophies, several special awards were given to the contestants under different categories. Snapshots: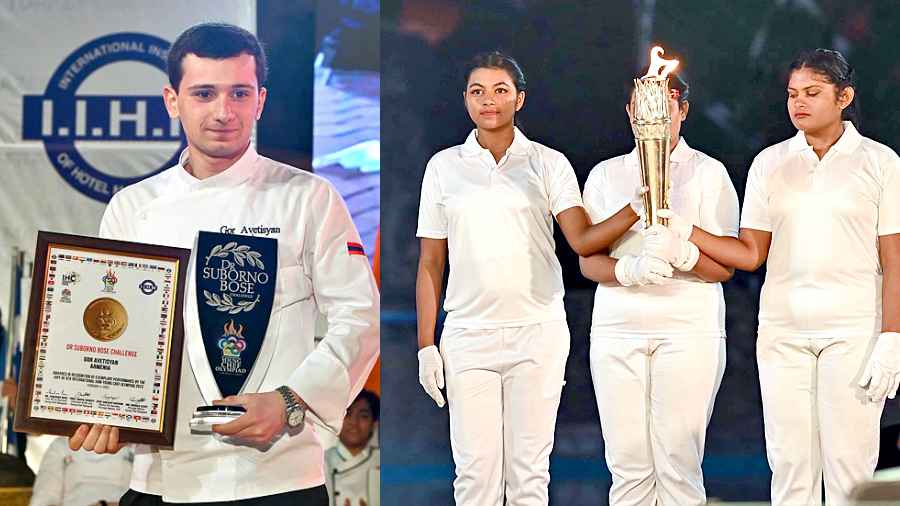 (l-r) Gor Avetisyan from Armenia won the Dr Bose Challenge trophy,Students of IIHM walked up to the stage with the YCO torch at the beginning of the ceremony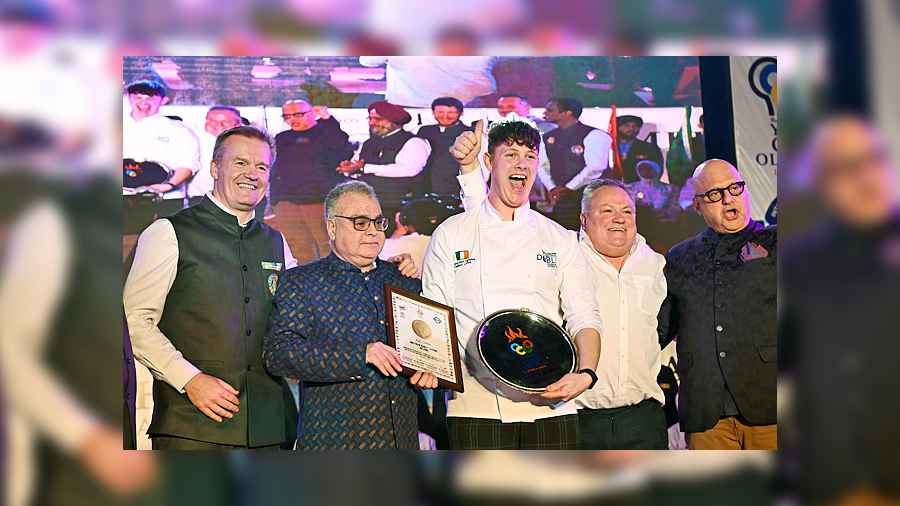 Matthew Albert Looram from Ireland was the Plate Trophy Winner of the 9th edition of IIHM Young Chef Olympiad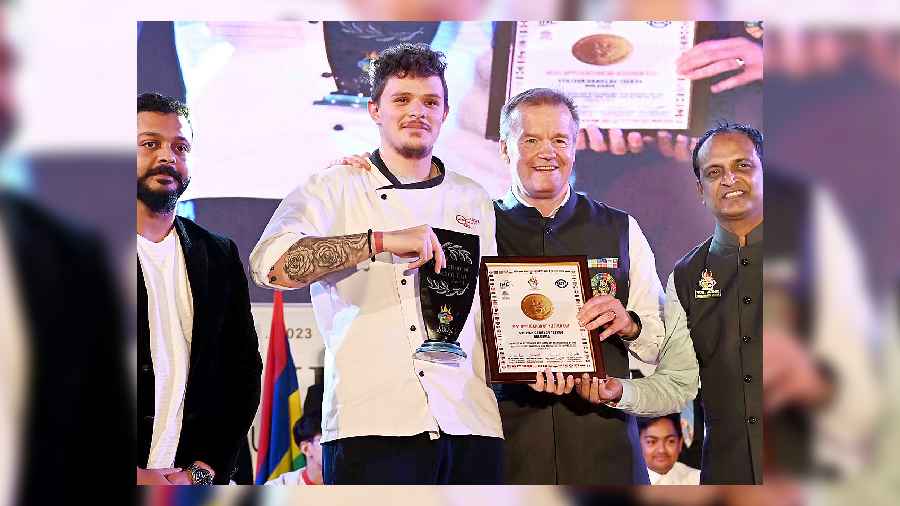 Stiliyan Danielov Tsekov from Bulgaria won the Best Application of Kitchen Cut Award for the best recipe nutritional analysis and recipe costings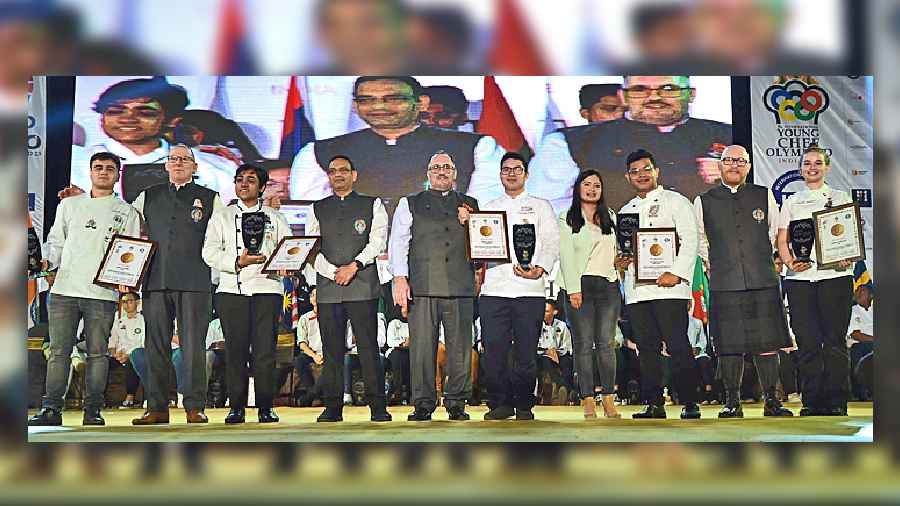 (L-R) Gabriele Columbo from Italy for Delhi campus, Naureen Shaikh from India for Calcutta campus, Timothee Goedert from Luxembourg for Bangalore campus, Md. Shariful Islam from Bangladesh for Pune campus and Chantelle Gonsalves from USA for Hyderabad campus were awardees for Best Knife Skills.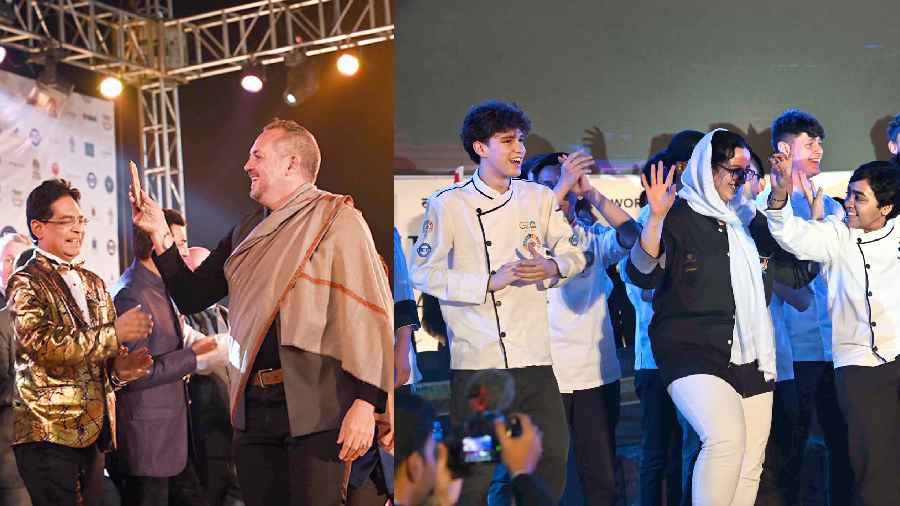 Shayne Hyrapiet got the energetic vibes of the students, participants and judges high with Bollywood, Punjabi and English numbers. They danced on stage to songs like Jumme ki raat, Bachna ae haseeno and Badtameez dil.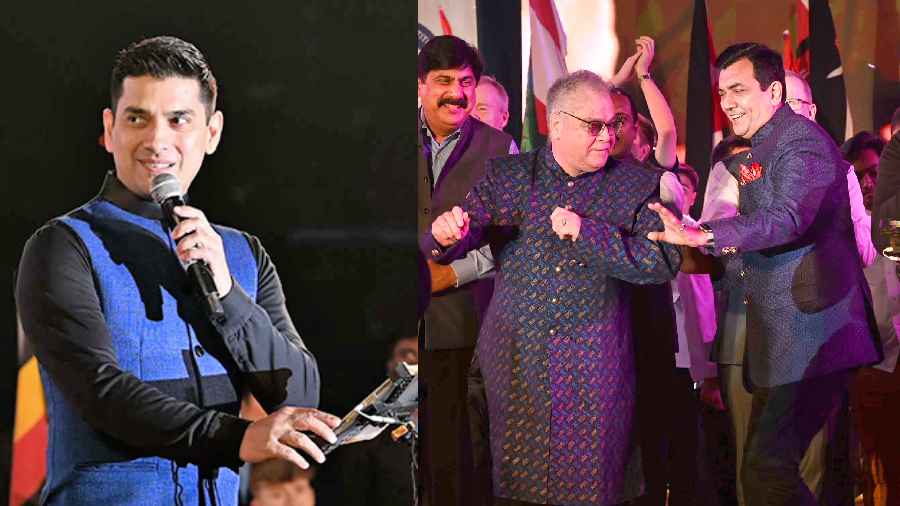 A t2 CHAT WITH EMIL ZEYNALZADE FROM AZERBAIJAN, THE GOLD TROPHY WINNER:
Did you expect to win?
Yes I did. I went there to be a winner.
Your country is participating for the first time in this international competition and went back home as the winner. What is the feeling like?
It was amazing. I tried my best for my country and school.
Who is your inspiration in the culinary world?
I get inspired by chef Paul Bocuse.
What are your first memories of being interested in the culinary world or cooking?
In my childhood, I had friends from this industry and they encouraged me a lot.
How did you develop the passion?
I always watched cooking competitions from around the world and that made me feel very passionate about this profession.
What qualities or techniques do you think helped you to win such a challenging competition?
Of course, working properly and using time plan and mentor support.
What was your most memorable moment from the Young Chef Olympiad?
Doubtless, it was a great ceremony in its entirety.
What do you plan to do with the prize money?
The prize is for CASA, the school that gave me education.
Looking forward, what are your dreams in this field?
I want to be a great chef and be known around the world.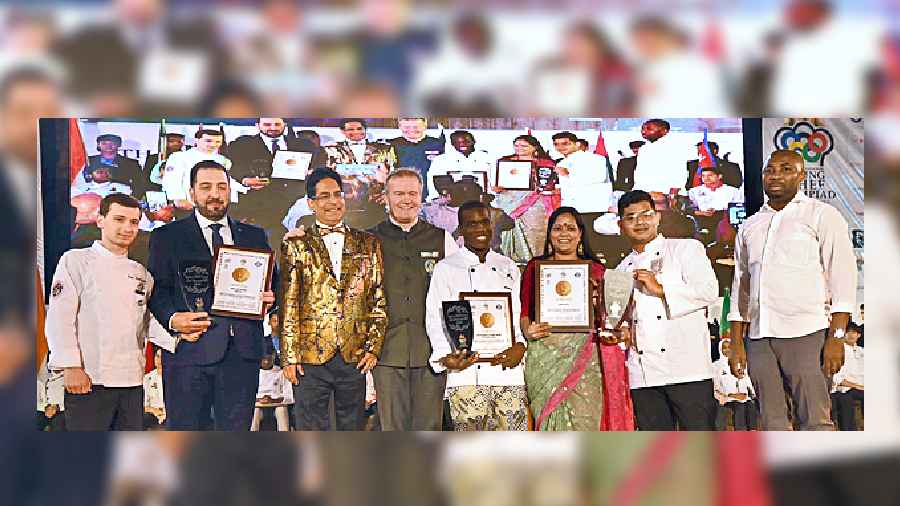 Arbi Gharakhani from Armenia, Santiago Micha Angona from Equatorial Guinea and MD. Shariful Islam from Bangladesh was up on stage with their mentors to receive the Spirit of Young Chef Olympiad International Award for displaying outstanding personal attributes and skills during the competition period.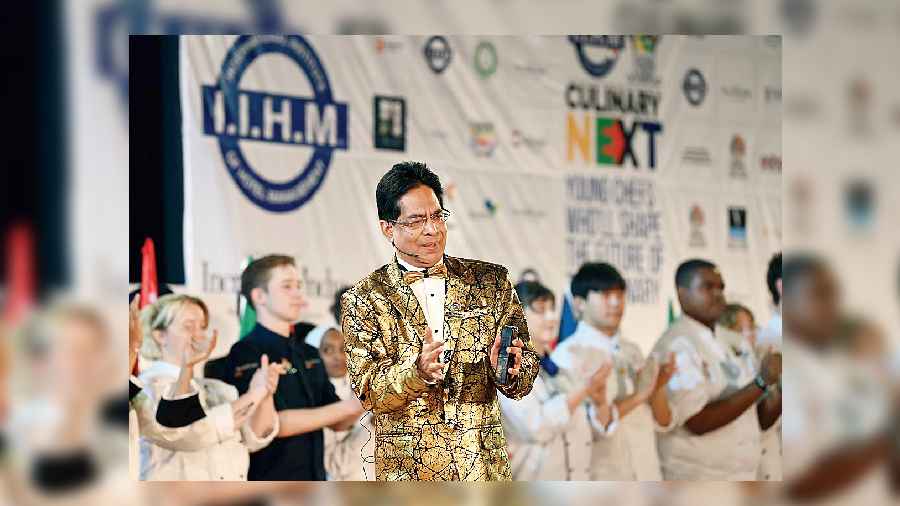 "The ninth edition of the Young Chef Olympiad was very special in many ways because it is happening for the first time in two years of pandemic and a huge number of participants from all over the globe who participated in this world's biggest culinary event with over 22 culinary judges flying from all over the world added to the credibility of the competition. It has been the most satisfying, most successful Olympiad we ever had and most importantly the winners came from countries that were unexpected and my congratulations to Azerbaijan for winning Gold, to Thailand for winning the Silver and I am very proud of Naureen Shaikh who put India on the world map by winning Bronze. Planning for the 10th Young IIHM International Chef Olympiad 2024 has already started and we are looking forward to the biggest YCO next year," said Suborno Bose, chairman, IIHM.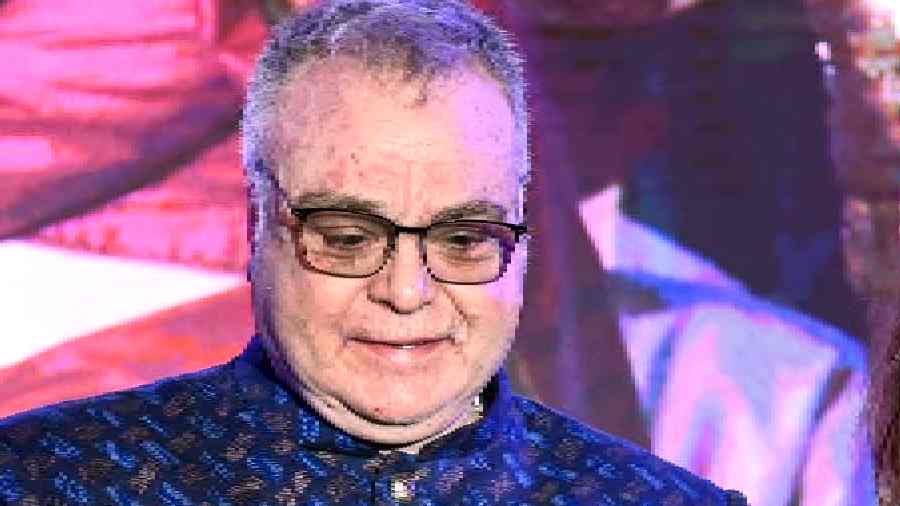 David Foskett was conferred with the honour of The Golden Pillar of YCO. "What we have achieved in YCO 2023 is phenomenal. We have built bridges, created friendships, peace, and understanding through the medium of food and culinary arts," said David Foskett.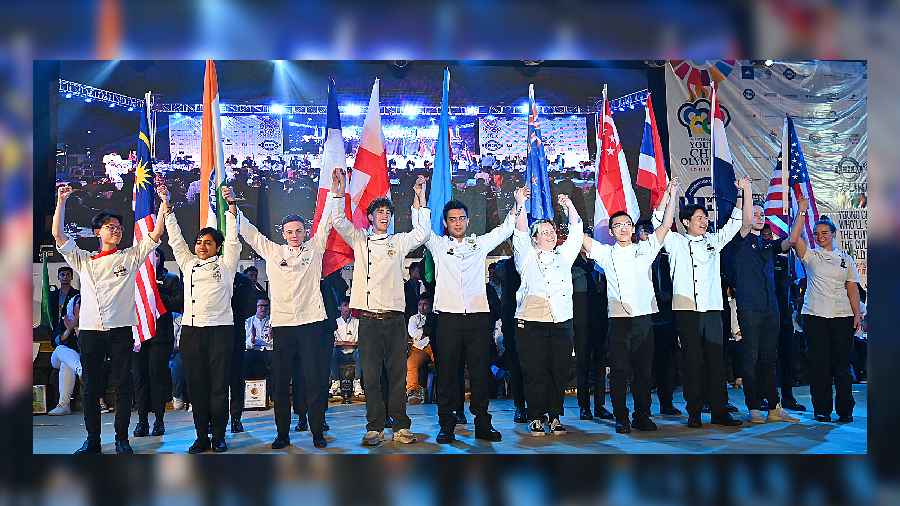 The grand finalists of YCO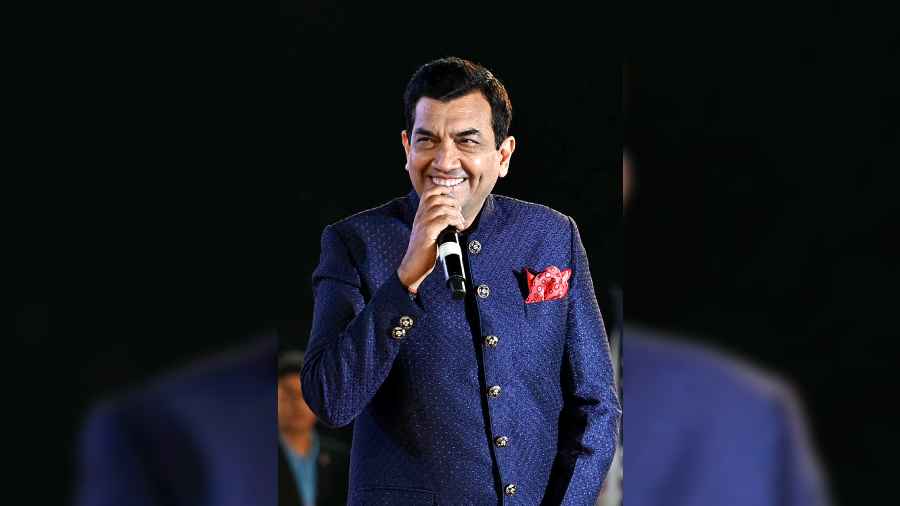 "YCO is a fantastic culmination. Almost 10 years ago Suborno Bose started YCO, a global competition of this scale in Calcutta. Many call this madness but year after year YCO keeps getting bigger and better. Thank you Dr Bose and IIHM for making me a part of YCO. India has all the eyes of the world because of the G20 while YCO has been quietly doing the same for years. What the world has taken time to recognise, YCO has been taking the lead. YCO is all about humanity and compassion," said chef Sanjeev Kapoor, principal judge and mentor at YCO.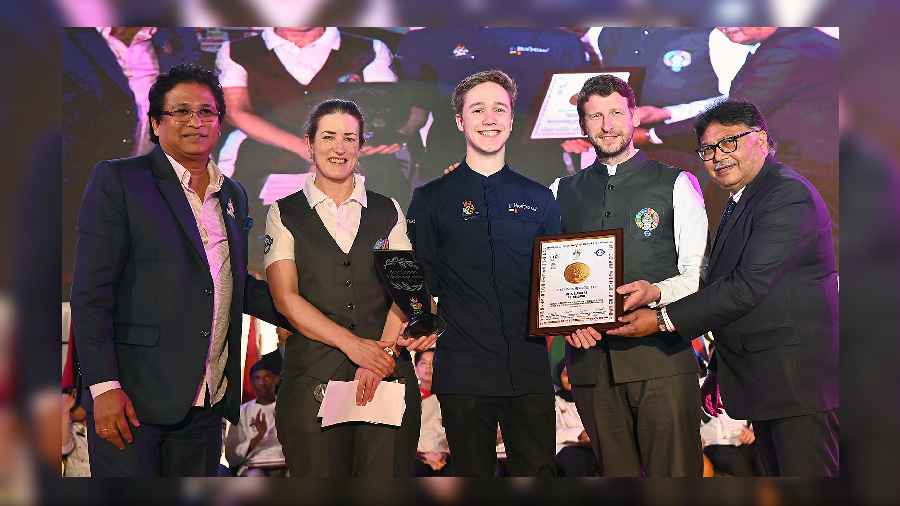 Mees Blankert from Netherlands won the award for Best Lemon Meringue Flan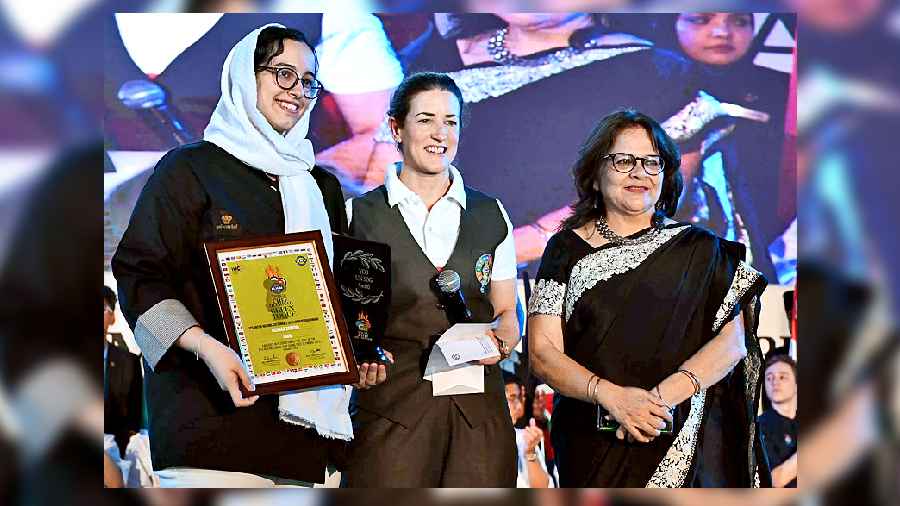 Bennaz Zobeiri from Iran received the YCO United Nations Sustainable Development Goal Award from chef Sarah Hartnett and Sanjukta Bose, director of IIHM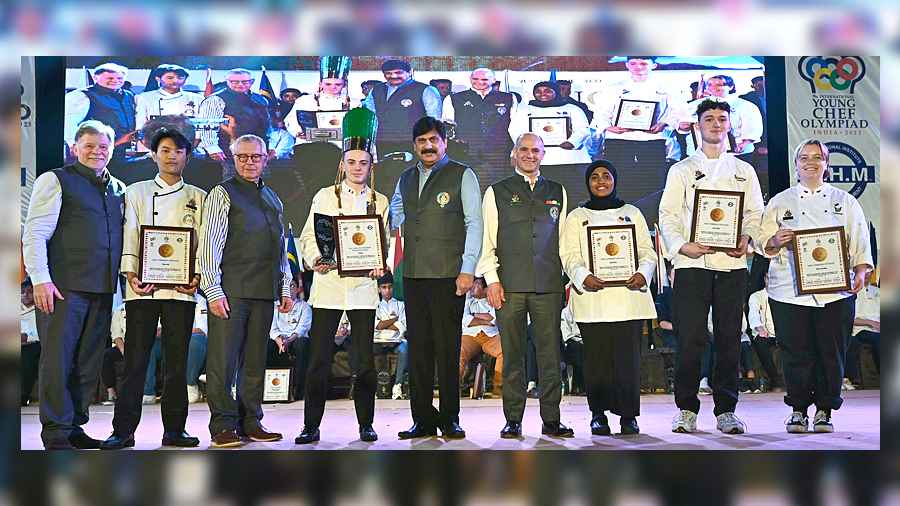 Quentin Marie Dufournet from France (fourth from left) took home the APIU Global Sustainability PPT Award. Participants from Thailand, Maldives, Scotland and New Zealand received the Highly Commended Certificates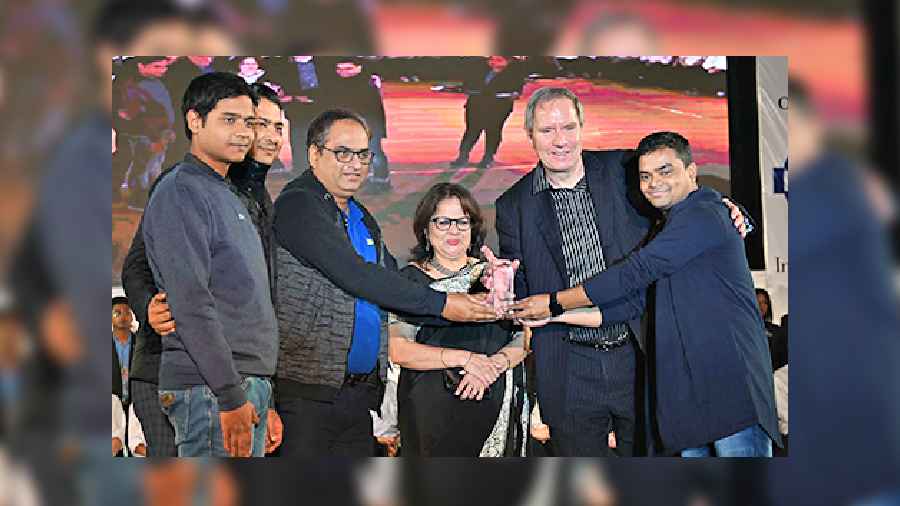 The Sonnet Kolkata and Aditya Group received the Great Indian British Taste Challenge award from Nick Low, British Deputy High Commissioner in Calcutta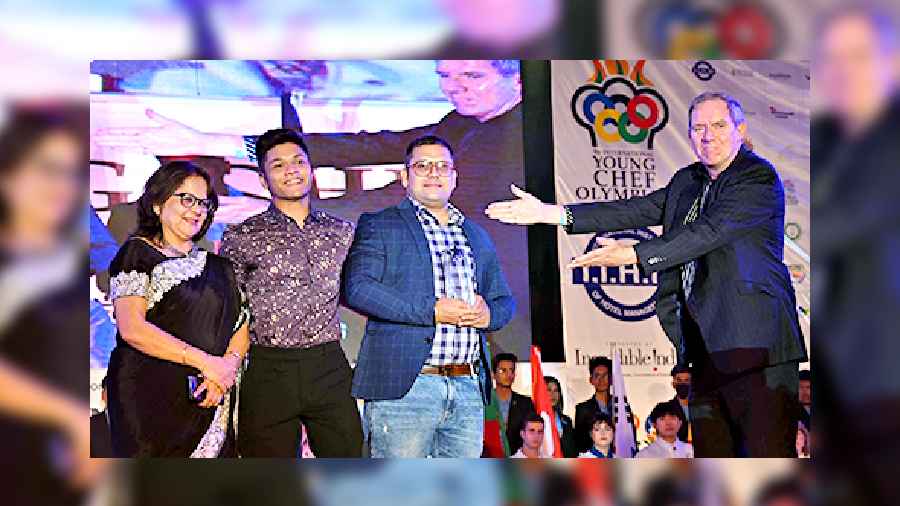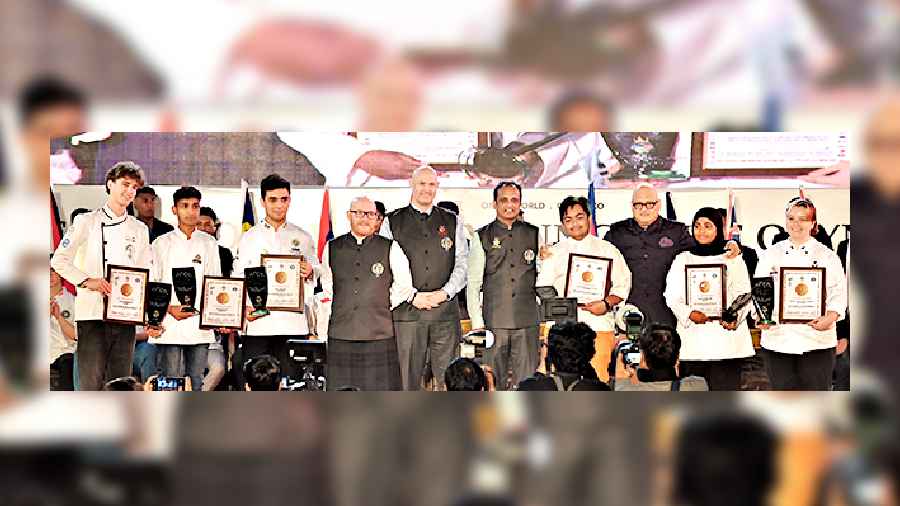 Esteemed judges and special guests from the culinary world for the closing ceremony gave away The Best Ambassador Awards to (l-r) Jackson David Carter from England, Selva Padiatchy from Mauritius, Emil Zeynalzade from Azerbaijan, Nambinintsosa Randriamihaingo from Madagascar, Mariyam Hashma Lomir from Maldives and Michelle Burling-Claridge from New Zealand for their 500- word statement in English on their ambitions as a chef and how they see their future developing as a chef.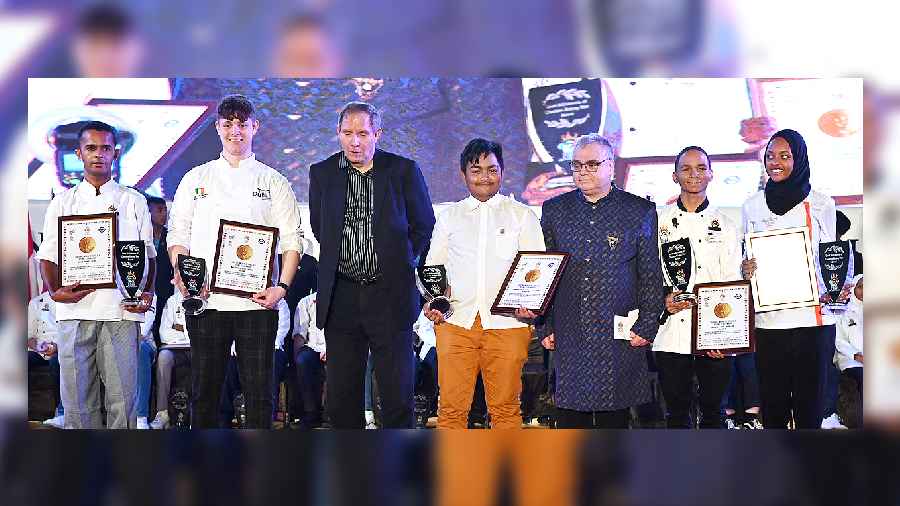 Lord Bilimoria Rising Star Award recipients were (l-r) Brian Patrick Geros from Fiji for Goa campus, Matthew Albert Looram from Ireland for Delhi campus, Nambinintsoa Randriamihaingo from Madagascar for Bangalore campus, Gheanen Cyril Rudolph from Namibia for Hyderabad campus and Roshan Nabukenya from Uganda for Pune campus.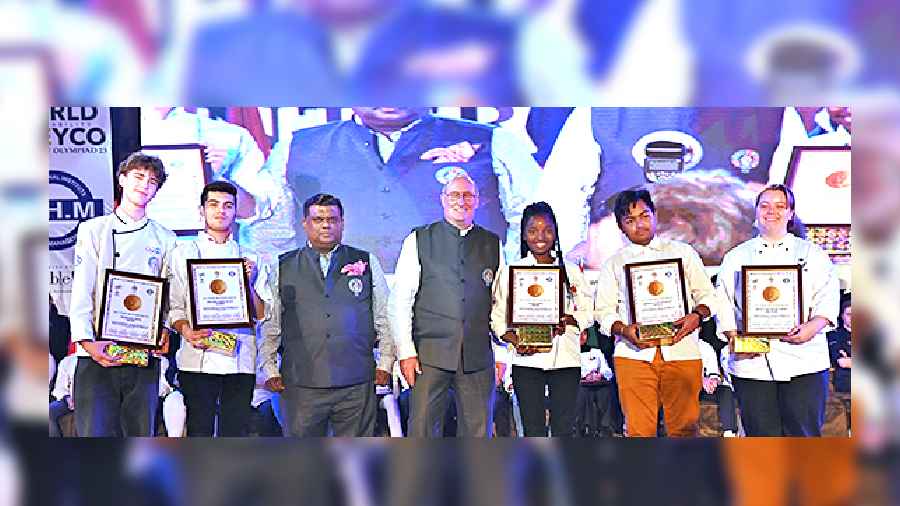 Best Hygiene and Kitchen Practice Award was awarded to (l-r) Jackson David Carter from England for Pune Campus, Juan Camilo Duenas Gallego from Columbia for Goa campus, Eliasaph Chipare from Zimbabwe for Delhi campus, Nambinintsoa Randriamihaingo from Madagascar for Bangalore campus and Michelle BurlingClaridge from New Zealand for Hyderabad campus.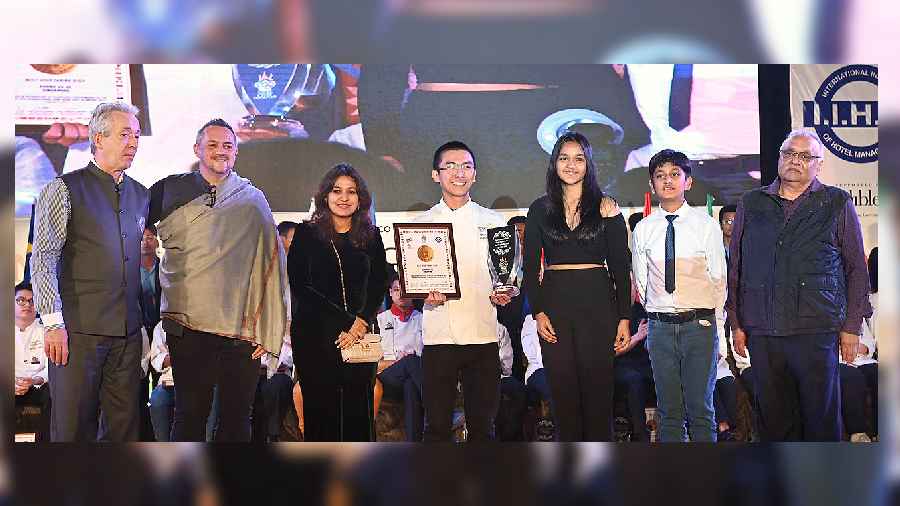 Chong Jia De from Singapore took home the Best Vegetarian Dish award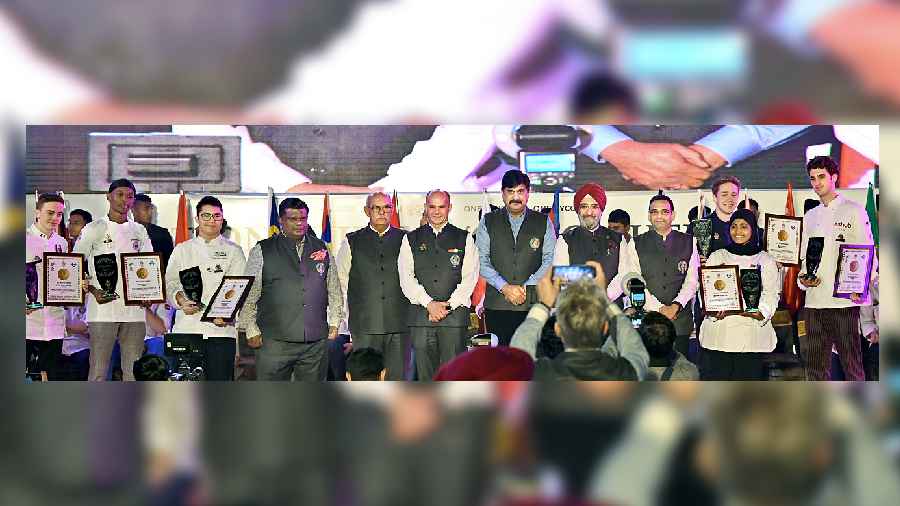 Best Mentor Nominee Awards were won by Quentin Marie Dufournet from France, Joseph Kiare Gitau from Kenya, Timothee Goedert from Luxembourg, Mariyam Hashma Lomir from Maldives, Mees Blankert from Netherlands and Joel Saiz Martorell from Spain for being nominated by their mentors for submitting a 250-word statement in English explaining why they should be considered for the award.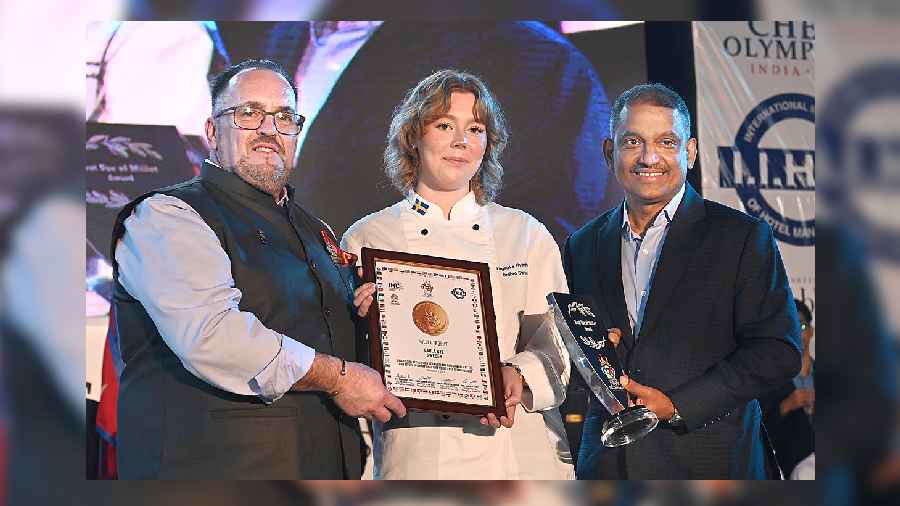 With this year's focus of YCO being millets, Carla Rye from Sweden won the Millet Trophy