Winter means having pithe, puli and payesh. It reminds us of the time when our thakuma, didima and maa would make a treat of warm doodh puli in the morning or make patishapta or payesh as evening treats.
Poush Sankranti may have just passed, but as long as it is nolen gur season, the time for pithe-puli hasn't ended. Here are five easy pithe and nolen gur dessert recipes to try so you can recreate some of those cherished memories and celebrate the last of the winter with some OG desserts.
Nolen gurer payesh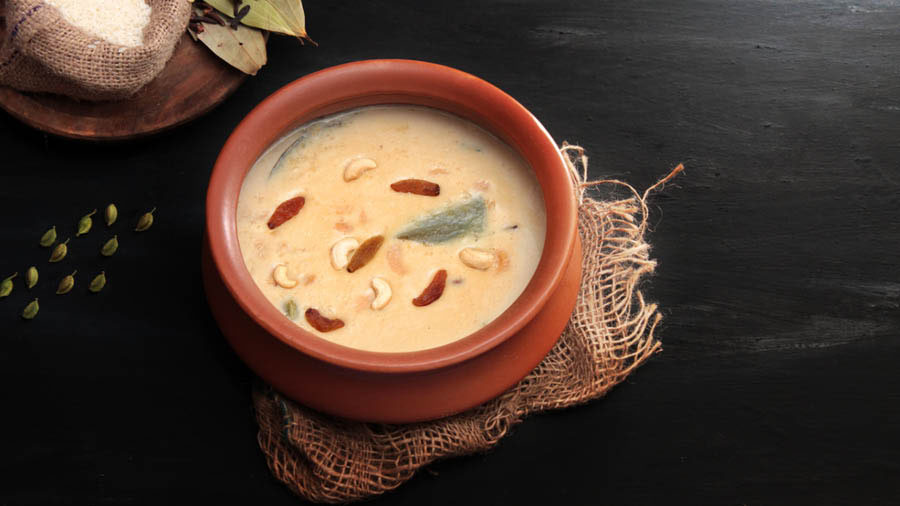 Making the most of winter is incomplete without a bowl full of creamy nolen gurer payesh.
Ingredients:
Gobindabhog rice: 1 small cup
Full fat milk: 1litre + 500ml
Cardamom pods: 2-3
Bay leaf: 1 large
Nolen gur: 1 large cup
Ghee: 2 tablespoons
Cashews: 10-12
Raisins: 10-12
Recipe:
Wash the rice and pat dry. Add ghee and coat the rice well
In a deep kadhai, pour 1l of milk and bring to one full boil, keeping the flame low to medium
Now add the bay leaf and cardamom pods and bring to another boil
Add the rice, cover and cook until the rice is ready
Keep the flame low, add jaggery, cashew and raisins. Mix continuously
If needed, add the remaining milk. The consistency of the payesh should be creamy
Cook for 5-8 minutes and take a quick taste. Turn off the heat
Tip:
You can add any other dry fruit of your choice
Nolen gurer rosogolla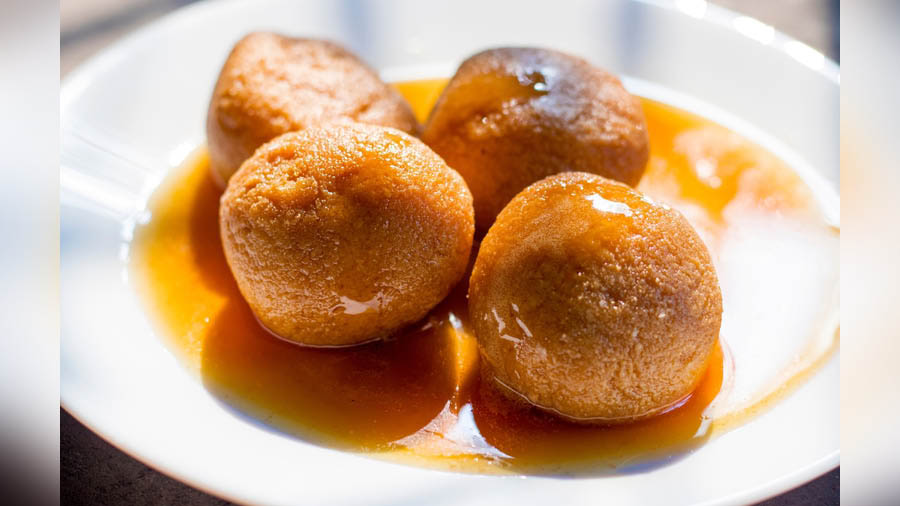 Spongy gurer rosogolla at home — doesn't winter keep getting better?
Ingredients:
Chenna or Cottage cheese: 500gm
Semolina: 1 and 1/2 teaspoons
Sugar: 1 medium cup
Nolen gur: 1 medium cup
Recipe:
Put the prepared chenna in a clean cloth and press to remove any excess water. The process takes about 40 minutes to an hour
Put the cottage cheese on a large plate and add semolina
Knead well until it is smooth and is leaving oil on your palms
Heat sugar and water in a deep container to make sugar syrup that is not too runny or too thick
Add the jaggery and bring to one full boil
Make small, smooth and round balls of the cottage cheese
Add one ball in the syrup to check if the tightness and sponginess is perfect. In case the ball breaks, add some more semolina and knead again
Cover and cook for 15-20 minutes or until the rosogollas have doubled in size. Keep the flame medium
Turn off the heat and serve warm or cold
Patishapta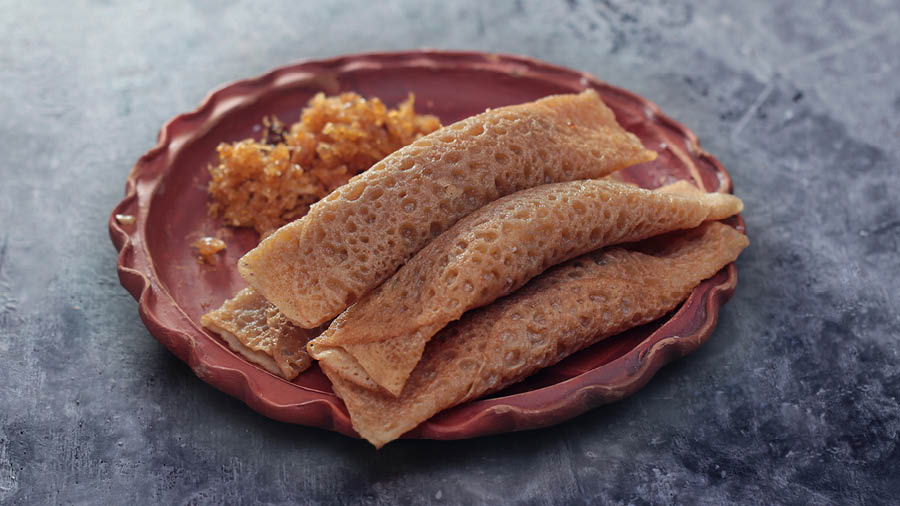 A delightful mix of coconut and jaggery is in each bite of these sweet delights.
Ingredients:
Maida: 2 cups
Semolina: ½ cup
Grated coconut: 1 large cup
Nolen gur: 1 large cup
Ghee
Recipe:
Add grated coconut in a nonstick pan and fry till golden brown
Now add the jaggery and cook for 10-12 minutes on low flame
Mix maida and semolina and make a lump free slightly runny batter. Please use lukewarm water for best results
Now add some ghee on a nonstick pan or tawa and grease the surface well
Take a dollop of batter and spread well. Cook for 2-3 minutes on medium heat
Add filling at the centre of the pancake and press from top to spread vertically
Wrap from both sides and press gently to seal the sides
Turn the patishapta to fry the other side and cook for 1-2 minutes or until golden
Doodh puli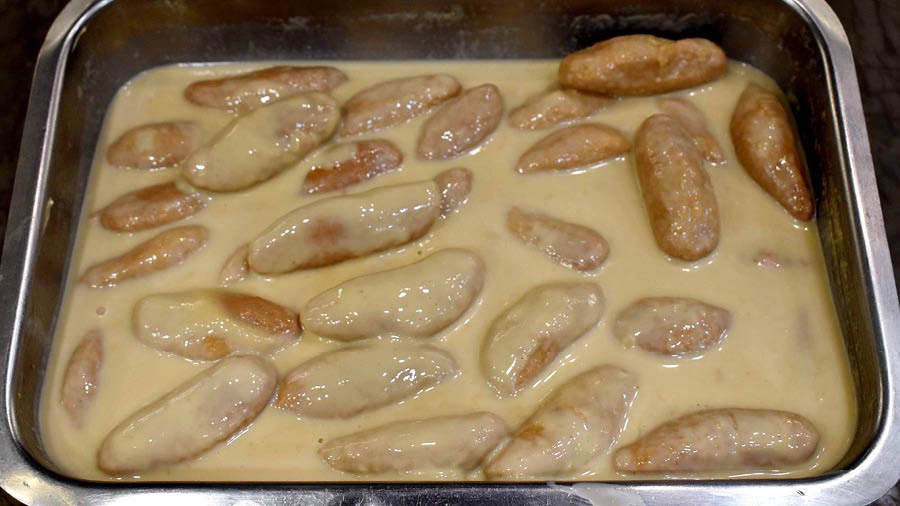 One of the traditional pithes that still reign on the winter menu.
Ingredients:
Rice flour: 150gm
Full fat milk: 2 and ½ litre
Grated coconut: 1 large cup
Nolen gur: 1 large cup
Semolina: 1 and ½ tablespoons
Salt: A small pinch
Recipe:
Add coconut on a nonstick pan and cook on low flame until golden
Add half of the jaggery, mix and cook until it has filling-like consistency with no liquid residue. Turn off heat and set aside to cool
Take semolina, salt and rice flour and made a soft dough using warm water
Make small balls, flatten with a rolling pin to make mini rotis
Add the filling, fold and seal each roti into a crescent shape
Meanwhile, boil the milk until it has started to thicken
Add jaggery and mix, keeping the flame low
Drop the doodh pulis and cook on low flame for 10-12 minutes
Turn off the heat and cover. Bring to room temperature and serve preferably after 2-3 hours or overnight for best taste
Bhapa pithe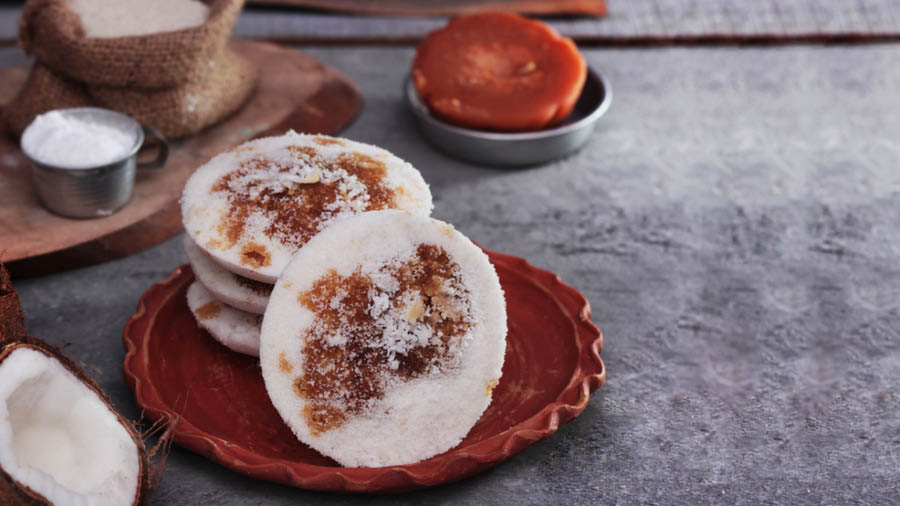 Easy to make, and best enjoyed with a generous dip or trickle of jhola gur or liquid jaggery.
Ingredients:
Gobindabhog rice powder: 2 cups
Salt: ½ teaspoon
Grated coconut: 1 medium cup
Grated nolen gur: 1 medium cup
Cardamom powder: ½ teaspoon
Ghee: 2-3 tablespoons
Recipe:
Mix rice powder and salt in little quantities with lukewarm water to get a thick batter that will hold its shape and it not runny
Add ghee in a nonstick pan and heat well
Add grated coconut and cook on low heat until golden
Now add nolen gur and cardamom powder. Mix well and cook until the consistency is sticky with no liquid residual on the pan
Cool the gur and coconut mix
Add a dollop of the rice powder in a greased steel bowl
Add some coconut and jaggery mix to the centre and cover with more of the mix. Press gently from top. Repeat process
Heat water in a nonstick pan and place the bowls in the water. Make sure the water comes up to half the height of the bowl
Cover and steam for 5 minutes
Serve warm or cold with a drizzle of jhola gur