Starting last month, the International Institute of Hotel Management (IIHM) hosted its annual week-long global culinary competition, IIHM presents Young Chef Olympiad, in association with The Telegraph. The top 10 contestants of the preliminary round were the qualifiers for the grand finale round held at IIHM's Kolkata campus on February 3.
The budding chefs had two hours 30 minutes to prepare and present a King Prawn dish and a Tarte Tatin. Held in two stages, the first stage was about skill test. In the skill test round, contestants had to prepare and present 2×3 Frenchstyle egg omelette — two identical French omelettes with classical tomato concasse and herbs. In the second stage of the competition, the contestants had to prepare a new creative, suitably-sized main course dish using king prawns and half of the given ingredients like fish stock, fresh pineapple peeled, couscous, red lentils and avocado pear. In addition to that, contestants had to present the dessert dish Tarte Tatin with ingredients like apple Braeburn, caster sugar, glucose and water. Out of several parameters, some of the parameters that ruled the judges' decisions were organisation, hygiene practice, health and safety, method of work, professional skill, creativity, presentation, taste and flavour. Snapshots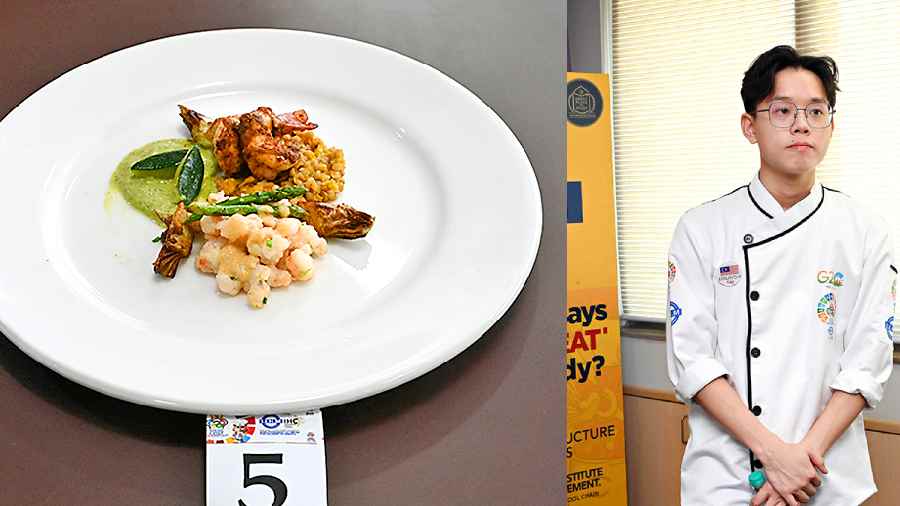 (L-R)Prawn Medley, Yap Zhen Jie (Jack)
Malaysia's contestant Yap Zhen Jie is not possible." (Jack) cooked Prawn Medley: Panroasted, Blanquette & Deep Fried served with Five-spiced Red Lentils, Glazed Zucchini, Spiced Asparagus, Asparagus and Zucchini Puree, Asafoetida Fried Artichokes and Sauce ala Pina Colada. "I wasn't used to induction cooking, so that was a major challenge for me in this round. But I really enjoyed cooking it. I learnt a lot from everyone and trained for one month on campus. It was a life-changing experience. Meeting the mentors felt great. There was huge pressure as Malaysia has won in the competition several times before," said Yap.
JUDGES SPEAK:
(L-R) Chef Ranveer Brar, chef Chalapathi Rao
Chef Ranveer Brar, a regular on the judging panel at YCO, said, "I think there are two key differences this year. The joy around the competition is higher probably because we are doing it offline after a long time. The other thing I noticed is definitely the level. We used to sense an increase year on year. But this time it is visibly more and the lockdown has a lot to do with it. Whether we like it or not, the impact that the lockdown had both in cooking and quality is also reflected in the taste and presentation that we saw on the table. I always say, in the food business, Covid helped us. It fortified the relationship we had with food. I think YCO in particular or the food industry in itself cannot do without sustainability. Sustainability has to be the keyword whether we like it or not. We have seven billion mouths to feed and ever-increasing... without sustainability being the ethos,it is not possible."
"Last year, I was watching all this virtually. This year, I came to the competition as a judge. It is mindblowing to see over 53 countries being represented here. Kudos to the IIHM team for putting it together. When we are interacting with young minds, there is so much to learn and so much to see. It is an eyeopener," said chef Chalapathi Rao.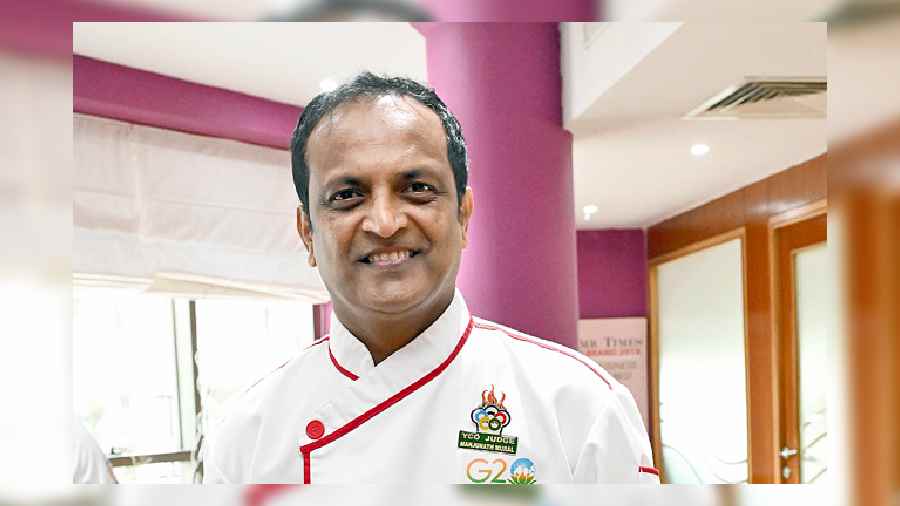 "I think it has always been my dream to do something good for the youngsters of the hospitality industry. I think that is what I have seen here after coming to YCO. This motivation is going to help in a big way in the hospitality industry. The expectation is very high not only from competitors but also from the institute. They are all very energetic and it feels like they were waiting to be a part of this," said chef Manjunath Mural.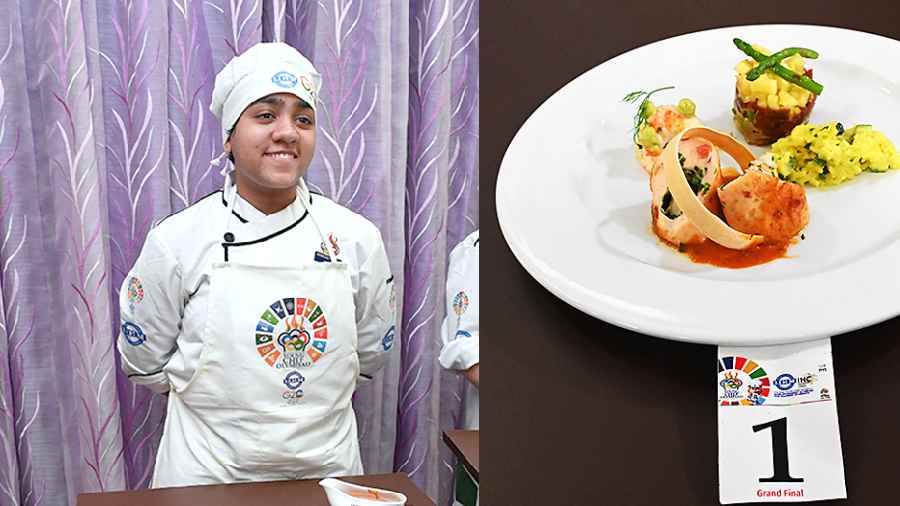 Naureen Shaikh, who represented India from the IIHM Calcutta campus, presented Herb-centered Prawn Roulade served with Seafood Red Lentil Tomato Sauce, Deconstructed Risotto and Layered Salad for the grand finale. The dish also had King Prawn with Cafe de Paris Butter. "Time management was an issue but I am sure the taste will speak for itself," said Naureen.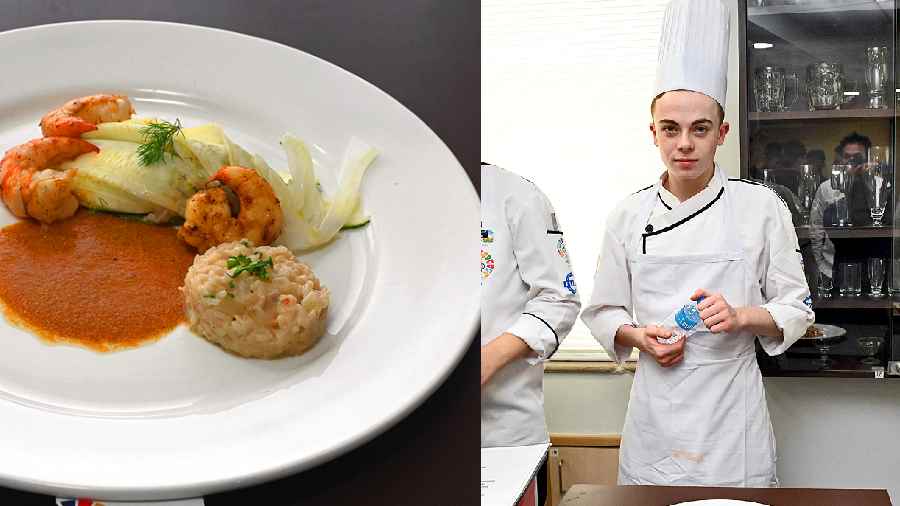 Quentin Marie Dufournet from France named his king prawn grand finale dish 'Colours of India'. "It was a little bit difficult for me to finish it within time but I am happy with the taste. It was great to meet new people and make friends from different cultures," said Quentin.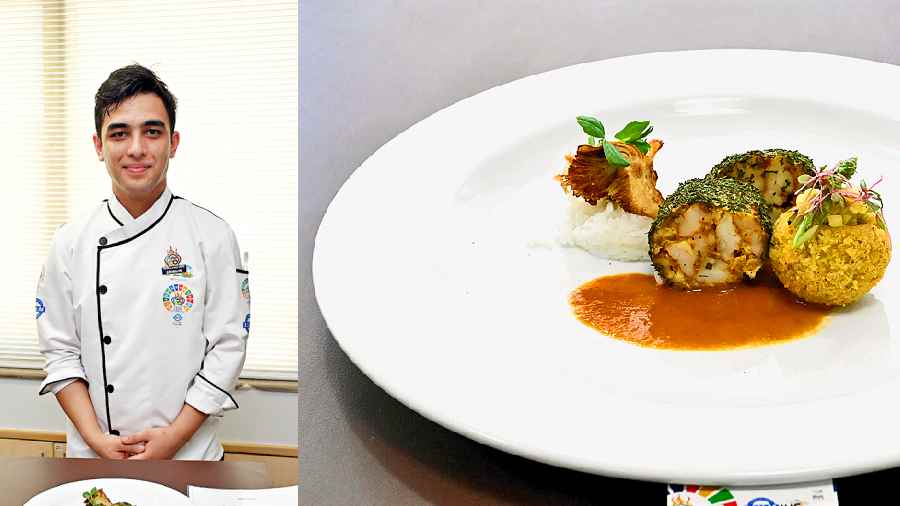 Emil Zeynalzade represented the firsttime participating country Azerbaijan. He cooked Green Herb King Prawn Mosaic in Balsamic Soy Glaze with Crispy Artichoke Hearts, Red Lentil and Couscous Kofta, served with aromatic Coconut Pilaf and Avocado Pineapple Chimichurri. "It is a good experience for me. All the challenges and mentors helped me to grow. It feels good to represent my country for the first time at YCO and know about the hospitality industry of India," said Emil.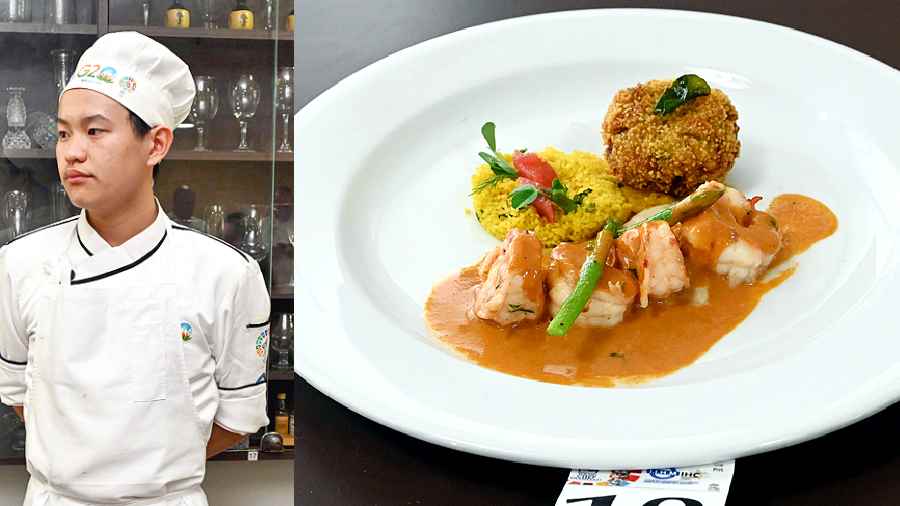 Patiphon Lertsurakitti from Thailand prepared Seared Tiger Prawns with Deep-fried Prawnlentil, Ginger Ball, Pineapple, Cumin with Fennel Puree, Turmeric Couscous and Prawn Bisque.
Team Lunch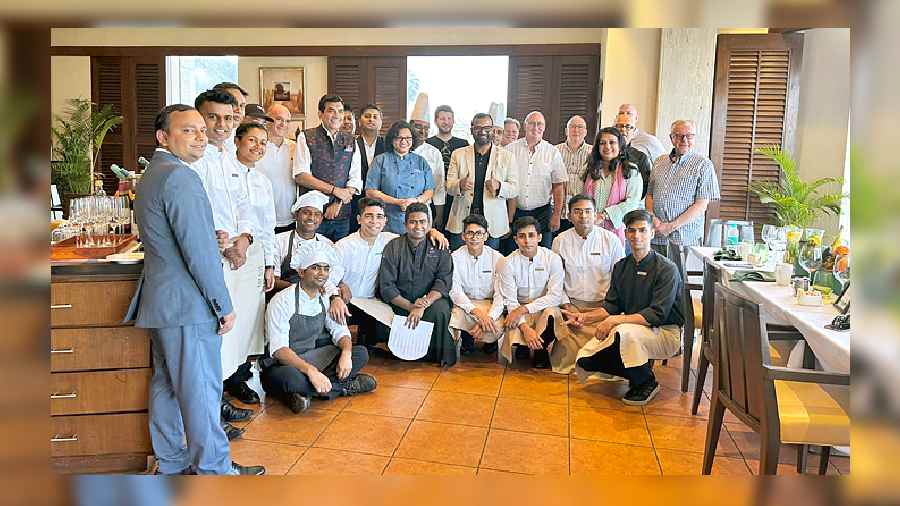 General manager of Hyatt Regency Kolkata, Kumar Shobhan, hosted a special lunch for the principal judge and mentor of YCO, chef Sanjeev Kapoor and other chef judges of the competition.