Chef Roshni R Sood understands that while it's important to cook something impressive for the guests, it's equally important to spend less time in the kitchen and more with them. Hence, the executive chef of Marbella's, Poach and Kitchen-Espresso shares recipes that are easy to assemble and recreate at home. Check it out.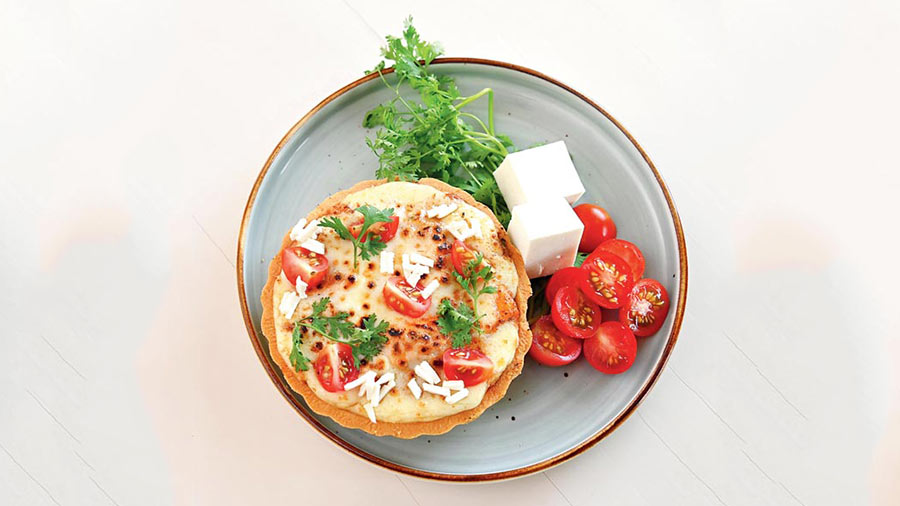 Kadhai Paneer Quiche 
The kadhai paneer, makes for a scrumptious filling for any pastry and the melted cheese on top brings this dish together wonderfully.
Ingredients
For the crust
 Whole wheat flour 1 cup 
 All purpose flour 1/4 cup
 Cold butter 100g
 Salt ½tbsp
 Ice cold water 8tbsp 
Filling
 Ghee 1tbsp
 Ginger garlic paste 1.5tbsp
 Medium sized onion cubes 1
 Tomato puree ½ cup
 Green bell pepper 1
 Full fat paneer 200g
 Salt to taste
 Kasuri methi 1tsp
 Black pepper 1tsp
 Garam masala 1tsp
Toppings
 Mozzarella cheese ½ cup
 Chopped coriander 1tbsp
Method
For the pastry crust:
Knead together all the ingredients listed for the quiche pastry into a smooth dough.
Cover with cling and refrigerate for one hour.
Roll out the dough into one-inch thick sheet and layer a nine-inch baking dish.
Blind bake the pastry for 20-25 mins at 180 degree Celsius or until golden brown.
Note: Blind baking is the process of baking pie pastry or any other pastry without a filling.
For the filling
Start with heating a pan. Add ghee, cumin seeds, ginger garlic paste and onion cubes. Cook  till translucent. Add the bell peppers, tomato puree, cooking cream and continue cooking for five mins.
Season the gravy with the spices and salt. Finish with paneer cubes and chopped coriander.
To assemble
Add the kadhai paneer filling to the blind-baked pastry crust.
Top with grated mozzarella cheese and bake for 10 mins at 250 degree Celsius.
Garnish with coriander and serve hot.
Kesar Pista Ice Cream Trifle
The Kesar Pista Trifle is a fusion take on the traditional dessert rasmalai. A frozen dessert with layers of rasgullas, ice cream, milk syrup and dry fruits, this dish is comforting yet trendy and is very easy to serve and share for parties or get-togethers.
Ingredients
Saffron 20 strands (10 strands for garnish)
Condensed milk 1 can
Pistachio 2tbsp (chopped)
Full-fat milk 500ml
Rose petal dried 10g
Rasgullas 20 pieces
Vanilla ice cream 1 block
Cardamom powder 2tbsp
White chocolate shavings for garnish
Method
In a pot, boil together milk, saffron, pistachios, condensed milk and cardamom powder.
Set aside to cool.
Remove the excess syrup from the rasgullas and cut them in half.
Assemble
Take an eight-inch glass bowl and start by putting a layer of the rasgulla followed by the condensed milk reduction.
Cover the rasgullas with a layer of ice-cream, chopped pistachios, rose petals and continue layering.
Once the dish is layered, refrigerate it for an hour.
Garnish
Finish the refrigerated dessert with saffron strands, sliced pistachios, white chocolate shavings and dried rose petals.
Serve chilled.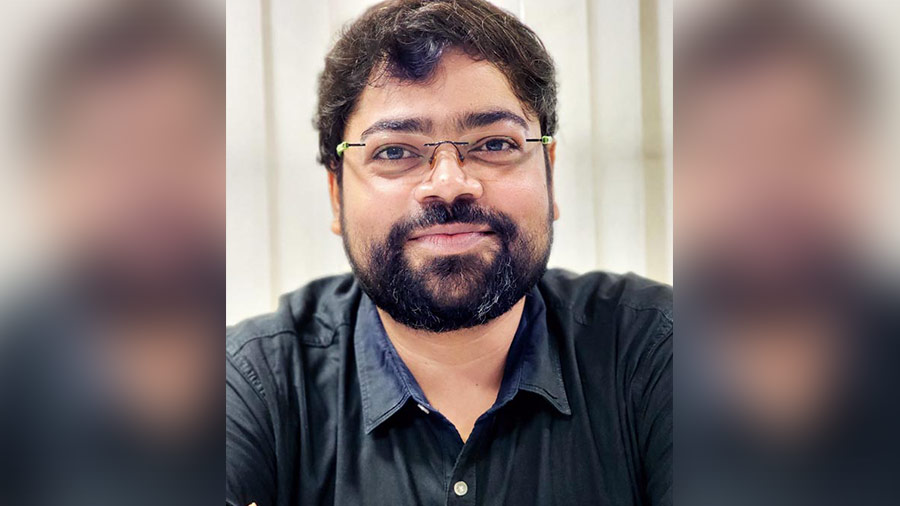 If you have dined at Ozora or partied at M Bar then chances are that you are already aware of Chef Sumiet Raghuvanshi's culinary flair, his finesse in creating modern Indian dishes with impeccable amalgamation of flavours, textures and presentation. And if you have always desired to recreate his recipes at home then check out these two exclusive recipes by the corporate chef of White Castle Hospitality.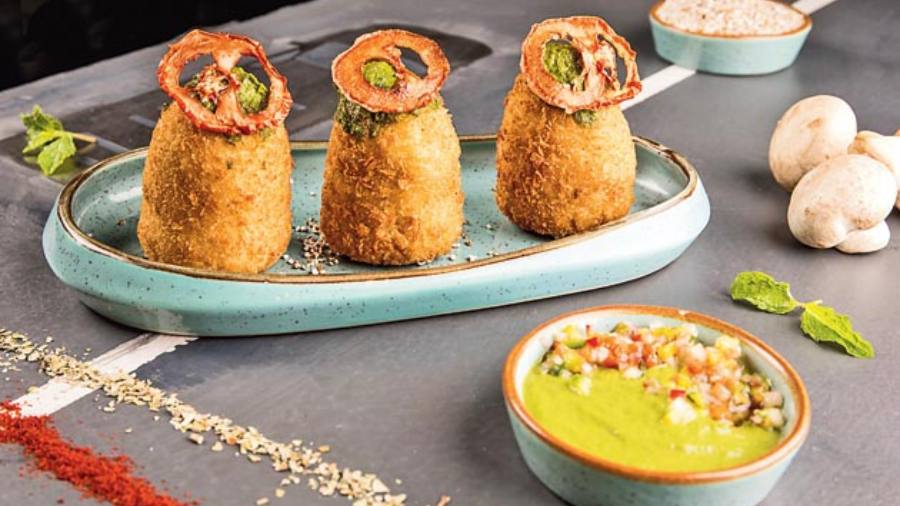 Angrezi Scotch Mushroom
Inspired from the classic Scotch egg, this is an innovative take for the Indian palate, specially for vegetarians.
Ingredients
Eggs 1
Potato 60g
South Indian tadka 1 portion
Green coriander 2g
Mushroom 60g
Cheese 30g
Kashmiri chili powder 2g
Panko crumbs 20g
Method
Mash the potatoes, add seasoning and South Indian tempering (refined oil, black mustard seeds, chana dal, curry leaves and whole dry red chilli).
Keep it aside and let it cool.
Blanch the mushrooms and pull out the stem.
Take two pieces of mushrooms and sandwich them with cheese and spices in between, coat it with the potato mixture and make an egg shape.
Crumb it with panko and flash-fry. Serve hot with mint chutney.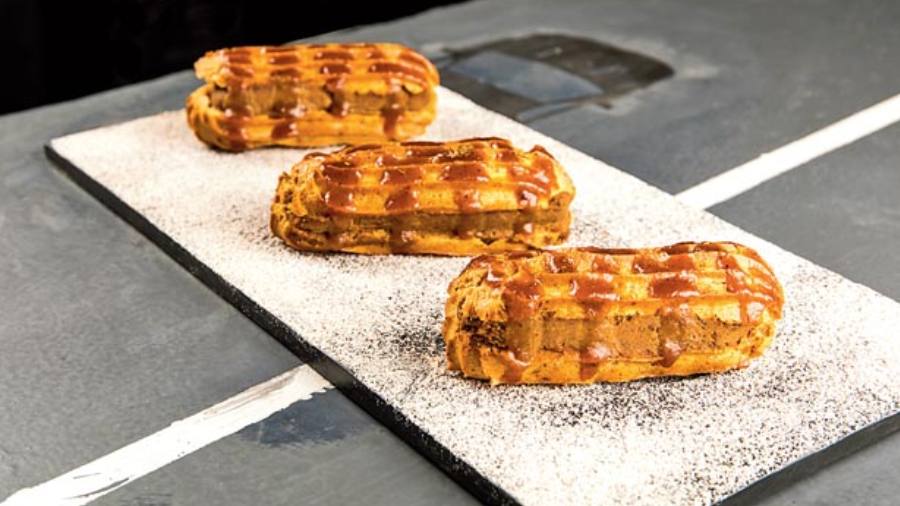 Pindi Eclairs
French it up the bhangra way! Optical illusion at its best by taking the elements of our favourite Eclairs that marries Pindi chana.
Ingredients
Refined flour 100g
Butter 50g
Eggs 1
Chickpeas 50g
Garam masala 2g
Kala masala 5g
Cream cheese 20g
Chaat masala 2g
Anardana 5g
Ginger and Garlic paste 5g
Tamarind glaze 5g
Powdered sugar 2g
Kashmiri red chilli 1g
Method
For Pindi chana
Boil the overnight-soaked chickpeas with black tea pouches for the black colour.
Make a masala separately in the traditional way with spices like ginger garlic paste and kala masala. Mix the boiled chickpeas in it and finish it off with fine chopped coriander.
For Choux paste
Combine refined flour and butter in a pan on medium heat.
Once mixed properly, add garam masala and chaat masala as we are making savoury eclairs.
Take the mixture in a whisking jar and slowly add eggs.
Once mixed uniformly, take it in a pipping bag and pipe out the eclairs on a baking tray with a distance of two inches between them. Bake at 220 degrees Celsius for 12 minutes.
Assemble
Make a paste of Pindi chana with cream cheese.
Slit the eclairs vertically into half and pipe the mixture in between.
Garnish it with thick tamarind chutney and serve it on a bed of icing sugar mixed with Kashmiri red chilli powder.