GOURMET CONCERT
Food is no longer just an element of a wedding. It has become primary focus. It has become one of the most, if not the most, important criteria of a successful wedding. It is not about just great food, it is now about food drama where chefs are performers who just do not make great food but create experiences which become part of the whole wedding story. It is believed that though gatherings have become more intimate, people are spending at least 20 per cent more on catering than ever before.
THEMATIC
No more random buffets based on cuisines. There has to be a food mood board which integrates the theme of the evening , the occasions requirement and the purpose of the event. Each of the meals should tell a different story, sing a different song and express a different emotion.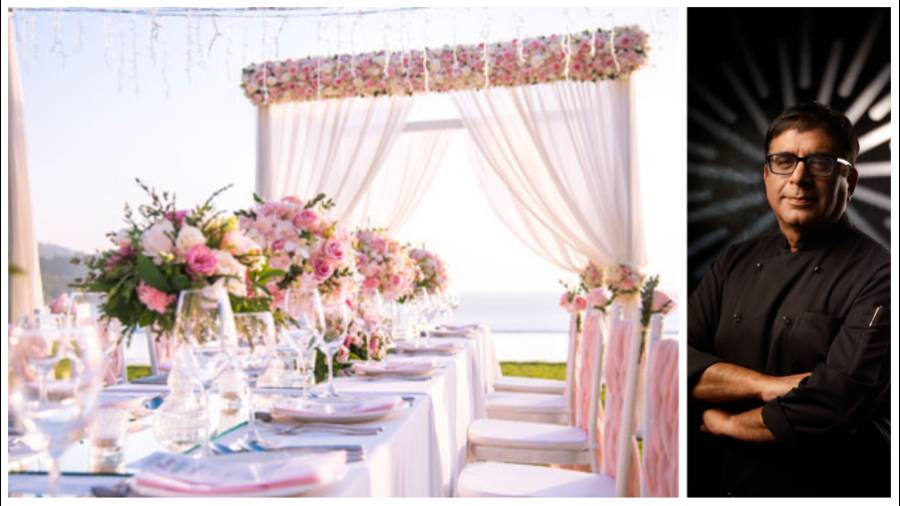 A themed wedding decoration and Chef Sharad Dewan makes sure that the food matches up with it
FOOD TIMELINES
This works on a simple philosophy: the mood and sentiments of the party keep on changing after every hour. With this we used to change the entertainment; example, start with background soft music, move to live singer and then culminate with a DJ. With the mood, lighting of the venue also changes. Then why should food be divided into only pre-dining and dining? The dining experience has to change also by the hour in accordance of the party mood. This means multiple small meals rather than one large one .
COMBOS/SMALL MEALS
A big part of experiential meal is to have the right combination of dishes. This is easily achieved in mass banquets by serving dishes in combos. Food that goes together is put together. So if a particular curry goes best with a particular roti/rice and an accompaniment, then all the three are presented together and not that the guest goes to the end of the buffet only to pick up a wrong staple from a cluster of it.
RESTAURANT-STYLE FOOD
The discerning guest does not want massy food. They want experiential fine-dine experience in banquets now. Food should be elegantly presented in small portions so that it is both a visual and soulful delight. Do less dishes but do them as if they are pieces of art.
AUTHENTICITY AGAINST FUSION
Fusion food which started as a trend has become a very loosely used word now. One can appreciate inspired and innovative food but the trend is moving to authenticity. Uncompromised original flavours being prepared by original masters using ingredients from original sources.
INDIAN MITHAIS
As a continuity of authentic dishes one thing which sees a definite revival and comeback is authentic mithais. They are coming back in two formats — one is heritage sweets of India and second, petit desserts. The dainty reincarnated sweets have a great appeal, specially with the younger generation.
INGREDIENTS
Easier availability and more knowledge of food has led to guests appreciating the impact great quality ingredients make. Guests are now ready to pay a price for procuring the best of ingredients, not only from abroad but also from pan-India. In fact, I see a big movement where great chefs from across the world now seek great ingredients from India.
INDIAN FOOD, INTERNATIONAL ACCEPTABILITY
Wedding is an international phenomenon. Themes are being used by wedding planners. India-based themes not only in terms of decor or design but also in terms of cuisines is trending big-time now. Demands of authentic Indian food served traditionally is much appreciated across the globe.
YOUNGSTERS CALLING THE SHOTS
There was a time that only the elders of the family were part of the "food committee". Today I am seeing more and more youngsters taking over that responsibility. The great thing is that they are respecting the cultures and traditions but at the same time they are ready to take risks with out-of-the-box themes . So now a wedding food theme is a perfect balance of tradition and ultra modern.
ARTISANAL TABLES AND SERVICEWARE
Food is all about sensory perceptions. And the first sensory simulation is visual . When you see the food two things make impact — one is the freshness of the dish and second is what and how it is presented . Even a simple dish when presented in an unusual and artisanal serviceware, it makes a huge impact. Even the set of the table makes a huge impact in your overall meal experience. So today when we plan a wedding menu we keep in mind how and in what each dish will go, how will the dining table be decorated, will there be show plates or a centrepiece. Each of these fine nuances are prethought and are now going to be as integral as the taste of food.
Pictures courtesy: Gourmet Design Company and iStock