Ashish Vidyarthi was a chronicler at heart at this special shoot. From the moment he stepped out of his car, he started capturing the moments that would become mirth-filled memories. "I am not really a consumer of stuff. I am more of a creator. I have been taking so many photographs, I have never seen them again. They are up in the cloud in Google. I enjoy the act of taking photographs. Now thanks to social media, I have the pleasure of sharing what I have taken," he told us. Post a hearty meal which was made memorable by his quips, he settled down for a chat with The Telegraph. 
How did food happen to you?
I have been somebody who loves food. It has been a draw for me... I was an only child and I would come back home from school and eat, but I have never quite enjoyed food alone. I would spend a lot of time going over to friends' places and stay on till food was served to them and then aunty would offer it to me... Ma used to be upset... tum khake aaye ho.... (laughs). 
I remember the fondest memories were in Laxmi Nagar (Delhi), when people used to come over. Many of ma baba's friends used to come over and different kinds of food were cooked. 
What are your earliest memories of community dining?
We had get-togethers at home and friends' houses. Being an only child, I used to seek families and had quite a few friends' families who were like family to me. Then, of course, there used to be Durga Puja and we would have bhog together and also make the bhog. People breaking bread together is something which has always drawn me.
Even during college, I used to love to go out and eat and at drama school again, food has always been a draw. I salivate even at the thought of food. People tell me I'll stop as I age. I guess I haven't aged. I still salivate. I love the descriptions and food when it's had.
I remember Rani Khanam, the noted Kathak danseuse, making mutton once with sukha mirch, laal lanka. I still think about it. Today, I am going to say a 'hello' to her.
Then I moved to Mumbai and started travelling for my work and I started taking photographs of the food. This was in 2003. On my Facebook profile, you would find photographs with the back camera of the BlackBerry. I would take pictures of the food and the people I'd meet. Even before the term 'selfie' was coined, I used to take photographs. Even though I used to travel here and there for shoots, I would find interesting places to go and eat at like Mylari Dosa in Mysore, some military hotel in Salem, some interesting places in Darjeeling. At that time, Google wasn't there. So, you asked the local people.
Since I am culturally crossconnected, my father being a Malayali and my mother being a Bengali from Rajasthan and I was born and brought up in Delhi and then travelling all over, I am comfortably rootless. So, I have a palate for food from all regions. Mostly, I don't like to eat in an air-conditioned environment where everything is sanitised. The rough edges along with the food interest me. I celebrate that in the simple, there is the amazing. I love to recognise the amazing that's happening around me. My passion, if I may say, is to let people see the amazing and not be upset about what is around you. We are waiting for something good to happen and probably missing out on things that are there. Be it my vlogs or food reels or my talks on my podcasts, they all are around celebrating the extraordinary, ordinary. My parents, you'll never know of, were amazing people. Your parents too are amazing. How about celebrating a billion who are amazing? That's what I do. And, share how so many people are leading good lives... that's the thrust of my work and I am so enjoying this period of my life as I travel as an actor for OTT platforms or films, work as a motivational speaker across the world and now as a travel vlogger, capturing stories and then as a food vlogger, I capture food items.
I personally believe that each one of us has an opportunity to share not only our own dreams but also the dreams of others. I use my platform to share dreams that so many have, with the fond hope that there will be someone somewhere, connecting with them.
On which film set have you had the most amazing food?
Too many. Film sets have unique food. The first time I shot in South India, I discovered that along with tea and coffee, there were also Horlicks and Boost on offer.... There used to be fresh dahi made. When I came to Calcutta, for the first time I had beet noon'r cha and there used to be some production people who would make Hajmola tea.
Your videos have so much joy...
I celebrate three chances in life... that I was born and I am still alive and I am meeting this moment. I don't look at moments as been there, done that. It's the opening of a whole new chapter... am I willing to dive into it fully and discover something else? One thing I want to communicate to people is that you need to pay for your dreams. You work hard and create an opportunity for yourself. The world doesn't have the obligation to give you the freedom to do what you want. I encourage myself as I encourage others.
What has this chapter of your life added to it?
Wholeness. After a very long time in my life, I am doing what I wish to do. There is this book I have been contemplating writing... I work on three principles and the three principles that are a part of that book... I am in the service of my spirit, my spirit is vast and the universe is my ally.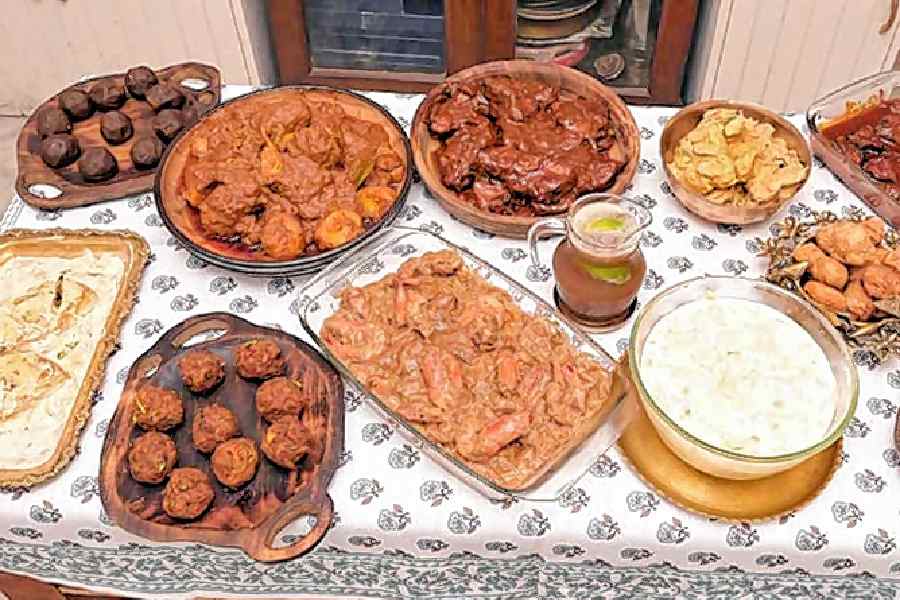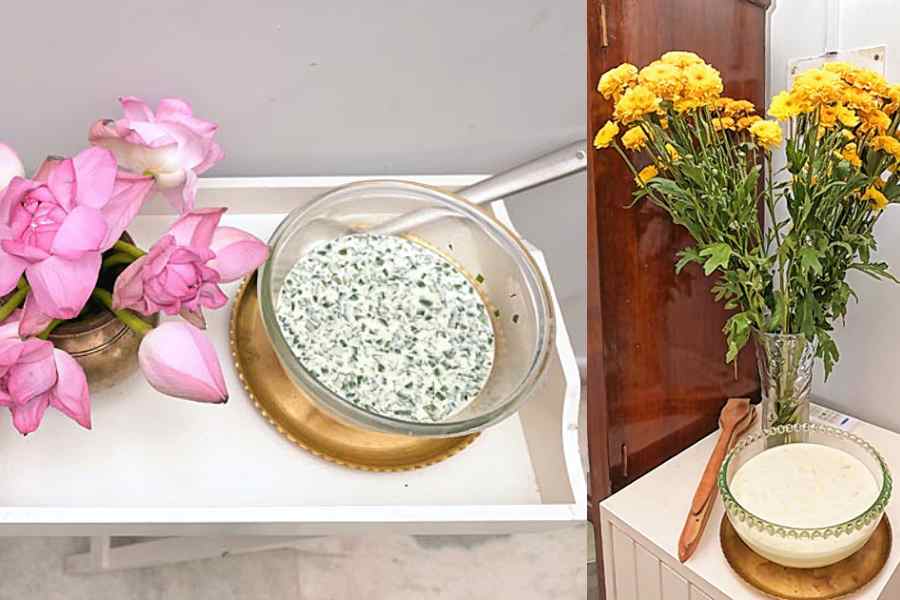 A glimpse of the gala feast whipped up by Subhajit Bhattacharya for Ashish Vidyarthi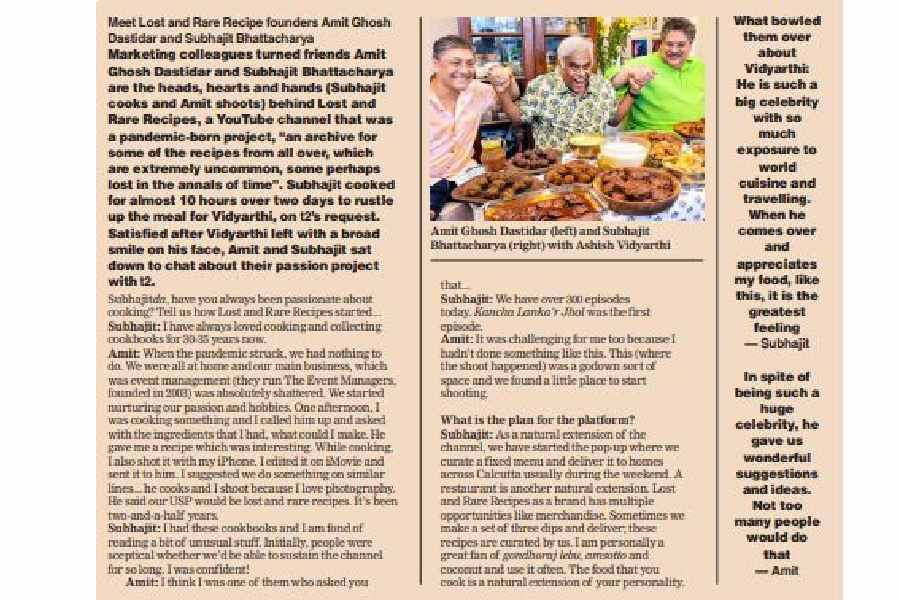 What he tasted and the stories:
1. Aamer Aachar Diye Dal (masoor dal) Shukno: "This is my grandmom's recipe, a vegetarian dish and is meant to be served with rice," said Subhajit.
2. Maachher Kasundi Bhorta: "Kasundi as you know is Bengal mustard. This is bhekti fish with kasundi. I received this recipe from Satarupadi, who is like my sister. She is the author of several cookbooks. The dish has garlic and green chillies, among other ingredients," said Subhajit. Vidyarthi went for a third serving. "This is stuff I have not tasted before," he smiled.
3. Potol Chingribata: Vidyarthi is a pointed gourd lover. Subhajit cooked this dish keeping that in mind. "This dish is from Sylhet (Bangladesh). There is a friend of mine called Sohini. She taught me this dish. This has methi," said Subhajit.
4. Til Pateshwari: "This is a centuryold recipe. The author of this recipe is Bipradas Mukhopadhyay, an author of cookbooks like Pak Pranali and Mistanna-Pak. This has ground rice + flour + white til, with a hint of ginger + fennel," said Subhajit. Vidyarthi polished it off and said: "Baat mein jazbaat hai!
5. Beguner Khatta: The dish was made delicious with tamarind and jaggery
6. Doodh Pabda: "This has no shorshe. This has been taught to me by a dear friend Rukma Dakshi," said Subhajit.
7. Doi Chingri: This was from Maharani Gayatri Devi's cookbook, Gourmet's Gateway. "She compiled only one cookbook in her lifetime. This dish is most probably from Bengal," said Subhajit.
8. Bhetki Komola: "This is a traditional recipe of Bengal. The base of the gravy is orange juice and has this flaming red colour. It has raisins and is also cooked with koi maachh or katla maachh," said Subhajit
9. Katla Maachher Dobli: "This is found in two very old cookbooks of Bengal, one by Pragyasundari Devi, who is Tagore's niece, and in one by Renuka Devi Chowdhurani, whose books Rakamari Niramish Ranna and Rakamari Amish Ranna are like Bibles. It uses tomato sauce," said Subhajit. "And, a spoonful of vinegar and a little bit of mustard," added Amit.
10. Ilish'r Nonibahar: "Seeing our channel, Indrani De from Dhaka, whose forefathers were the zamindars of a large estate in Bangladesh, gave us this recipe. Milk would be warmed up overnight and the cream from the milk would be set aside, and, early in the morning when the first catch came in during the monsoon, this dish used to be cooked with that. This is a rare dish. Here you get a distinct taste of the West. It has fresh milk, cream and green chillies," said Subhajit.
11. Goalondo Steamer Curry: "In yesteryears when people used to travel from Calcutta to Dhaka by steamer, they used to go to Goalondo by train and from there, they used to go to Narayanganj by steamer and it used to be an overnight journey. The secret ingredient here is prawn paste which gives it a unique flavour," said Subhajit.
12. Bikrampuri Murgi'r Korma: This dish was a magic mix of 13 ingredients. "Milk, doi, ghee, clove, cinnamon, cardamom, bay leaf, onion paste, ginger paste, a few whole green chillies, salt, sugar, lime juice. Just mix all the ingredients with chicken and heat them. In five to 10 minutes, the entire house will be filled with aroma," said Subhajit.
13. Bina Tel E Gol Morich'er Mangsho: An alltime favourite with Subhajit, this had no oil. "You just marinate it and keep it overnight and then just heat it till the mutton is cooked," he said.
14. Mutton Ceylon Curry: "This is a super tasty Anglo-Indian curry originating from Sri Lanka," said Subhajit.
15. Golap Haath Ombol: "This is absolutely lost. It is a digestive with rose water, tamarind, sugar and gondhoraj lebu. You have to serve this absolutely chilled," said Subhajit.
16. Bhaja Mashla Amsotto Chutney: A heavenly dollop came with the flavours of jeera and shukno lanka.
17. Daab Amsotto Lebu Pata'r Ombol: "This is a secret recipe from Chuni Goswami's (football legend) family," shared Subhajit.
18. Daab'r Payesh.
19. Luchi'r Payesh: "This is luchi soaked overnight in payesh which makes it taste like rabri," said Subhajit.
20. Paan'er Kheer: A palate cleanser!