The ICCR auditorium was shining with Kolkata's gliteretti and foreign dignitaries on the evening of June 14 at the first Zard Sitara Awards, which was organised to appreciate the contributions of Muslim women living in the city as well as to inspire others from the community to pursue their dreams.
A joint collaboration of Mashriq Education Trust, spearheaded by Farah Khan, and Faces, led by Imran Zaki, the event was a celebration of women power with the motto "Empowering Women through Social Entrepreneurship".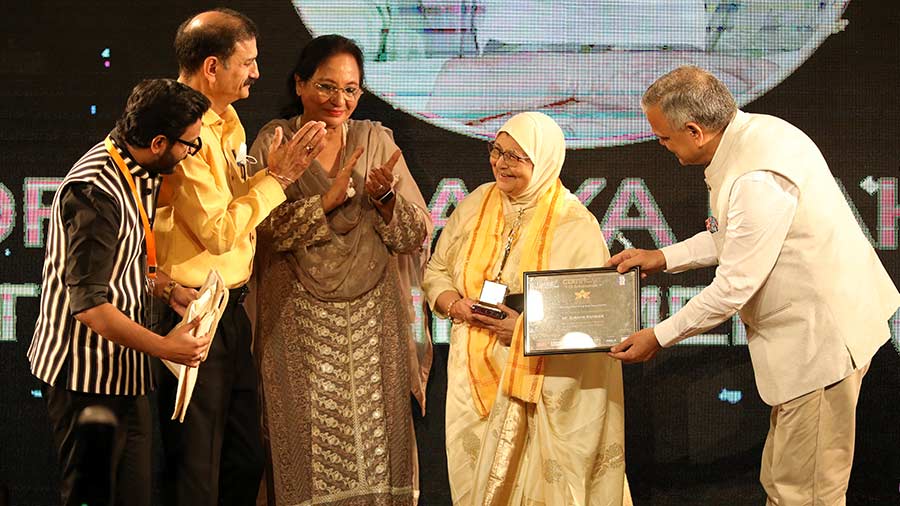 Suraiya Rehman receives Lifetime Achievement Award from Rajendra Khandelwal
Arijit Sen
German consul-general Manfred Auster, French consul-general Didier Talpain, Chinese consul-general Zha Liyou, British consul-general Nick Low, Malaysia's honourary consul Sanjay Budhia, Republic of Niger's honourary consul Rajendra Khandelwal and Lithuania's honourary consul Arvind Sukhani attended the event.
Educationist Atiya Mustaque, gynaecologist Suraiya Rehman, All Bengal Muslim Women's Association secretary Saboohi Aziz and president Noor Jahan Shakil received Lifetime Achievement Awards for their contributions to the community.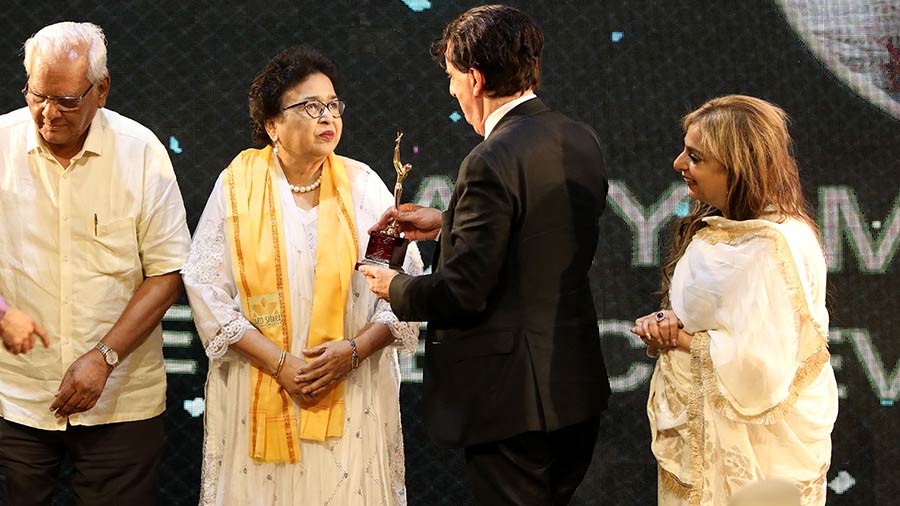 Atiya Mustaque receives the Lifetime Achievement Award from Didier Talpain
Arijit Sen
"The award ceremony has been held to inspire and empower Muslim women. It would help them come out of the purdah and do something worthwhile with their lives," said Mustaque.
Lauding the initiative, Rehman said, "It'll infuse belief into Muslim women that it's possible to lead a better life. I'm here today because of my father's vision for his two daughters. He didn't want us to lead a life dependent on ancestral property. My husband, too, has been a pillar of strength. I believe that society should ensure that the potential of all women is brought to the fore."
"It's the reward for what our organisation has been doing to empower women for the last 36 years. From modest beginnings in rented rooms to an organisation of 1,400 members — this has been a long and hard journey," said Aziz.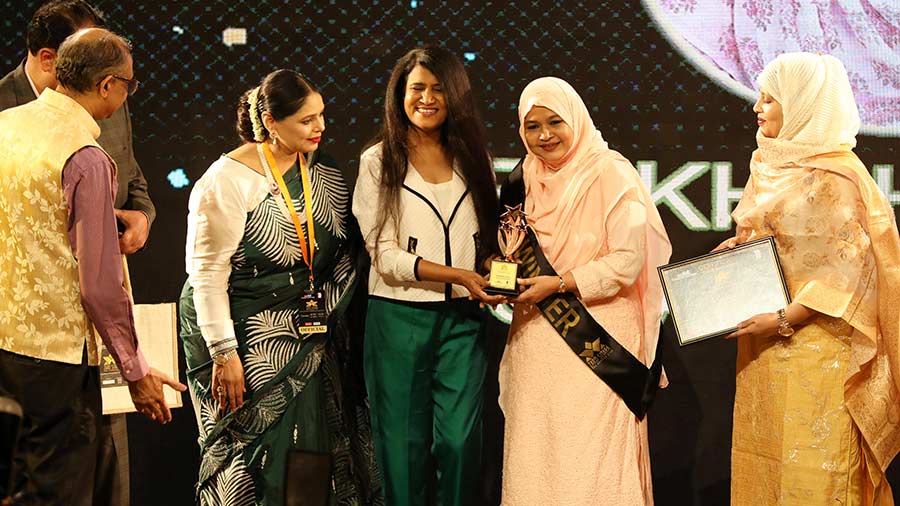 Social influencer Rukshi Elias receives her award
Arijit Sen
Fashion entrepreneur Bilkes Parveen, health and wellness entrepreneur Hena Nafis, social influencer Rukshi Elias, creativity expert Sana Salman, make-up artist Simran Parveen, costume jewellery designer Uzma Firoz, educationist Ghazala Yasmin, gynaecologist Ayesha Khan, baker Marium Javed, mediaperson Shabana Ezaj, Rugby player Saba Ali Firoz, event manager Saima Vohra and culinary expert Zara Chisty Abedin also received awards for commendable achievements in their fields.
The poignant moment of the evening came when Zenaib Khatoon, a student who is disabled, made her way to the stage. She was invited to the event for having secured 75 per cent marks at the recently concluded Class X board exams amid severe physical handicaps.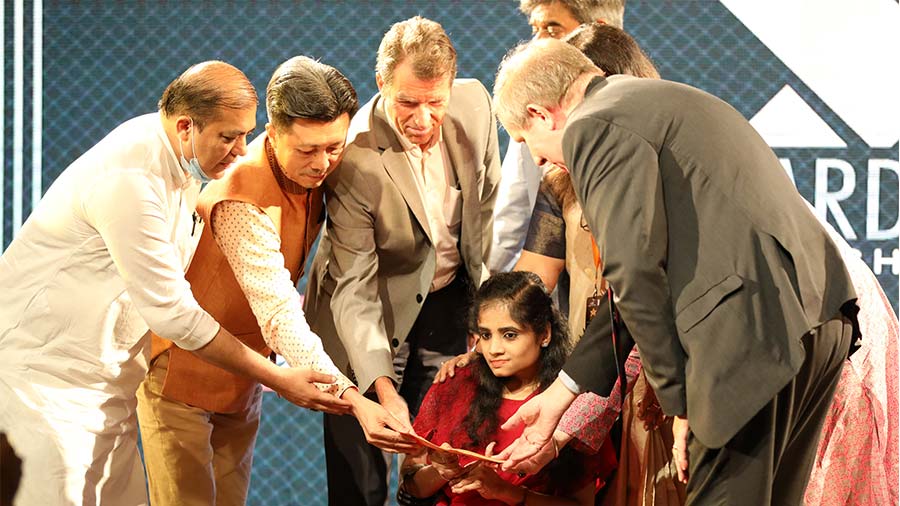 Foreign dignitaries congratulate Zenaib Khatoon for her performance in the Class X board exams
Arijit Sen
"Zard Sitara is an effort to encourage the community to fulfil the dreams of Muslim girls and women. It aims to recognise the struggles and journeys of all those who have refused to be swayed by conservative demands and made their way ahead," said Imran Zaki.
"We'll hold workshops, conduct health checkup camps and, most importantly, provide career counselling and guidance to girl students. Our ultimate goal is to create more self-help groups to make women financially independent," he added.