Matinee idol Arindam Mukherjee from Nayak, Sata Bose from Chowringhee or Abanish alias Gourhari from Chhadmabeshi — Uttam Kumar portrayed a wide range of characters and impressed in every role. On the actor's 96th birth anniversary on September 3, 2022, the Uttam Kumar Memorial Cultural Committee paid tribute by showcasing some of his lesser-known facets. My Kolkata was the digital partner for Uttam Smaran Sondhya, a cultural programme held at Uttam Mancha.
"Today is Mahanayak Uttam Kumar's birth anniversary. So, we are celebrating the occasion. We have music and dance performances but we are also introducing a new concept of Geeti Alekhye Mahanayak. This is also Satyajit Ray's centenary year and we have tried to bring together the two legends. We also have music performances by notable singers and a dance performance to conclude the show that will see almost 100 dancers performing," said Tanmay Kar, general secretary, Uttam Kumar Memorial Cultural Committee.
A glimpse of the tribute in pictures…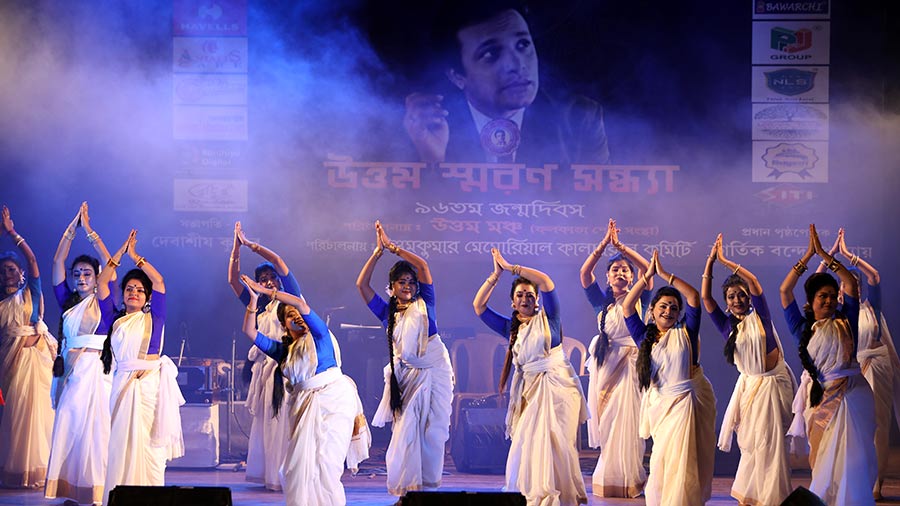 The event began with a dance performed by Kohinoor Sen Barat and troupe to songs like Teenti mantra niye jader jibon Satyam Shivam Sundaram from Ananda Ashram and Ami kon pothe je choli from Chhadmabeshi. "This evening has been organised by Uttam Kumar Memorial Cultural Committee on the occasion of the birth anniversary of Mahanayak Uttam Kumar. I am directing the dance segment for the event along with my group Shinjan and Kohinoor Dance Academy," Barat said.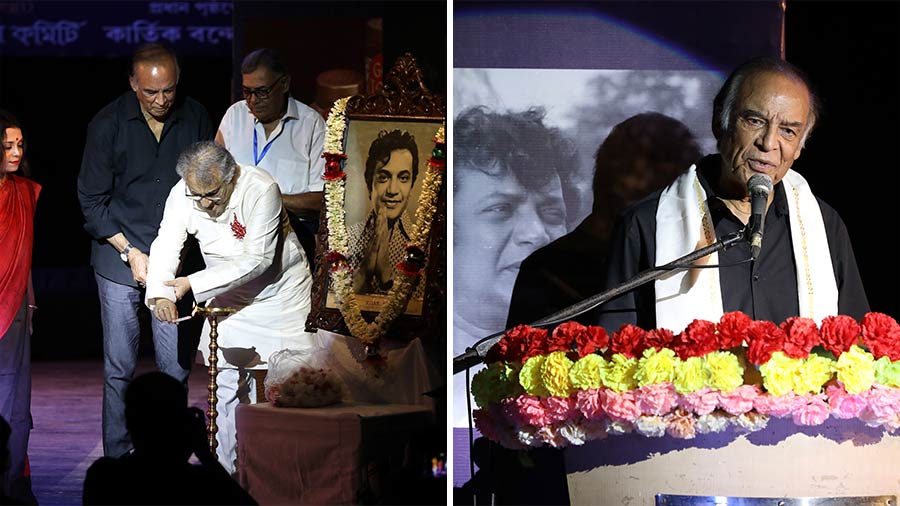 Veteran actor Barun Chanda was the chief guest for the evening. He inaugurated the programme by taking part in the lamp-lighting ceremony along with senior members of the Uttam Kumar Memorial Cultural Committee. "No one in Bengali films had a voice like Uttam Babu's and I don't think anyone will ever have. His voice had a strange romanticism. Uttam Babu had worked very hard on himself and on his acting. I have heard that a day before his shooting, he would rehearse the lines for hours in front of the mirror. Another thing I liked a lot was his lip-syncing during songs. That is also because he could sing very well," Chanda said.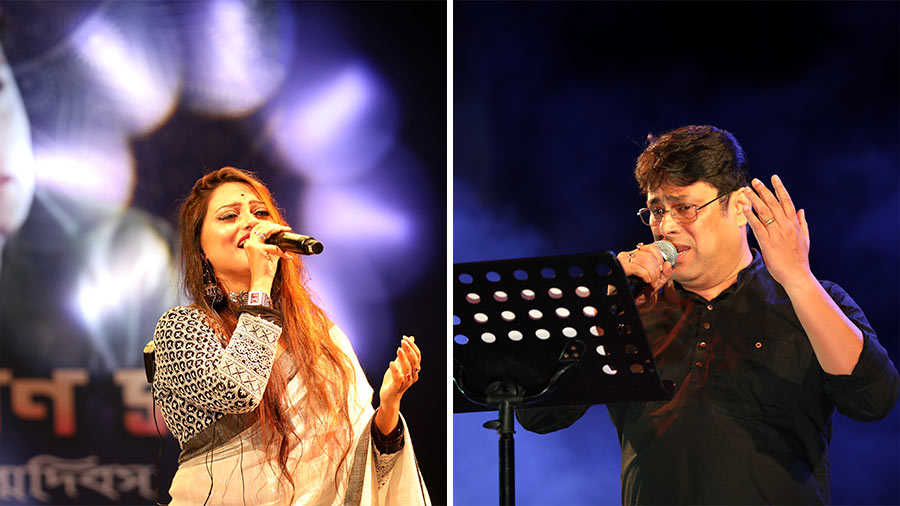 The musical programme kicked off with Debarati Dasgupta presenting a Sanskrit shloka invoking the divine. It was followed by songs like Ek Boishakhe dekha holo dujona from Bilambita Loy and Aaj gun gun gun from Rajkumari. Ratnendra from Mumbai sang Asha chhilo, bhalobasha chhilo and Prithibi bodle gechhe from Ananda Ashram.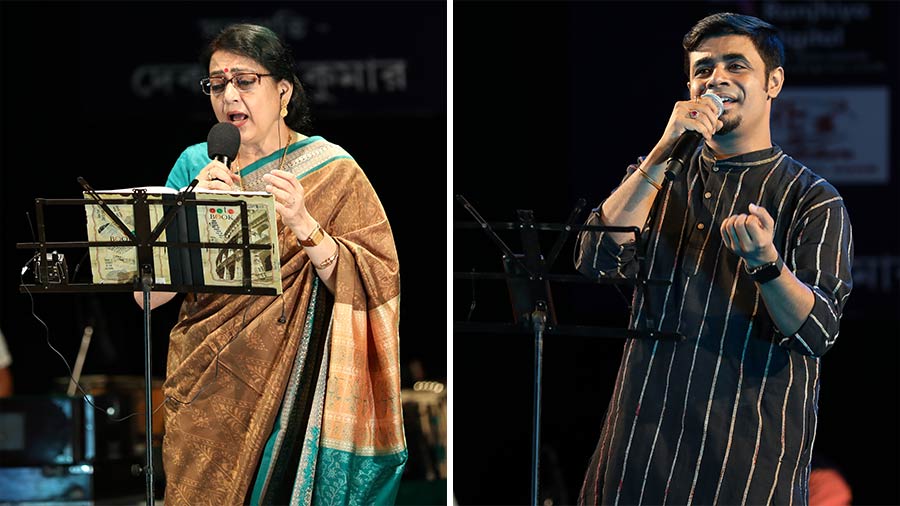 Sriradha Bandyopadhyay mesmerised the audience with her rendition of Jani na aaj je aapon from Amanush and Jhonak jhonak from Indrani. New-age singer Aritra Dasgupta captured hearts with Dole dodul dole jhulona from Dewa Newa and Kaharba noy dadra bajao from Sanyasi Raja.
Ankita Bhattacharya sang Aaro dure cholo jai from Chhadmabeshi and Saikat Mitra wrapped up the music segment by performing Kothao amar nei somoy and Aha mori mori cholite cholite both originally sung by Shyamal Mitra.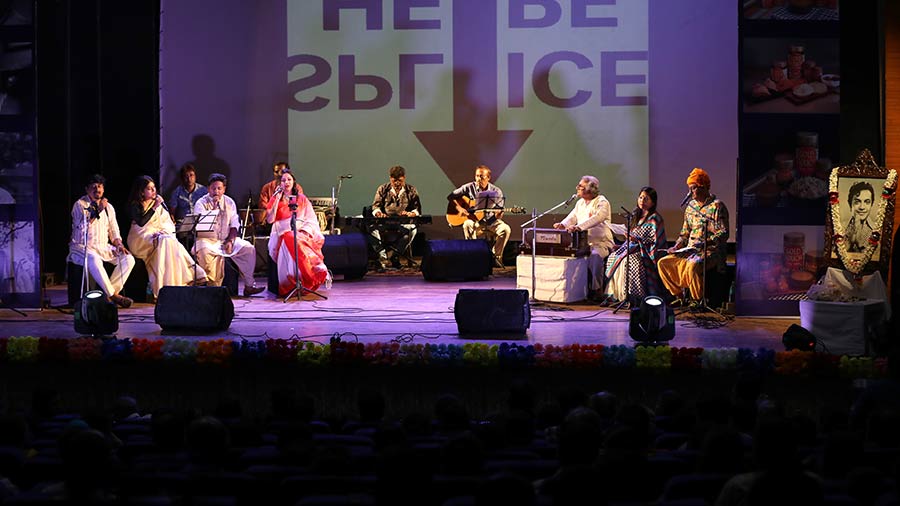 Nayak Theke Mahanayak was a special curation by the Uttam Kumar Memorial Cultural Committee for 2022. Scripted by Kaushik Sengupta, the artistes performed various songs from his films interspersed with scenes from the movie Nayak to recreate a near-biographical account of the matinee idol's life. The performers included Kalyan Sen Barat, Sujoy Bhowmick, Gourab Sarkar, Madhuri De, Chandrika Bhattacharya, Soma Aich and Kaushik Sengupta.
"Uttam Kumar means an industry. His struggle, his fight to carve a space for himself in the industry and to emote his expressions, made him inflict a lot of poetic pain on himself. This year is also the centenary year of Satyajit Ray and so I thought that there is a lot of common ground between Nayak Arindam Mukherjee and Uttam Kumar. Hence, I penned the journey of Nayak theke Mahanayak through an innovative musical and visual narrative about his life to be performed for the first time on stage," filmmaker Kaushik Sengupta said.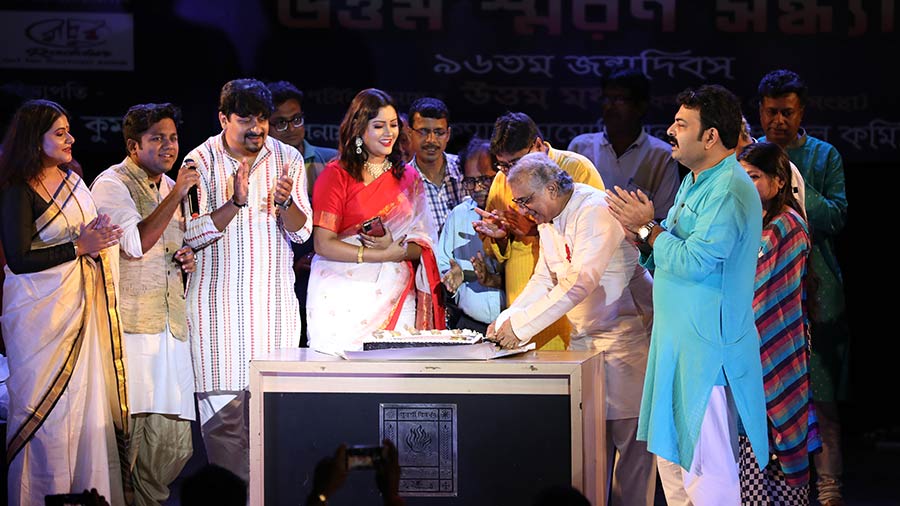 Celebrating a birth anniversary would be incomplete without cake-cutting. The members of Uttam Kumar Memorial Cultural Committee, along with guest performers, took part.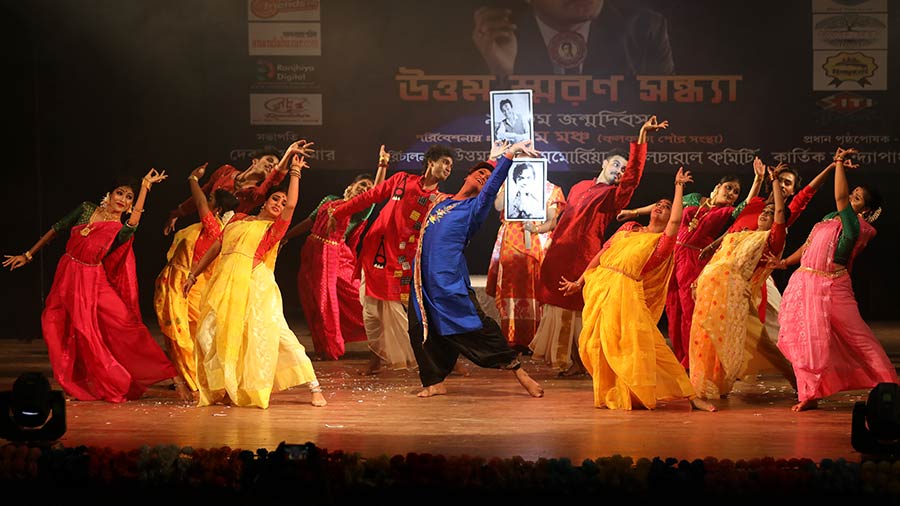 The programme ended with a dance performance. Almost 100 dancers from notable troupes such as Ethnic Dance Academy and Niharika Centre for Performing Arts lit up the stage as they performed to hit songs from Uttam Kumar films.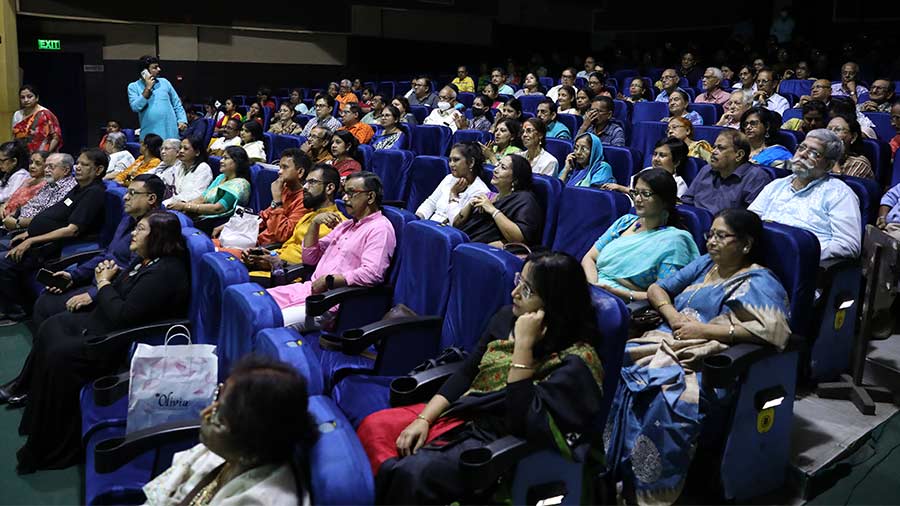 A packed hall travelled down memory lane through music, dance and more.
All Photographs by Arijit Sen / My Kolkata