Even as the sun was setting, an awe-struck audience enjoyed every bit of this "I.D.E.A" which was presented by 20 young performers and activists at the South Lawns in front of the majestic Victoria Memorial Hall on November 3.
The US Consulate General, Kolkata, in association with Theatre Alliance, Contact Base and Victoria Memorial organised a street play-styled performance called 'A Global I.D.E.A' which stood for the principles of inclusion, diversity, equity and accessibility.
Welcoming the participants, Adrian Pratt, public diplomacy officer, US Consulate, Kolkata and director, American Center, said, "This kind of performance doesn't just spring out of nothing. It depends on partnerships with people who share the same vision for a better world, a world of love, peace and friendship. The idea was conceived by the American Center three years ago. Much of the idea of connectivity also involves connecting people from different countries and different cultures. We continue to see how arts and artists can create a stronger community and help us understand ourselves and each other at a deeper level.''
The Arts Envoy Residency
A Global I.D.E.A is a culmination of a two-week Arts Envoy Residency which was funded by the US Consulate, Kolkata, and the Bureau of Educational and Cultural Affairs (ECA) of the US State Department. Performers from four countries – India, United States, Nepal and Bangladesh – came together to put up a performance and call for a change through art.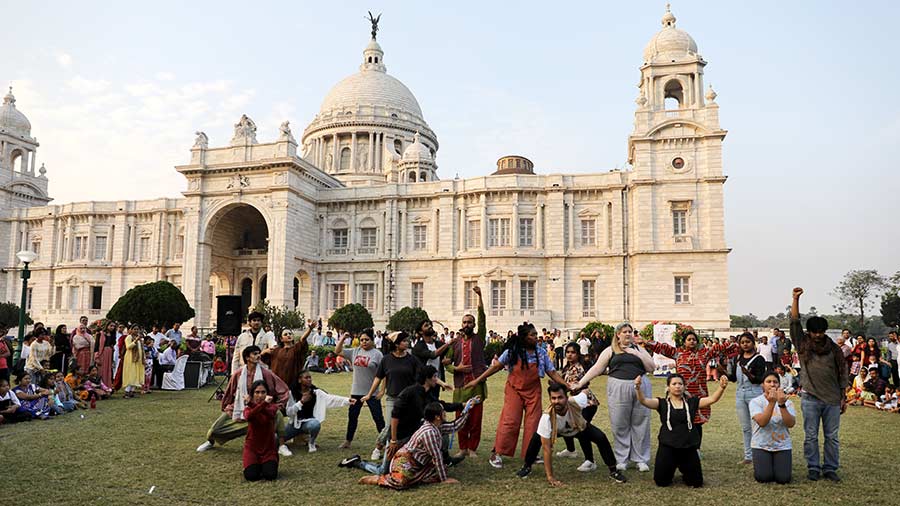 Performers in action with Victoria Memorial in the backdrop
Raju Raman, programme consultant, Victoria Memorial Hall, said in his opening remarks, "We, at Victoria Memorial Hall, are extremely thankful to the US Consulate General, Kolkata, Theatre Alliance and Contact Base for bringing this great I.D.E.A to us. Not only did it seem to be attractive but also extremely relevant in today's context because it stands for inclusion, diversity, equity and accessibility. Even as our lives are highly influenced by the digital world and its subsequent connectivity, we cannot deny that the digital world has somehow allowed an element of exclusion to creep into our lives in some way. Despite all the advances and progresses we have made, we need to go back to the basic values of I.D.E.A.''
A Global I.D.E.A
Throughout the (little more than) 20-minute performance, the artists showcased various instances and emotions through their performances which bordered on real-life incidents and biases. They spoke about unity in diversity, accessibility, discrimination, balancing of resources, and much more by merging cross-border perspectives, cultures, languages, and music. Their message was clear – which left the audience asking themselves, "Do we practice what we preach?'' The performers will travel to Siliguri, Darjeeling and Kalimpong following which a final would be staged on November 11 in Kolkata again.
Conceptualisation
Raymond O. Caldwell, producing artistic director, Theatre Alliance, said, "My company, Theatre Alliance in Washington DC, has been working with the American Center for two-and-a-half years on this project. We wanted to engage in a multi-country conversation about diversity, equity, inclusion and accessibility. The ideas that each of our countries are seemingly talking about and deeply grappling with. We wanted to bring artists from different countries and talk about the intersection.''
He went on to say, "A week-and-a-half ago, we got together and started working and building the modalities. These artists have been working together for the last two-and-a-half years digitally. We also conducted a series of workshops online. After the tour, we will start strategising as to how to continue with this conversation. These artists and activists will be taking back these ideas to their respective countries so that we can begin merging into cross borders.''
Participants speak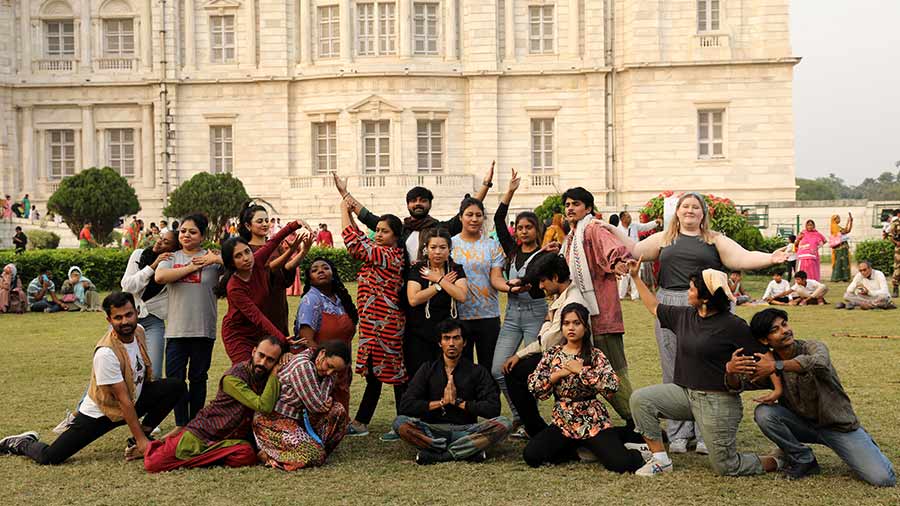 The performances made powerful comments on the topics of unity in diversity, accessibility, discrimination and much more
My Kolkata spoke to four participants (one from each country) to know about their experiences and if, given a choice, what would they want to change or reform in the world or in their respective countries.
India
Mir Rahemin Rahim, social media manager, Contact Base, and actor:
"We have gained immense exposure and have witnessed the perspectives of different countries. The diverse perspectives opened up our minds. It's a huge opportunity. Finally, I would like to say if people can love a little more and if we can be more compassionate to make the world a better place.''
Other participants from India were Mithun Banerjee, classical dancer and martial artist; Nishanth Raj, professional dancer; Shilpa Sikdar, Raibenshe artist; Shovan Sinha Roy, researcher and performing artist; Suman Das, actor, play designer, theatre artist and cultural manager; Antara Raychaudhuri, creative and performing artist.
USA
Ezinne Nnenna Elele, actor and teaching artist:
"Coming here [India], for the first time and meeting so many people… honestly, was amazing. I didn't know much about India, Bangladesh or Nepal, and so, being thrown in, in one go… was such a beautiful experience. I realised that so much of the human experience is the same. Also, the differences can be just as beautiful. I wish that we as a world and the United States of America, we tried harder to understand each other.''
Other participants from the US included Alissa Rose Klusky, dramaturg, director, actor and community programmer; Kayla Alexis Warren, Allen Lees Hughes BIPOC fellow 2022-23; and Maria Cristina Ibarra, theatre artist and educator.
Nepal
Aakankshya Bhujel, practising theatre artist:
"I was working with a theatre company and was keen on such collaborative assignments as I was feeling stuck and wanted to learn from people beyond my circle. So, I signed up for the programme. I learnt the culture of appreciating others and being vocal and intentional about it from America. I learnt about giving and caring and cooking from Bangladesh. From India, I learnt about being specific, being vocal and changing with times. I want to see a more inclusive society in my country.
Other participants from Nepal were Anup Neupane, theatre artist, poet, songwriter and acting instructor in Nepali movies; Samapika Gautam, social theatre practitioner and researcher; Sanjay Kumar Gupta, aspiring actor and theatre artist; Surabhi Sapkota, art activist; and Vijaya Karki, theatre practitioner, activist and educator.
Bangladesh
Shahla Islam, filmmaker and social entrepreneur:
"Since upbringing and environment differ from country to country, we have noticed biasness and have tried to portray the same through our performance. We communicated complicated ideas and themes in the simplest manner. Accessibility is something I would like to reform. We are not thinking about everyone and need to be more inclusive. For instance, specially abled individuals are sometimes left out from the social infrastructure.''
Her co-stars include Noureen Sultana, accounts officer; and Purba Gloria Das, performing artist.