Traditional handcrafted accessories, home décor and weaves from homegrown brands by artisans of West Bengal were on display at a two-day exhibition and sale organised by the Crafts Council of West Bengal at the Ganges Gallery on December 3 and 4. 
The Crafts Council of West Bengal is an NGO affiliated under the Crafts Council of India that has been working since 1966 to preserve the art and craft of the eastern India. 
Anjum Katyal, honorary general secretary of the Crafts Council of West Bengal, said the council's primary aim has been to support and promote the traditional crafts of West Bengal before they are lost. "We focus on reviving and promoting traditional crafts of the eastern India like handloom, Dokra, shola, terracotta etc. supporting artisans through such platforms," Katyal said.
My Kolkata takes a look at the work of the artisans.
Indo Artisan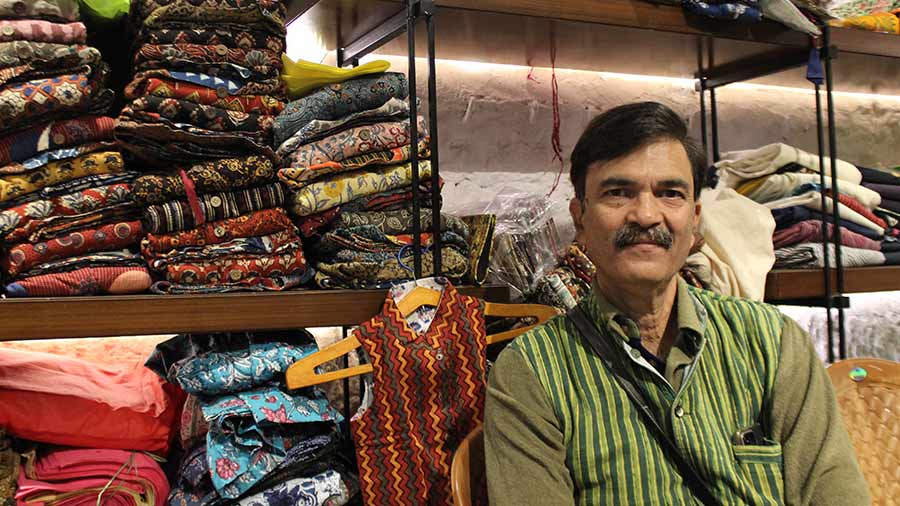 Two-way reversible jackets designed by brand owner Tarun Khandelwal were the main attraction. The jackets made of khadi cotton with batik and block prints on them are available for kids from the age of 3 years. The brand has a store near New Lake Town. "These prints are traditional and perfect for Kolkata winters. One can wear them on both sides and that is the key feature of my jackets," Khandelwal said.
Taj Shawls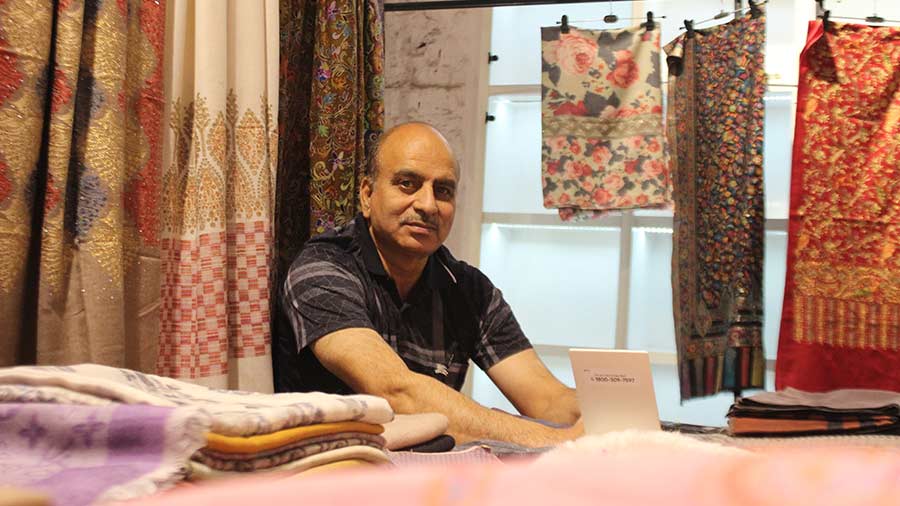 Pashmina stoles, shawls and dress materials made in Kashmir were on offer. The Kalamkari stoles were the talk of the exhibition for their thin yet cosy material.
Dithis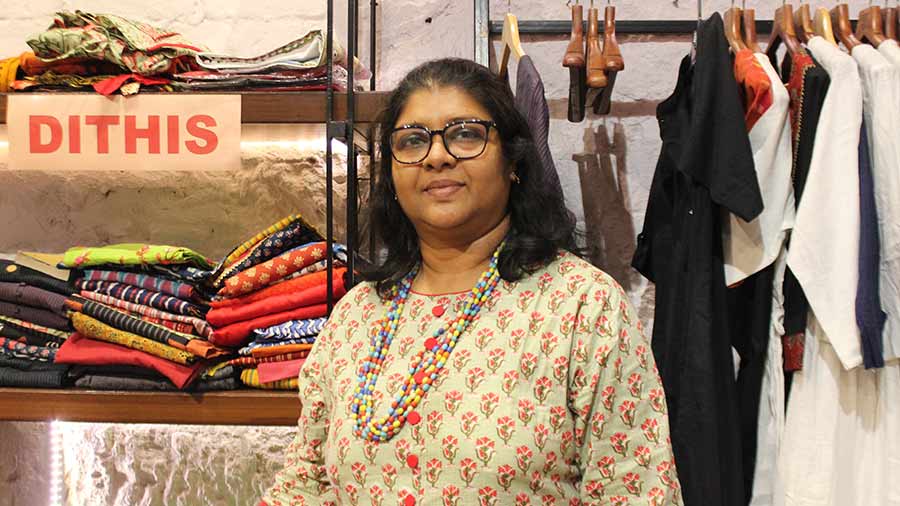 Bharrati Sahha makes traditional apparels and clothing trendy. Sahha owns two weaving set-ups in Kolkata where she gets her clothes made after designing them herself. The Dithis store is in Dum Dum.
Poshaki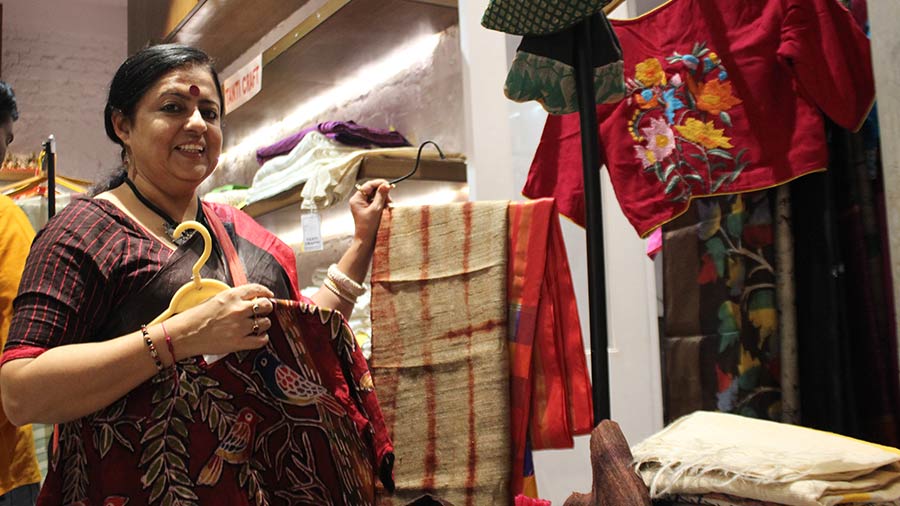 A lifestyle boutique near Kalikapur, Poshaki is owned by Soma Bhattacharya. She is focused on promoting readymade garments with traditional designs and embroidery. "I am trying to promote traditional printing techniques like block printing and batik. I also have some readymade clothes with embroidery for women. From designer blouses to dupatta, you will find everything at my boutique that represents the unique culture of Bengal."
Sutanuti
A one-stop shop for handcrafted accessories textile and home décor brand, Sutanuti is owned by Pritam Sinha. The brand sells silk and tussar saris and Kullu and Angora shawls curated directly from the weavers. Also available are cane stools, mirrors and metal accessories and home décor. The prints on saris are usually designed by Sinha. He also tries his hand at fusion handicrafts. The online brand is only 1.5 years old.
Souroja Collection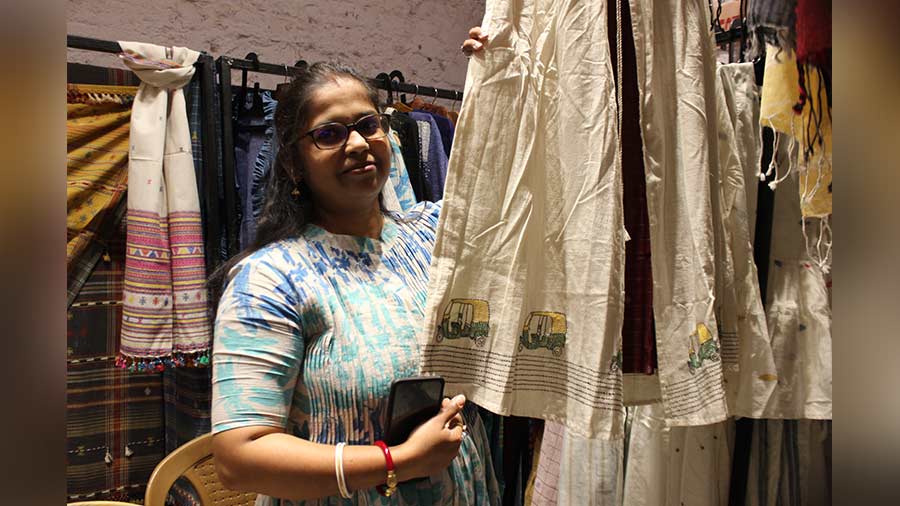 Souroja Collection designs exclusive kurtis, saris and dupattas in various prints and embroideries. The label is owned by textile designer Sourav Saha. The kurtis are designed by him mostly on khadi cotton. The brand has a store in Dum Dum.
Crafts Council of West Bengal exhibit
A special exhibit of the Crafts Council of West Bengal featured various traditional handicrafts like handmade diaries and notebooks, metal showpieces and wooden coasters. One of the most unique items on display were the Satgaon kanthas. These are rare embroidered quilts produced in Bengal in the late 16th and 17th century (1532-1632) only for export to Europe under the Portuguese, and later only for a short while with English patronage. They were pictorial in ornamentation and cross-cultural in overall design. These commissioned Indo-Portuguese trade textiles were known as the Satgaon Quilts, as they were exported from Satgaon Hugli, the old mercantile capital of Bengal. The Portuguese had built a warehouse at Satgaon (now known as Saptagram).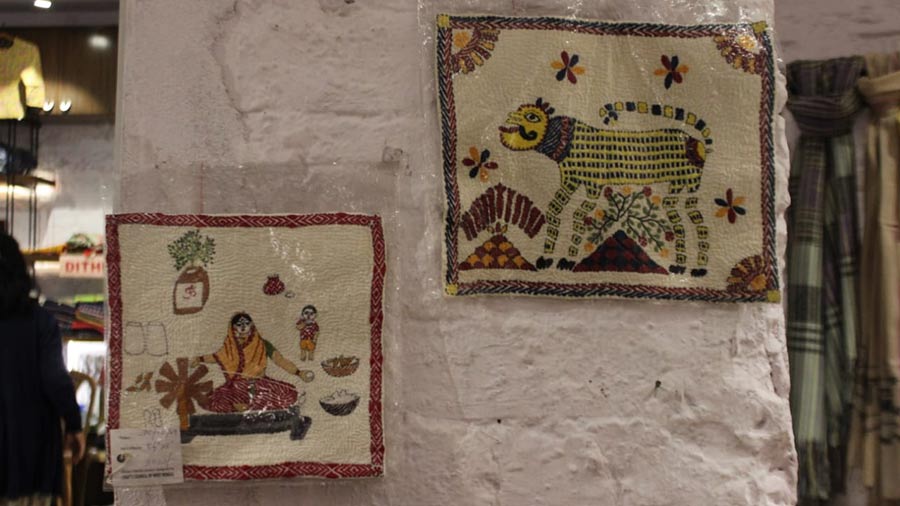 Satgaon 'kanthas' on display
The Portuguese lost Satgaon around the end of 16th century, and the Portuguese trade came to an end around altogether in 1632 AD with the capture of Hugli by the Mughals. The school of embroidery that originated here survived for some more time, perhaps till the 17th century, under the patronage of the English.
The cross-cultural motifs include flora, fauna and other images common to Eastern and Western culture, such as Portuguese soldiers in hunting scenes. Biblical themes include the Judgment of Solomon; Graeco-Roman themes include the Labours of Hercules and Judgment of Paris. Hindu legends are also referenced – the Great Flood of Matsya, Purana, Makara and Stupas. The double headed eagle is often an important feature in these quilts. According to Ananda Coomaraswamy, the double-headed eagle can be traced back to the Hittites and first appears in 1700 BC to 12OO B. C. It is later seen on a Jaina Stupa base at Taxila (1st century B.C.) and later as a Saracenic and European armorial device. One also finds this motif being used on coins of the Vijaynagara dynasty in the Deccan Plateau c.1336.
The Crafts Council of West Bengal has been able to revive this form of embroidery with its motifs and intricate technique after a great deal of in-depth research and travelling. A small team of specially trained women is continuing this historic tradition under the aegis of CCWB's Kantha Centre.