Perfection is like a tiny ice cube. Just when you think you have it within your grasp, it slips away and crashes to the floor. Or, worse still, it melts in your hand, disappearing as if it never was. But while ice cubes are something Indians can and do encounter frequently, perfection is not something we are used to. For every sprawling building, there are multiple gaping holes dotting our cities. For every high-flying start-up, there are scores of companies with bad debt and worse ideas. For every instance of uplifting inclusivity, there is at least one polar opposite example of despiriting division and discord. In a country full of paradoxes, perfection is impossible.
And yet, for once, this impossibility felt like an illusion, as perfection seemed within touching distance. A perfection forged through India's foremost passion of bat and ball, projected by a team as varied in its competencies as in its characters. A perfection that was destined to be packed, sealed and delivered in Ahmedabad as India took on Australia in the 2023 ICC Men's Cricket World Cup final. And then, it slipped away. Or melted. Or both.
2023 was supposed to be different, for 2023 was supposed to be perfect
Before the final, India had largely taken the 'World' out of the World Cup, turning cricket's most prestigious competition into a national festival. Nine cities had hosted and hailed an Indian juggernaut that looked about as flawless as anything made of flesh and blood. There was a strut and a swagger about India's performances, a sense of inevitability that all this could only end one way. Add to that the near non-existence of foreign fans at this World Cup, the impression that the BCCI, not the ICC, was running the show, and the undeniable status of India as cricket's financial and cultural overlords and the result hardly felt in doubt. No wonder then that India started off as firm favourites against Australia, the same Australia that had won five World Cups and had, exactly 20 years ago, provided generational trauma to Indians by outclassing them in the final in Johannesburg. But 2023 was supposed to be different, for 2023 was supposed to be perfect.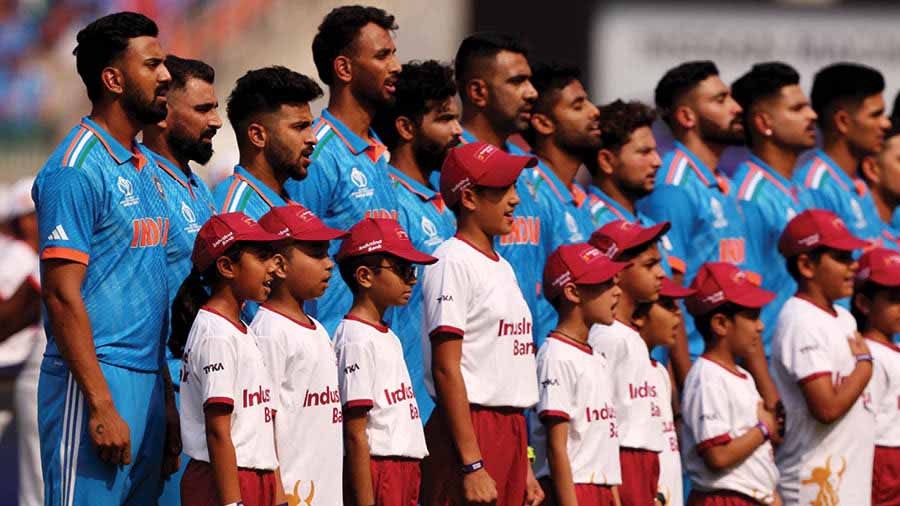 A flicker of foreboding appeared at the toss as a grinning Pat Cummins opted to bowl first
Getty Images
A feeling of foreboding is familiar to most Indian cricket fans, especially those who know the drill of rooting more in hope than expectation. That feeling had mostly been eliminated with one comprehensive victory after another at this World Cup, with India's fab five taking their game to new heights. But a flicker of that feeling lurked at the toss at the Narendra Modi Stadium on Sunday afternoon, when a grinning Pat Cummins took the counter-intuitive decision of bowling first in the sweltering heat. Did Cummins know something we did not? Rohit Sharma brushed aside that feeling by asserting he would have batted first anyway, before walking the walk with his usual belligerence. Even though Shubman Gill was out cheaply, Rohit simply sauntered his way between fourth and fifth gears. Perfection was on the horizon once more, floating into focus as effortlessly as Rohit's silken shots. But, just then, the game turned on its head, as you-know-who produced a catch that had its own stamp of perfection. Do moments like that ever lead to a defeat? The foreboding was back.
Having won all the battles, India had lost the war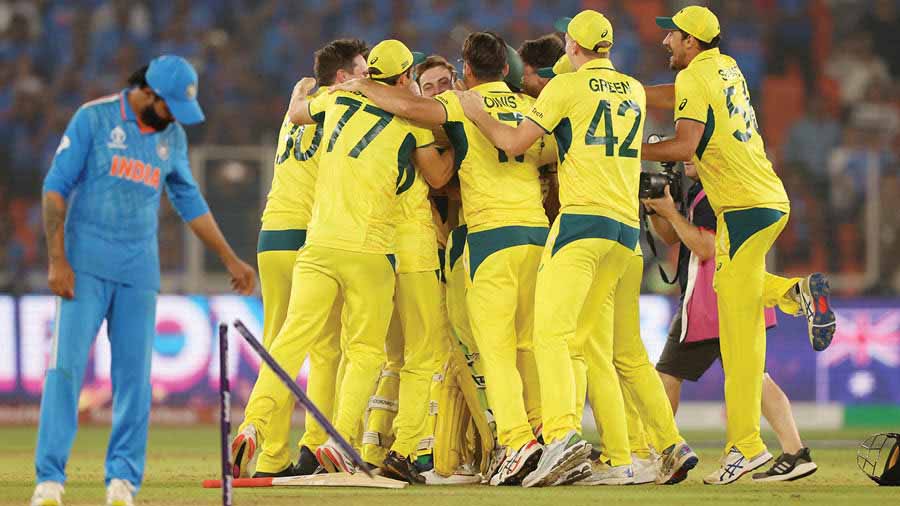 Australia clinched victory with six wickets and 42 balls left
Getty Images
Perfection had long slipped out of view by the time Virat Kohli chopped one on to his stumps. Any perfect script of an Indian coronation would have involved King Kohli coasting along to a 51st ODI hundred. Instead, Kohli stood transfixed on being dismissed for 54, as if somebody had spoiled his houseparty by daring to change the playlist. At 148 for four, the whole country, having abandoned perfection, would have happily settled for good enough. On a sticky, grimy surface, that could have been anywhere north of 250. Then again, the dew was due. Like an annoying relative you never want to meet, India wanted to wish away the nocturnal moisture from making things easier for Australia. But, before that, Australia made things easier for themselves by executing their plans… perfectly. Speed, stamina and spreadsheets came together in an irresistible blend for the Aussies as they nullified the strengths of K.L. Rahul and Suryakumar Yadav to restrict India to 240. A perfectly imperfect total in most ODI games, not least in a World Cup final.
The chase began as if the contest had been reduced to a T20 and only the two teams were told. Australia were 47 for three inside seven overs, with the chaos of the occasion translating into false shots, erratic bowling and some baffling keeping on the part of Rahul. As both sides looked flustered, it was tempting to think that India were two perfect balls away from wresting back control of their destiny. The kind of perfect balls that Jasprit Bumrah and Mohammed Shami had conjured for fun during this tournament. But pressure exerts its own force at times, disrupting the mental clarity that is required to be spot on.
The same held true for Steve Smith, who, in the commotion of making more than one lakh people delirious by getting hit on his pads, forgot to ask himself if the ball had struck him outside his off-stump. Replays showed it had, replays which Smith saw in the dressing room. In the middle, Travis Head and Marnus Labuschagne cut the tension with their blades by pretending to play two different matches. The hell for leather approach of Head was a stark contrast to the monastic defence of Labuschagne, which soon made India run out of ideas.
With the pitch running out of demons and the dew showing up in sync with the Prime Minister, the game was as good as over. With six wickets and 42 balls left, Glenn Maxwell swiped a half-tracker from Mohammed Siraj to the leg-side and scampered across for a couple. India's perfect run had come to an end. Having won all the battles, India had lost the war.
It is the imperfections around us that will heal our wounds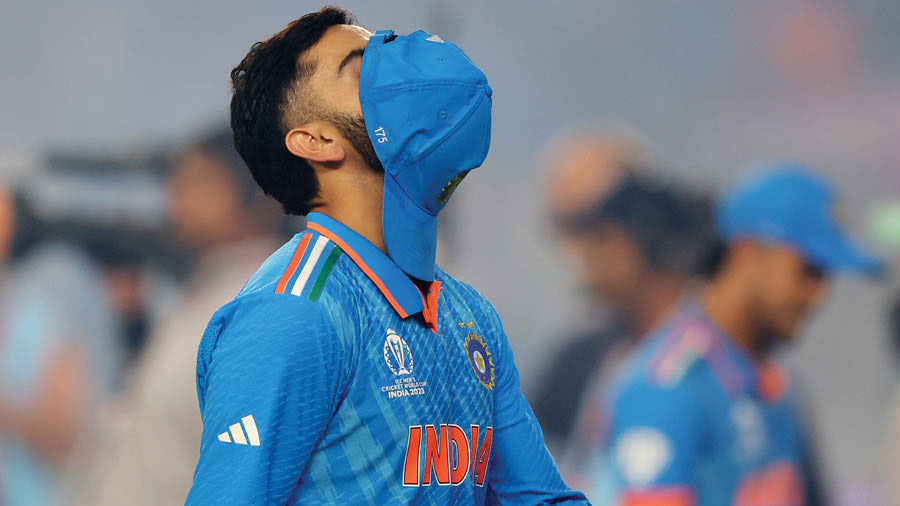 In the long run, coping with this loss will involve neither logic nor blame
Getty Images
There are many ways to cope with defeat, far more than there are to deal with victory. In victory, practically everyone who was invested in an outcome emerges content, if not ecstatic. In defeat, particularly that of the Indian men's cricket team, the emotional spectrum ranges from stoic acceptance to conspiratorial outrage, with everything from cynicism to disappointment to anguish in between. So, yes, we can cope with India's loss by admitting what is the most logical of all explanations: Australia played better cricket on the day and deserved to win.
Or we can try out the other options. Blaming Rohit for not practising enough tosses. Blaming Kohli for glaring too much. Blaming Rahul for batting like he would if Lucknow Super Giants were to play Test cricket. Or, to revive an old habit, blaming the Australian batters, chiefly Head, for loading their bats with the same spring that Ricky Ponting had used to devastating effect in 2003. Others on the chargesheet include Sadhguru for generating negative vibrations from the stands, the BCCI for not inviting Kapil Dev (and his World Cup-winning positive vibrations), the BJP for not being the Congress (since India have only ever been world champions with Congress governments in power!) and whichever doom-monger decided to shift from their designated place on the family couch.
In reality, most of us will cope with neither logic nor blame. Yes, that will be there to begin with. However, slowly and surely, it is the imperfections around us that will heal our wounds. A meeting delayed and then dragged on Monday, a half-cooked dinner later on in the week, a situationship gone from the friend zone to the seen zone, a loved one's plummeting blood pressure, and more will help us cope with one problem by creating several others. The collective tragedy of perfection eluding Team India will be soothed by the countless mini-tragedies that nobody writes about. And then, years later, when the trauma from November 19 seems to be a thing of the past, there will come another group of players that promises to be perfect. Closure, after all, is like a tiny ice cube.