What: adda52.com online poker presents The Telegraph Puja Premier League powered by Subhas Bose Institute of Hotel Management and co-powered by Bazaar Kolkata
Where: Beleghata 33 Pally, Beleghata
The theme: Chup Kotha was the theme of Beleghata 33 Pally. The idea behind it is to listen to each other rather than keep talking. Striking clay masks dot the pandal with their mouth taped. Conveying the message in simple terms, it denotes that sometimes it is better not to talk but to listen. A whopping 25 tons of iron and steel materials have been used to make the structure in the pandal, which wears an iron factory vibe. The sound of machinery in the background added to the experience. Shibshankar Das designed the pandal and Nikhil Misri from Jalpaiguri modelled the idol.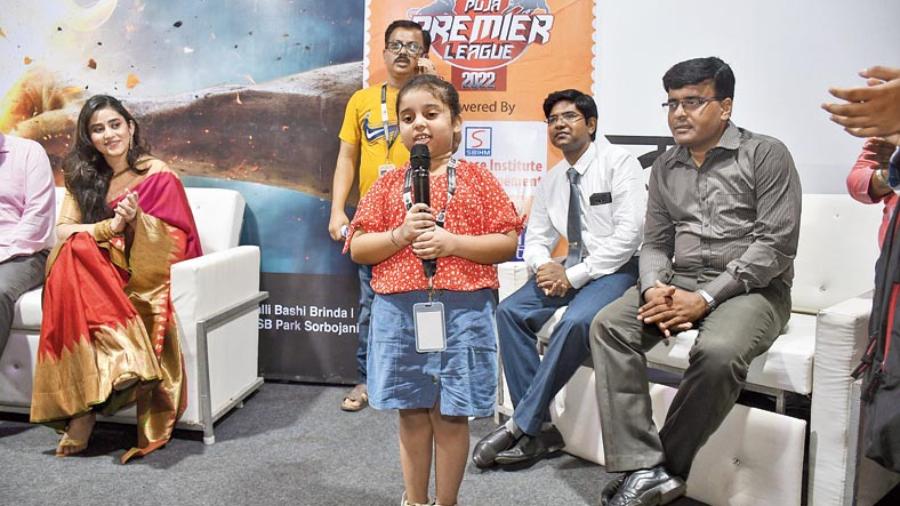 Little Tanishka De sang Durge Durge Durgatinashini and danced to Elo Elo Durga elo, winning hearts of the audience including Ridhima. At the end of the performance, Ridima posed with the shy performer.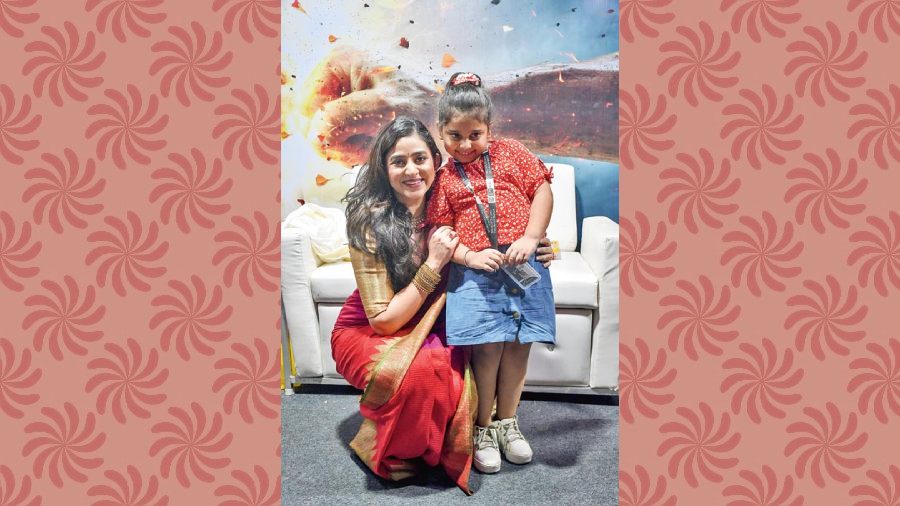 Rooting for the club was: Ridhima Ghosh said, "This year I'm very glad that everyone has left the past two years behind and started enjoying. My Puja always starts with The Telegraph Pujo Premier League, and I'm so happy to be here today, rooting for this para. Their theme Chup Kotha means basically to keep quiet and listen to everybody else, which we forgot in today's world. So the little elements they used relating to sound, I think that's beautifully done and the idol is also very pretty and artistic."
Activities: The president of the club with other members shared their views on the pandemic and thoughts about how they were going to celebrate this year's Puja followed by a bit of dancing and singing by the club members. As Shivanandan Pare, the CEO of adda52.com online poker, was present in the evening, he took Ridhima Ghosh to the adda52 online poker stall installed behind the pandal and explained how playing poker is safe at adda52.com.
Organiser speak: "'Sobai ebar dekhuk pujo, amra korbo chup. Hoihoi kore dekte eso, chup kotha der roop' is the tagline of our theme Chup Kotha this year. By this, we don't want to impose our idea on people but we want people to have their own perspective towards it as these days human beings talk more and listen less. We have used 25 tons of different forms of iron and steel like steel bars, iron chips and more to decorate the interiors as well as the exterior of the pandal, which took four months to build. Covid is not over yet completely, so we want our visitors to enjoy this Puja safely," said the president of Beleghata 33 Pally, Parimal De.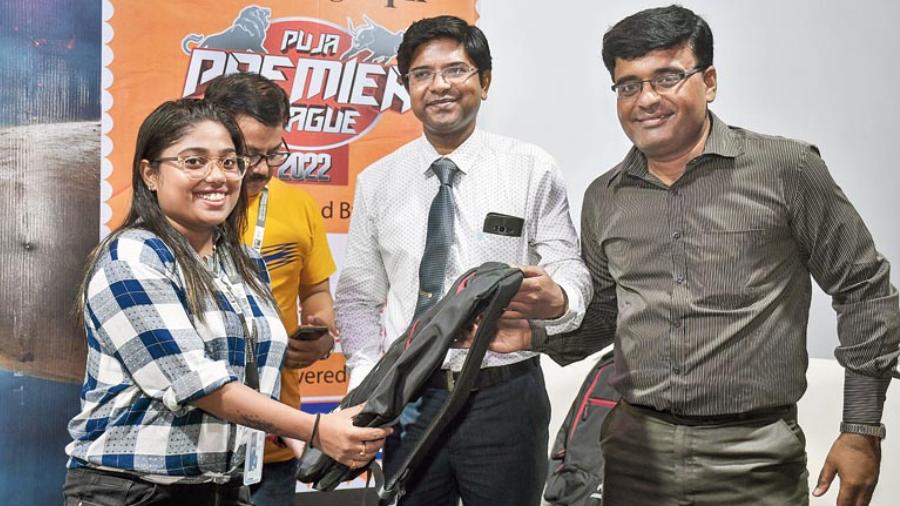 Swati and Sneha Saha received awards from vice president Samit Kumar Mondal and Dibyendu Chakraborty of SBIHM.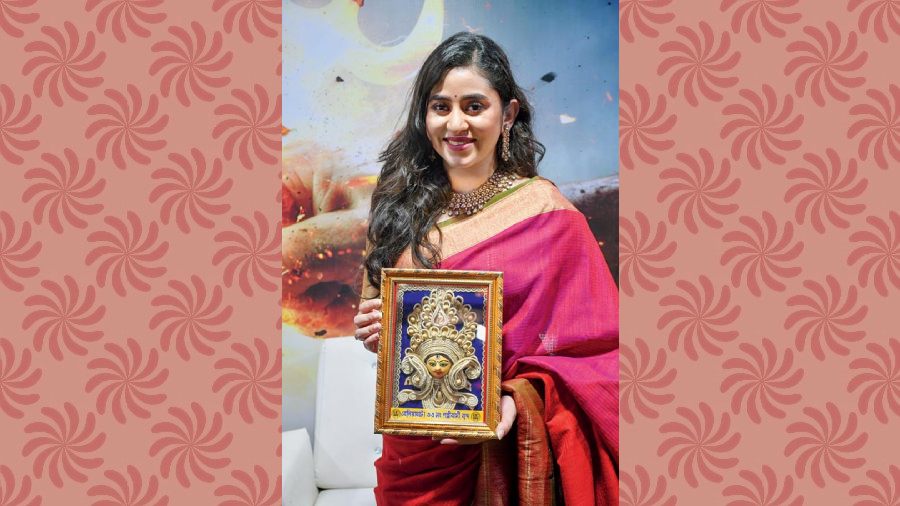 Ridhima poses with a beautiful memento offered by the president of the club.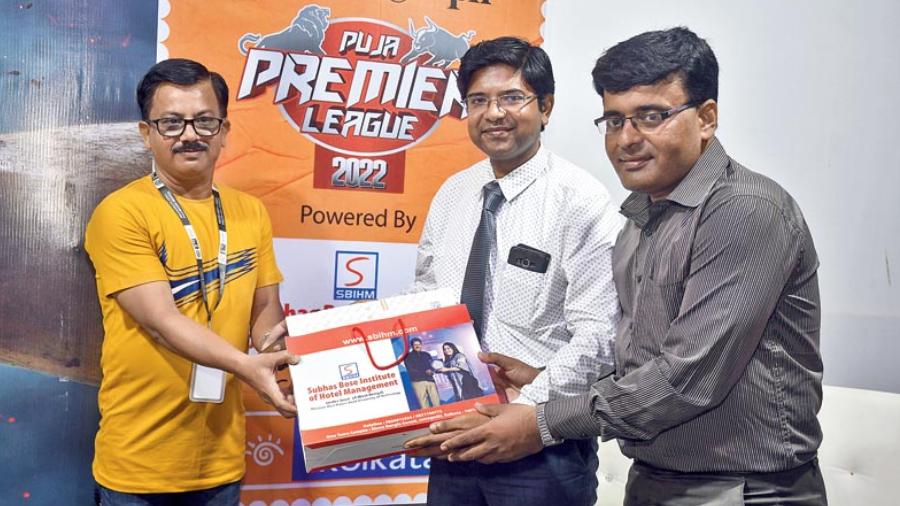 President of Beleghata 33 Pally, Parimal De receives a token of appreciation from Samit Kumar Mondal and Dibyendu Chakraborty of SBIHM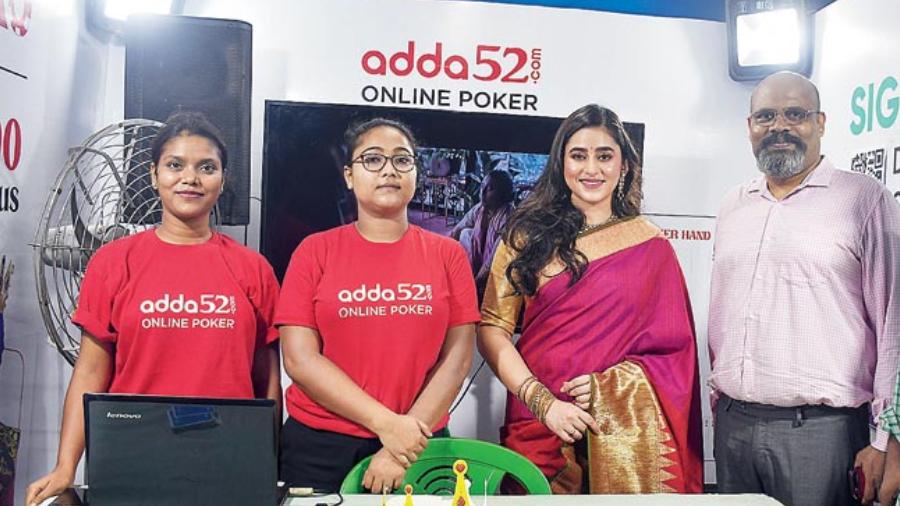 Ridhima and CEO of adda52.com Shivanandan Pare at the online poker stall installed along with pandal.
Pictures: Subhankar Laha