Following the FLO theme for this year — 'Fly Together' — FICCI FLO Kolkata's event Khaadi — The Thread of Swaraaj hosted last month at ICCR was an inspiring evening of stories of successful entrepreneurial ventures by women, highlighting the value of handicrafts and understanding the necessity to uplift the rural handicraft sector. Sharing its purpose of upliftment of the rural handicraft sector, the event was hosted in collaboration with Sonali's Cubo (a skill institute for women and children) and curated by its founder Vayjayanti Pugalia, with the highlight of the evening being the launch of the Amazon Karigar Program by Flo Kolkata in association with MCKV.
FLO's theme of this year is all about inclusivity and encouraging women to come forward and share their entrepreneurial journey to inspire other women. The Amazon Karigar Program by Flo Kolkata falls along similar lines, which is a training programme to create awareness and financially empower artisans to sell their products online, reach new markets and get the deserved value for their expertise.
Walk of Life showcased the intricate work of kantha from the house of SHE Kantha through traditional and modern silhouettes worn on the ramp by women from various walks of life.
The evening began with the introduction of FLO's training plan for the artisans of rural Bengal under this programme. Varun Bajaj, founder and CEO of StepUpwards and training partner for FLO, brought in Rohan Mukherjee, a certified Google digital marketer with 10-plus years of experience to come and train the artisans, while Ayush Sarda of Ek Packet Umeed was on board to help to connect and reach the artisans in rural Bengal.
The audience was then treated to an engaging and inspiring conversation between mother-daughter duo Shamlu Dudeja and Malika Varma, with Ficci Flo chairperson Shradha Saraf. The duo shared their entrepreneurial journeys of building their brand SHE Kantha. While kantha revivalist Shamlu Dudeja took up the task of empowering women artisans nearly 35 years ago under her creative supervision, daughter Malika took over the brand's online growth. The mother-daughter duo's story of passion, growth and empowerment of a community of women artisans was insightful and encouraging. Their talk was followed by a spectacular fashion show from the house of SHE, called Walk of Life. The fashion show also included a sequence by Vayjayanti's label Closet V, where she showcased her handloom collection Prakriti.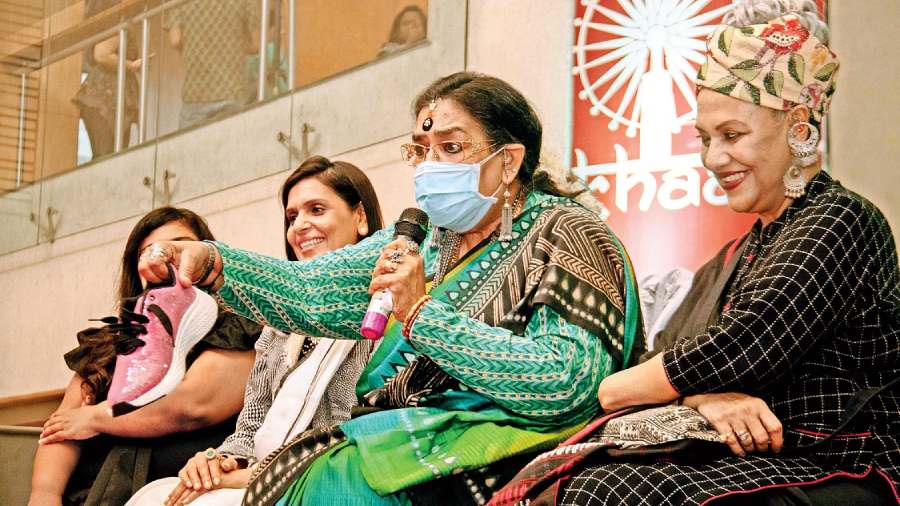 Usha Uthup and Alokananda Roy
Singer Usha Uthup and danseuse Alokananda Roy in a conversation with Vayjayanti Pugalia kept the audience engaged on their stories of entrepreneurial ventures, where Uthup shared her story of creating and curating Project Horseshoe, an exclusive brand of footwear draped in silk. She showcased the sneakers collection and shared her own sneaker story, with Roy sharing nuggets of her 'sneaker' journey, too. "Fifty-three years of singing and 30 years on stiletto heels. It took a toll on my knees and I started wearing sneakers for my walks in the morning. My daughter asked me why can't I wear it in the evenings as well… when we think about fashion we should be comfortable," shared Uthup.
"We at the national level are working towards holistic village development and promoting and empowering the artisans and weavers of rural India, especially the women folk, by creating awareness and literacy amongst them to hone their skills and try to create bridges between the rural and urban markets. This has been close to my heart and one of the objectives for FICCI FLO Kolkata chapter this year," said Shradha Saraf, chairperson, FICCI FLO Kolkata.
Pictures: B. Halder and FICCI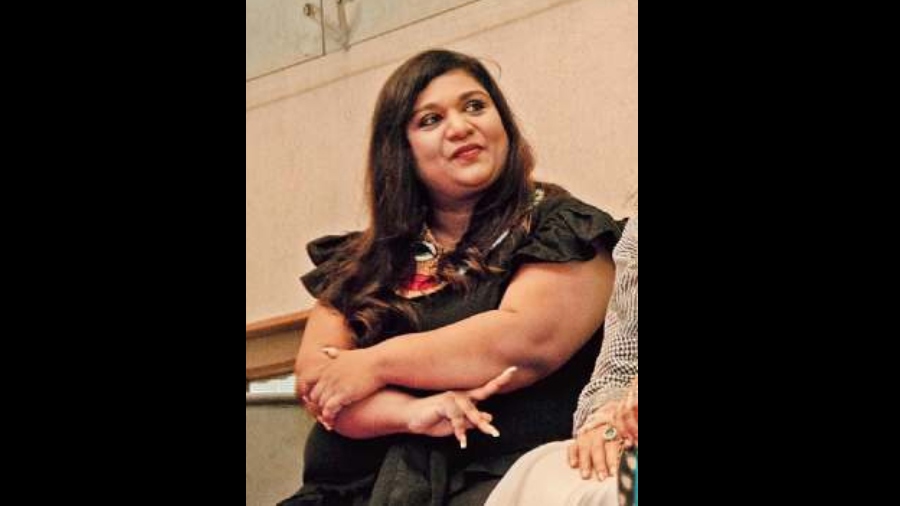 "I want to support the handloom industry. It is the largest unorganised sector in India, generating jobs for the undereducated, specially for women. But not many of them are trained to a level where they can bridge the gap between rural and urban marketplace and try and earn a better livelihood. The Amazon Karigar Program enables the artisans to learn digital skills on e-commerce and do away with middlemen and earn better," said Vayjayanti Pugalia.