A setlist of close to 20 songs spanning the '70s and'80s, showcasing artistes and bands as diverse as Sade and Alannah Myles on one side of this greatest hits framework to the Rolling Stones and Dire Straits on the other, The Jiverz brought alive an evening of solid, meaningful music. Low-key but self-assured, they made it clear they were on stage with one job, and that was to pay tribute to The Song.
Those present at the ICCR for The Freedom Concert, hosted by Time Partner Tissot in association with My Kolkata of The Telegraph Online as media partners, were rewarded amply for their spirited support for the arts on a day of high-octane sporting activity in the form of two gigantic duels on football and cricket fields.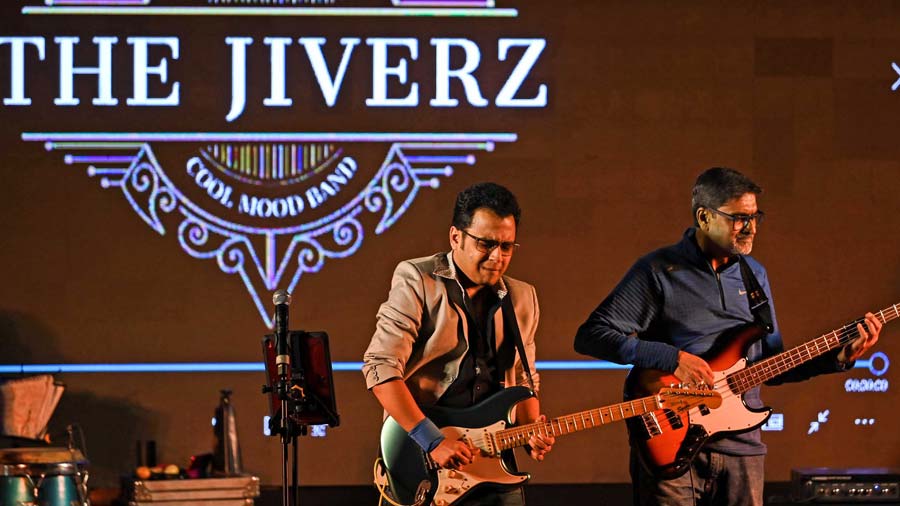 Sayan Mukerji on bass and Kushal 'Tony' Kundu on lead guitar
Just as an East Bengal-Mohun Bagan derby clash brings Kolkata to a standstill, an India-Pakistan clash of the willows is meant to keep everyone at home across India. Yet, die-hard aficionados of classic rock were there to pay obeisance to the genre being belted out with quiet reserve by this relatively new seven-member band helmed by Sayan Mukerji.
To begin with, Smooth Operator set the groove, as if to emphasise Jiverz calling card — a cool mood retro rock band. JJ Cale's Sensitive Kind was crisp, drummer Teekay's singing doing ample justice to the laid-back elegance of the original while short solos and fill-ins by Tony's guitar and Kaushik's congas brightened up this all-time great.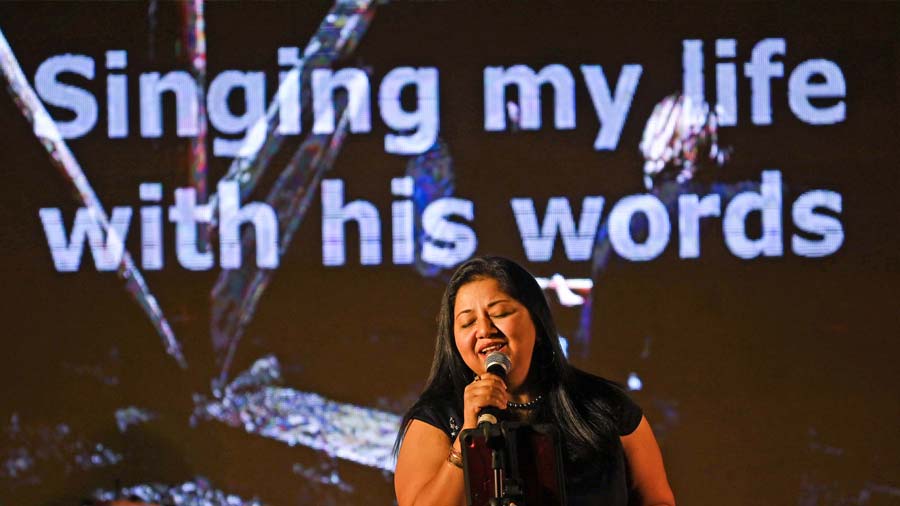 Sucheta Sanyal: The evening's songstress
Sucheta put her heart into Stand By Me, her emotions coming from deep within, prompting many in the audience to sing along. Ben E King would have approved. No prizes for guessing who guitar man Tony idolises. Two Dire Straits songs — 'he knows all the chords!' — gave it away amply with the young birthday boy making Mark Knopfler's finger picking style his own. Walk of Life was a breeze. But it was in the finale that he shone while playing the extended Alchemy version of Sultans of Swing to quite the T.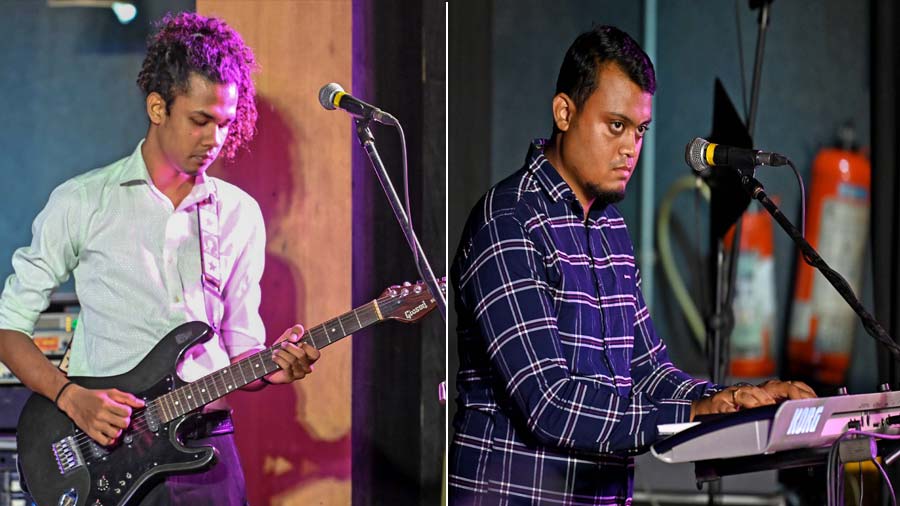 Ricardo Gomes (guitar, harmonies) and Renfred Anderson (keyboards, harmonies)
In between was Freedom, an extended, tuneful instrumental original dedicated to 75 years of India's Independence. Renfred's keyboards wove an intricate cushion of notes all through, but he was best while backing Sucheta's solo on Me and Bobby McGee, the Kris Kristofferson song that topped the charts courtesy versions by the likes of Janis Joplin, Gordon Lightfoot and Jerry Lee Lewis.
On second guitar was Ricardo. A cool dude with a delectable bun of locks on his head, he pitched in ably with a steady rhythm for the singers to rely on. Adding a quaint note here, a bit of sustain there when needed, his enhancements were never over-done. Sayan was the friendly emcee for the evening, playing his bass authoritatively as a sheet anchor is meant to.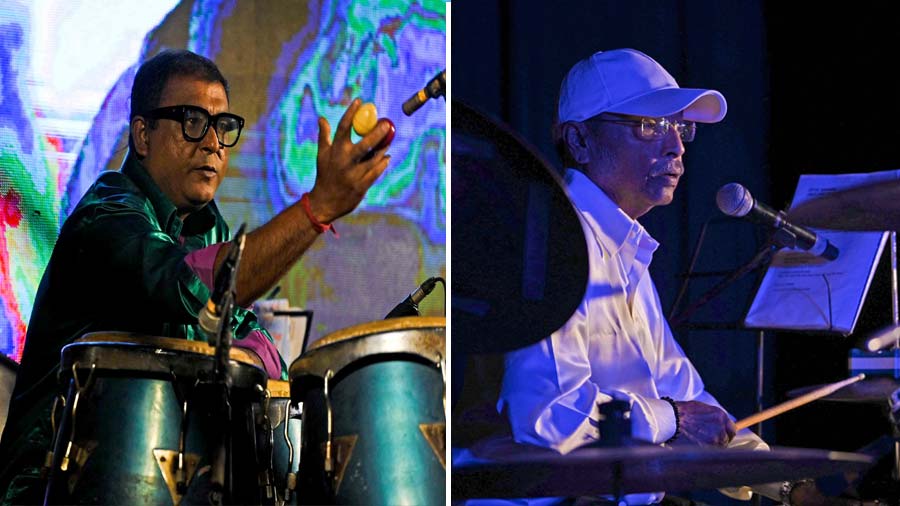 Kaushik Sen (percussion) and Tilak 'TeeKay' Kundu (drums, vocals, harmonies)
If we had to pick one song that had The Jiverz scaling their summit, it would be Miss You. Set at a slightly quicker timing than the original, this powerhouse of a track had the band in glorious sync. Sucheta's rendition matched Mick Jagger's vocal derring-do with aplomb, while the rest of the band on backing vocals ensured a tight fit that was clearly the highlight of the evening.
Barring a few audio-tech snafus — dear sound vendor, it's not rocket science to replace the batteries of cordless mikes BEFORE a gig, right? — the Jiverz lived up to its billing. This was a Sunday evening well spent.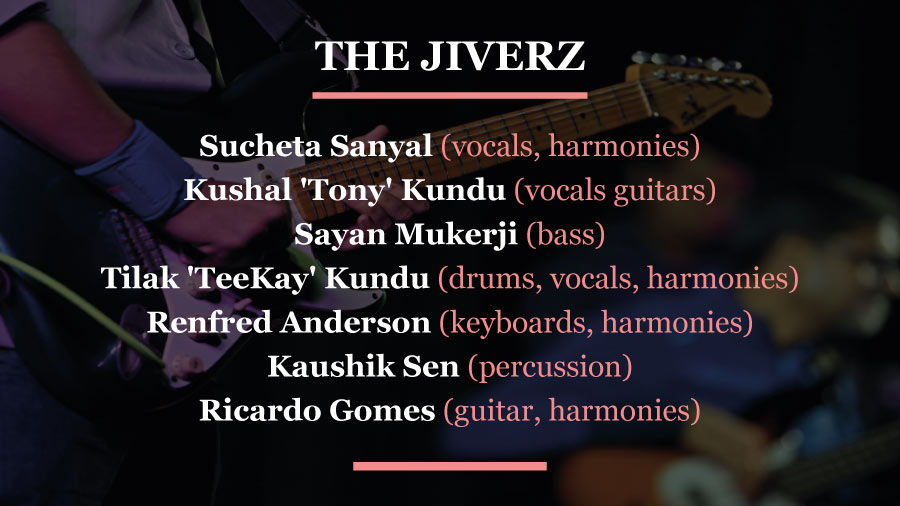 Graphic by Tiyasa Das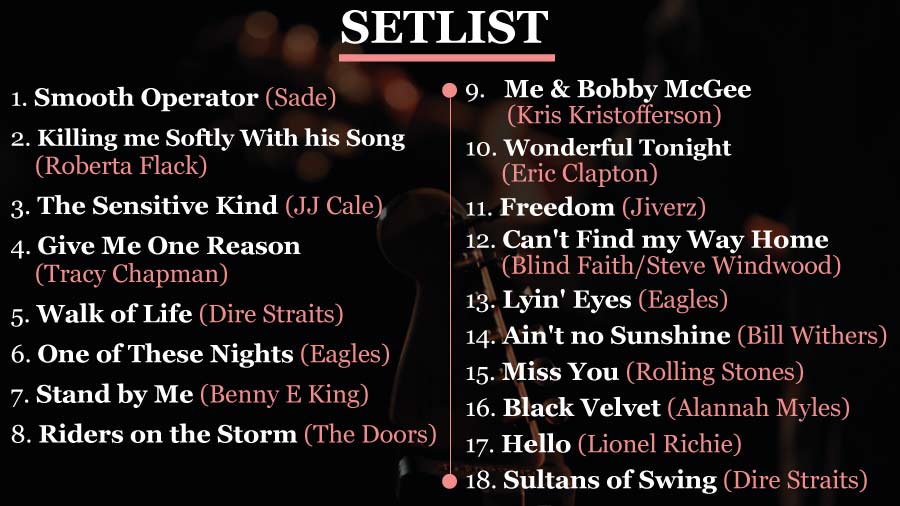 Graphic by Tiyasa Das