One step into the bylanes that surround Shunyaa Sharbari Datta in Hindustan Park (39, Hindustan Park) and you're met with artsy posters of The Art Cart's quirky pop-up — Flea-कर Ba Dastoor, being held on May 21 and 22. The regal bari is buzzing with excitement as 30 city-based businesses set up shop to display their unique wares.
The Art Cart is an initiative set up by Sanwayee Datta and Subham Das. The duo has hosted four colourful pop-ups in the past that have helped propel many a small business to success. 
This time, their objective was slightly different, "We wanted to showcase businesses run by entrepreneurs in the 25-55 age bracket so as to expand Flea-कर's target audience," said Subham. Sanwayee shared, "The theme for Flea-कर Ba Dastoor is regality and uniqueness, that's why we named it Flea-कर Ba Dastoor! We're really happy that we found the perfect venue for it!" 
My Kolkata spent the afternoon of May 21 in awe, taking in every ounce of creativity that the space allowed. Here's what (and who) caught our eye…
Label Sohini Basu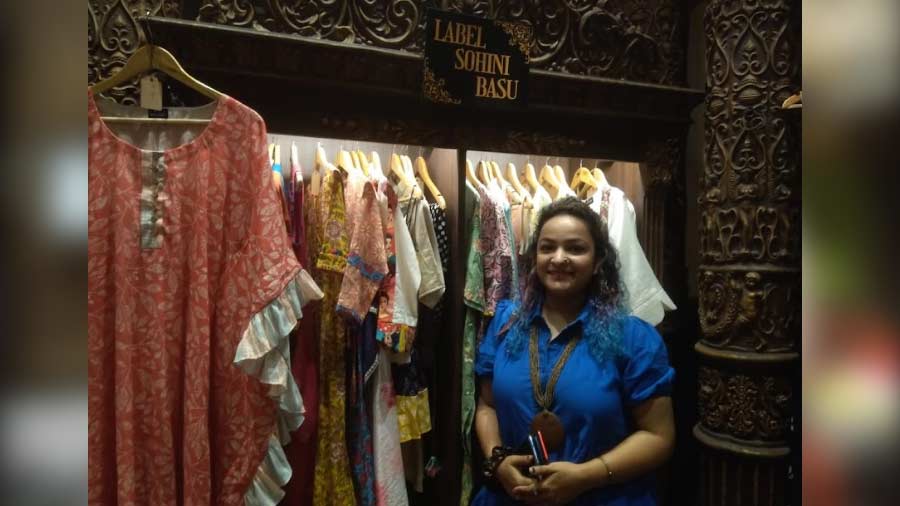 Sohini Basu of Label Sohini Basu
Sohini Basu used to work with designer Sabyasachi Mukherjee till 2014, before starting her own label — Label Sohini Basu — which is based out of Kolkata. The ready-to-ware label primarily sells cotton garments. You'll spot trendy sari blouses, kaftans and kurtas that are perfect for everyday use along with a specially curated festive line.
"We do customised outfits, but don't move towards anything that is couture or heavy bridal wear. I'm really excited about the pop-up because it's off-season and a lot of young people are attending. So I'm excited to see what's in store," smiles Sohini, 33, a resident of Golf Green.
Magajastra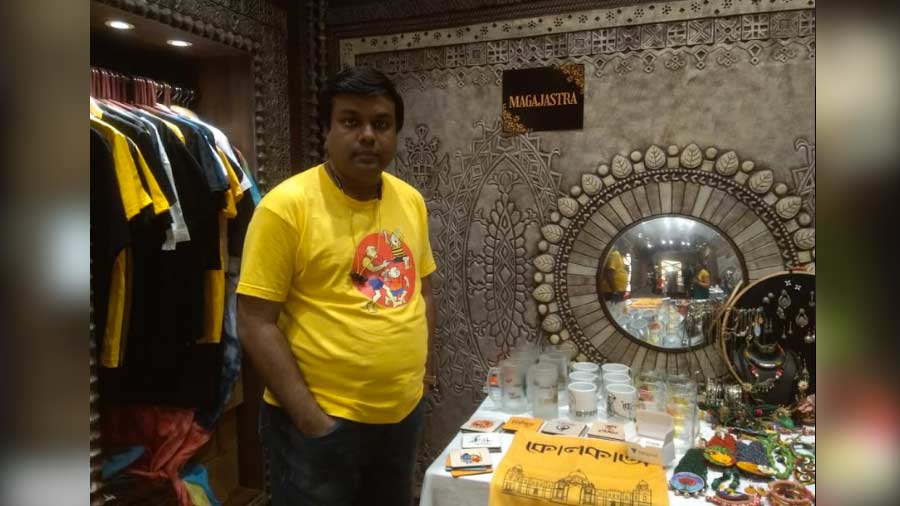 Kaushik Mitra of Magajastra
Magajastra is an 'animation-driven' brand that caters to the quirky Bangalis. Its best-selling products are cosy t-shirts with cool designs, beers mugs with typical Bengali slogans (one with typical Bengali slang!), cups and coasters.
"I'm a trained animator, so I started this in the lockdown of 2020 when there wasn't much to do. I make the designs and then get them printed. My products are linked to nostalgia and emotions, so they have a niche!" says Kaushik Mitra, 38, the owner and animator at Magajastra.
Aesthik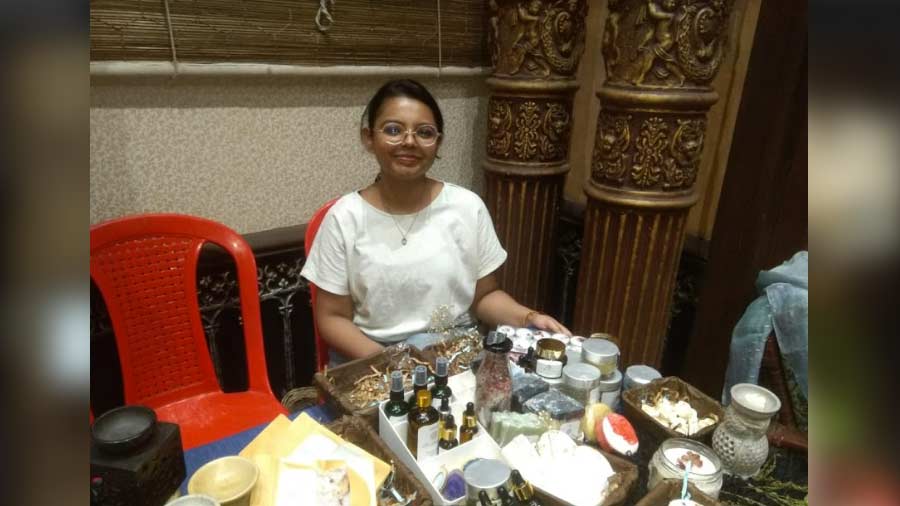 Rashmi Choudhary of Aesthik
Aesthik is the brainchild of sisters Harshita and Rashmi Choudhary. "I was always fascinated by spirituality and crystals always attracted me. So, I decided to start a skincare brand around it," says Rashmi, 24, who curates the products. Harshita takes care of all things marketing! "We have soaps, protective sprays, manifestation sprays, essential oils, aroma lamps, face masks and face scrubs," says Harshita. Try their Moringa leaf facemasks, which are rich in vitamin C and E and the activated charcoal and Dead Sea salt masks!
The Trinket Store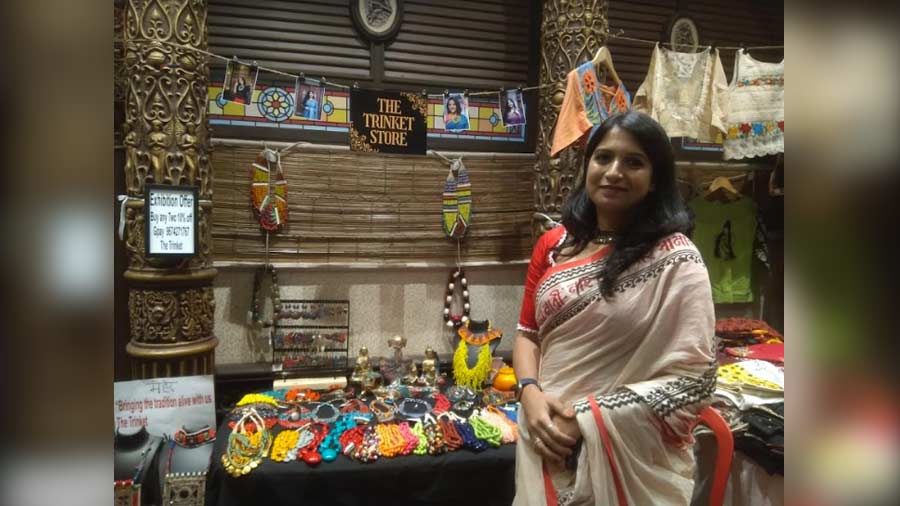 Gargi Roy Chowdhury of The Trinket Store
Set up by 37-year-old Gargi Roy Chowdhury in 2020, the Trinket Store sells the most beguiling Naga-inspired jewellery. "I did a course in bead jewellery and then started my business. I make sure that my jewellery is always different from what is available in the markets. I send designs, patterns and colour schemes to my manufacturers and they make the jewellery," said Gargi.
The Bakery Next Door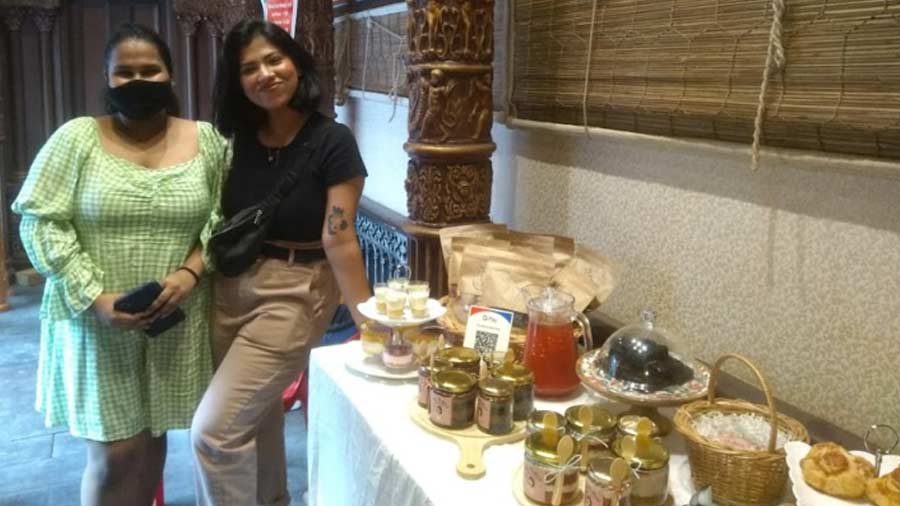 Ishita Pal with her sister Isha Pal
The Bakery Next Door was born out of a passion for baking. "I started this as a cloud kitchen and we're now going to open a physical store because business has been great!" said the enterprising baker, Ishita Pal.
The Bakery Next Door has a range of items up for grabs at the pop-up — from chocolate and mango moose and flavoured cheesecakes, to cakes in jars, and brownies and doughnuts.
Nandini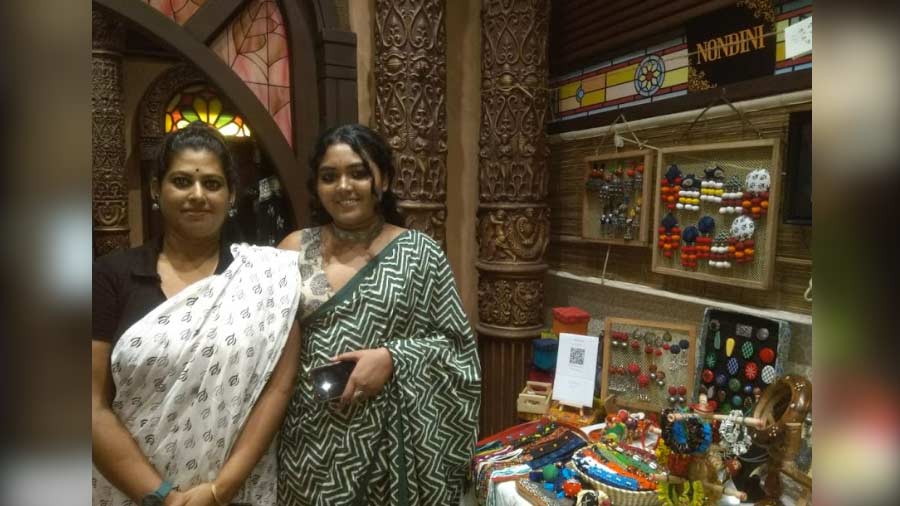 Nandini and Ritwika Sarkar
Spearheaded by mother-daughter duo Ritwika and Nandini Sarkar, Nandini is a jewellery brand like no other. It uses metal and cotton fabric to create the boldest jewellery pieces.
"My mother used to run the business in the beginning. I've joined only recently and started helping with the online part of it. We like the pop-up culture a lot because it gives us good exposure. Me and my mother do everything — we design, make and sell!" says Ritwika.
Paint Brush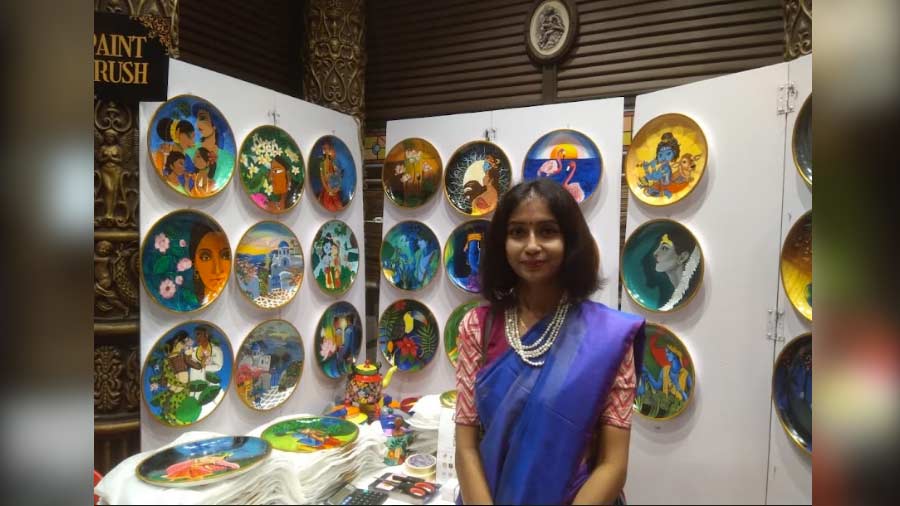 Sukla Sarkar Biswas of Paint Brush
Sukla Sarkar Biswas, an alumni of the National Institute of Fashion Technology (NIFT), set up Paint Brush in an attempt to pursue her passion for art. Paint Brush makes beautiful home decor that revolves around contemporary Indian art. "We make ethnic wall paintings, wall hangings, sun catchers and kettles. I came to Flea-कर Ba Dastoor because I wanted to experiment a little and get my business some exposure – since it's a new brand," said the 35-year-old entrepreneur.
Flea-कर Ba Dastoor is on this weekend, May 21 and 22, from 12pm to 8pm at 39, Hindustan Park. Don't miss out!