Temptations 2023 being held at Ice Skating Rink, till March 17, from 11am-8pm, has western wear, ethnic fashion, pastel silhouettes, fashion jewellery, skincare items and home décor items for you to get summer ready with. The edit is also keeping in mind the upcoming wedding season and Sindhara festival which the Marwaris celebrate where mothers pamper their daughters by gifting hampers and other festive goodies. An initiative of the Inner Wheel Club of Central Calcutta, it is a mega fund-raiser, the proceeds of which will be used for charitable purposes. The Telegraph checks it out.
Add the Vitamin C Night Cream (Rs 750 for 50g) made from natural products, with no added chemicals, to your skincare regime, from Unravel Beauty Secrets, which also has other naturally made skincare holy grails.
Smahi has pure, soft cotton bedcovers, pillow covers and these simple yet classy hankyholders. Price: Rs 2,100 (12 pieces) and Rs 1,200 (six pieces).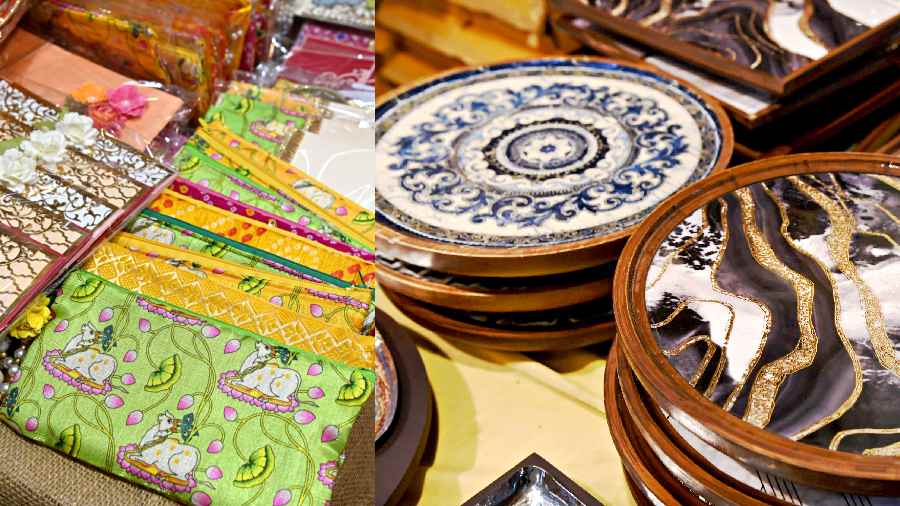 Craft by Supriya has a wide variety of art and craft products. Wedding gifting options like handcrafted envelopes and gifting bags are available here which are perfect for the wedding season. Price: Rs 100-500
These elegant revolving platters are from Shivaay Enterprises, Delhi. They come with a wooden base and vivid and graphic enamel tops. Price: Rs 1,500 onwards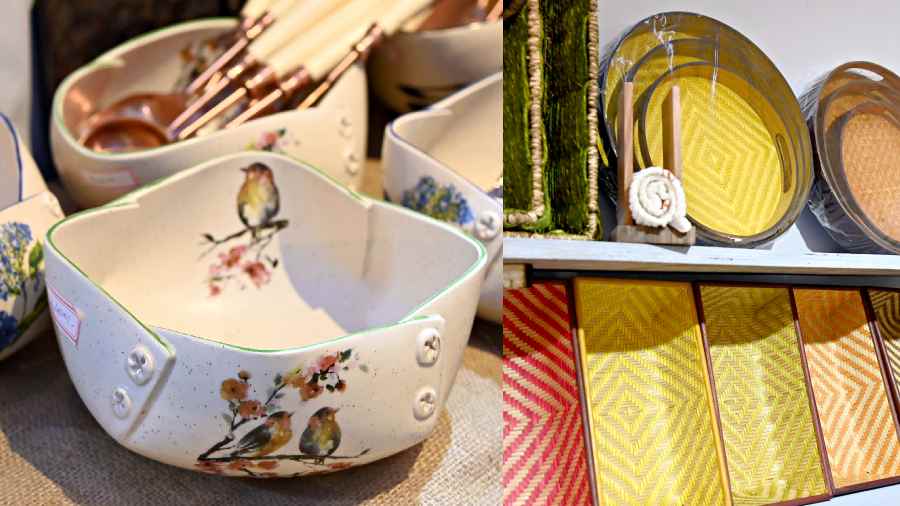 Bring these stoneware bowls to your kitchen this spring season from Touchwood with pretty springinspired motifs. Price: Rs 2,400
Add cereal baskets, trays and tissue boxes made from bamboo to your home decor collection from Oyster. Price: Rs 700 onwards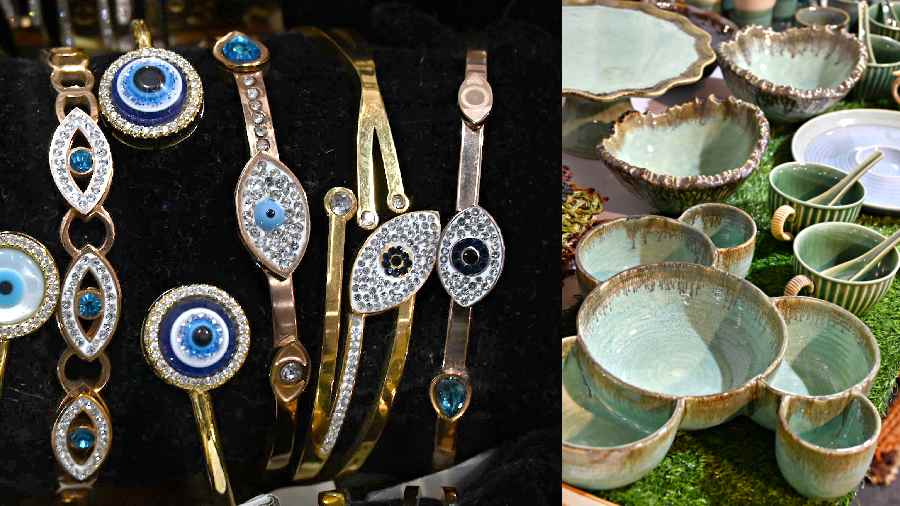 Keep yourself safe from the 'evil eye' with these chunky evil eye studded bracelet-bangles made from stainless steel that are anti-tarnish- (Rs 1,000 onwards) from Ellora by Neha Seksaria.
Pottery by Manjari Kanoi has aesthetic ceramic crockery in different patterns and styles and earthy colours. Price: Rs 100 onwards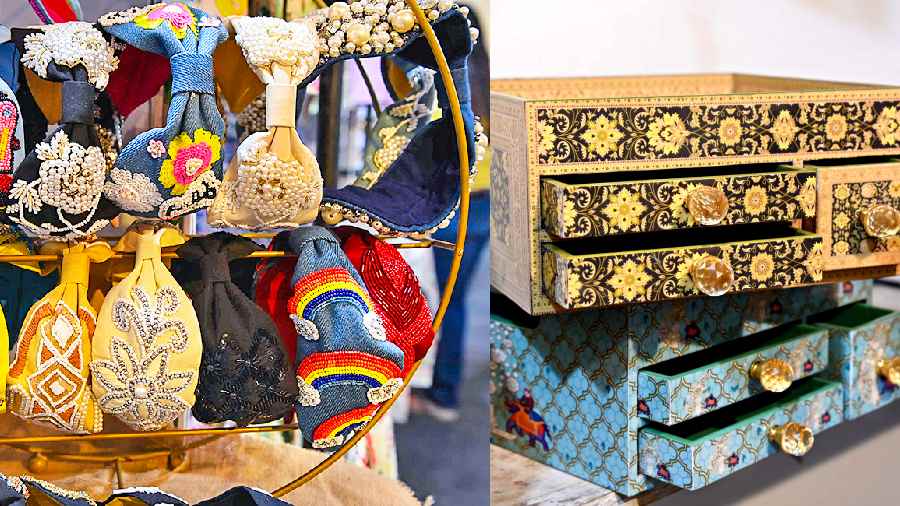 Miniature and Krimson have these trendy sequinned handstitched hairbands in vibrant colours which will add a touch of style to your accessories collection. Price: Rs 1,000 onwards
Wingbox is the perfect place to shop for your utility needs like jewellery organisers, travel organisers and a lot more. These vibrant jewellery boxes with tiny drawers start from a price range of Rs 2,500.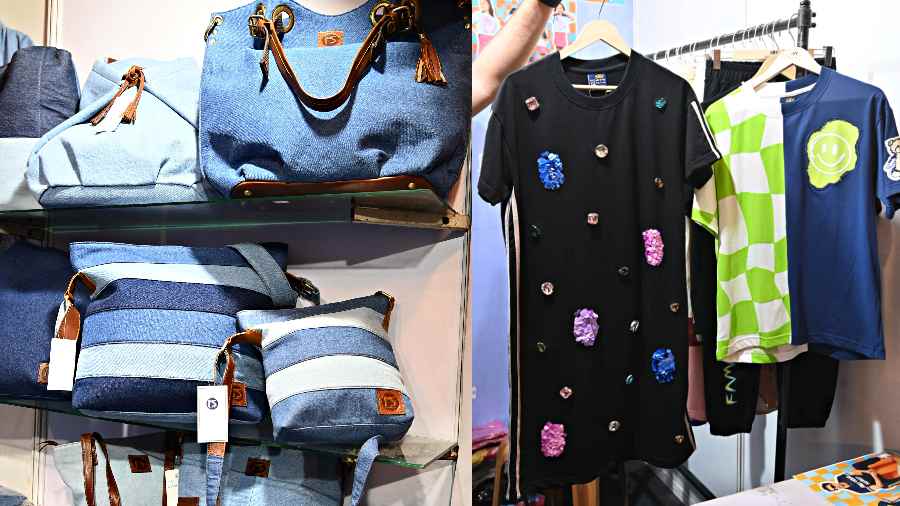 Textile designer Moushumi Sen's corner from Delhi, is a paradise stop for denim lovers. She has a wide range of denim collections which includes hand-painted denim tops, denim dresses and denim bags and sling bags with pure leather borders and designs. Price: Rs 1,800 onwards for denim bags and Rs 1,900 for denim wear.
Sanctioned by You is the one-stop destination for parents and their kids as they have some quirky printed T-shirts and dresses for both the parent and the kids. This black embellished dress for adults is also available in the same design for kids. Price: Rs 2,000 onwards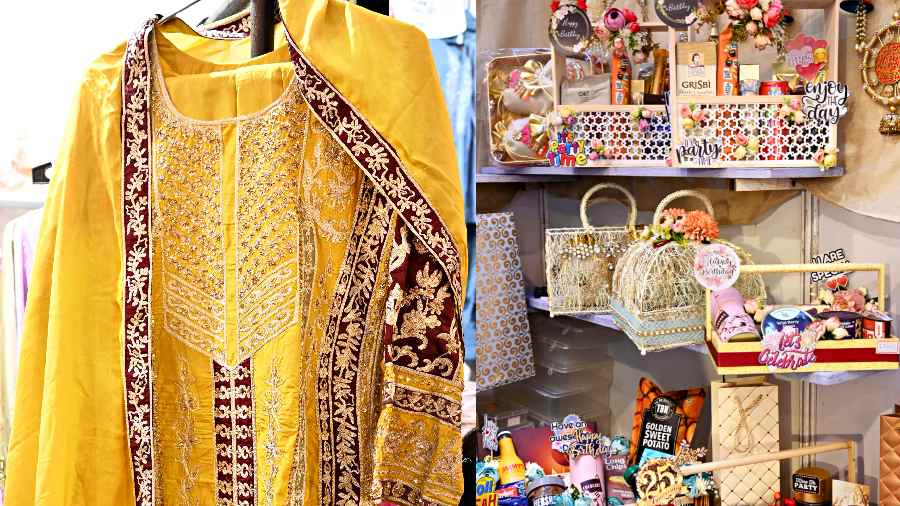 Araama X Fabricana has a selected collection of Pakistani-style suits which are customisable according to your choice of colour, silhouettes and budget. Price: Rs 14,000
Get your customised gift hampers in pretty and innovative baskets this wedding season from Shagun. Price: Rs 1,500 -3,000