Tanika Gupta, British playwright and grandniece of Dinesh of Binoy-Badal-Dinesh, spoke about being a "coloured" member of the British theatre fraternity and the elements of racism in how history is recorded in a conversation with Anjum Katyal,author, editor and festival director at The Creative Arts Academy.
Gupta, whose roots lie in Kolkata, migrated to London and chose to work in the field of arts. Her repertoire of works includes radio plays, theatre, musicals, adaptations and more. She was awarded the Member of the Order of the British Empire (MBE) in 2008.
Excerpts from the conversation…
Breaking into British theatre
It is not often that women of colour find a place in British theatre. "I actually started off with radio drama. I remember the first play I wrote called Asha about an Anglo-Indian woman on a beach. When they came to cast it they said 'I'm really sorry, we don't have any Asian actors. Do you mind if we use white actors?' and I said 'yes, I do mind'.'' That was in 1991.
It took a while for Gupta to get her first play on because theatre still remains a "white man's thing". "Things have changed, there's no doubt about it but it has been a struggle," she said.
'Lions and Tigers'
Her play Lions and Tigers was based on the Indian freedom struggle. Gupta is a relative of Dinesh Gupta, the revolutionary who formed part of the Binoy-Badal-Dinesh trio.
"Dinesh Gupta was my grandfather's younger brother. Ever since I was a child, my parents used to read out all the letters that Dinesh Gupta wrote from prison, which I still have. One of the first things I did when I started to write was to go to the British library to research. I couldn't find him [Gupta] anywhere," Gupta said. She recalled how her father then suggested "have you tried looking up under terrorist?"
"I looked up at the British Library under 'terrorist' and there he was! So, the article was about all these terrorists breaking into the Writer's Buildings and shooting this innocent English inspector general. My Dadu [grandfather] used to say to me, 'it's very wrong to kill anyone. But we're very proud of him'. There's been this kind of really interesting ambiguous relationship with him." Gupta was awarded the James Tait Black Memorial Prize in 2018 for this play.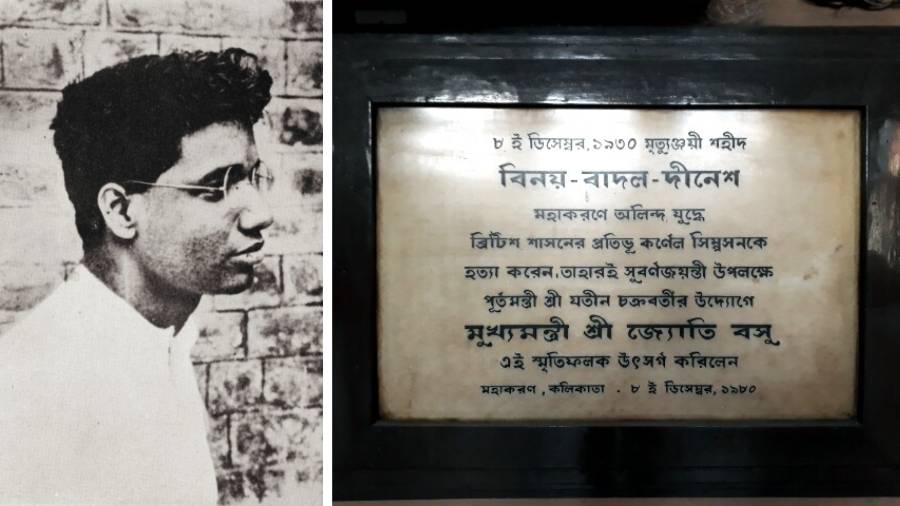 L-R: Dinesh Gupta and a martyr's plaque for Binoy-Badal-Dinesh at Writer's Building
Wikimedia Commons
'A Doll's House'
Another milestone in Gupta's career is the adaptation of Henrik Ibsen's A Doll's House.
"It's very hard to make a new play in Britain, so I was asked to adapt instead. I remember watching Ibsen in Bengali here in Kolkata. I was astonished by how intense the scenes were and also how modern it was. I set my play in Kolkata at the same time when it was written in the late 1870s. I put it in a spacious Kolkata rajbari. I think in a way playwrights are unbelievably opinionated people. You write what you believe in. The only thing I did was added a scene." She also added that the play would soon become a movie starring Radhika Apte as one of the leads.
Creative Liberty
Talking about her creative process while adapting, Gupta said, "With adapting, you can either do a completely different version and then it wouldn't be an adaptation, it would be a version. I really wanted to use the original. So, I used it as a template and then made it my own. It's actually quite a skill to make sure that you don't mess with the original too much but then you make sure that you put your stamp in it. So you're adding dialogues or taking them out, you are adding scenes. But it is still recognisably Ibsen. It works when it melts together well."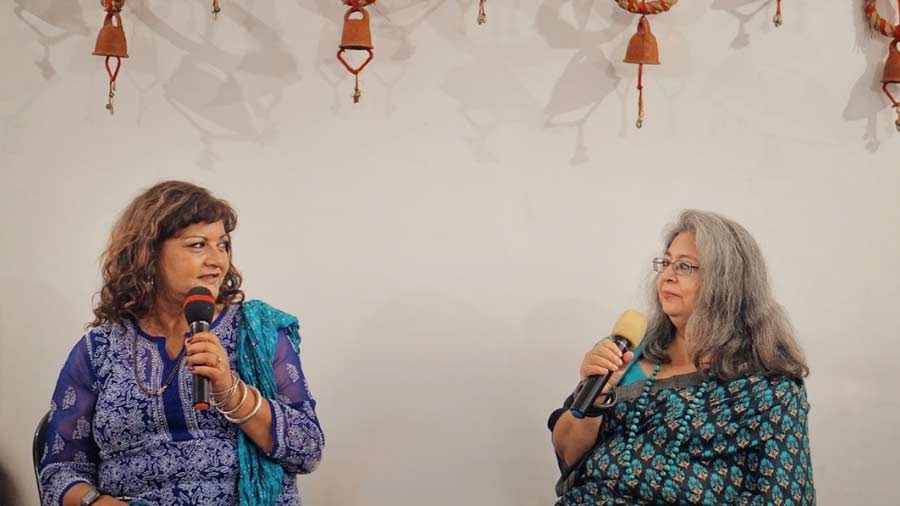 Anjum Katyal (right), author, editor and festival director at The Creative Arts Academy moderated the event
Soumyajit Dey
Musicals
Apart from writing for radio plays and stage, Gupta has also penned down musicals.
"Ma and Baba were absolutely obsessed with Tagore. I was brought up in this very Tagore-oriented, Indian dance-drama-watching household. So, writing a musical came quite naturally. I was asked to write a Bollywood musical, but I wrote a story and then the music came in. Then it looked fantastic to have a Bollywood choreographer coming over from Mumbai. It was called Wah Wah Girls and was a political play shaped as a Bollywood musical."
Learnings
So, what did decades of her service in the drama industry teach her? "I think about collaborations with different artistes. The great thing about theatre is that it's not just about you or your own. You are working with actors, designers, musicians, directors and the props department. You get intensely involved. That's where it becomes collaborative and very exciting. You also have eccentric people working with you. Someone just went 'let's have a trapeze artist here'. I would never think like that. So, it's lateral thinking and you learn from that.''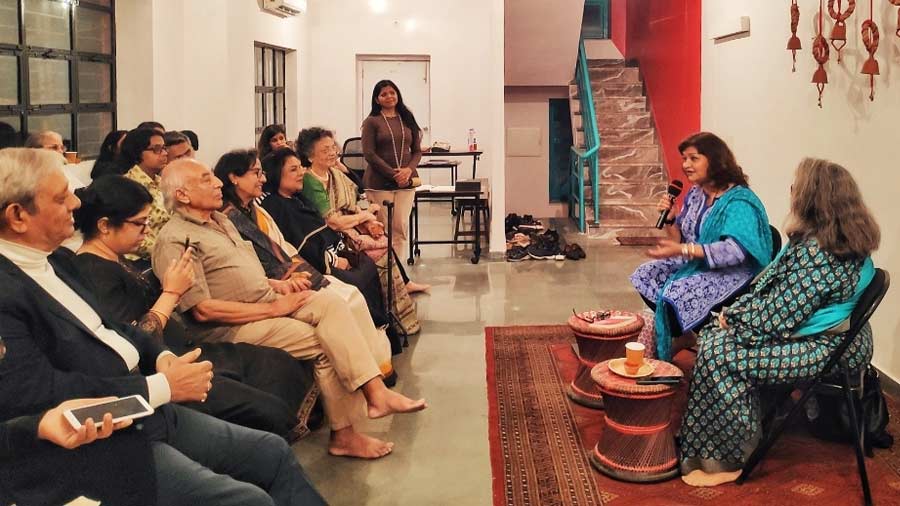 The session was held at The Creative Arts Academy
Soumyajit Dey
Indian Theatre
Gupta remembers watching Badal Sircar's plays and Soumitra Chatterjee's Tiktiki in London. "But I haven't seen any Indian theatre recently. I would like to see more contemporary Indian theatre. I have seen stuff in Mumbai but nothing in Bengal. What I find really interesting is that up until this moment nobody in India was interested in my work in terms of inviting me over or talking to me about playwriting. I always thought that it was a bit odd that the Bengalis didn't kind of acknowledge my work. So, it's been really nice this time, talking to other playwrights and theatre practitioners."
Audience-speak
Raju Raman, chairperson, The Creative Arts Academy, said, "I think it was excellent. It is only through such conversations that we get to know what is happening all around the world, in any field of the arts. There's a lot to learn. This kind of openness and immense avenues and possibilities that such conversations open up, I think are important and that's why all these literary festivals are so popular. They create the space for such conversations. Such conversations should go on throughout the year as well."
Author Madhurima Vidyarthi was also among the audience."I think it was a rich experience and I enjoyed listening to her. She needs to be recognised more widely in India and Kolkata because that is where her roots are. In a way she is working to put our voices on the theatre map," Vidyarthi said.
Her husband Sanjoy Basu, consultant gastroenterologist and artist added, "We have all lived in the UK so I identify with what she's saying. The way she is staying within the system and trying to change it in a very constructive way, it is commendable."