A casual conversation inspired a painting, which in turn inspired a music band's logo — efforts that will hopefully contribute to the conservation of an endangered bird.
The story began in August 2021. Doctor couple Sanjoy Basu and Madhurima Vidyarthi were chatting about Madhurima's latest blogpost about the hargila or the greater adjutant stork when Sanjoy did a quick illustration in crayon and ink. But the story didn't end there. Kilometres away in Assam, musician Ojonav Hazarika chanced upon Madhurima's post and Sanjoy's illustration during a random Google search and knew he had found the perfect cover art for his band, East Himalayan Folk Quintet.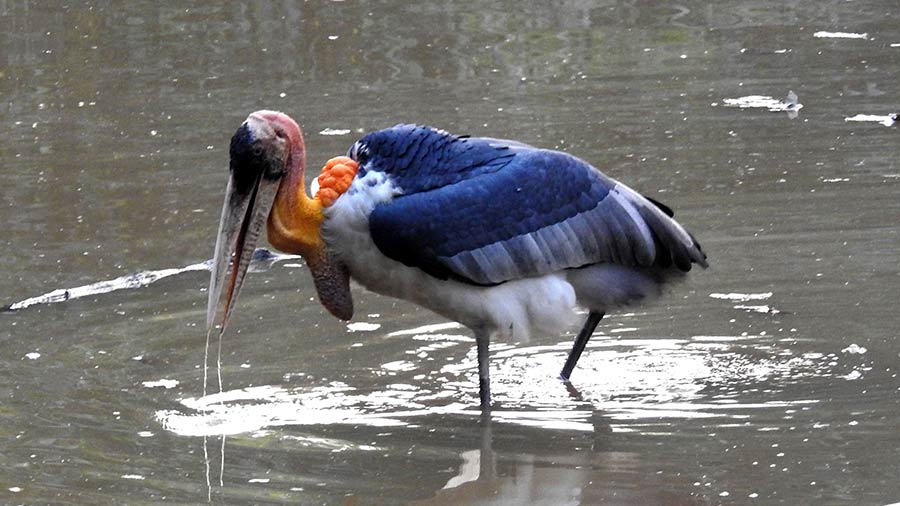 The greater adjutant stork
Wikimedia Commons
A chance finding
The piece, Last Adjutant Standing, went up on Madhurima's website, along with Sanjoy's illustration in December 2021. A year later, during the Majuli Music Festival 2022, East Himalayan Folk Quintet — an Assam-based folk fusion instrumental band — was faced with a unique dilemma. "We urgently needed a logo for our band and wanted to use the hargila as our mascot. The bird is very important to the region and the world for its scavenging and migratory nature," said Ojonav Hazarika, a founding member of the band and an electrical engineer by profession. His band engaged a graphic designer but couldn't find something that would do justice to their vision.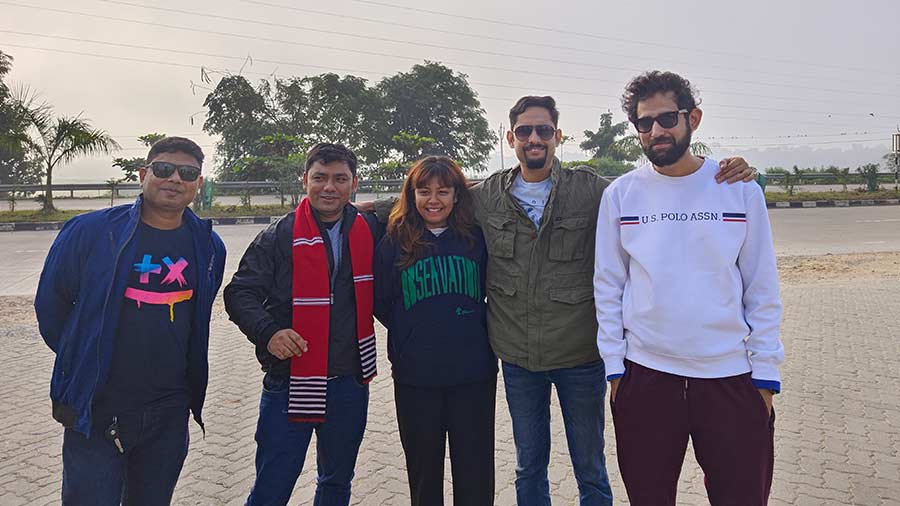 East Himalayan Folk Quintet is an Assam-based folk fusion instrumental band
A random Google search converged the band's path with Madhurima and Sanjoy. "We were looking for hargila references on Google and found Sanjoy's illustration on Madhurima's blog. As soon as I saw it, I fell in love with its heartfelt aesthetic. It was natural and spontaneous, just like our music," Ojonav said.
The band immediately connected with Madhurima and Sanjoy. "Given the urgency with which we needed a logo, we decided to use Sanjoy's illustration as a reference to create a digital version from it, which we could use as our logo."
When Sanjoy responded, he was delighted to see the effect his art had had. "They were courteous enough to seek my permission before using my design and even gave me credit for inspiring their eventual logo on Instagram. It is very satisfying that someone picked up my work after so long and used it in the logo because it signifies people coming together culturally across borders, only through social media," the doctor-artist said.
Ojonav also expressed his gratitude towards Sanjoy, "When we spoke on call, he was kind enough not to charge us any remuneration for his illustration and was delighted to have his work acknowledged. It is incredible how all of this happened over a single day!"
The social media factor
This, however, isn't entirely new for Sanjoy. Ever since he launched his Instagram page, he has grown a community of close to 900 organic followers and has received offers to buy his art. "Even people from the USA and the UK have messaged me to purchase my art. While I draw a lot of political cartoons, I am also very passionate about acrylic on canvas. Since I am not attached to any organisation, Instagram is the best platform for me to take my art to the people. It is also a great way to connect with people across the world, who I might never see."
He credits the platform with pushing him to return to art during the pandemic and even bringing him his first exhibition in April this year. "Debkumar Mitra, a comics curator and visiting faculty at the National Institute of Design (NID), follows me on Instagram and I got to know about one of his exhibitions. When I went there to meet him, he appreciated my acrylic work on canvas and encouraged me to paint more. When I finally had a collection ready, he even helped me organise my first ever exhibition at Tribe Cafe about ordinary things in society that we miss out on," Sanjoy said.
He is far from done, though. Sanjoy intends to take out more time for art in the next few years and his ultimate goal is to equally divide time between his creative pursuit and his medical practice. "I'll hopefully have another exhibition soon. Besides cartoons and acrylic, I hope to make a foray into graphic novels in future."