It is an exciting time to be alive as we observe the relentless resilience of the human race see us through some very difficult times. And in a multicultural country like India, it is our diversity, tradition and culture that has been buoyed by scientific and modern developments to make huge strides in the world. And to this effect, ABP Network's two-day inaugural summit called Ideas of India, saw diverse ideas from visionary business leaders, cultural icons and civil society pioneers as they gathered in Mumbai on March 25 and 26.
Day One saw speakers including the likes of Kailash Satyarthi, Gaur Gopal Das, Sonam Wangchuk, Harsha Vardhan Agarwal, of Emami Ltd.; Anand Kumar, founder, Super 30; Sumeet Mehta, co-founder and CEO, LEAD; N. R. Narayana Murthy, founder and chairman Emeritus, Infosys; and actors Vidya Balan and Taapsee Pannu. While Vidya spoke on 'Breaking the mould — The New Heroine: A Screen of Her Own', Taapsee's topic of discussion was 'The Alpha Woman — Blurring Borders: Rise of the Pan-Indian Actor'.
Aaditya Thackeray, minister for tourism, environment and protocol, government of Maharashtra, and president, Yuva Sena, delivered the keynote address titled, 'India 2047: Vision of A Young Politician'. Union minister Nitin Gadkari, in his session titled 'New India, New Manifesto — Sabka Saath, Sabka Vikas Aur Sabka Vishwas', said, "In the philosophy of BJP, the primary focus is on nationalism. The second focus lies in good governance and development. The third most important pillar is Antyodaya, under which we try to uplift those who belong to the socially and economically backward classes. On the day when these people will have food, clothes and their own houses, we will feel that our work is done."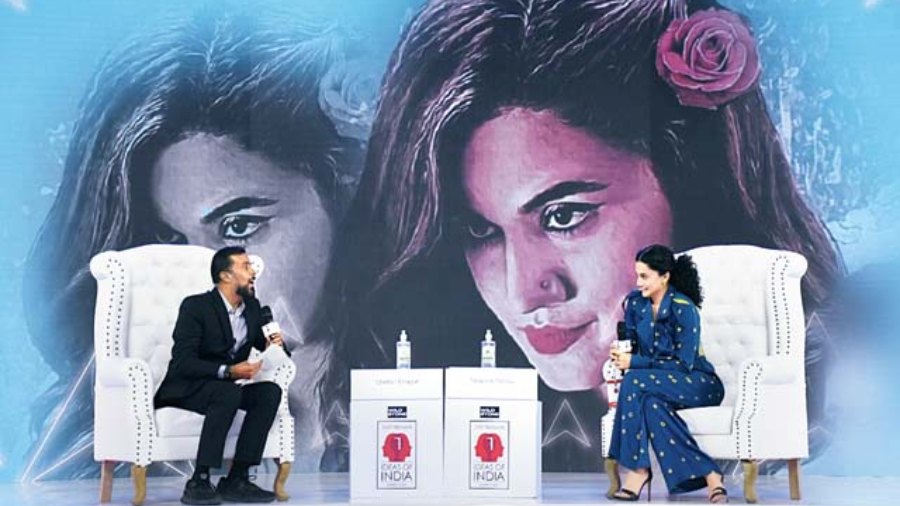 Taapsee Pannu in session
Meanwhile, member of parliament and senior Congress leader Shashi Tharoor, addressed guests with a talk on 'The Idea of Freedom — Law, Liberty, and the Limits of Democracy: A functioning anarchy or a Non-negotiable Democracy?' He made a case for all religions being equal as he cited the example of Swami Vivekananda. The session also saw Jagdeep Dhankhar, governor of West Bengal, as a speaker as he emphasised on the importance of following the Constitution.
Ritesh Agarwal, founder and group CEO, OYO, emphasised on the importance of thinking big and taking entrepreneurial steps towards the realisation of one's goals. Neerja Birla, founder and chairperson of Aditya Birla Trust, spoke on 'World of Wellbeing — Learning to Speak Up: Breaking the Silence' threw light on mental health issues and said: "A person may be a high achiever and do extremely well in professional life, but s/he may also struggle with mental health concerns. So it's very important to address that. Having a mental health concern can make one feel that s/he has failed as an individual, but the fact is — anybody can have anxiety."
Chhattisgarh chief minister Bhupesh Baghel spoke about how he tied up the needs of a rural economy with development and modern economic goals to help sustain his state's needs. At a session titled, 'The Humanity Index — Surakshit Bachhpan, Surakshit Bharat', Nobel laureate Kalyan Satyarthi said, "Imagine a girl child belonging to one of the poor families from our country's hinterlands, who is vulnerable to sexual predators or trafficking. Can we put all our efforts together to bring some cheer in her life? If we can, then India will be truly considered sone ki chidiya or golden bird."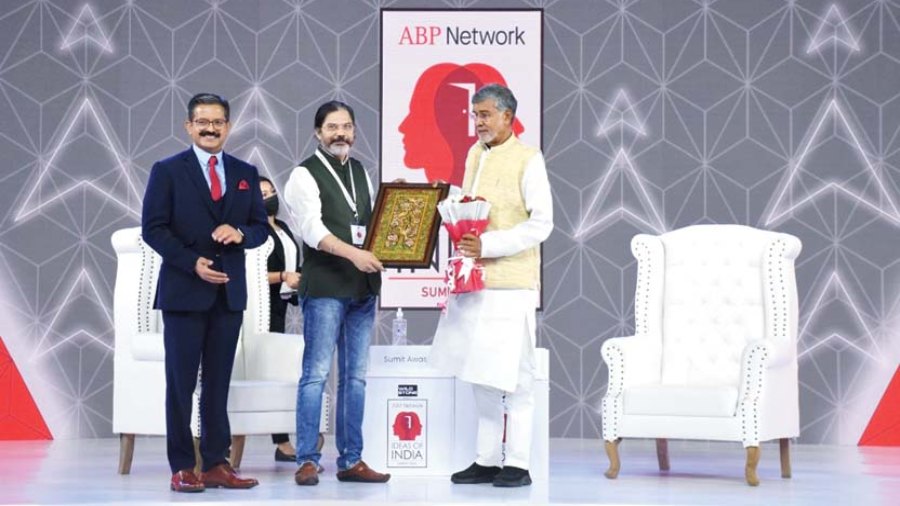 Nobel laureate Kalyan Satyarthi gets felicitated
"The biggest challenge for India is whether we can develop a culture of aspiration, national pride, problem-solving orientation, benchmarking with the global best, professionalism, discipline, meritocracy, encouraging English education, hard work, quality, productivity, honesty, open-mindedness, pluralism, humility, and learning from people who are better than us," said Murthy at his session later.
"The biggest contribution one can give to a nation depends on how we bring up our children. A child should feel secure; they need trust, faith and dignity from their parents. We, as parents, are doing our best but we have to be better," said Aamir Khan during his session.
"The most important thing for me is the quality of work and to do it one needs to be passionate about it. If you have the passion, you will achieve the skills with time. I am passionate about my work. Because of this passion, I am able to do all my work on time," said Nawazuddin Siddiqui as he spoke about the kind of work that interests him and that he wants to see more of. Film-makers Karan Johar and Kabir Khan spoke about making cinema during the pandemic, doing meaningful work and conquering the OTT world. Meanwhile, both Papon and Jasleen Royal spoke about the healing power of music and how following their respective hearts led them to where they are in their careers right now.
The two-day event threw up interesting ideas of what new India means and the need to be on the right path with some thought-provoking sessions. ABP Network CEO Avinash Pandey, in his welcome address, said, "ABP Network is proud to present the inaugural edition of Ideas of India summit. It is the most elaborate and diverse platform to discuss India's journey of 75 years as an independent nation, our present challenges and future opportunities as we grow as a nation in the changing world order. I am thankful that the brightest and most successful Indians of our age across sectors have joined us at the summit."