Nazrul Tirtha hosted two releases at the same programme – one was a set of postcards with photographs of Kazi Nazrul Islam's Kolkata addresses, the other was an album of the Bard's poems for youngsters, recited by his youngest daughter-in-law Kalyani Kazi.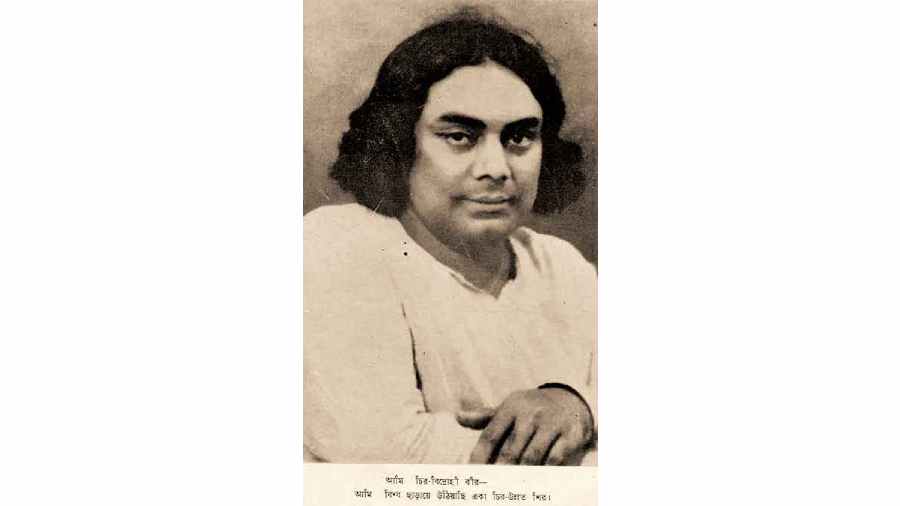 The Burdwan-born Nazrul's 52 years of stay in Kolkata started when the 49 Bengalee Regiment was disbanded in March 1920. He had run away to join the army in 1917 instead of appearing in matriculation examination.
After a brief stay at his friend Sailajananda Mukhopadhyay's mess, he put up at the office of Bangiya Musalman Sahitya Samiti at 32 College Street. The post card mentions that Havildar Islam started boarding with Communist leader Muzaffar Ahmed. "Baba could never stay for a long time in one place. He always faced a lodging crisis," said Kalyani Kazi, who attended the programme. "Even after my marriage (in December 1955), we shifted three-four times," said the 85-year-old widow of Nazrul's youngest son Kazi Aniruddha.
It is in these houses that she saw Nazrul, speechless by then, indicating to the tabla player to play faster on recognising his own composition being sung and her mother-in-law Pramila, paralysed from the waist downwards, lying on a low wooden platform and feeding Nazrul by hand. "She could not sleep at night and would play Ludo and Chinese Checker by herself."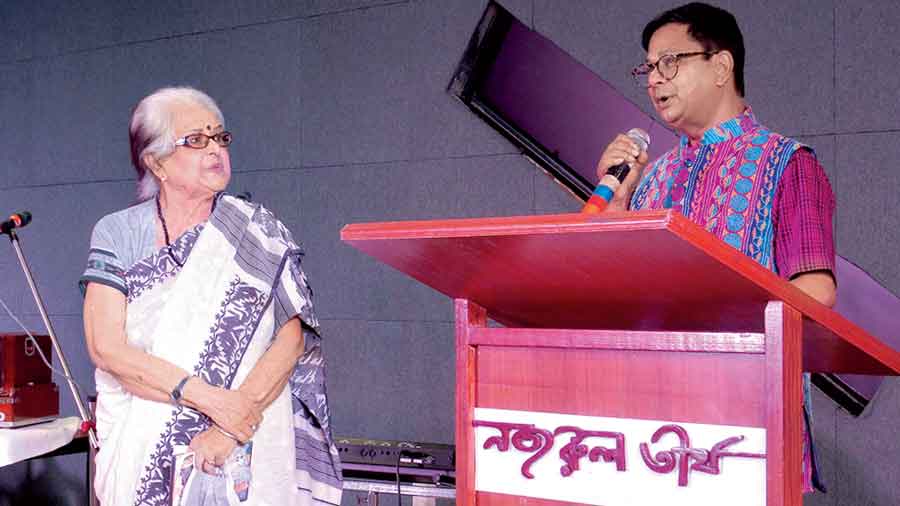 Kalyani Kazi listens to Debashis Sen at the album launch.
Sudeshna Banerjee
Two of the postcards do not carry any pictures. Instead, they carry the texts of Nazrul's letters, both revealing his dire financial straits. One was addressed to the landlord of his 15/4 Shyambazar Street residence, appealing for a reduction in the 60-rupee rent in a World War-hit market. The other was a request for a loan of Rs 100 from a publisher to pay the rent in advance of a house on Sitaram Road he had chosen to move into, even as his mother-in-law remained unwell and his elder son ran high fever.
The set of photographs ends with the Christopher Road house of Kazi Sabyasachi from where the poet left for Dhaka on invitation from Sheikh Mujibur Rahman on May 24, 1972.
Verses for children
The album, titled Sishu Kishorder Nazrul, has 25 poems, including Notun Pathik, Bangla Ma, Putul Khela, Ami Jodi Baba Hotam and Probhati.
Kalyani Kazi was delighted to have completed the audio recording project. "I came to know Baba (Nazrul) through his poems. It was by reciting Probhati that I came first in a recitation contest. The simple language, Bhor holo dor kholo, Khukumoni otho re, bowled me over."
Her first love though was music, with Nazrul's dear disciple Dhirendra Chandra Mitra being her first guru, followed by Dwijen Mukherjee much later. Thus she was drawn to Nazrulgeeti.
Both projects have been undertaken by the cultural organisation Chhayanat, which works mainly with Nazrul Islam. "We have done a 55-minute documentary on Nazrul's birthplace, Churulia village in Burdwan, which is still unreleased because of the pandemic. It covered his school life till he joined the army. The idea of doing something on his post-army years in Kolkata was on our mind since then," said Somerita Mallik of Chhayanat.
The team went round with the list of addresses but failed to hunt down two of the houses. "Even pinpointing some of the other addresses was difficult. We would start with a search on Google Map and asked around on reaching the vicinity. Only two of the buildings carry plaques to indicate the Nazrul association. These include the house in Paikpara where he wrote Bidrohi. For the rest, even after we found the plot number, it had been subdivided into several plots. We had to ask locals which segment they stayed in."
An exhibition had earlier been held at Nazrul Tirtha in 2018 with the pictures of the houses. "But printing them as picture post cards allows Nazrul admirers to retain them as collectibles or give away as gifts," Mallik said.