Ruby Park Public School
Two celebrations marked a special assembly at Ruby Park Public School on April 13. Students of classes II to X assembled at the school courtyard to pay tribute to BR Ambedkar and his work for the upliftment of the underprivileged through a skit. They also used the occasion to celebrate Poila Baisakh, the first day of the Bengali calendar, through a cultural programme.
The one-hour special assembly consisted of a welcome song, dance and instrumental performance. Students of classes III to V performed to a song Achena Baisakh. Another group of students paid a tribute to Ambedkar through the song Saheb mere Bheem Rao.
Students of classes VI, VII and VIII performed a skit, in Hindi and English, on how humanity is the most important religion. Those from classes VIII, IX and X presented an instrumental performance. The students were happy to be back on stage and sampling a piece of  normal life.
"India is a diverse land and Dr. Ambedkar is one of the leading pioneers of our nation. Children need to realise the sacrifice that the great minds had undergone to build an equitable society. Poila Baisakh is a day of reunion and people celebrate this day with their friends and families. Celebrating such multifaceted events makes our children aware of the beauty of Indian culture and heritage," said principal Joyeeta Mazumder.
Indus Valley World School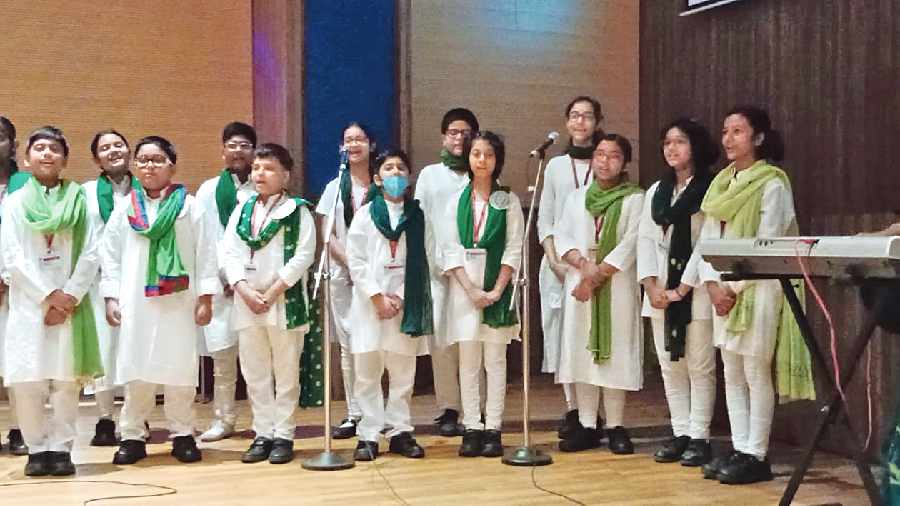 The students of Indus Valley World School took part in discussions, activities and cultural programmes on the occasion of Earth Day on April 22.
Two special assemblies were organised by the junior and middle school in the basketball court and school auditorium, respectively. The students of Class III put together a cultural programme on the occasion. The children danced to Moru bijoyero ketan urayo, as they promised to protect the earth. Students of Classes VI and VIII presented a PowerPoint presentation on the origin of Earth Day and on why we must be conscious of what ails the environment. The school choir sang Yeh dharti, yeh nadiyan, yeh ambaar aur sitare, while some students danced to the Rabindrasangeet, Phire chol maatir taane. The programme ended with all renewing their pledge to protect Mother Earth.
"We can change the world with our own two hands," said a poster made by a group of our primary school children. This belief sums up our mission as we celebrated Earth Day at Indus Valley World School. Our focus was "Invest in Our Planet". Special assembly presentations put up by the junior and middle school children set the tone for the day. Through music, dance, research work and art and craft activities, children pledged their commitment to do their bit, however small it may seem, to protect our planet and achieve a better and more sustainable future for all. A number of hands-on activities were organised for the children to inspire them to understand the need for climate action, said director Amita Prasad.
Krishnagar Public School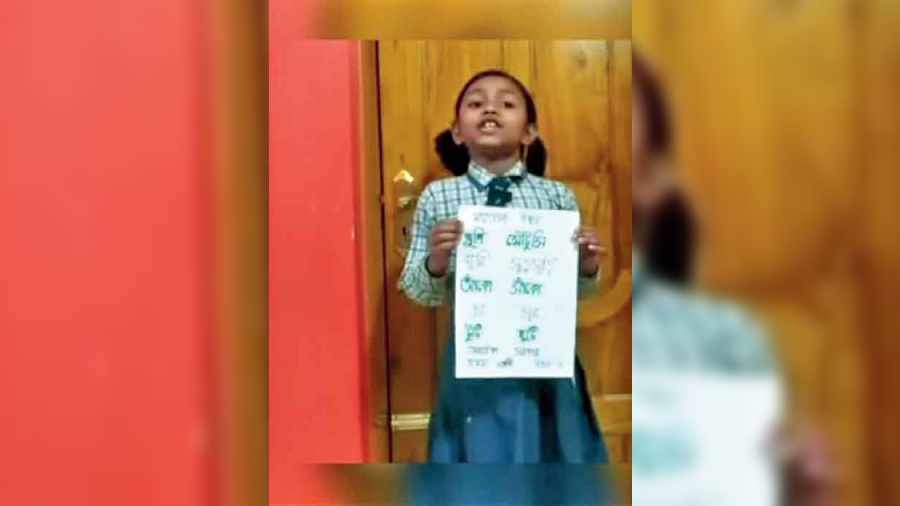 Musical performances, recitation and extempore speeches in different languages — students of Krishnagar Public School celebrated International Mother Language Day with fanfare. The day is meant to promote linguistic and cultural diversity and multilingualism.
In an online programme, the students gave speeches and performed in three languages, namely Bengali, Hindi and Telugu. Class VIII student Matiullah, who is an Afghan by birth, also spoke two lines in his native language. The event began with the students highlighting the history behind International Mother Language Day. The aim was to help students appreciate their mother tongue. "Research has proved that bilingual and multilingual children benefit throughout life. It's not always easy to teach a child many languages. In our international school, children are lucky to end up learning more than one language," said head of the social science department Debarati Bhattacharya. Songs such as Dheu pagol hawa tumul, Ami Banglay gaan gai entertained the audience. Several students recited poems including works of Jibanananda Das and Michael Madhusudan Dutt.
"The idea behind observing this day is to involve every pupil to celebrate different languages. Language is not merely a means of communication; it is a tool to raise awareness of the diversity in India. We are happy to be able to transmit the love of language to our little ones through various activities and unique initiatives," said headmistress Indrani Bhattacharyya.
Sunny Prep. & High School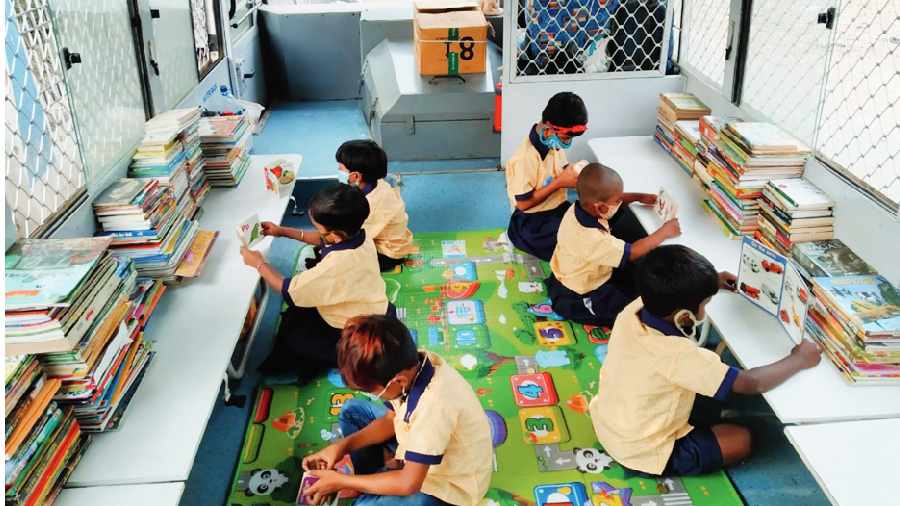 In a bid to promote education among children who have limited access to educational resources, students of Sunny Prep. & High School distributed books to underprivileged children.
The school got associated with Hope Foundation's Mobile Library initiative and donated 2,000 books.
The library on wheels visits slum areas and encourages children to browse and get into the habit of reading. To bring a smile to the underprivileged, new dresses were gifted by the entire Sunny Prep. & High School family on the occasion of Daan Utsav. All the students wrapped the gifts and attached warm notes to them.
"Our team of students and educators feel blessed when they get a chance to be part of philanthropic projects. The satisfaction is priceless. Live happily and let others live happily, this is our mantra," said principal Pubali Bhattacharya.
Bidya Bharati Girls' High School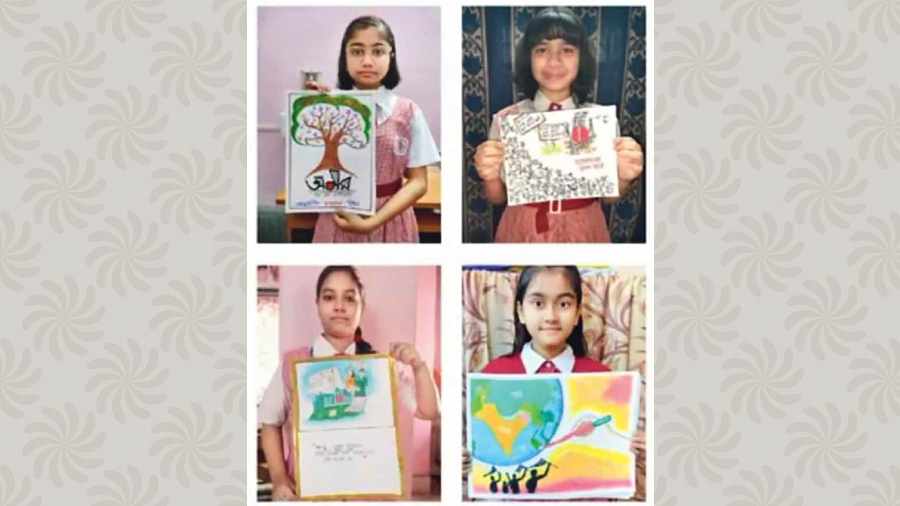 Students of Bidya Bharati Girls' High School recently celebrated the International Mother Language Day and paid homage to all the languages in the world and accolade the contributions of those youths, who laid their lives for their mother language. The event began with an oration on International Mother Language Day. Then several charts were displayed on the topic.
Ankita Dey of Class X presented a chart, which focused on the sacrifices of the Bengali youth. Disha Biswas of Class X, Aahir Roy of Class VI and Meghoborna Bose of Class VI introduced charts in praise of their mother tongue, Bengali. Shivangi Roy of Class VIII and Tanima Sadhukhan of Class X took their turn to recite the famous Bengali poem Ekushe February written by Abdul Gaffar Chowdhury.
"Our students are made aware of the importance of linguistic and cultural diversity in our nation. Having a strong faith in the idea of unity in diversity, the students have paid respect to their mother language with care and sincerity. We hope all our students will learn and respect their mother language with sincerity and attention, as they'll do to other languages," said headmistress Sarmistha Banerjee.
Shri Shikshayatan School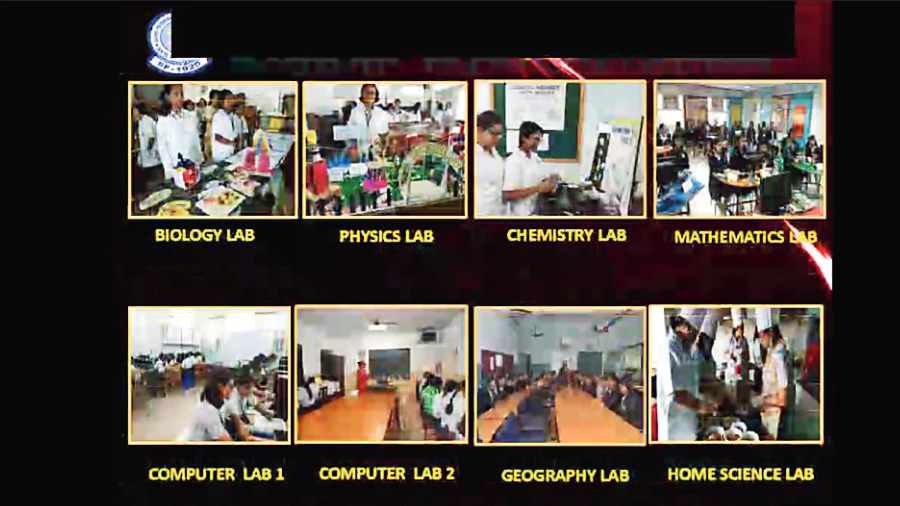 The senior wing of Shri Shikshayatan School organised a virtual orientation session for the students of Class VI. It began with a PowerPoint presentation. Principal Sangeeta Tandon welcomed the students and their parents and shared the vision and mission of the school. She also made parents aware of all the precautions that the school has taken to ensure the safety of the students.
The Class VI co-ordinator spoke of the academic goals, while the cluster co-ordinator of the middle school briefed the students about the co-curricular activities.
The school counsellor and special educator also educated the parents on their role in building a child's character and addressing his special needs. Parents were made aware of the need for "inclusive education".
The class teachers of all sections of Class VI introduced themselves and addressed the audience with their respective messages. "The orientation for Class VI addresses the transition from junior school to senior school. The students and their parents were made aware of academic and co-scholastic areas, along with certain privileges which students enjoy and expected responsibilities together with the code of conduct. The aim is to make the transition smooth and enjoyable leading to all-round growth of our young ones," said
the principal.
Mount Litera Zee School, Contai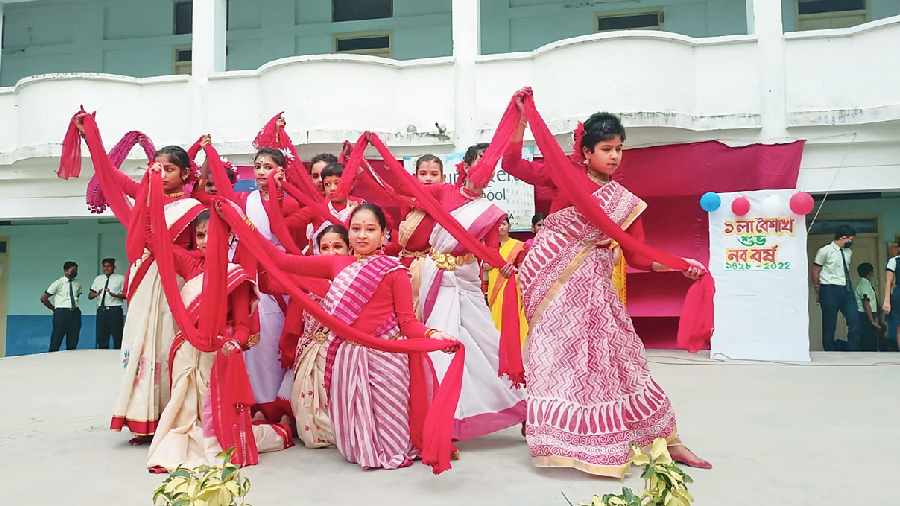 The students of Mount Litera Zee School, Contai performed a cultural programme on their school ground to ring in the Bengali New Year and pay a tribute to B.R. Ambedkar on his birth anniversary on April 13. Even parents were invited on the occasion. The programme began with the students singing the school anthem. They offered floral tribute to B.R. Ambedkar. Students gave speeches in English and Bengali, highlighting the importance of both the occasions. The speech of Class IV student Aadrija Sinha was much appreciated. Finally, Classes V to VIII presented a group song and students of Class VI performed a dance to end the programme on a delightful note.
"Baisakhi is celebrated across India. It marks the commencement of the solar new year and holds a special place among different
communities. I am glad to celebrate this auspicious day in our morning assembly," said principal Yogesh Maheswari.