With the sun setting over the Central Quadrangle of Indian Museum, Kolkatans settled into their seats (and some on the grass) for a musical performance absorbing enough to make one forget the unbearable sultriness of that summer evening. The subject is Satyajit Ray's music. The orchestra is the Abraham Mazumder Academy of Music. The evening was curated by Oindrilla Dutt and Eastern Zonal Cultural Centre to celebrate Azadi ka Amrit Mahotsav, with Dutt providing the narration of Ray's musical associations — Music He Lived By.
Anyone familiar with the works of Ray will know how deeply influenced he has been by the works of the western classical composers. "I have always combined western and Indian styles except when I go back in time to earlier periods (which are) less influenced by the West…" Ray once told French filmmaker Pierre-André Boutang. True to this ethos, the evening's programme, curated by Abraham Mazumder, also combines western classical pieces with the music of Ray's movies. Calcuttans who have attended the many concerts Mazumder has presented over the years, can almost expect the evening to begin with English composer Henry Purcell's Rondeau, a piece from the Baroque period — an era that Ray himself was rather fond of. In fact, in an interview with Swedish writer Folke Isaksson, Ray confessed that he "can't bear some of the romantics, like… some of Schumann, some of Schubert".
In an interview with Bulbul Sarkar of All India Radio Calcutta, Ray described being taken in by the power and tempestuousness of Beethoven — "the first European composer I discovered at the age of 9 or 10". In fact, the first Beethoven composition Ray heard was the violin concerto, which stayed with him for years even as he went on to acquaint himself with other composers. "The Mozart that I knew at that time was the piece known as Eine Kleine Nachtmusik, which I thought was a charming work, very graceful in a well-mannered sort of way," said Ray on radio. Mazumder, who also lists Beethoven as one his greatest influences, conducted his orchestra through excerpts of the German master's Symphony No. 2 as well as the first Mozart piece that had captivated young Ray.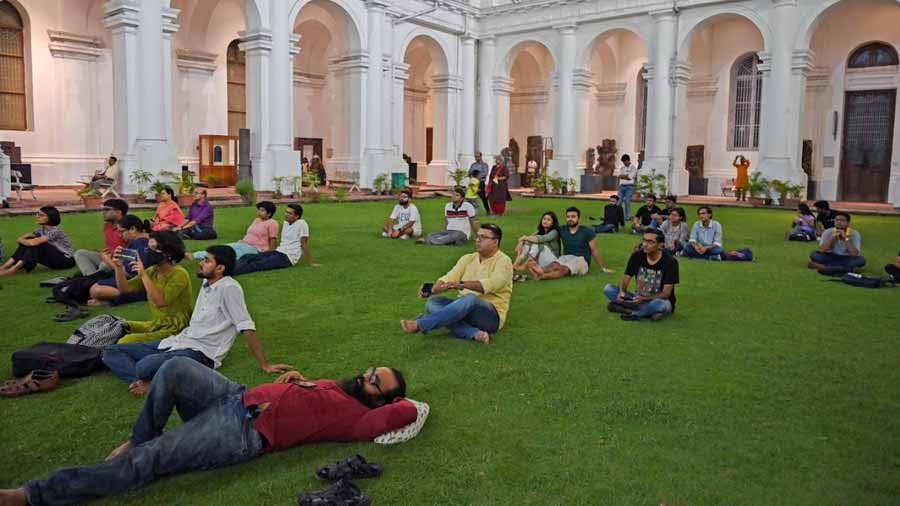 The audience at Indian Museum get comfortable during the concert
Ray's fans will agree that while his movies leave an indelible impression on us, his audience, the music tends to linger in the recesses of our minds. Ray himself never intended for the music in any of his movies to dominate the foreground. Of course, Pandit Ravi Shankar's composition for Pather Panchali became the background score in every Bengali household for years. It is not surprising then that Mazumder left the baton and took up the piano for his orchestra's rendition of the theme from Pather Panchali. In this rendition, the piece swells to a grand crescendo before returning to its poignant opening melody.
Video by Amit Datta and Arijit Sen
In the now-famous interview with French filmmaker Pierre-André Boutang, Ray was unafraid to make public his almost controversial views on the subject of music in films. Yes, he loved the great composers, and he steeped himself in both Eastern and Western music. But in films, he said, "Ideally one should be able to do without music completely." But he also realised that filmmakers find themselves constrained by the notion that audiences might not be able to perceive changes in mood unless it has been expressed by music. "Film music is something very special … you have to write music which suits a certain mood and a certain situation," he explained.  
The rest of the evening at Indian Museum was dedicated to familiar medleys from the movies of Ray, ranging from Phule Phule Dhole Dhole which took the audience right back to Charulata swinging in the garden to a range of melodies which brought Goopy, Bagha and Feludaback  to life in the Indian Museum quadrangle. Ray was interspersed with a technically demanding violin solo by Dibyokamal Mitra – Partita No. 3 in E Major by Bach and, fittingly for the season, Vivaldi's Summer, where the tempestuous solo was played with skill and vigour by Mazumder's son, Anirban.