Sushmita Sen left many misty-eyed in the audience when she walked for Anushree Reddy at Lakme Fashion Week in partnership with FDCI, in Mumbai. This, days after she suffered a heart attack. The packed room was relieved to see Sushmita hale and hearty. When we met her post-show, her positivity was as usual infectious. "I am very well. Khub bhalo!" she beamed. Here are her words of wisdom.
It was incredible to see you walk the ramp...
I couldn't believe that she made that call. I still can't get over it because most people, unlike Anushree Reddy, would typically say, 'No, no, it's not a good time to call her and how can we ask to be a showstopper?' She called and two-and-half-seconds later, I was like: 'Yes, absolutely, I want to do this'. I feel like when you come to life and you come back to celebrate it, there is no better place than a ramp, those lights, a beautiful song like Tu jhoom, this gorgeous attire that made me feel royal and loved and then the live audience and the live love that came my way. Oh, it's magic. I love the runway.
What have you learned about your heart in the last few days?
I have learnt that it is very resilient and because it's been resilient, I have pushed it too far. I have learnt to now self-preserve better.
Have you revised your mantras in life?
It's one breath at a time. Mantras will evolve I am sure but I have to tell you, a heart attack is considered a physical experience. This one was a spiritual one for me. So, I am getting there slowly. I am very grateful, I am on the other side. One thing I have learnt big time is to stop worrying. Just be happy and stay happy. Tu jhoom!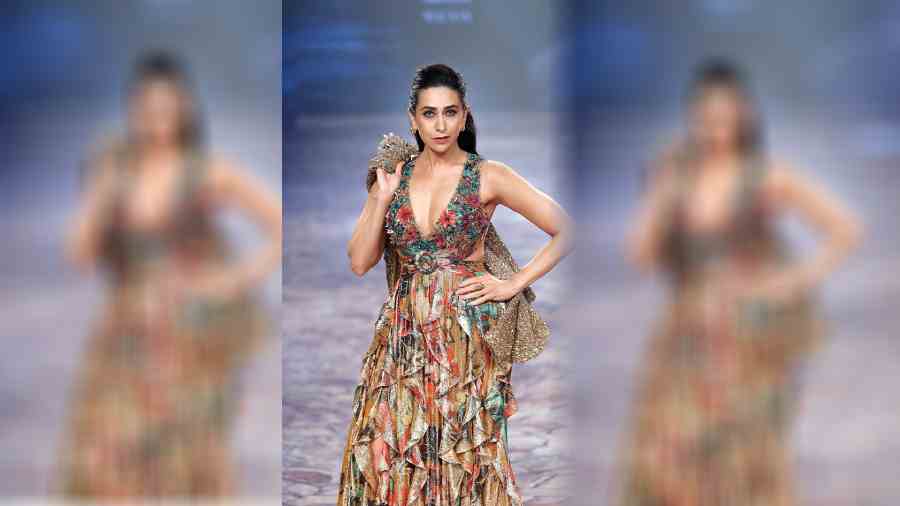 Karisma Kapoor walked for Ranna Gill and shared with t2 where she derives her sense of style from.
What is the mood you are wearing?
I think this mood is definitely glamour-chic. It is inspired by Lake Como (Italy). Ranna (Gill) does a lot of prints. Then there are florals, romance and beauty. Frankly, I love sequins. So yeah I am feeling glamorous and pretty.
Where do you derive your sense of fashion from?
Honestly, I have seen my daadi and nani dress elegantly and simply and that kind of stayed with me. Even though I don't do too many movies now, people like my fashion sense because I dress for myself. I don't go by fashion trends. I wear what my heart feels.
Who has been a woman of substance for you?
I would definitely say my mum, both my daadi and naani and my sister (Kareena Kapoor Khan) and my bua. The women of the family.
What have your learnings been like from your daughter Samaira?
She has her style and I am learning to tone down it even more. She is so particular about what she wants to wear and at a young age, she knows that.