Seventy five years of Indian independence were celebrated with the true spirit and festivity of "Azadi Ka Amrit Mahotsav" at the Indian High Commission in London. The Bengali diaspora in the UK, represented by the Heritage Bengal Global (HBG), a not-for-profit organisation, actively participated in the celebrations, highlighting the UNESCO Heritage Tag of Bengal's Durga Puja, besides showcasing the legacy of traditional handloom and of sweets from Bengal. The special event was held at the Navnat centre in Hays, London. 
Kantha stitch embroidery, the origin of which dates back to the early 20th century in unified Bengal, was the theme for the day, with HBG members dressing up in colourful kantha stitch attires for the occasion. HBG members and their supporters also put up a delectable and authentic Bengali sweet stall at the event and distributed some mouth-watering mishti.
Yasmita Choudhury was credited with bringing bhapa doi while Sharmi's kitchen served rasmalai and Meltz Sweets got some juicy gulab jamun, all of which were distributed free to everyone in attendance.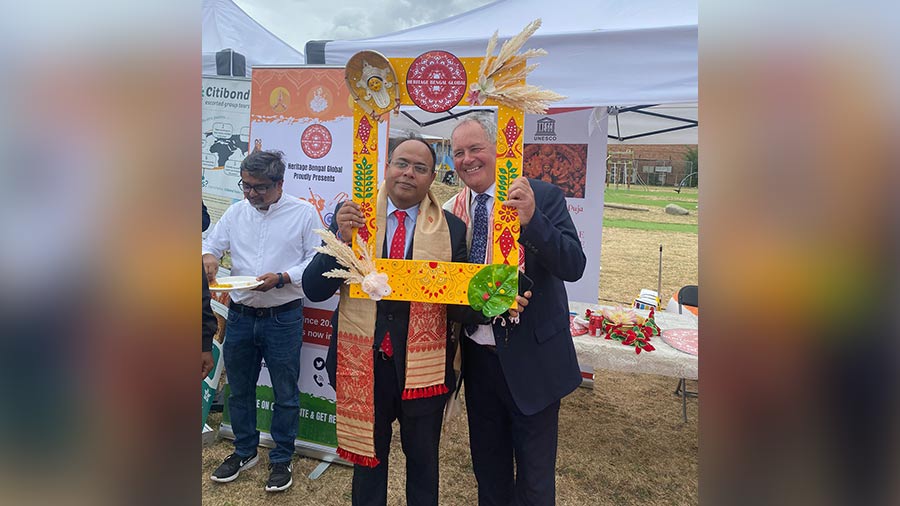 Sujit Ghosh (left), the Acting High Commissioner of India to the UK with Bob Blackman, a British MP and recipient of the Padma Shri
Anirban Mukhopadhyay
As part of the I-Day celebrations, a photoshoot contest was also held, on a beautiful Durga-themed photo frame prepared by HBG vice-president Mahua Bej, who also drew an exquisite alpana in front of the stalls. The enthusiasm of the visitors to get themselves clicked while standing behind the Durga-themed frame was palpable throughout the day. The photography contest for the event was judged by Kolkata-based photojournalist Kounteya Sinha.
The event attracted a few thousand people from across the Bengali diaspora in London and provided a wonderful opportunity to reflect, reminisce and rejoice over a monumental achievement for India and its people. Speaking about the event, HBG director Anirban Mukhopadhyay said: "We're grateful to Sujit Ghosh, the Acting High Commissioner of India to the UK, for his constant encouragement and support, without which we couldn't possibly have been a part of this event." On HBG's initiative to make Durga Puja a truly international festival, Mukhopadhyay added: "We want to use every opportunity (like the I-Day celebrations) across the world to promote Durga Puja as a global occasion."