An advertising professional who is now the worldwide creative head of a renowned global advertising agency, Piyush Pandey is also credited with giving a distinct indigenous character to Indian advertising, which was till a point totally guided by Western concepts. Pandey's recently-launched book
Open House is a testament of his life and experiences. An interesting read, it will appeal to readers of all ages. Written in simple style, the book answers everyday questions that are either deemed unimportant or too sensitive to ask.
Through his answers and exploration, Pandey has asserted how important it is to address and ponder upon these questions, and his simple and convincing replies reasserts his identity of a deft storyteller with a strong grip on the human needs of his audience.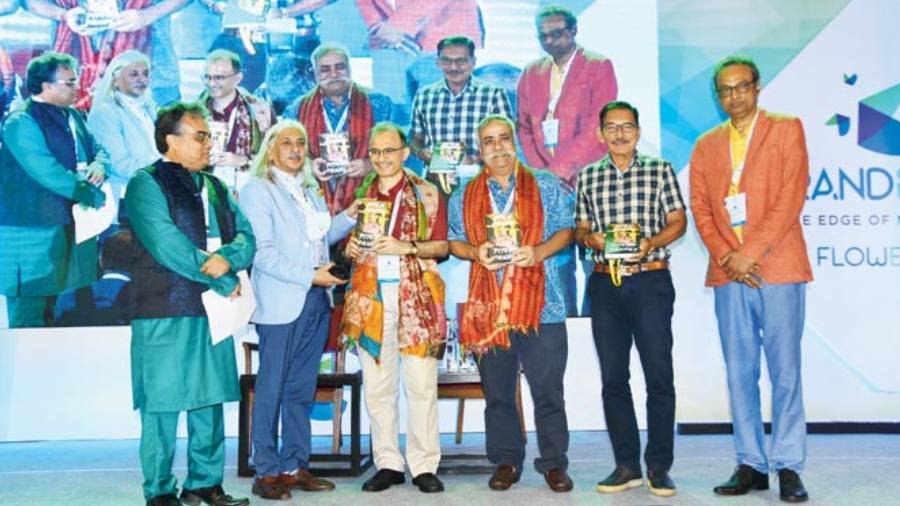 Harish Bhat, Piyush Pandey, Arun Lal and Soumyajit Mahapatra with a copy of Open House
To mark the launch of the book, Public Relations Society of India hosted an interactive session, Brand Edge in conversation with Harish Bhat & Piyush Pandey, in association with The Telegraph, at The ITC Sonar, recently.
In the session the ad guru spoke about his passion for learning and shared the experience of his phenomenal journey of more than four decades in the business of brand building and promotion. This was followed by an interaction with the audience.
Cricketer Arun Lal and Public Relations Society of India Kolkata Chapter chairman Soumyajit Mahapatra were later invited to the stage for a celebratory, concluding photograph.