It's Panchami and if you are still looking for right accessories and apparels for Puja, just drop by at the Academy of Fine Arts, where Kalakaar Project has organised Puja Haat'22. The pop-up features homegrown brands that are ready to welcome you till September 30, 8 pm. My Kolkata, the digital media partner of the event, will share the highlights.  
"Kalakaar project is for creators. We organise events like art projects, exhibitions, pop up and more, so that small businessmen and home-grown brands get a platform to connect with each other and sell their products. The Puja Haat '22 is our fourth pop-up edition this year. Our team takes care of all the research. We select the brands that match the event's requirements and curate accordingly,'' said Ashmita Banerjee, founder, Kalakaar Project.
From natural wellness products to beautiful apparels, lip-smacking delicacies to handpainted jewellery, you will find all these and more under one roof. Partnering with Chaitown Community, Pujo Haat'22 also takes care of the entertainment part, where local artistes perform songs, recite poetry and so on. 
My Kolkata speaks with some of the brand owners…
Jewellery galore
Mitti by Sreeja Chaudhuri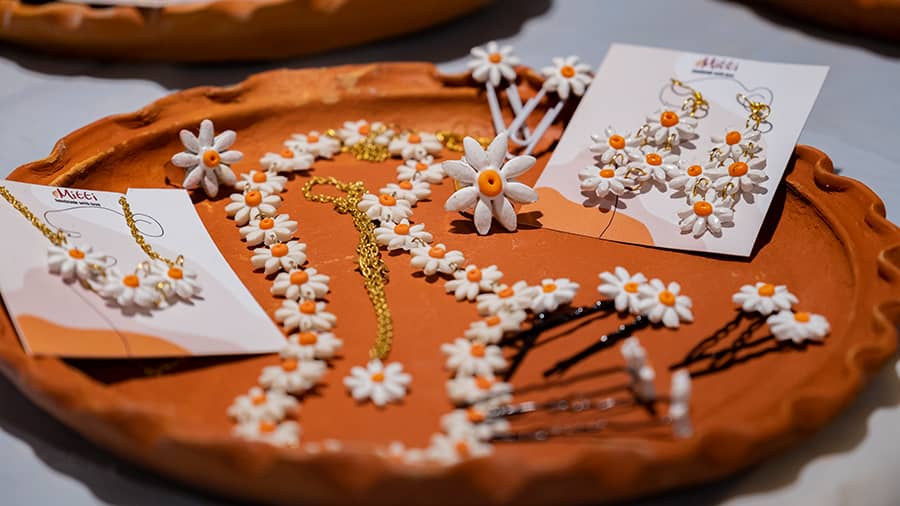 The brand's Shiuli range of neckpieces, earrings and finger rings, launched this puja
Ritagnik Bhattacharya
Launched in September 2021, Mitti is all about clay jewellery. "For now, we are selling polymer clay. Soon, we will start terracotta and other clay products. Our trending products are moon-phase earrings, donut and flamingo earrings," informed Chaudhuri. Also, check out their Shiuli range of neckpieces, earrings and finger rings, launched this Puja.
Nazaqaat by Kathakali Chattopadhyay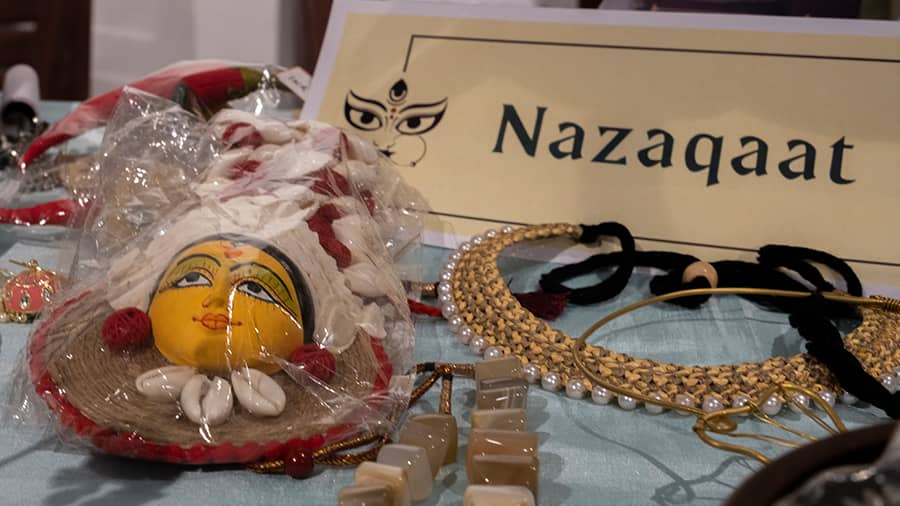 The jewellery range by the brand
Nazaqaat stands for elegance. "For Puja special, we have premium quality silver replica Durga choker and other handmade pieces. We go for all kinds of jewellery like black polish, kundan, antique pieces and daily wear. We have something for everybody," said Kathakali.
DIY with Indrani by Indrani Das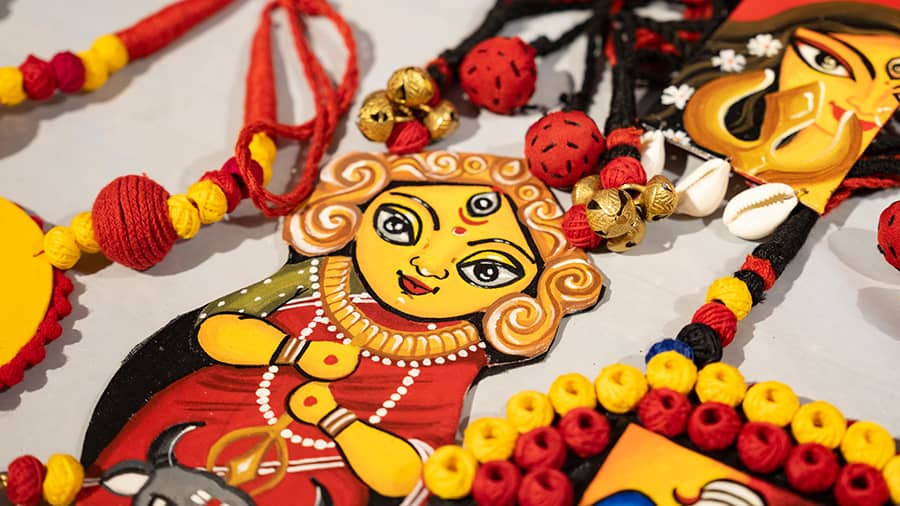 Handcrafted jewellery crafted by Indrani Das
Perhaps the most colourful table at Pujo Haat'22 belongs to Indrani. Her statement handmade jewellery pieces range from choker to long necklaces and earrings. Each piece has been carefully handcrafted with paintings of Durga, Kali, Ganesh, Radha-Krishna and more. "Today's collections are exclusively for Durga Puja,'' said Indrani.
Apparel
Ni Designs by Nivedita Halwasiya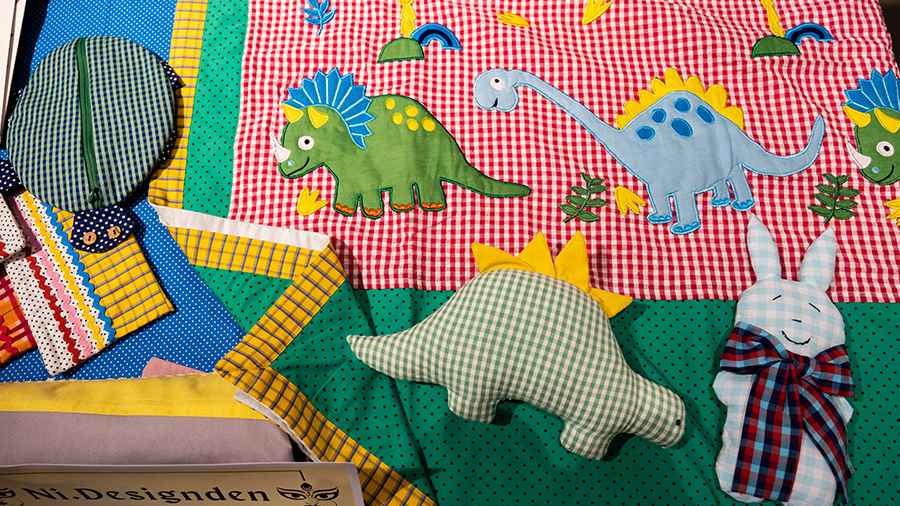 Customised bedding accessory sets for babies
"We have come up with bedding accessory sets for babies and children's wear. My USP is to make comfortable clothes for children," said Nivedita, who launched the brand early this year. The brand uses pure cotton to make their products. A hunt for safe, comforting and customised products for her own baby, led Nivedita to launch her brand.
The Ocau by Rajlaxmi Chowdhury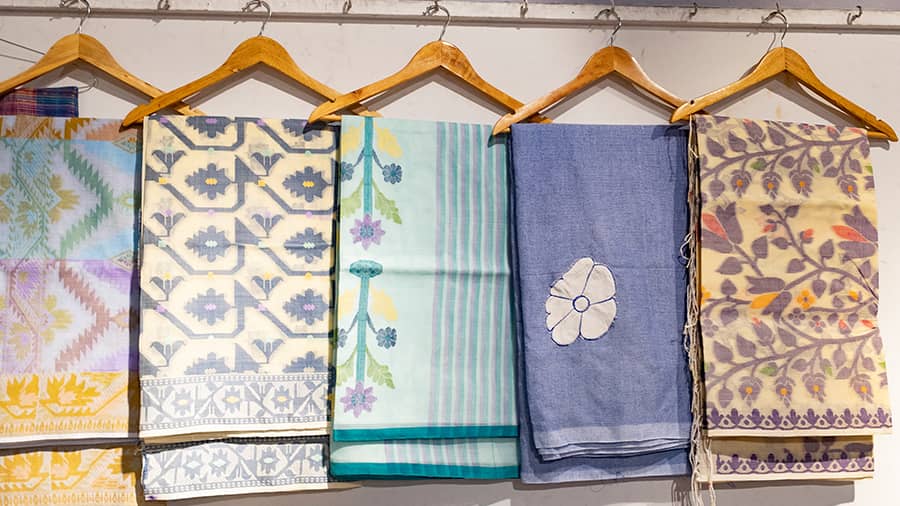 Sustainable women's wear made of cotton by the brand
"We specialise in sustainable women's wear made of cotton. We do not waste any item. All waste items are upcycled into scrunchies or jewellery,'' said Chowdhury, owner of the brand. So, if you are looking for Khadi cotton sarees to wear this festive season, do not give this a miss.
Wellness
The Nature Mill by Gurminder Kaur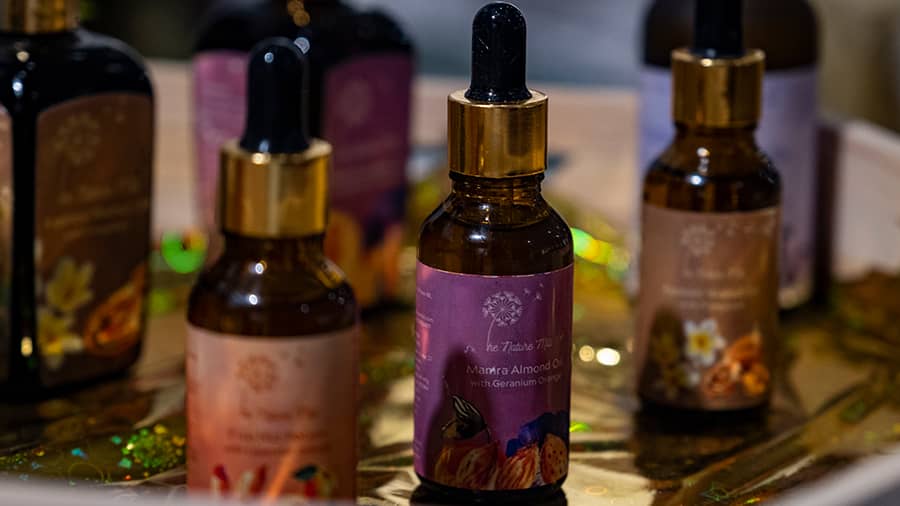 Face serums on offer by the brand
The Nature Mill, run by Gurminder Kaur, is a popular brand in Chandigarh. This year, Gurminder has come down with her products for Kolkata buyers. ''We travel to various places and collect flowers, nuts and plant extracts. We fuse these extracts and make face serums, body oils and more,'' said Gurminder.
Justi by Supriya Goyal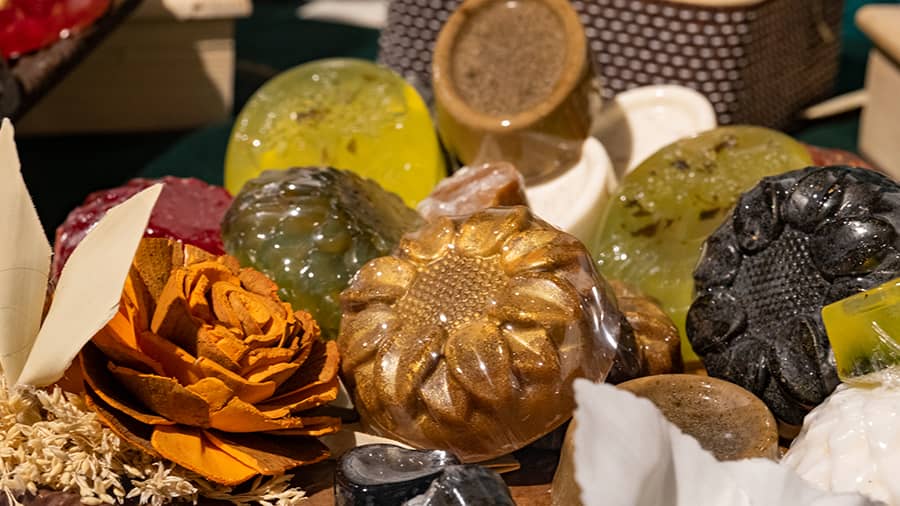 Handmade soaps, lipstick, lip balms, gel, perfumes on offer
"My brand is all about homemade and handmade soaps, lipstick, lip balms, gel, perfumes and attars,'' informed Goyal, owner of the brand. The brand claims that all the products are made with natural products and are chemical free, causing no harm to the skin.
Home décor and accessories
JOIE Candle CO by Ashmita Chatterjee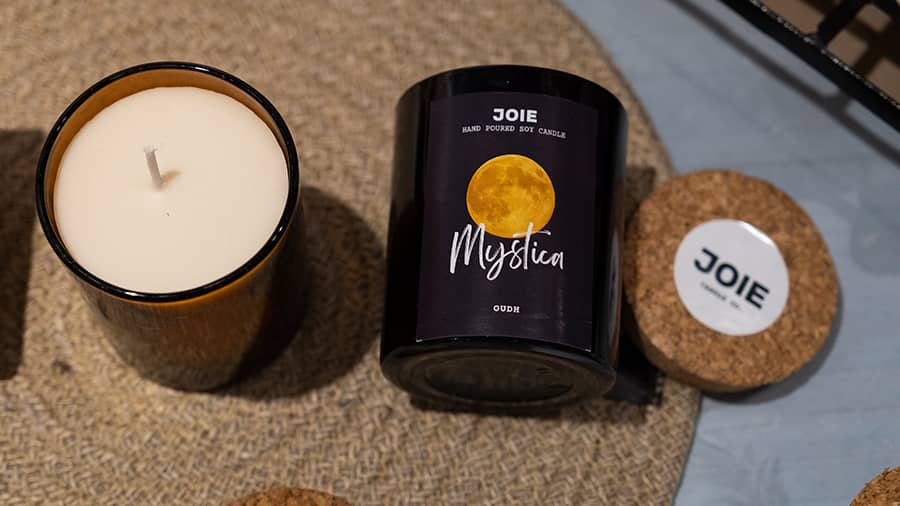 Perfumed candles for rejuvenation
"I started the brand early this year. We make scented candles from organic Soy Wax," said Chatterjee. You can find fragrances like coffee-vanilla, lavender, raspberry and cherry. These candles emit a soothing aroma and provide the desired relaxation needed in our stressful lives.
Shreya Art Studio by Shreya Tibrewal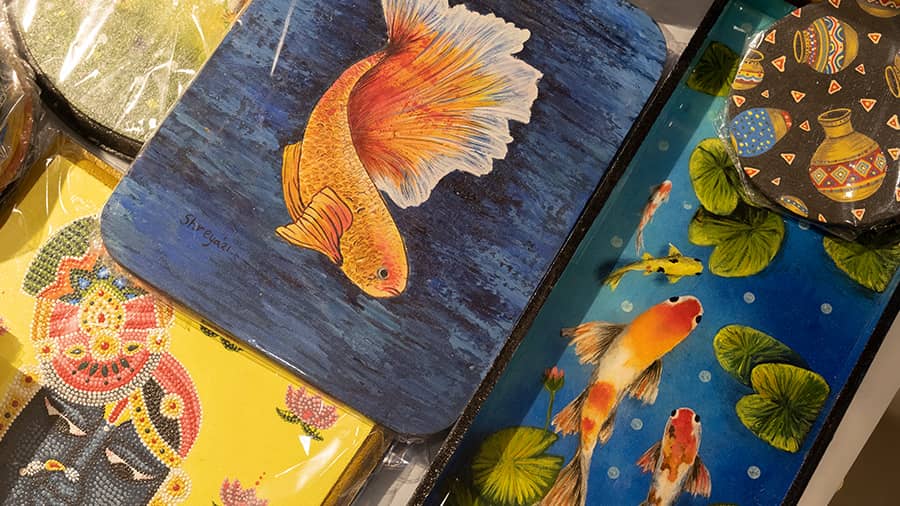 Handpainted items on display
Get yourself some cool magnets, gift boxes, trays and paintings from Shreya Art Studio. "I launched my brand about a year ago. Be it paintings, sketches, acrylic work or home décor items like trays and coasters— my products are all handmade," said Shreya.
Woolfmoon Designing by Tanisha Rungta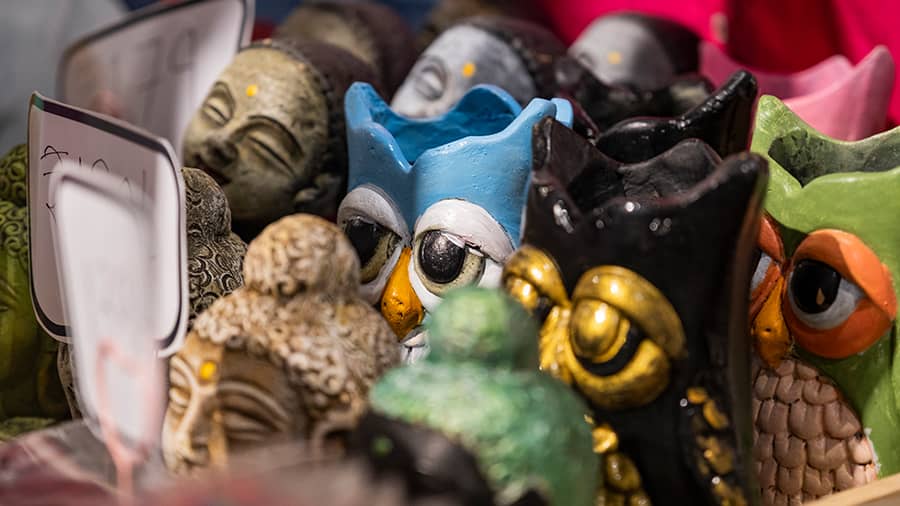 Cute items of home decor on offer
If you are looking for all things quirky but elegant, check out the wide range of products offered by Woolfmoon Designing. Owner of the brand, Rungta said, "All our products are unique. We have caps, bookmarks, book corners, handmade statues, pen stands, vinyl stickers and more. Our stickers are priced at Rs 39.99.''
Food for the soul
Sinful Delights by Bratati Saha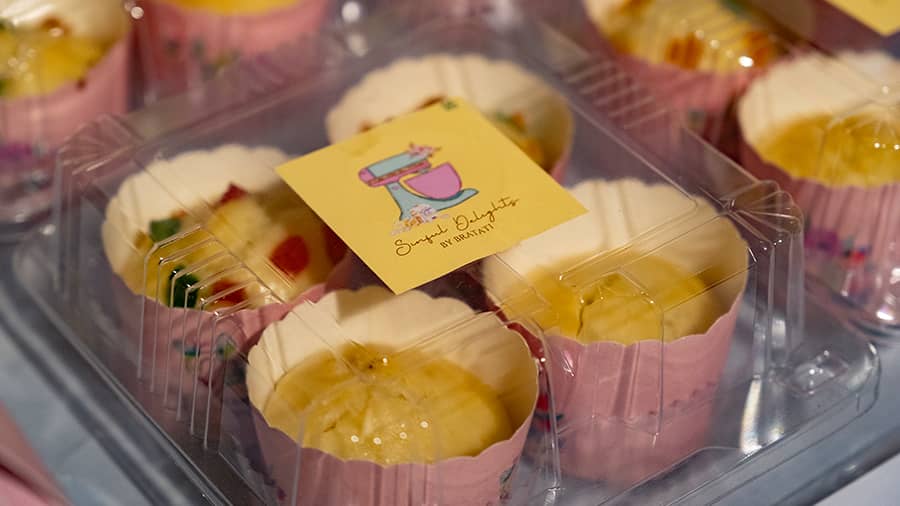 Yummy cup cakes for sale
Launched in 2020 October, Bratati Saha's brand offers baked products like cakes, brownies, jar desserts, muffins, cookies and more. She has also experimented with traditional flavours to make Motichoor and Gulab Jamun Parfaits this festive season. "We specialise in fancy cakes and our starting price is very low. I am a full-time baker. I operate out of my home kitchen in Keshtopur,'' said Saha.
Bronsuns Tea by Kumardeep Majumder and Naved Ghani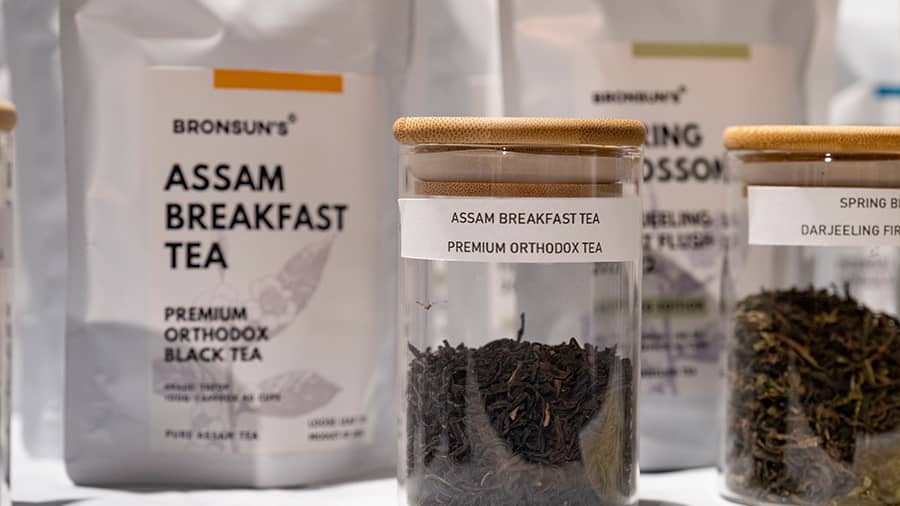 Special Darjeeling and Assam tea from Bronsuns Tea
Bronsuns Tea started in March 2021 and operates through sustainable e-commerce brands. "We specialise in pure Darjeeling and Assam blends and source from various tea gardens in Darjeeling and Assam. We curate our own personal blends. We have the Darjeeling Four Seasons and the Assam Breakfast newly launched for Puja," said Majumder.
Sunny16 by Tanaya Bardhan Naskar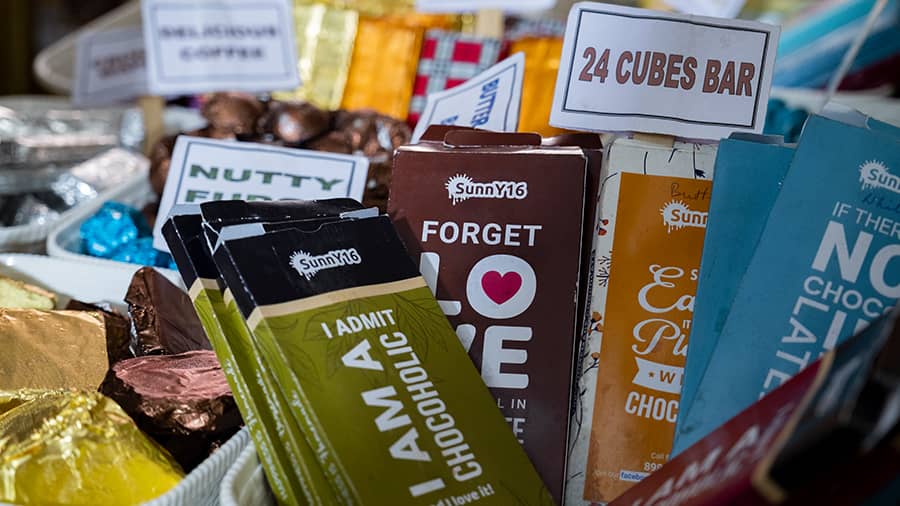 Chocolates of various flavours
"Handmade chocolate is what I love. So, I try to mix and match a lot of flavours. We have coffee, Belgium chocolate, walnut fudge, dates and nuts bon bon and more," said Tanaya. You will also get 100% sugarfree chocolates here. Naskar has been operating out of her cloud kitchen from Tollygunge for the last two-and-a-half years.