On the occasion of National Handloom Day (August 7), Sutra Textile Studies presented a three-day gala at ICCR, celebrating the craft of handloom. Sutra, an organisation established in 2002, aims to raise awareness of the textile heritage of Bengal through seminars, exhibitions and workshops in order to develop the textile tradition and impact the grassroots level. As an extension of its overall vision and mission, Hand.Loom.Sutra. 2022 was hosted to bring together the weavers and the designers and address important questions in the handloom sector.
The three-day event starting on the National Handloom Day, presented a series of talks on important subjects of the handloom industry, workshops to spread awareness on the craft, a fashion walk showcasing new styles, initiatives and developments in the sector, and an exhibition bringing together stalls of designers and weavers working with handloom under the same roof. Snapshots:
HANDLOOM WALK
Bappaditya Biswas of bai lou showcased his 'shada sari-lal paar' collection. "As this was Bengal's traditional textile showcase, we chose the shada sari-lal paar but our aim was to show the variety that can be done in this traditional colour combination and the versatility of the Bengal weavers. We showcased around 35 varieties including noksha border, dhonekhali, dobby pattern, jamdani and bai lou's contemporary version, too," said Bappaditya to The Telegraph. Women and men from different walks of life walked down the cascading stairs of ICCR in this collection.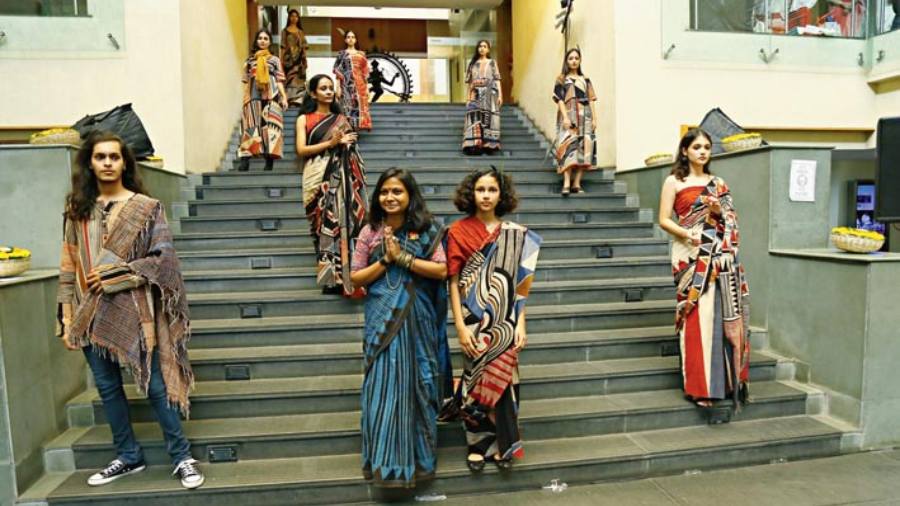 Silpinwita Das showcased her collection Haridra, a brainchild of the father-daughter duo Ajit Kumar Das and Silpinwita. The collection comprised wearable art pieces woven in Bengal looms with handspun cotton and 'Ahimsa' silks. The collection included dresses, scarves and stoles.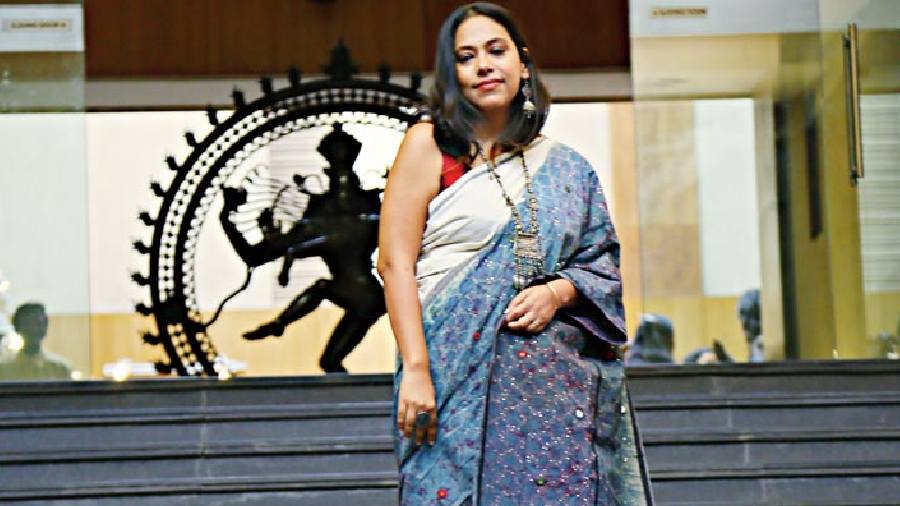 The Grand Bazaar exhibitors walked the ramp in a sequence wearing a piece from their collection. (In picture) Sonali Chakraborty of Deshaj in an ombre sari from her own collection.
HANDLOOM TALKS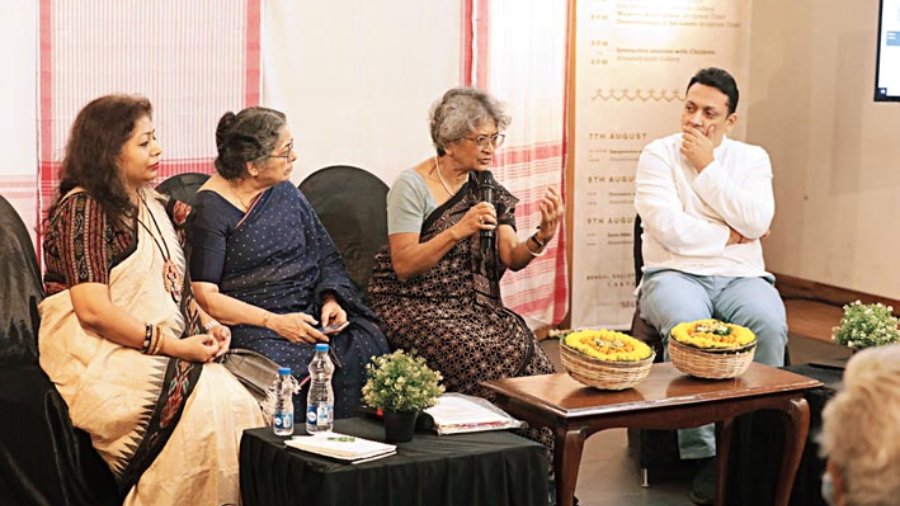 (L-R) Arundhati Maitra, Bappaditya Biswas and Roopa Mehta. Uzramma (not in picture), director of Malkha, was the keynote speaker at the event. "Diversity is not just in the weaving but also in the cotton plant and we need to pay attention also to the pre-weaving processes, which is the spinning and pre-spinning. I brought some undyed cotton fabric to show the diversity," said Uzramma in her keynote address stressing on the cotton plant industry and hand yarn and hand spinning. This was followed by a talk session featuring Roopa Mehta, CEO of Sasha, Bappaditya Biswas, founder of bai lou and co-founder of Byloom, and Santanu Das, founder of Maku Textiles and moderated by Arundhati Maitra of Aasmani. Bappaditya focused on points like survival of the weaving traditions, recognition of the craft and involvement of the younger generation of the weavers family; the pandemic's effect, role of technology and fair trade in the industry were points discussed by Mehta. Das spoke about their brand Maku's international exposure with handloom.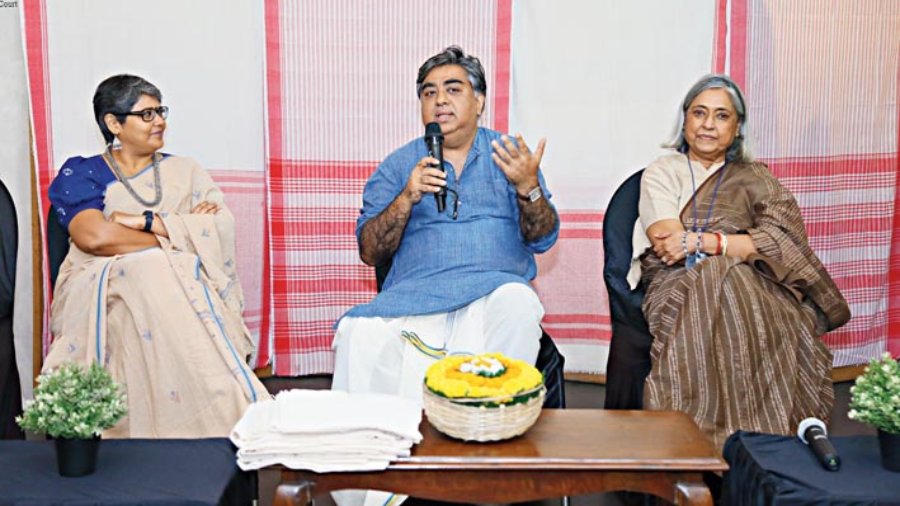 (L-R) Anamika Debnath of NIFT, Amrita Mukerji of Sutra Textile Studies, Kasturi Menon and Amitra Sudan Saha of SSAHA in another talk session.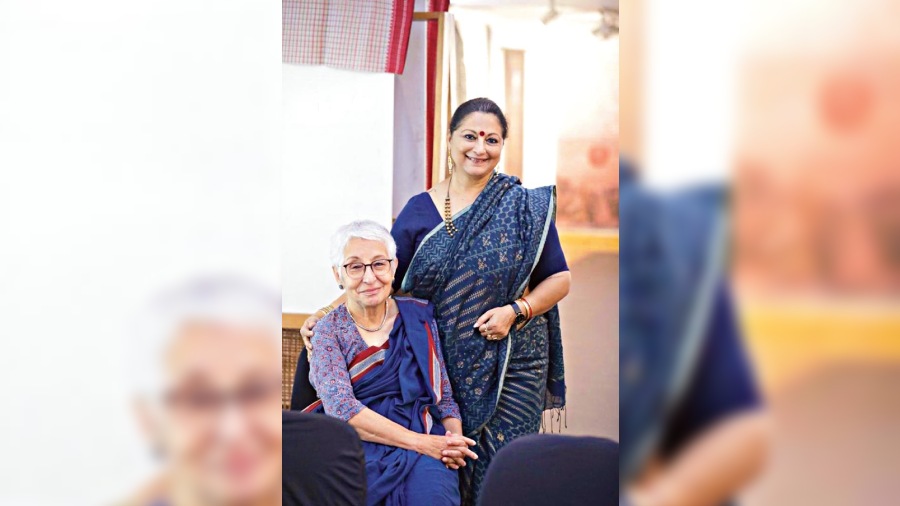 (Left) Keynote  Speaker Uzramma
WORKSHOPS AND INSTALLATION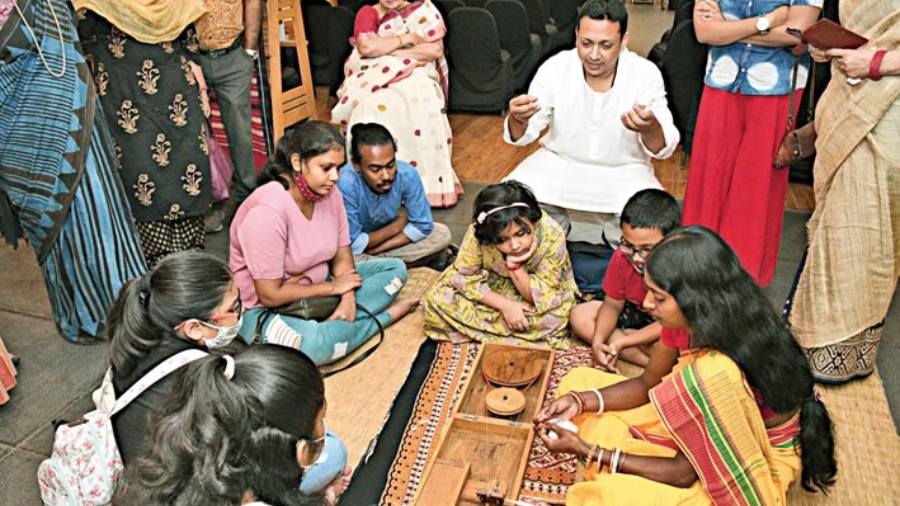 Amitra Sudan Saha of SSAHA conducted a children's workshop by THINKARTS.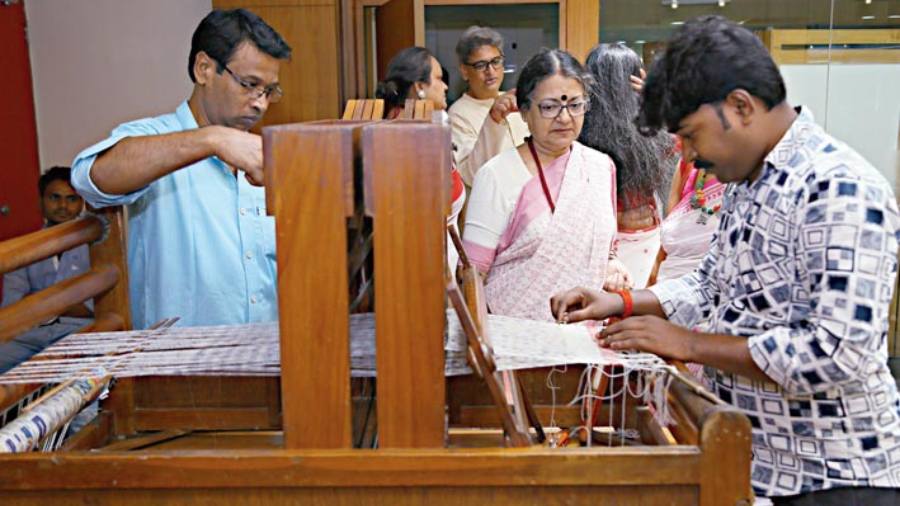 One of the loom installations in the Abanindranath Gallery at ICCR.
EXHIBITION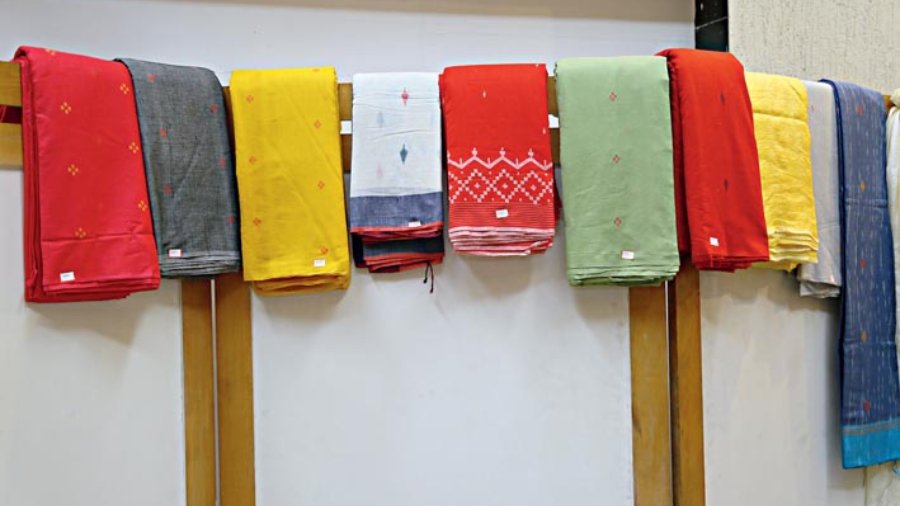 This colourful corner of khadi and cotton dress material put up by Tarak Nath Das from Sashinara in the Weavers' Market section caught our eye.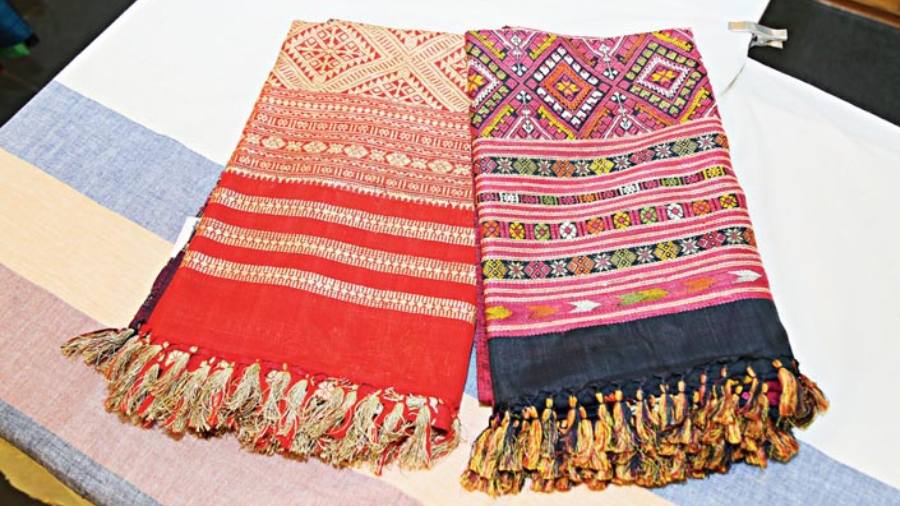 Naturally Anuradha displayed a colourful collection of intricately woven mekhela chadar in the Grand Bazaar section.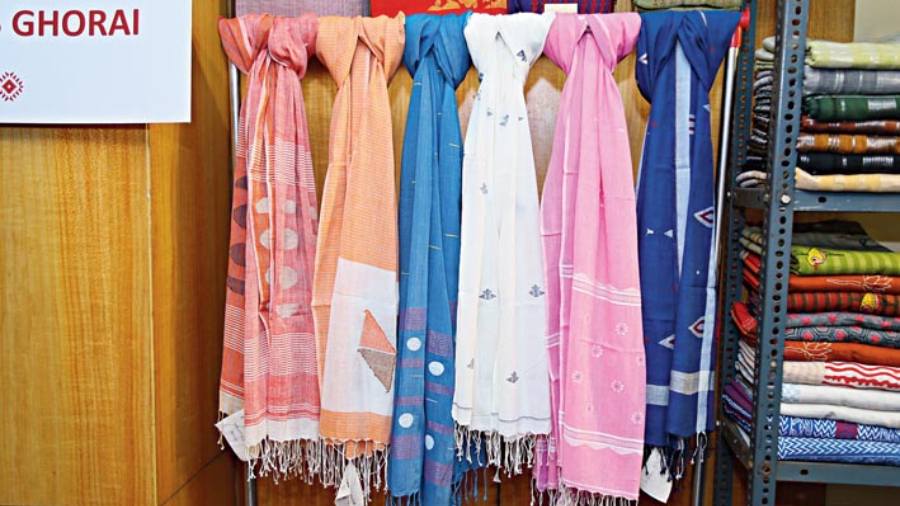 Manas Ghorai in the Grand Bazaar section displayed cotton stoles in pastel and indigo shades with jamdani and buta work.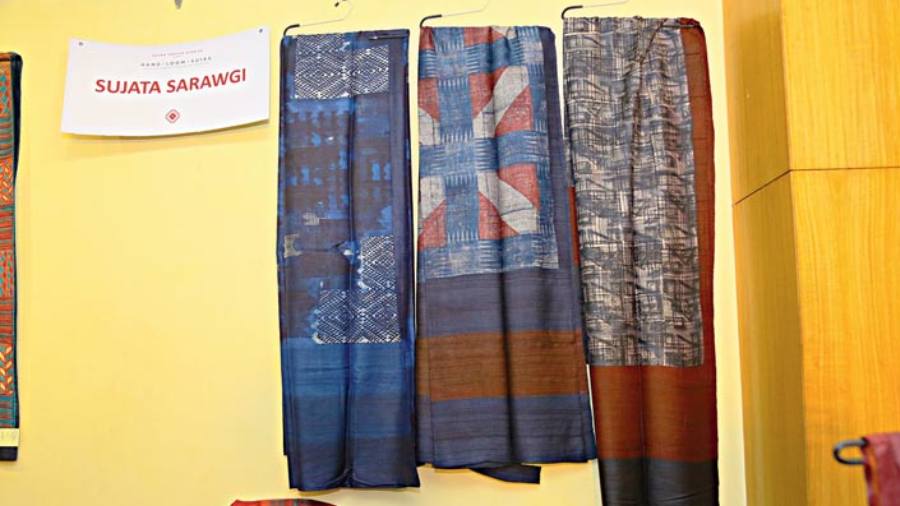 Sujata Sarawgi showcased block-printed tussore in earthy and indigo shades at the the Grand Bazaar.
Pictures: Koushik Saha and Sutra Textile Studies