Forty-five artistes from different parts of rural Bengal came together at Victoria Memorial Hall on September 28 to celebrate the Azadi Ka Amrit Mahotsav- Tourism Week.
Jointly organised by the Ministry of Tourism, Government of India, Eastern Regional Office (Kolkata), in association with Victoria Memorial Hall, the event was aimed at celebrating the intangible parts of cultural heritage, in keeping with the theme 'Rethinking Tourism'.
The event was held a day after World Tourism Day, which is observed on September 27.
The audience got a glimpse of Chhau from Purulia, Baul from Nadia, Raibenshe from Murshidabad and Bhawaiya from Alipurduar. "West Bengal has the highest cultural diversity in performing arts. We curated a cultural extravaganza that would not only be enjoyable, but also help people learn about and recognise the talent within our state. Given the demand for experiential cultural tourism after the pandemic, we have realised that this is our true wealth," said Sayak Nandi, assistant director, Ministry of Tourism, Government of India. 
The afternoon started with a Baul performance by Joyguru Baul Sampradaya, who performed songs like Sob loke koy Lalon ki jaat songsare and Guru dohai tomar. "Baul gaan comes from the belief that there should be no division in our society, and God exists within us all. Irrespective of our community, we all feel love for supreme beings who teach the same values. We use our inner peace to create music," said Arjun Khyapa, head of Joyguru Baul Sampradaya.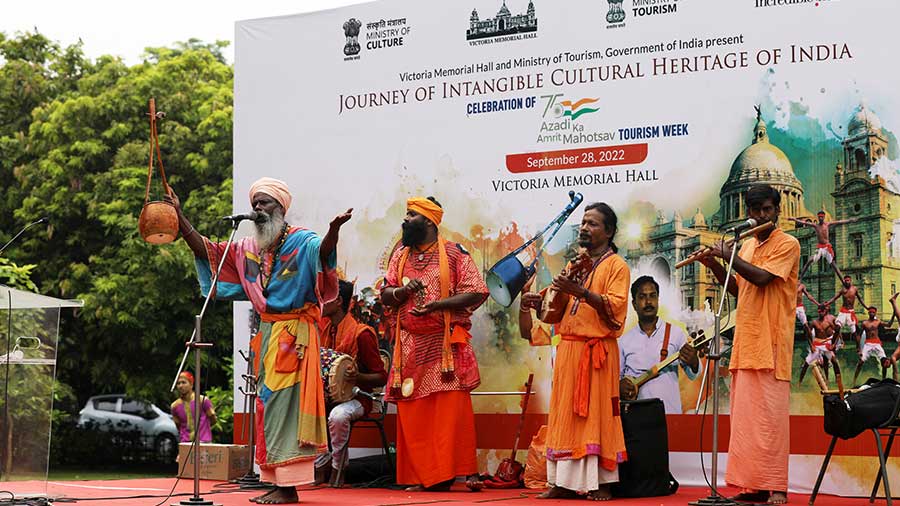 The afternoon started with a Baul performance by Joyguru Baul Sampradaya
Arijit Sen/ My Kolkata
This was followed by Srishti putting up an astonishing blend of martial arts and dance in the form of Raibenshe. "This is a special performing art of Murshidabad. It takes a great deal of practice and skill," said Gopal Chandra Sarkar, whose troupe drew huge cheers with their somersaults and stunts.
Chaitali Loksangeet Sangstha, led by Prodyut Roy, mesmerised audiences with their style of Bhawaiya music, performing songs like Monoshikhar gaan and Chatka taler gaan. "Bhawaiya literally translates to 'singing with feelings', and we are extremely glad to have got the opportunity to perform live today. Bhawaiya is a prized art form in all of North Bengal, right from Malda to Cooch Behar," he explained.
The Jambad Janakalyan Sangha Chhau Dance Party from Purulia put up a riveting performance of Durga slaying Mahishasura, with traditional colourful costumes and perfect chhau moves. Biren Kalindi, head of the group expressed hope for the art form's future, "Our team has been around for over 50 years. It started with our parents who have passed it down to us. The next generation has inherited our love for chhau and have also started performing."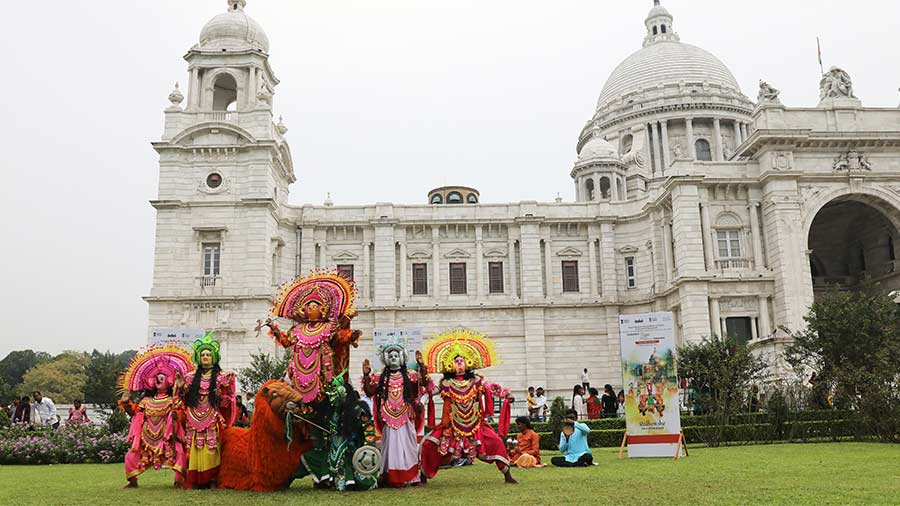 Chhau dancers from Purulia delivered a riveting performance of Durga slaying Mahishasura
Arijit Sen/ My Kolkata
Chowdhury added that all the artistes had been brought from villages, and providing them with economic benefits was integral to the survival of their art forms. "If these performers migrate to cities for jobs, we will lose their art forever. Tourism needs to be an engine especially in rural pockets which can change their lives." Chowdhury was a part of the Indian contingent that developed an action plan which jointly won the first prize at the 2022 Korea Partnership Initiative on Sustainable Tourism (KOPIST) "With a potential grant of up to 4 million USD, we want to develop three villages in Purulia, Bolpur and Paschim Bardhaman, in order to further foster tourism in West Bengal."
The skills of the performers drew dozens of people who had initially come to visit the museum, but gaped at the glory of their craft in the grounds. Sagnik Chowdhury, deputy director general and regional director (East), Ministry of Tourism, Government of India, said this was exactly the vision behind the theme of rethinking tourism. "Victoria Memorial is the epitome of India's tangible heritage. Ancient stories and culture that have lived here for years can be experienced in a very tangible way. However, we are concentrating on a heritage that can't be touched, only felt. This is where today's cultural heritage event comes in."
Amitava Bhattacharya, the founder-director of banglanatak dot com, emphasised on the importance of focusing on community in tourism. "Earlier, tourism was all about tangible heritage like forts, palaces and museums but now, the focus is on sustainable development. We have noticed that the community remains a bystander to such tourism, and wants to shift towards including the community as the nucleus of tourism. This can only happen through intangible tourism, such as promoting these glorious art forms we saw today."