A mesmerising evening of anecdotes interspersed with old Bollywood melodies marked FICCI Flo's inaugural event 'Guftagu: Talking Life' at The Oberoi Grand last month. Radhika Dalmia, the newly appointed chairperson, welcomed the multi-hyphenate, legendary Javed Akhtar for a lyrical interaction with the multi-genre, multilingual band Dhwani. The three band members of Dhwani musically moderated this one-of-a-kind talk session hosted by FICCI Flo while Javed Akhtar enlivened the session further with his usual wit and humour as he shared interesting nuggets of his life and career in Bollywood.
Akhtar was welcomed to The Oberoi's ballroom with Dhwani's rendition of Main koi aisa geet gaoon, the lyric of which was written by Akhtar himself for the 1997 film Yes Boss. The Flo members joined the trio of Dhwani in the song to welcome the screenwriter, lyricist and poet. The interactive session began with Akhtar sharing how he got introduced to writing and films in his teenage years. Talking about writing speeches for debates in college to helping friends by writing love letters as per their demands, Akhtar started the evening on a light-hearted note making everyone in the room laugh out loud. "I was born in a family where there was literature… it was a family of poets. By the time I was 13, I had read a lot of novels. By the time I was 15-16, I used to say shayaris and I was introduced to films at a very early age. I used to write speeches for debates in college and was a professional love letter writer. (Laughs) I have been doing lyric writing and film writing for a long time," he said. For the man who wears many hats, Dhwani curiously shifted the conversation to his role models. He answered, "I don't have role models. Then one person's influence is seen in your work… if you follow many people, that influence is seen. I have read all kinds of literature and written for all kinds of films."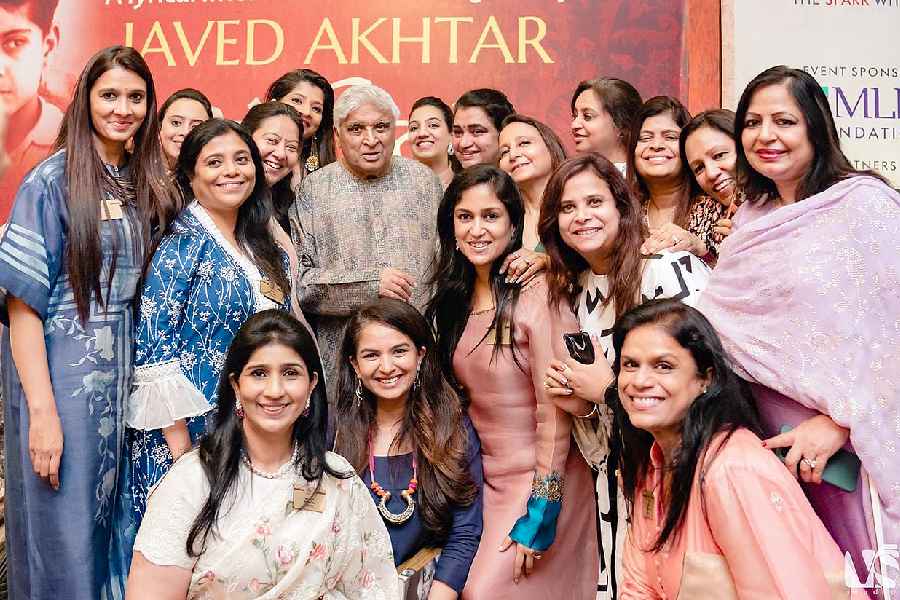 The FICCI Flo ladies with Javed Akhtar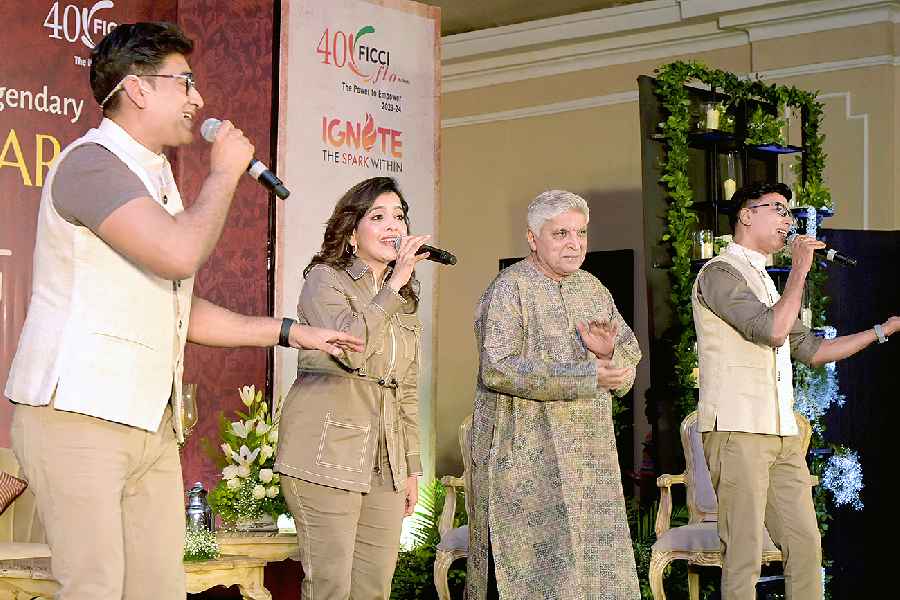 Musical band Dhwani and Javed Akhtar's jugalbandi of music and memories at The Oberoi Grand's ballroom
"We invited Javed Akhtar for his versatile persona and his impact on Bollywood, which is larger than life. His personality is amazing. His career is over 60 years and such a broad spectrum of roles he has played. Every generation can connect with Javedji. They enjoy his songs and his lyrics. He can impress all age groups with his personality. I read a book of his and it got me interested in inviting him to Flo during my tenure. A lot of time people don't know who the lyricist is. We wanted to put his words into songs in his presence and that is how we got in Dhwani, the best multilingual band. They did a fantastic job. His words combined with songs of Dhwani are something all our members will always remember. He also narrated the poem he wrote for his daughter Zoya Akhtar. Every person who attended went back home with good memories," said Radhika Dalmia, chairperson, FICCI Flo.
The conversation soon flowed to Akhtar's huge body of work as a lyricist in Bollywood. Dhwani initiated the conversation by singing a few lines from his song So gaya yeh jahan. Talking about writing lyrics, he said, "Being proud is not right. There is no language in the world that can explain your pain completely in words. Don't try to explain completely… have respect for the reader or listener." The audience agreed and burst into laughter for his effortless candour and humour with which he spoke. His famous pairing with Salim Khan that gave Bollywood some of its most celebrated scripts like Sholay, Deewaar and Mr. India was an important time of his career that he recalled during the conversation. "The 70s in Bollywood was a time for romantic films. Sometimes not understanding a lot helps. It was peak time in Bollywood for Rajesh Khanna. But we were not writing based on romance. Later, we saw research being done on the socio-political relevance of Salim-Javed's script. But we didn't know there was any socio-political aspect to it. (Laughs) We loved the script. People were saying they are writing what we have in our hearts. But we didn't know. It was just that we were thinking alike," he said.
Not only the scripts but also the dialogues written by the duo became iconic and are popular to date. "The dialogues became popular but we didn't know this would become so popular. Sometimes we don't think, we just write," he explained. He also looked back at the time when Yash Chopra pushed him to write the lyrics for his film Silsila, from where his journey as a lyricist started in the industry. 
Going into the story of his popular melody Saagar kinare, he reminisced, "The director told us that there is a situation like this in the film (Saagar) beside the sea and for that situation, we had to write a song. First, we used to get the tune with meaningless lyrics from R.D. Burman. The film's title was Saagar, so I used it in those words… then Kishore Kumar and Lata Mangeshkar sang that song." Another popular song that is an evergreen melody from his body of work is Har ghadi badal rahi hai. As Dhwani referred to the song, Akhtar shared, "There is some purity in this tune. There is some truth in this tune. Until and unless I felt this tune I wasn't able to write the lyrics. This cannot happen out of competence."
As Akhtar pointed out his atheist views of life that he has always been very vocal about, Dhwani was curious to know how it was possible for him to write the soul-soothing Khwaja mere Khwaja. "I have used a traditional song here. It is a surrender, an emotional surrender. Simplicity is required to write such a song. Qawwali and its vocabulary helps but above it, you need sincerity," he answered. The candid conversations with soul-soothing renditions of his songs ended on a personal note with Dhwani shifting the conversation to his personal life and relationships and Akhtar talking about his children and learning from them. Keeping a request from one of the audience members, he concluded his interaction with the recitation of his poem Toh Zinda Ho Tum. 
COMING UP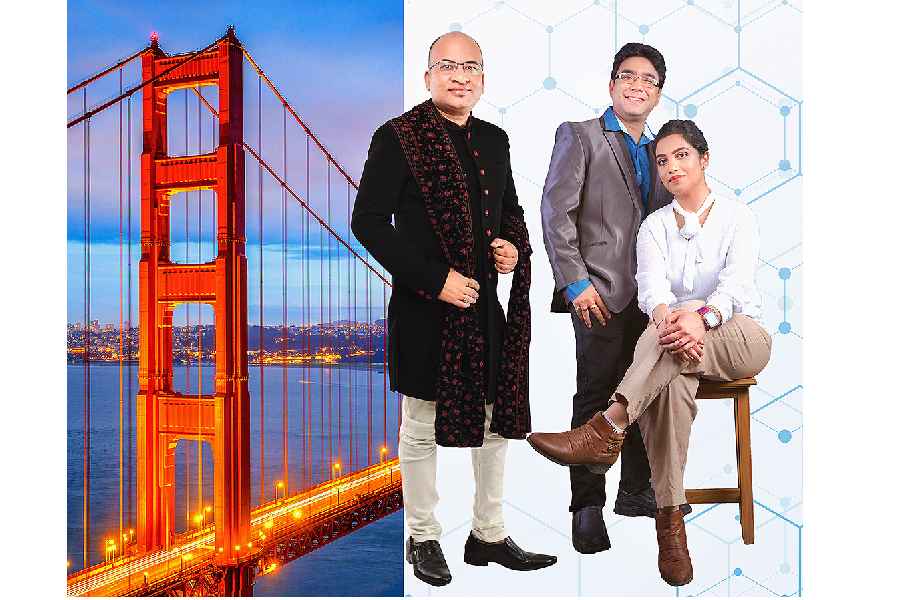 What: Gizmofacts launch seminar in association with The Telegraph
Where: Fairfield by Marriott, Kolkata When: Today; 6.30pm-8.30pm
What to expect: Gizmofacts is a startup firm based in Silicon Valley, California primarily working on cuttingedge technology and machine learning. This evening's exclusive launch seminar, to be hosted in association with t2, will present a wide array of the latest tech tools and products. They include machine learning, data science, artificial intelligence products, KDATANALYZER, KSTOCKANALYZER, data science tutorials, programming e-books, mobile apps, search engine optimisation techniques and web applications. The seminar will be conducted by Gizmofacts CEO Ishita Auddy, and Gizmofacts chief advisor Kaustav Ghosh Dastidar, who is visiting from California. Six eminent personalities from the technology and consulting industries are also expected to be part of the presentation.
Organiser speak: "Gizmofacts launch seminar is going to present some of the latest cuttingedge technology and machine learning tools and products that are creating a sensation in Silicon Valley, California," said programme curator Prithviraj Choudhury.