Handmade jewellery to home décor items, customisable feminine hygiene products to apparel made from sustainable fabric — young entrepreneurs showcased their innovative fare at the second edition of Fresh New Love, a pop-up exhibition curated by lifestyle brand Butterfly Tree at Cafe Bianco, on July 16-17.
The pop-up was aimed at lending a platform to new and upcoming brands. "We kept in mind the inclusion of new brands. Many upcoming brands are also confused about sales and promotion and are not so confident. We always urge them to have faith in their ideas," said curator Utsha Nandy, who runs Butterfly Tree with her sister Trishita Nandi.
My Kolkata caught up with the six brands and browsed through what they had on offer.
Aamanat by Amrita Bhattacharya and Aditi Bhattacharya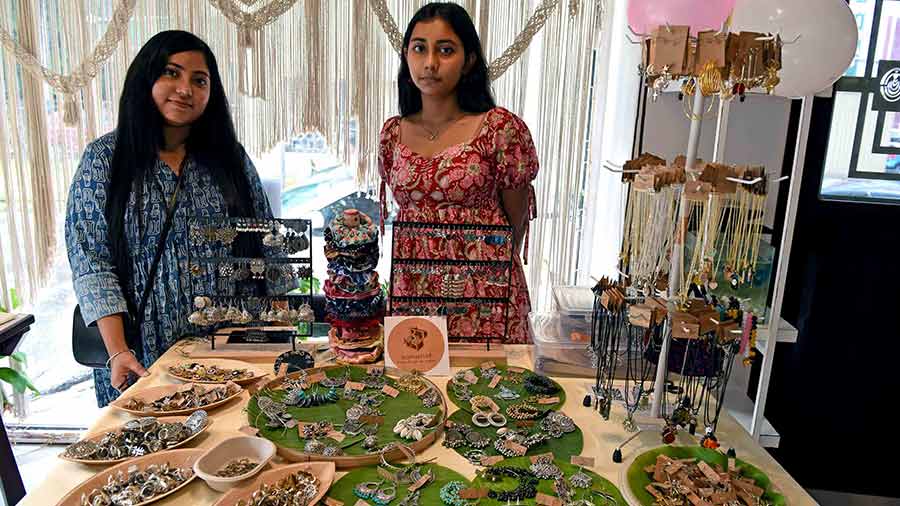 Every item at Aamanat is handmade by (L-R) Aditi and Amrita
Amit Datta
Be it Charulata-inspired pieces or Jungle Hoops that draw from nature — the statement pieces by Aamanat make the brand's handmade jewellery stand out.
Amrita, a fourth year BTech student at Meghnad Saha Institute of Technology, started the brand with her sister Aditi more than three years ago. "In school, I would make and gift trinkets to my friends. After a while, they encouraged me to take this up seriously. We built a social media presence and received much love,'' Amrita said.
Everything at Aamanat is handmade by the two sisters. "We have a mix of boho and ethnic jewellery. We also have handmade scrunchies, masks, neckpieces, earrings and rings. What we try to do differently is attach stories to each of our products. So, there are the Ray's Charulata-inspired pieces or ones inspired from nature that we call Jungle Hoops."
Swarn Sui by Priya Roy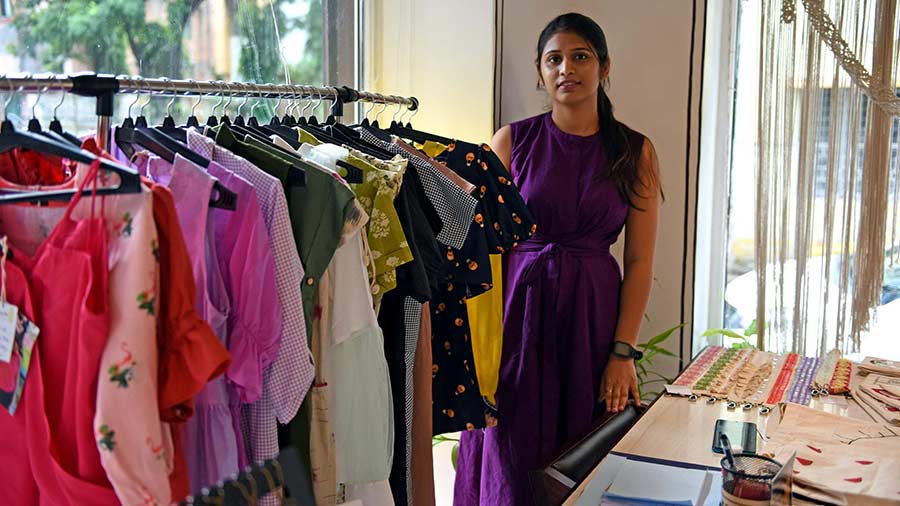 Priya buys the fabric, designs the dresses and places orders with karigars for her line of made-to-order clothes
Amit Datta
Priya Roy made her debut in the world of pop-ups with her collection of customisable handmade products and apparel line in the latest edition of Fresh New Love.
Her line of made-to-order clothes apart, Priya offers a range of customisable and sustainable feminine hygiene products.
"I have been in business for the past six months. I have glass pouches, menstrual cups, sanitary pad pouches, bag straps, tote bags, pouches, clothes and more," Priya said.
For her line of made-to-order clothes, Priya herself buys the fabric and designs the dresses. "Once I have a design in mind, I place the order with my karigars who work from their homes. My brand motto is that we take orders and make clothes to promote slow fashion. I use a lot of sustainable cotton," the businesswoman said.
Friends with Art by Sarmistha Sarkar and Indira Talukder
Indira and Sarmistha chanced upon resin art on Instagram and took it up
Amit Datta
Best friends and now business partners — that, in short, is the story of Sarmistha Sarkar and Indira Talukder. Third-year students of BCom and Economics, respectively, at Calcutta University, both Sarmistha and Indira completed a painting course from Suro Bharati Sangeet Kala Kendra.
Looking for a suitable medium to display their creativity, the two decided upon resin-based products. "It's been almost 10 months since we started the resin business. On completing our diploma courses in painting, we thought of launching a brand and sharing our creativity with people. We saw resin art on Instagram and thought of pursuing it. We have pendants, coasters, bracelets, earrings, bookmarks, clips. Everything is customisable. We have a page on Instagram from where we run our business. We also take part in various pop-ups."
Aesthik by Rashmi Choudhary and Harshita Choudhary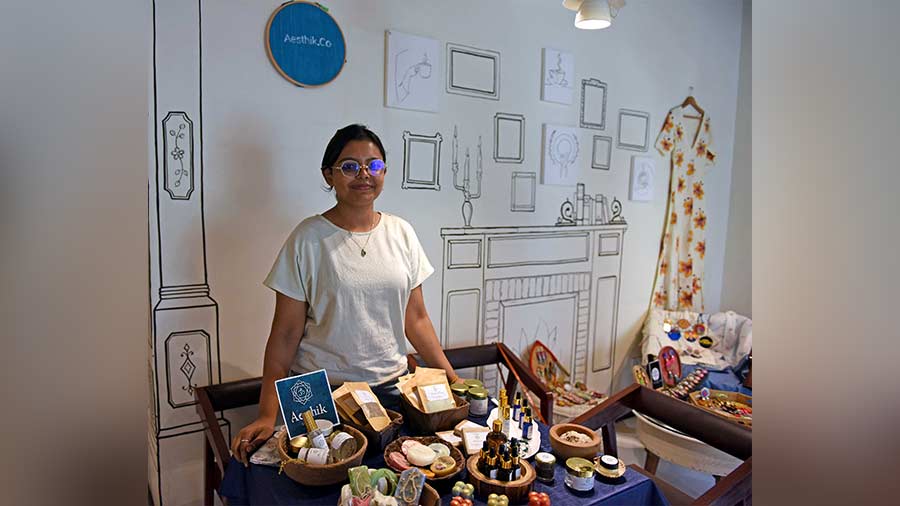 Rashmi at the stall for Aesthik, a brand she started with sister Harshita
Amit Datta
Foot soaks, destress salts and aloe vera gel — if you are looking for some calm amid all the rush of everyday life, Aesthik launched by sisters Rashmi and Harshita has something to offer.
The wellness brand that began its journey in November 2021 boasts of products with original recipes.
"Ours is a holistic self-care brand. We have skincare products, herbal tea, crystals, candles, essential oils and face serums. Taking care of your inner mindfulness and outer beauty, that's the way to be in this hurried lifestyle now," Rashmi said.
"I am very curious about the products that we create. I have been passionate about herbal teas and drink them myself. Most of our products are handmade with our own researched recipes. Foot soaks, destress salts and aloe vera gel are among the most popular," she said.
The October Shop by Sonali Bose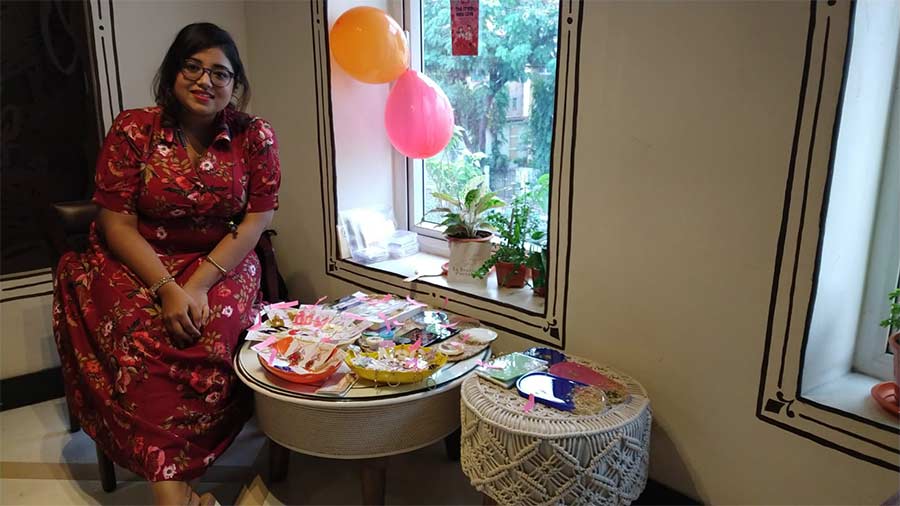 Utility items as well as decorative pieces are on offer at Sonali's The October Shop
Sonali Bose
Looking to dress up your home or yourself, you are likely to find something interesting at The October shop.
Techno India University student Sonali Bose started her brand in March 2022. The fourth-year student of Integrated BBA MBA in Financial Service very much draws from her studies for her entrepreneurial venture.
"My passion for handmade products, my self-learnt resin art and my dream to have my own brand all led to The October Shop. Here, you can find aesthetic and cozy home decor items, stationery items like bookmarks and diary; accessories like jewellery and hair barrettes; pop sockets, and keychains," Sonali said.
Butterfly Tree Lifestyle by Utsha Nandy and Trishita Nandi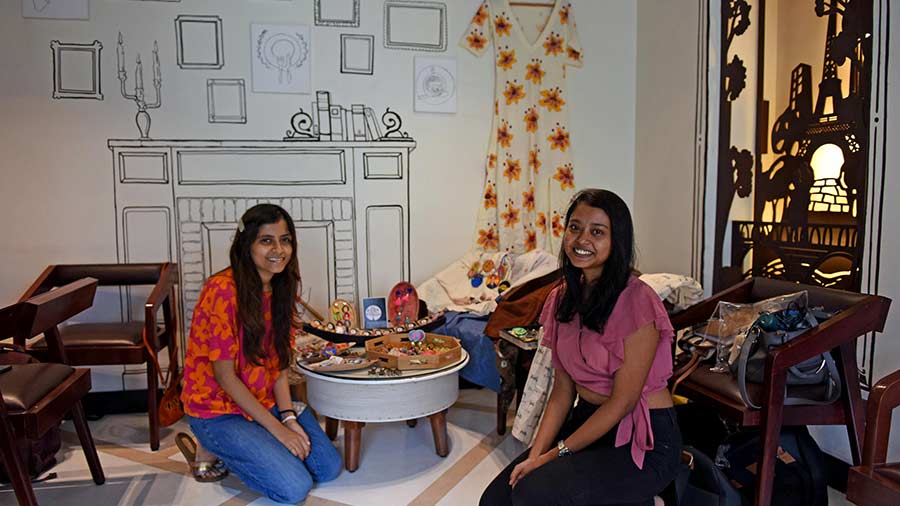 Utsha with Debarati Saha, a team member of Butterfly Tree Lifestyle — a brand Utsha started with sister Trishita
Amit Datta
Butterfly Tree Lifestyle has been working with sustainable fashion and showcasing extinct and disappearing artforms of India since four years. Jewellery and clothes designed by the brand was part of the musical launch of the Hoichoi webseries Srikanto. Butterfly Tree Lifestyle also showcased its creations at the Bango Sammelan in Las Vegas.
"Representing our country overseas is a matter of great pride. We were in Las Vegas from July 1-3. We were also a part of the Hoichoi Srikanto music launch earlier this year, where Sohini Sarkar walked the ramp in our apparel collection," Utsha said.