Ballygunge boy Anush Agarwalla cemented his name in the annals of India's sporting legacy, as he clinched a bronze – the country's first in the individual Equestrian Dressage event – at the 19th Asian Games in Hangzhou, China. The 23-year old was also a part of the team that won the historic gold in team Equestrian Dressage, which marked India's second gold in Equestrian in 41 years. A La Martiniere alumnus, Anshul has weaved together his equestrian dreams on the tracks of the Tollygunge Club since he was 8. My Kolkata chatted with an elated Anush on the campaign, his winning horse Etro, Paris 2024 prep and what pushed him to embrace this moment. Edited excerpts from the conversation follow…
My Kolkata: How does it feel to cap off a historic campaign for the country?
Anush Agarwalla: It feels unreal. It's the dream of every athlete to win a gold for their country at a championship of this level. It has taken lots of hard work, patience, dedication and courage, and I'm happy to have created history for India – not once but twice!
How did you prepare for the Asian Games?
To be honest, I didn't change my preparations for the Asian Games. I have worked hard for years, and I was confident that I'm good enough to compete at the top. I am lucky to have a coach like Hubertus Schmidt, who guided me, and a loving family that always believed in me and supported me.
Is there something specific you do before getting on the course? How do you focus?
I always like to listen to music before I get on the horse. I feel it helps me focus, as I don't let the noise out there get to me. I'm usually listening to music while I'm putting my gear on, getting my horse ready, etc. Around 30 minutes before I'm supposed to get on the horse, I go over the warm-up strategy with my coach and discuss some points and places I have to be extra careful with. Talking with him and having him present by my side helps me to a great extent. At the Asian Games. I also went to meet my family members before getting on the horse. They were watching and supporting me from the stands.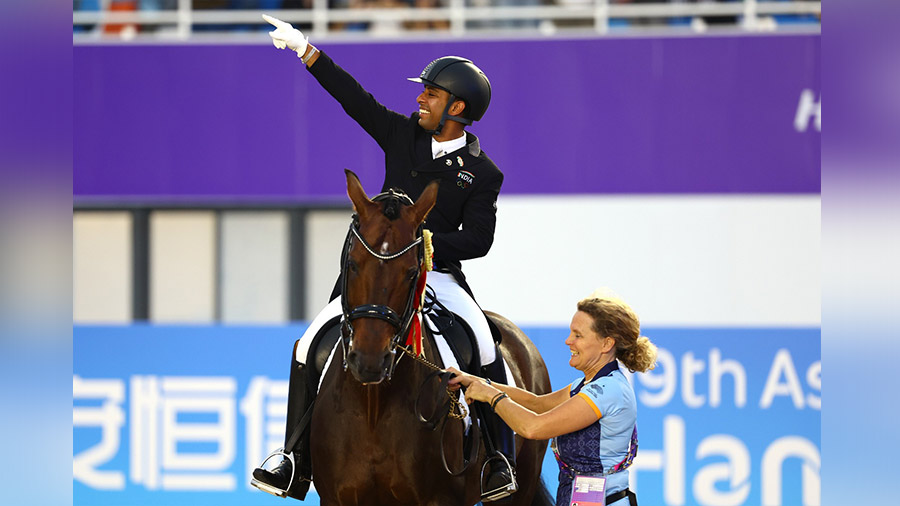 Anush after the winning moment
Courtesy: Anush Agarwalla
Tell us about your teammates. How was the camaraderie?
We had a great team of four young equestrians and I'm proud to say that we have formed a bond that will live on forever. We all helped each other mentally and physically before and during the games and made countless memories together. As I left China to return to Germany, I would be lying if I said I wasn't teary-eyed. Together, we created history for India and will never forget this moment. Thank you guys, once again!
What were the team plans before getting on the course?
We had different aspects that were taken into consideration for each rider and according to these aspects, the starting order was decided. And as we can see, it turned out to be quite successful! We all performed tests and supported each other. Everyone knew they were carrying the hopes of millions of Indians on their shoulders and rode their hearts out.
How has Hubertus Schmidt helped shape you?
He has been my biggest supporter, and also my harshest critic. Without him, none of this would have been possible and the medals are dedicated solely to him. His discipline, passion and motivation have inspired me greatly and changed the way I look at life. Thank you for everything, Mr Schmidt! He is truly a legend!
Talk to us about your horse Etro. How is he different from your Grand Prix horse, Sir Caramello Old?
They are very different, but also similar. Etro is a young, powerful stallion, who is a little mischievous and is always very curious. He's like the naughty student who still brings in the good grades! Caramello, on the other hand, is a more mature horse, who likes to do the right thing. But both horses know they're the best and love being the centre of attention, especially in big stadiums during championships!
Anush atop Etro
Courtesy: Anush Agarwalla
What do the next few months, leading to Paris 2024, look like?
The next few months will be very busy as I will be trying to qualify for Paris 2024. Unfortunately, I had some bad luck with Sir Caramello Old, which is why I couldn't attempt the qualifications yet. But it's time to focus on that now.
All of Kolkata is celebrating you. Any plans of coming back to your hometown anytime soon?
Yes, I will be coming back to Kolkata within the next few weeks, but only for a few days, as I have to focus on Paris 2024. Before that, I'm heading back to Germany to make sure Etro reaches home safe and happy!